Who doesn't love a home cooked meal that tastes like restaurant quality? Especially one that's easy to make? I'm always on the hunt for simple meals that taste great because my tastebuds get bored easily and I found another one that you NEED to try!
I cut this recipe out of People magazine when I was flying to Puerto Vallarta for our honeymoon last June. It's one of Khloe Kardashian's favorite dinners from her nutritionist, Philip Goglia, so obviously I had to try it. It truly is SO GOOD and easy!
What you need:
2 Tbsp. Pure maple syrup
2 large garlic cloves, minced
1/4 cup ponzu sauce
1 1/2 Tbsp. fresh lemon juice (from 1 lemon), divide out the 1/2 TBSP.
2 (8-oz.) skin-on salmon fillets
4 oz. asparagus, trimmed and cut into 1 1/2-in. pieces (1 cup)
2 tsp. olive oil
4 cups loosely packed spinach
1 Tbsp. balsamic vinegar
1/8 tsp. Kosher salt
1/8 tsp. Black pepper
The Steps:
1. Preheat oven to 400°. Whisk together maple syrup, garlic, ponzu and 1 tablespoon lemon juice in a bowl until smooth. Pour mixture into a large ziplock plastic bag. Add salmon; seal and place in refrigerator for 30 minutes.
2. Toss together asparagus and oil on a nonstick baking sheet; spread in an even layer. Roast in oven until crisp-tender and beginning to char, 5 to 7 minutes. Remove from oven. Transfer asparagus to a bowl; set aside until ready to use.
3. Transfer salmon, skin-side down, to baking sheet, reserving 2 tablespoons marinade. (Discard remaining marinade.) Roast until salmon flakes easily, 12 to 15 minutes, brushing with reserved marinade halfway through cook time. Remove from oven.
4. Add spinach to cooled asparagus; toss together. Add balsamic vinegar, salt, pepper and remaining ½ table-spoon lemon juice; toss to combine. Serve with roasted salmon.4
Serves: 2
Active time: 10 minutes
Total time: 50 minutes
Per serving: 433 calories, 51g protein 17g total fat, 856mg sodium, 14g carbs, 2g fiber, 10g sugars
Some interesting fatty fish facts:
Fatty fish when consumed at night promotes deep sleep, helps you release growth hormones; it's a big-time anti-inflammatory. Oily fish has been linked to many health benefits, including a lower risk of heart disease, improved mental ability, and protection from cancer, alcohol-related dementia, and rheumatoid arthritis.
Oily fish is a good source of protein and omega-3s.
---
Fish oil contains the two fatty acids, eicosapentaenoic acid (EPA) and docosahexaenoic acid (DHA). These are believed to benefit the cardiovascular system.
The American Heart Association (AHA) suggests consuming at least two servings of fish, and especially oily fish, each week. A serving is 3.5 ounces of cooked fish, or about three-quarters of a cup of flaked fish.Fast facts on oily fish:
Types of oily fish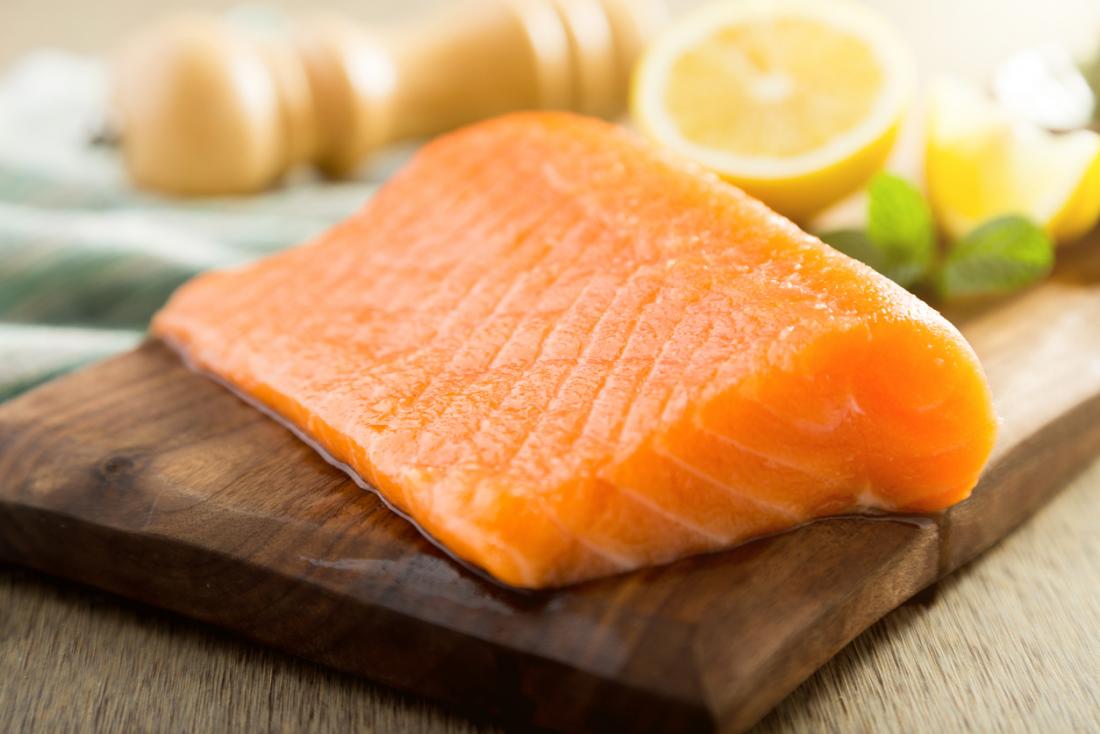 trout
salmon
tuna
sardines
pilchards
kippers
eels
whitebait
mackerel
herring
All these fish are rich in omega-3 fatty acids, whether canned, fresh, or frozen.
What are some of your favorite fatty fish recipes? Please share!
xx,
@laurenerrobeauty