The King Size Comforter That Actually Covers Your Mattress!
If you've been on the hunt for the perfect king-size comforter & duvet that will actually fit your king-size bed then this post is for you. I've had my mattress for years and was always baffled by those bedroom photos you see on Pinterest. You know the type where they make the bedding look fluffy and so comfortable and it somehow covers the full mattress with material to spare? I've been on the hunt for years and was starting to think it doesn't exist… I finally found it!
First, I need to share something that will probably blow your mind (it blew mine). Many of those photos with the fluffy comforters that hang off mattresses are usually either photographed from an angle OR a queen-size mattress with a king-size comforter. Also, on the king mattresses, many of the comforters don't even cover both sides- Look at this photo from Brooklinen's Instagram to see what I mean. Look in the reflection of the mirror! It doesn't cover both sides!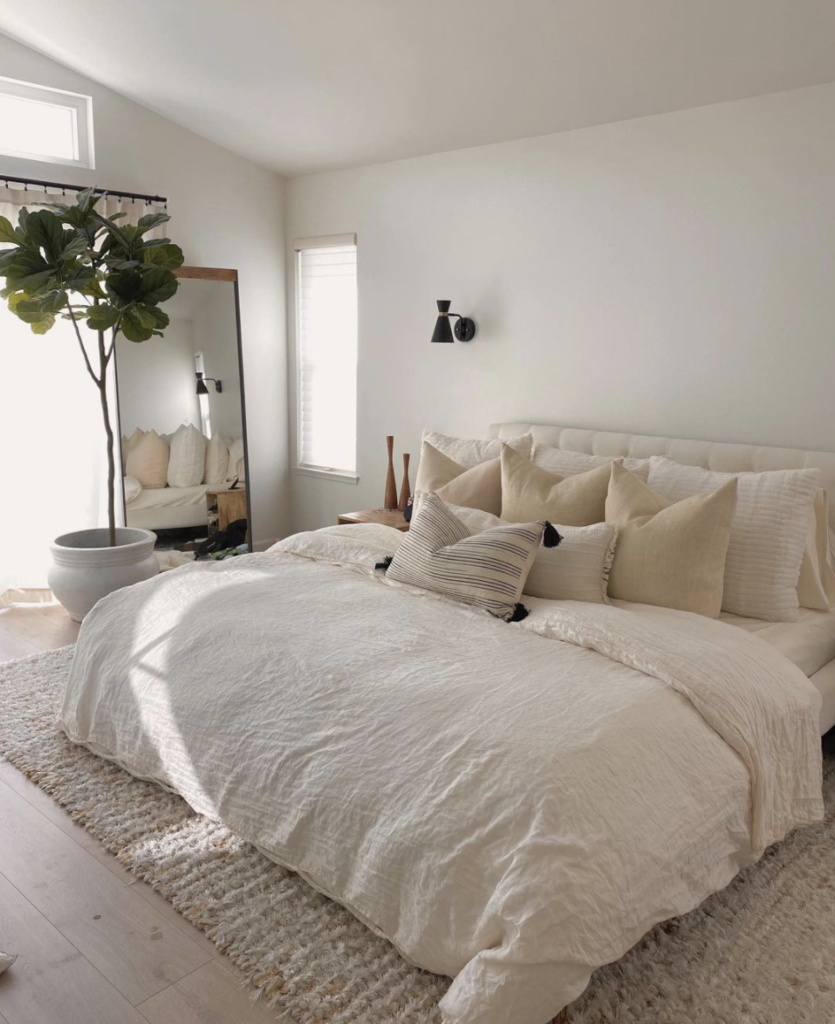 I found that photo while I was looking at all of the brands that pay for ads on Instagram- Brooklinen, Tuft & Needle, Parachute home… TBH, this gave me some peace of mind because I've seriously scoured the internet for ages trying to find a comforter that will fit properly and I almost resigned myself to believe that they actually DON'T cover anyone's king-size bed! I'm glad I didn't give up!
While I was researching these well-known brands I realized all of their bedding is different sizes. That explains all of my frustration from the past years! I went everywhere from Pottery Barn to The Company Store to Amazon, read way too many reviews and I ordered and returned probably 10 different brands of comforters and duvets.
I was about to give up and decided to ask my Instagram audience if they had any tips. Fortunately for me (and you), they did!
Our Bedroom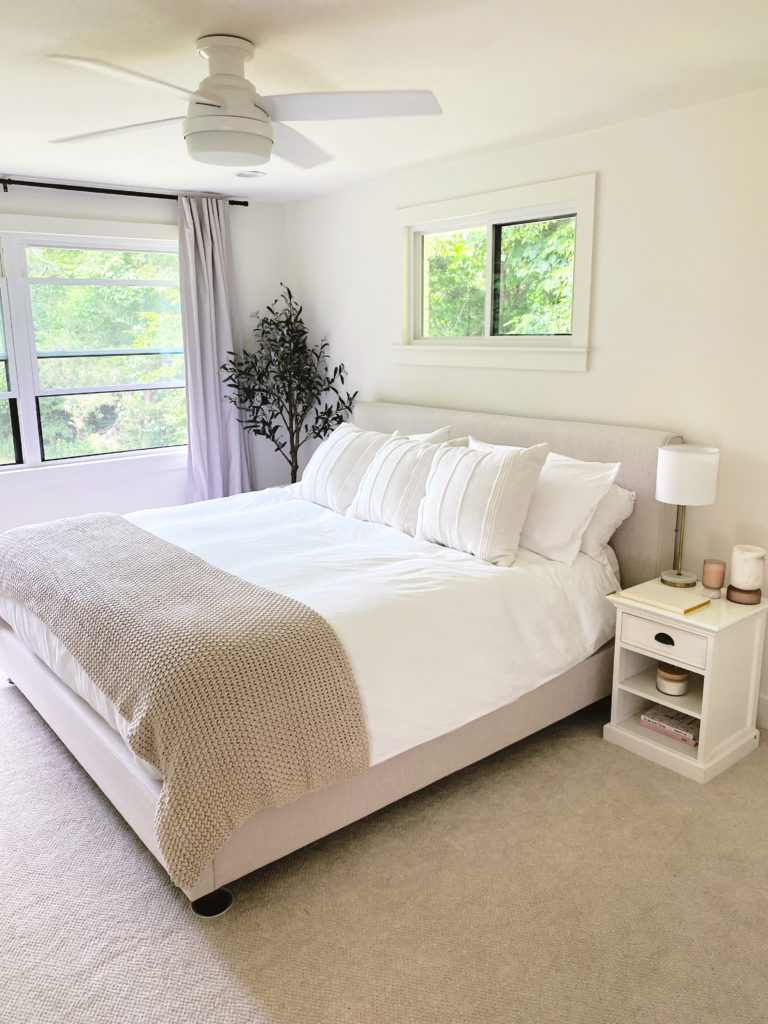 When we moved into our house (October 2020) I wanted to finally invest in that grown-up master bedroom look. You know, matching bed, nightstands, dresser, & curtains? We've moved 5 times in the last 7 years so it wasn't really a priority before. Now that we're more settled into our new home I decided it was time. First I started with a headboard. I bought this one from Living Spaces and absolutely love it (it is no longer available but here is a close dupe)!
My next goal was to find the perfect comforter and cover. Since the headboard is beige, it means we had to either get a white OR a colored comforter because a neutral cover looks way too monochrome (trust me, we tried it). We chose the white bedding because we have two dogs that sleep with us. So as impractical as it may seem, white is actually the best fit for our lifestyle because, you know, bleach.
Once we decided what color to get, the real search began. I LOVE reading reviews and the more I read about the most popular brands the more I realized I would probably need to mix and match different brands for the comforter and cover. Either the comforter was loud, or the cover didn't hold up.. etc. Finding the same size across brands was a challenge!
The winner
So I did a story poll about it on Instagram and a few gals told me that Target's Casaluna bedding is exactly what I was looking for.
I ordered a few covers in different materials and they all seemed to be of great quality! I felt that the linen was too heavy so I went for the Supima cotton instead. It's incredibly soft and it's big enough!! It comes in ten colors. It has ties in all 4 corners to keep the comforter in place, and a zipper closure (no more spending 20 minutes trying to button the cover with long nails– yay).
I also ordered the Casaluna comforter because it was the right size for the cover and wow that was a big mistake. I should have trusted the reviews. It was like sleeping in a paper bag. SO noisy. Every time we moved the crunching sound would wake both of us up. We packed that up and sent it back the next day.
I was on the hunt again for a comforter (and so over it at this point) so I took the Casaluna dimensions to Amazon and found the most incredible comforter ever! It's a down alternative which I didn't think I wanted bc I've had a down my entire life and love them but this feels like down! It's fluffy and really comfortable. Not too hot and not too light. It's just perfect! We ordered the king-oversize option. It has loops in all 4 corners so you can easily attach the comforter cover and have it stay in place.

We've had the bedding for 5 months now and still love it! The Casaluna comforter cover is still holding strong and is so soft! The Amazon comforter is so comfortable and plush. It's very warm and cozy and the weight is perfect.
Our next bedroom purchase will be a new dresser, then nightstands. I'm on the hunt for a natural light oak wood. If you see any I may like please let me know!
I'm so relieved to not have to look at bedding for the foreseeable future. Hope this helped you!
The rest of the items in my bedroom are linked here:

We just recently fixed up our home in Nashville and have a few fun posts all about it here!
xx,
Lauren