11 Easy Fall Decor Ideas to Make Your Home Feel Cozy This Season
This post has a cozy easy fall decor idea for every corner of your home. To make your house feel more inviting this season.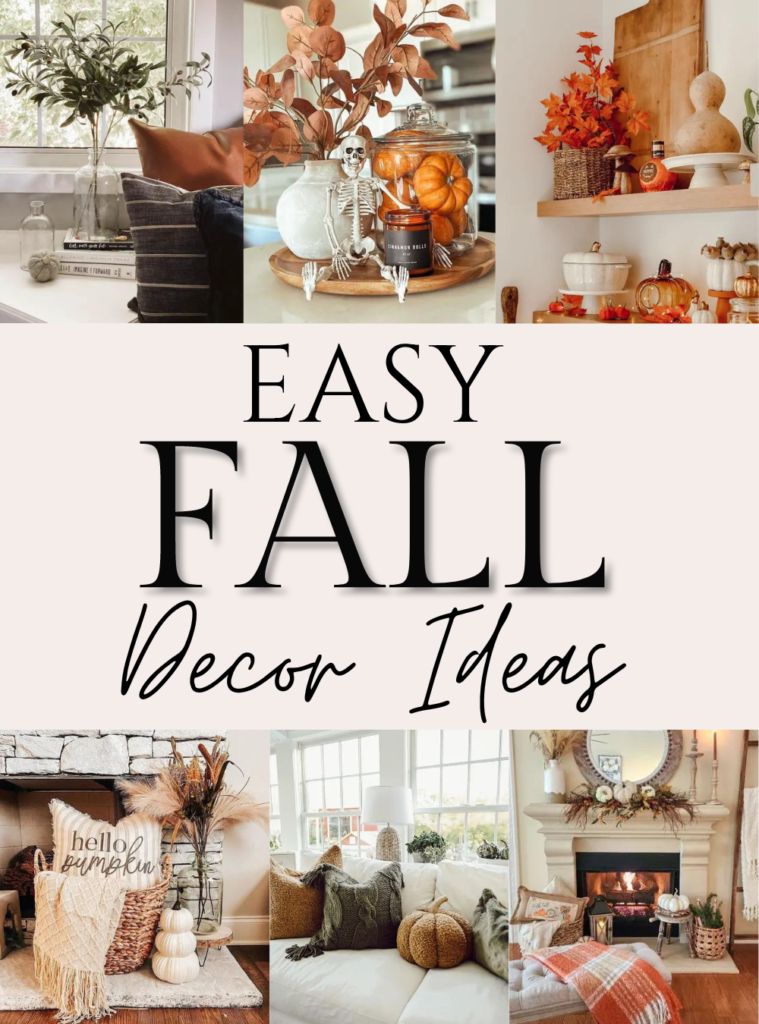 I'm so excited for fall this year! I love it when the temps drop and the air feels crisp. My favorite thing to do this time of year is decorate for the season! There's something about getting your home feeling cozy when the weather is colder.
In this post I'll show you what home decor is trending for fall of 2023, and how you can get the look in your home as well.
Easy Fall Decor Ideas to Make Your Home Feel Cozy This Season
This season there are three major trends for fall decor. Out with the tacky figurines and bold colors this year is all about muted colors, natural elements and texture.
Leather, Olive Stems and Glass Vases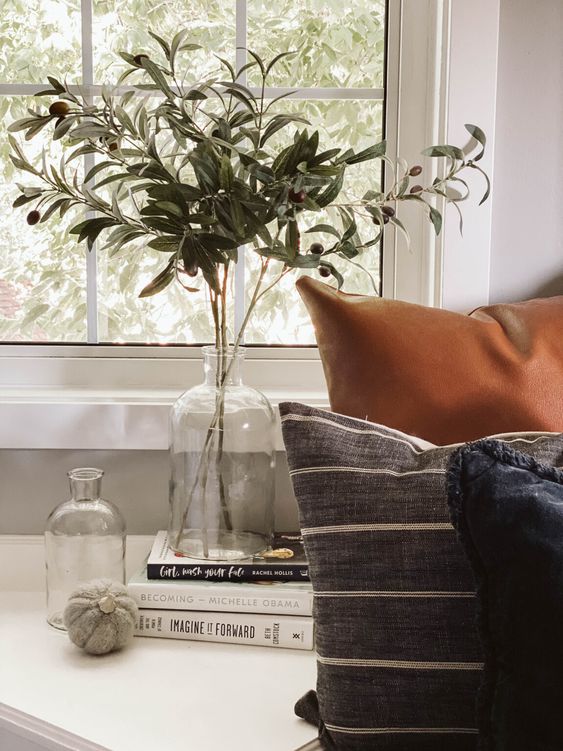 This season is all about the texture, and there is no better way to add style and texture at a reasonable cost, than with throw pillows! These pillows combine leather, fringe and canvas for a texture buffet. I love the glass vases with natural-looking olive stems on the side table, and how everything is finished off with a cute little pumpkin. Add your favorite books for a personalized cozy touch.
Kitchen Centerpiece with a Spooky Touch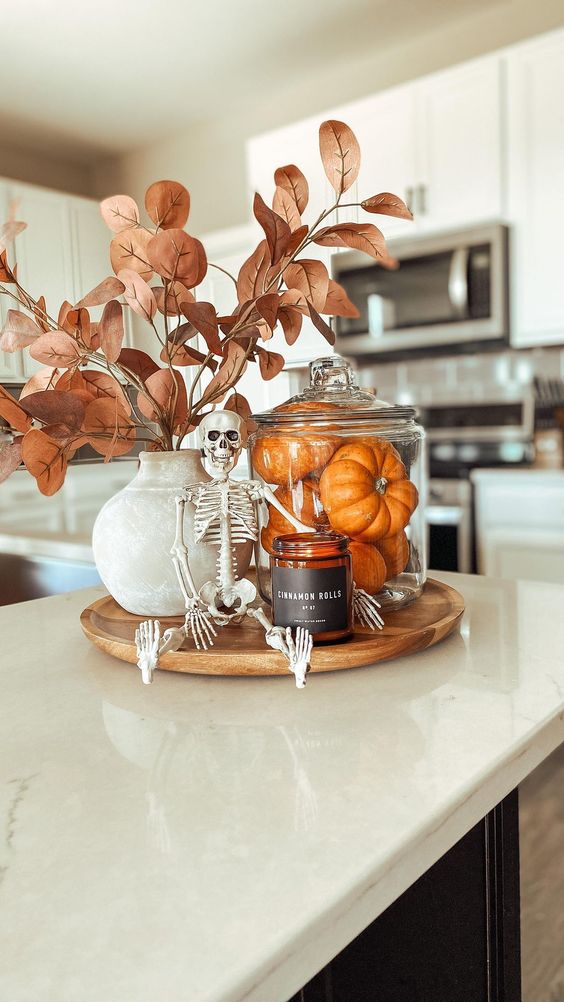 This kitchen centerpiece is perfect to transition from the spooky season to the thankful season, with just a minor adjustment (just take off the skeleton and this setup is good to go all season long!). I love how this combines natural elements with the pumpkins and the stems and a cute little skeleton to make it pop.
Open Shelf Decor with Lots of Texture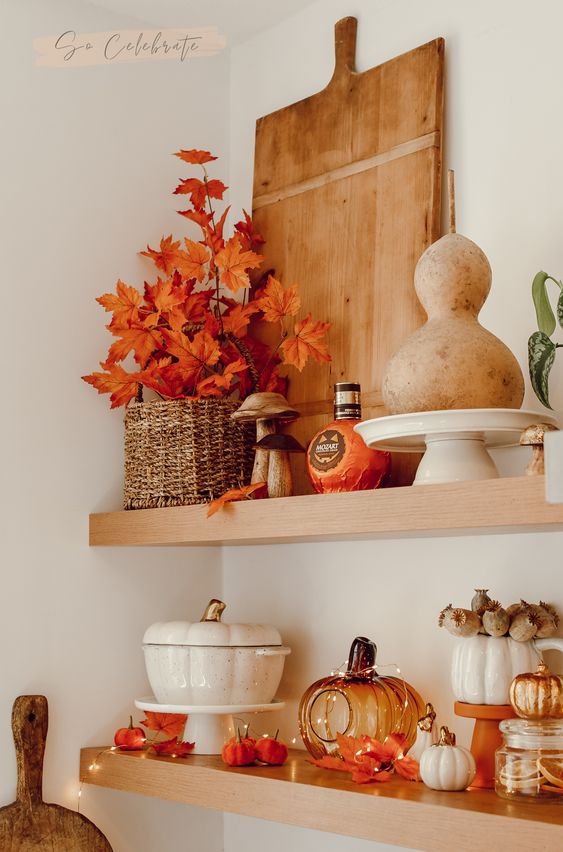 This open shelf easy fall decor idea has so many pumpkins and textures! I really love how all of the orange in this design make it look like fall. My favorite element is the cute pumpkin pan with stem lid. I love all of the wood elements in this design and how they incorporated some twinkle lights to make everything sparkle. This would be so fun to have in your kitchen for fall.
Cozy Fall Fireplace Basket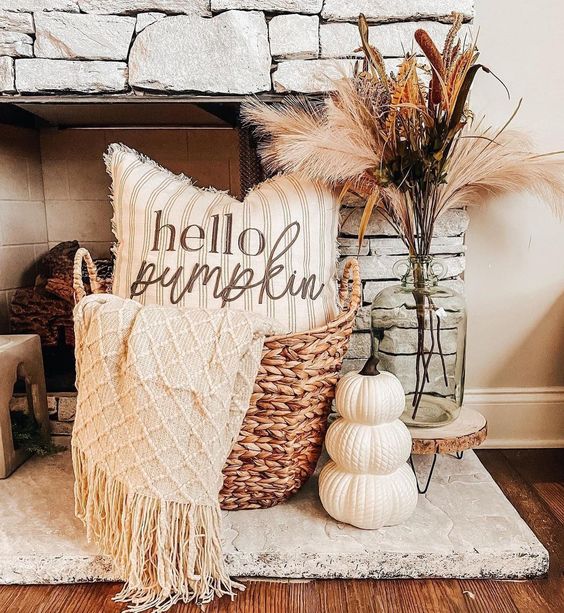 I love this easy fall decor idea! Having a cute natural weaved basket with a fun pillow and cozy blanket is so inviting. And also so easy to recreate! This makes me want to curl up on the couch with a book and snuggle in. I love the neutral textures in this decor with the basket and the wood riser.
Different Textured Pillows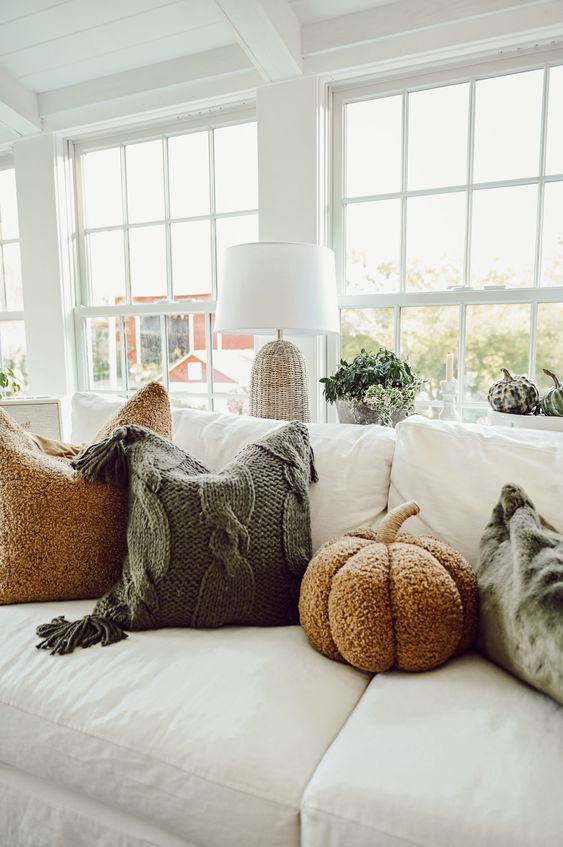 I love decorating with pillows! You can add so much character to a room with just a few pillows. These ones are cozy and inviting for fall, and are just the right pop of color for this season. Play around with different textures of pillow covers and sizes all year for the best couch appeal. To save on storage space, I recommend getting a quality pillow insert and buying different pillow covers to change out throughout the year.
Fall Nook Decor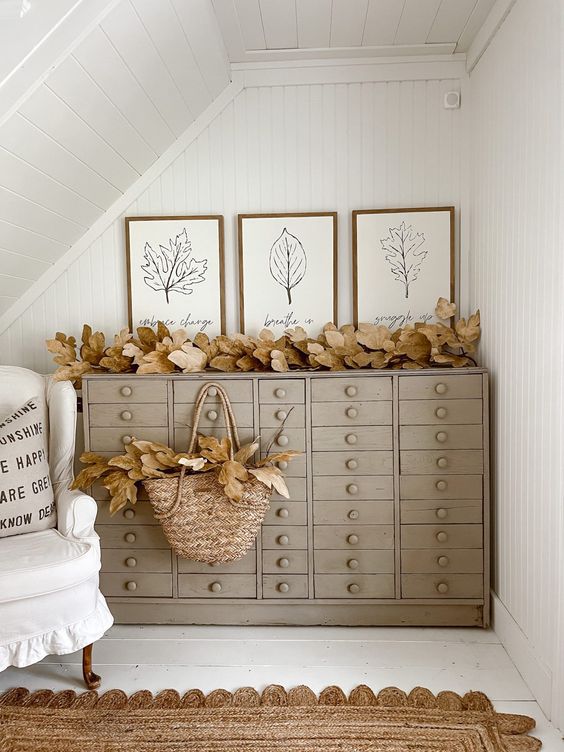 I love this cozy little nook decor. This is a great way to elevate a seemingly boring corner to something festive and fun. If I were to recreate this look, I would DIY the leaf prints and also DIY the garland with some paper bags, then get some cute accessories to tie it all together. I love all of the neutral textures in this cute little nook.
Skeleton and Bat Sprays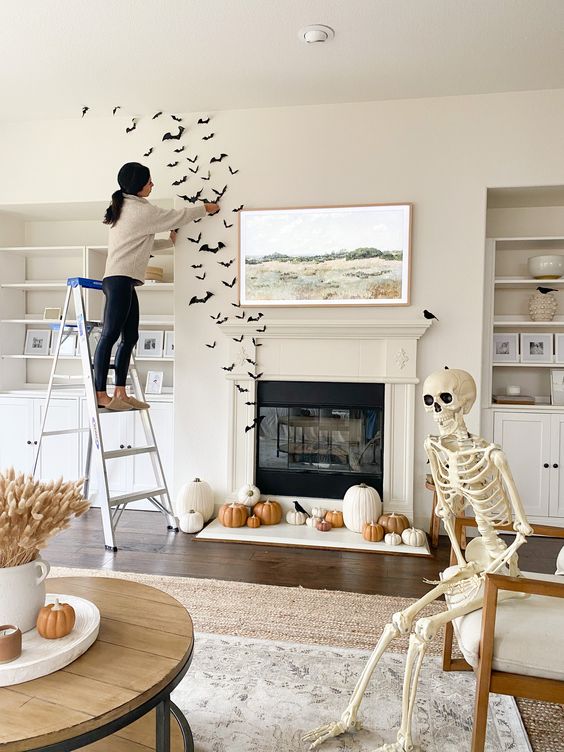 If you need to up your Halloween decor, then this is a great and easy idea. This trendy look only requires a few things to get right and it's super easy. I love how the life-size skeleton is sitting on the chair and there are little crows on the mantle and on the pumpkins! This look could also easily transition from spooky to harvest with just a few minor adjustments.
Make it Pink (But Still Neutral)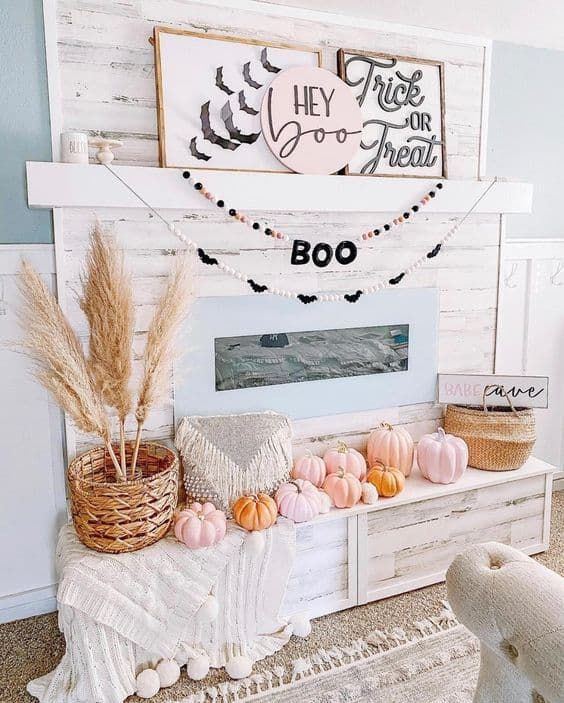 I love how this setup has girly elements that pop, but yet it still has a neutral vibe. The pink pumpkins are so much fun and the fluffy pampas grass makes a big statement. I really love the fun and cozy element that the blanket with pom poms brings to the look. You could recreate this mantle look with other colors as well to match your home's aesthetic. I think this would be so cute in gold tones as well!
Easy Centerpiece With Lots of Texture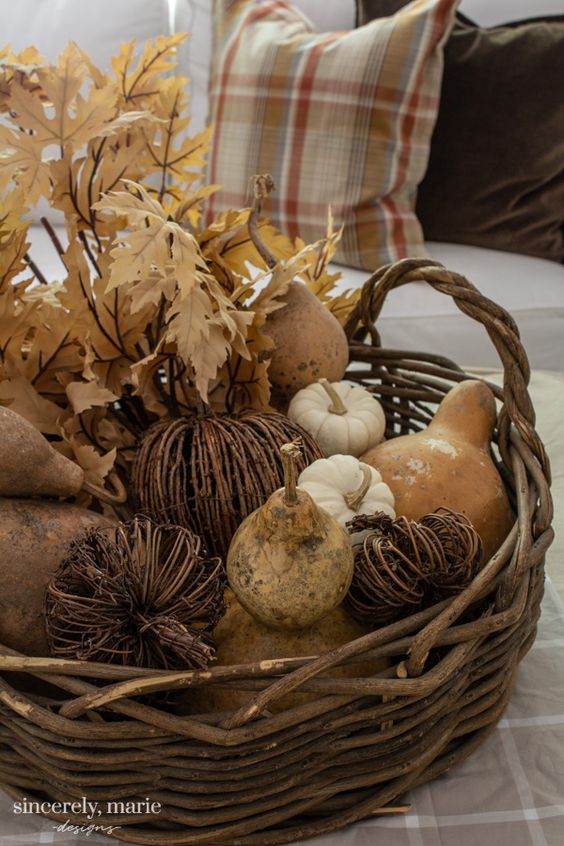 If you need to elevate a table, ottoman, kitchen island or counter with a centerpiece then this one is great! I love all of the natural elements in this idea and how it's all fall themed with different textures and shades. The tray can also be used year-round for other decor purposes.
Cozy Fall Fireplace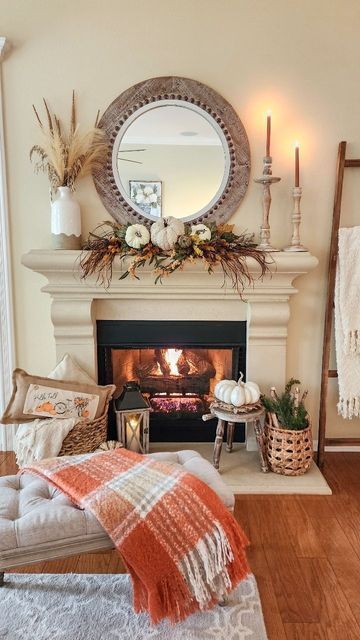 This Cozy fall fireplace setup is an easy fall decor idea. The orange plaid blanket makes it look so inviting and warm. The white pumpkins give harvest vibes and the pampas grass and candles balance everything out. I love that it's just a few pieces of fall decor for an overall cozy fall experience.
Hanging Witch Hats, Crows and a Skull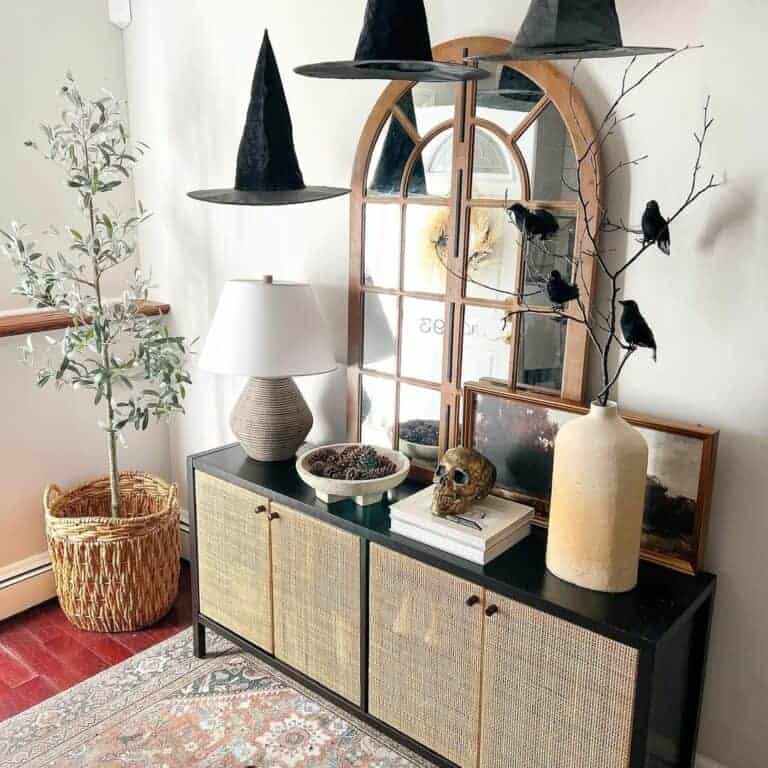 I love this for Halloween! This is a fun way to take your normal, everyday decor and make it spooky. The hanging witch hats are so fun and back with a bang this fall. They are also adorable as outdoor decor. The crows are back in this setup and look so perfect on the empty stems. I love that this decor idea is simple with a big impact.
Easy Fall Decor Ideas on Amazon
I love to have some an easy fall decor idea on hand to decorate with ease. Here are some of the best fall pieces for 2023 found on Amazon. These staples will look great all season long and will be timeless for years to come! I love pairing these neutral shades with pops of color that match the season. Great fall shades include rust, dark blue, army green and different shades of yellow. Click the picture below for links.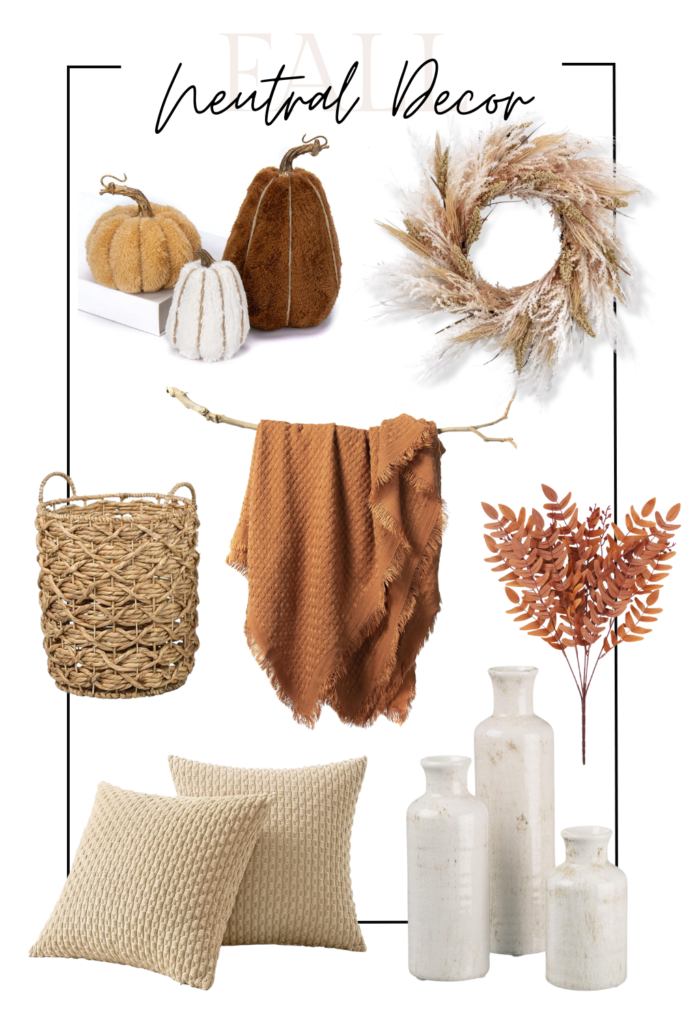 This Post Gave You 11 Easy Fall Decor Ideas
You may also like:
xx,
Lauren