15 Modest DIY Halloween Costume Ideas For Women
In this post, I'll be giving you 15 ideas for Modest DIY Halloween Costumes For Women.
It's that time of year again where the creative juices start flowing and the search for the perfect costume begins. Halloween is a great time to express your personality, creativity and style.
Rather you're going to a work event or taking your kids trick-or-treating these costumes are easy to create, and are super trendy for 2023!
Popular Costumes for 2023
This year was huge for pop culture! From the box office bang with the recent bubbly and pink Barbie Movie to the goth Netflix hit Wednesday. There are so many things that happened this year that you can draw inspiration from for DIY Halloween Costumes! Here are a few ideas:
Pop Culture Costumes for 2023
Modest DIY Halloween Costume Ideas
Sometimes DIY Halloween Costumes can take months to create. I'm here to help you with some super simple ideas that will be a sure hit! These costume ideas are easy, affordable and perfect for 2023!
1. DIY Candy Necklace Costume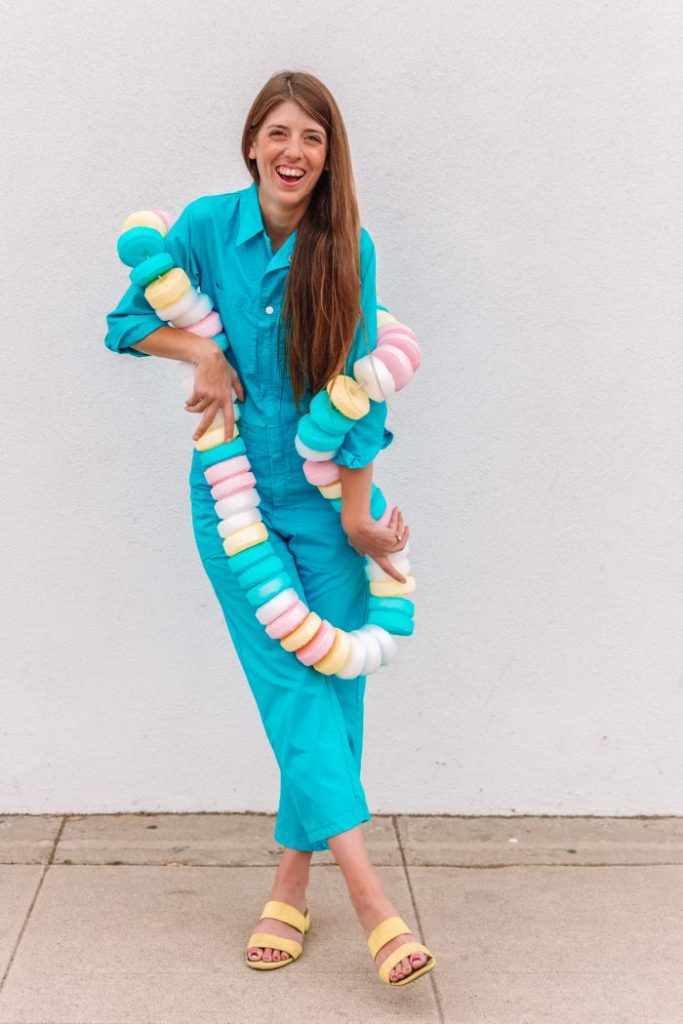 This DIY Candy Necklace Costume is so adorable!! I love that it's simple and you can wear anything with it, so you can be comfortable all night long in a jumpsuit or even a colorful tee shirt. This costume is made with spray painted Pool Noodles and rope, so it couldn't be easier to create!
3. DIY Princess Peach Costume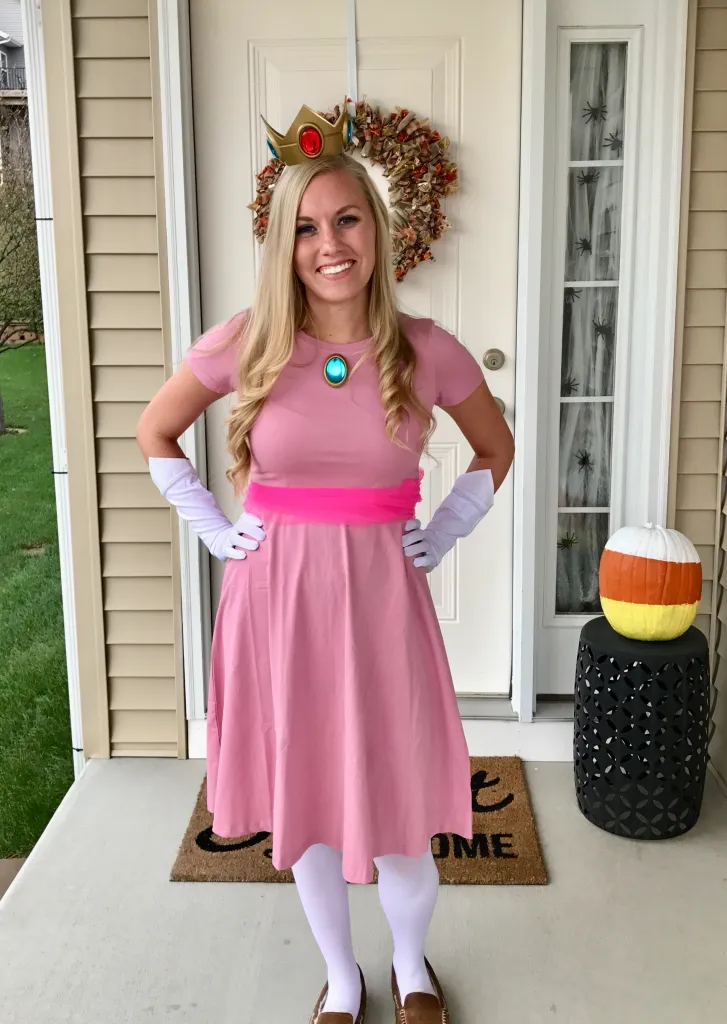 This Princess Peach costume is just so dang cute!! I love how it's simple and not over-the-top, yet you know exactly what it is. It would make such a comfortable DIY costume that you could theme with the whole family. To recreate this simple look, you'll need a pink dress, a princess crown, some white gloves and a green jeweled necklace.
4. DIY Morton Salt Girl Costume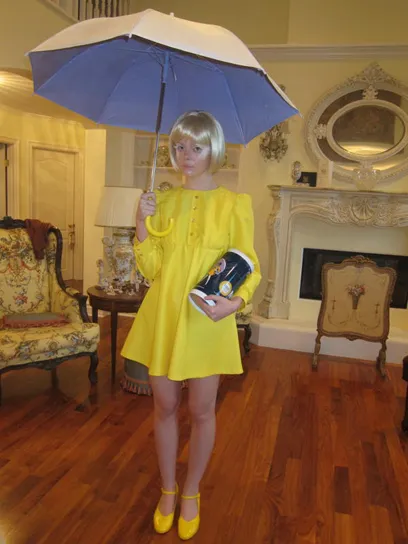 This Morton Salt Girl Costume is incredibly fun! It is such a cute Modest DIY Halloween Costumes. I love how creative it is and it's something that everyone has seen! The Morton Salt Girl is a classic icon, and I think this costume would be so fun for an office party! To create this costume all you need is a cute yellow dress, a white umbrella with hook handle (you could spray paint the underside blue for an authentic look) and some yellow Mary Jane's!
5. DIY Prom Wednesday Addams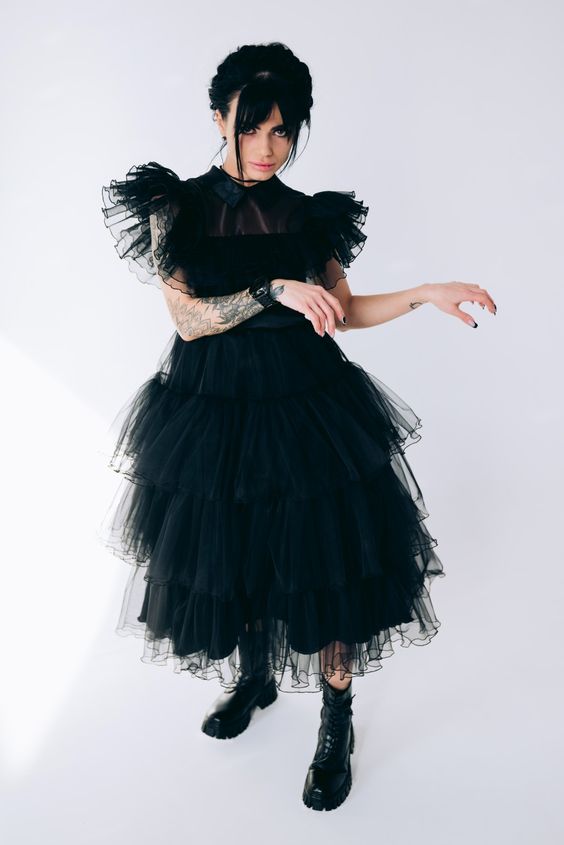 To say that I love the Wednesday Addams prom look is an understatement. The costume designers for Wednesday on Netflix did such a great job on her wardrobe throughout the show. This is a costume that you only need a few things to create and you've got it! This dress is a great match for this look. Pair it with some black combat boots to finish it off!
6. DIY Snow White Costume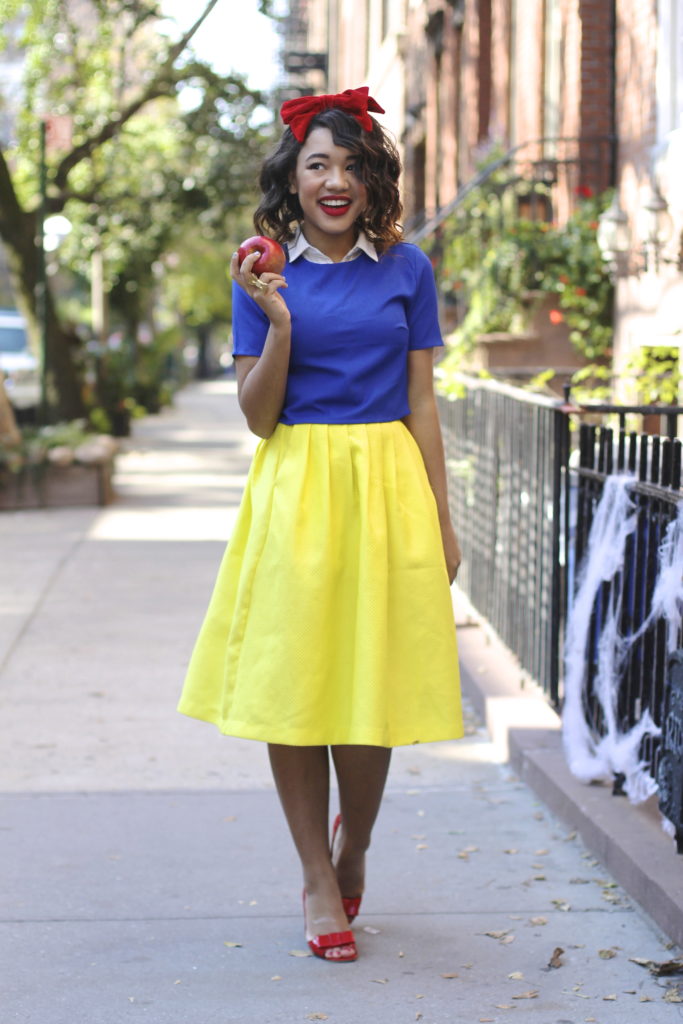 Disney announced that the live-action Snow White movie will be coming to theaters in the summer of 2024. With the excitement and buzz that this film will bring, I'm sure we will be seeing a few Snow White costumes this year! To get this simple look, you'll need to grab a yellow skirt, a cute red headband with a bow, a blue tee, a collared tank and some red heels!
7. DIY Rihanna Super Bowl 2023 Costume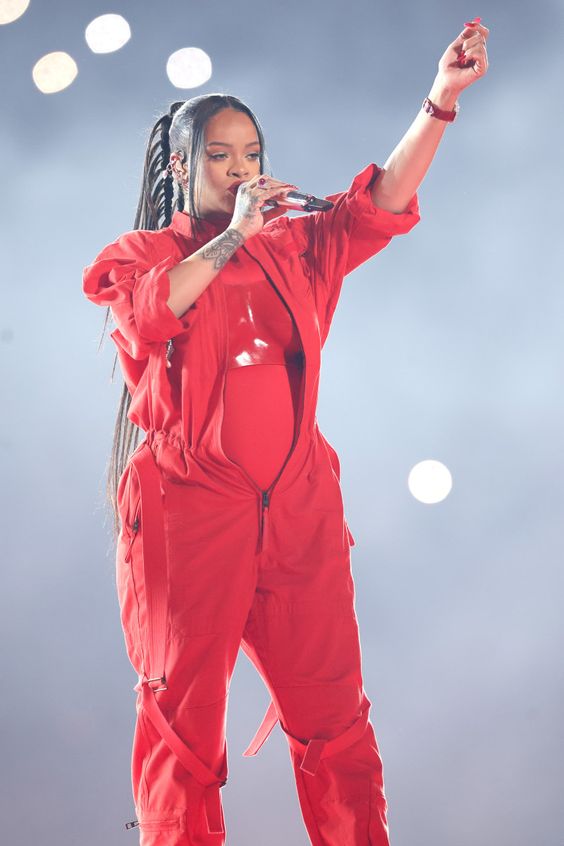 How amazing was Rihanna's Super Bowl performance this year? I can't tell you how many videos I saw of people recreating the dance moves that were in this performance. LOL. I think this costume would be awesome to recreate! You'll need just three things for this look. A red coverall jumpsuit, a red breastplate and a red bodysuit!
8. DIY Winnie the Pooh Costume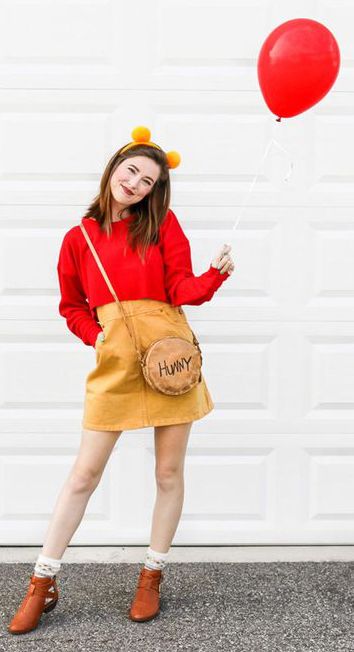 How adorable is this DIY Winnie the Pooh Costume? Everything about it looks so fun and carefree. No one hates this adorable classic bear. I think this one would be a fun group or family themed costume idea too! It would be so easy to recreate this look with a red sweater, a mustard skirt and some cute Winnie the Pooh ears!
9. DIY Boba Bubble Tea Costume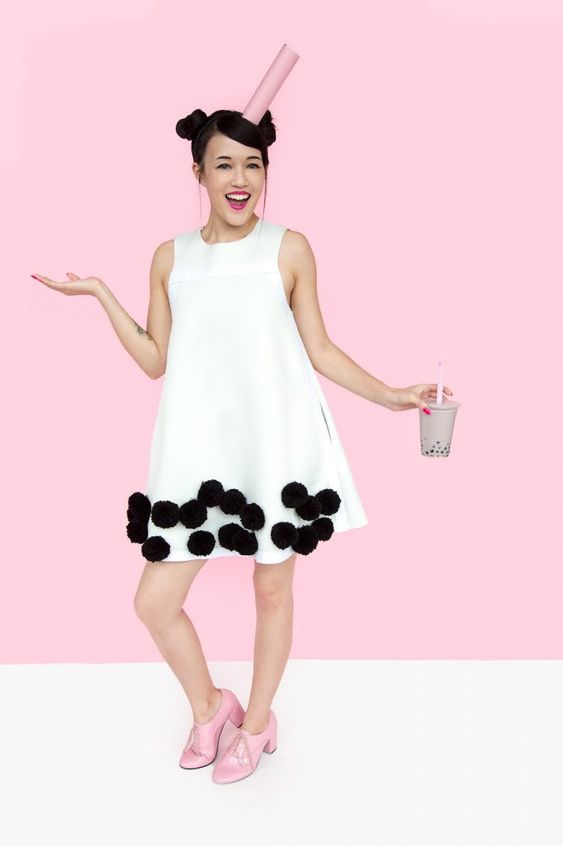 This DIY Boba Bubble Tea Costume would be so easy and affordable to recreate! For the straw, all you will need is an empty paper towel roll, some pink paint and a headband to glue it to. Then, you'll just need to get a cute white or cream swing dress and glue some black pom pom balls to the bottom. Pair it with some cute pink heels to match the straw and the costume is complete!
10. DIY Where's Waldo Costume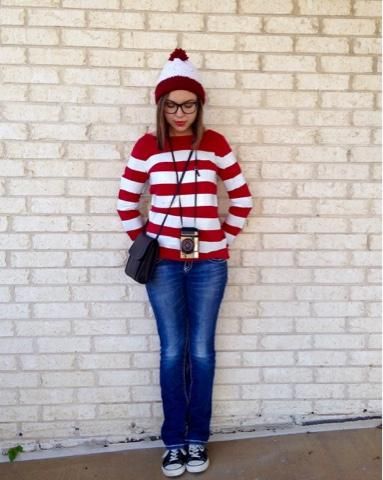 This has to be the easiest DIY costume on this post! Where's Waldo was one of my favorite activities as a kid, and this costume brings back so much nostalgia for those fun days. To get this look, all you'll need is a red and white striped sweater, a red and white beanie and some Waldo inspired glasses!
11. DIY Life Gives You Lemons Costume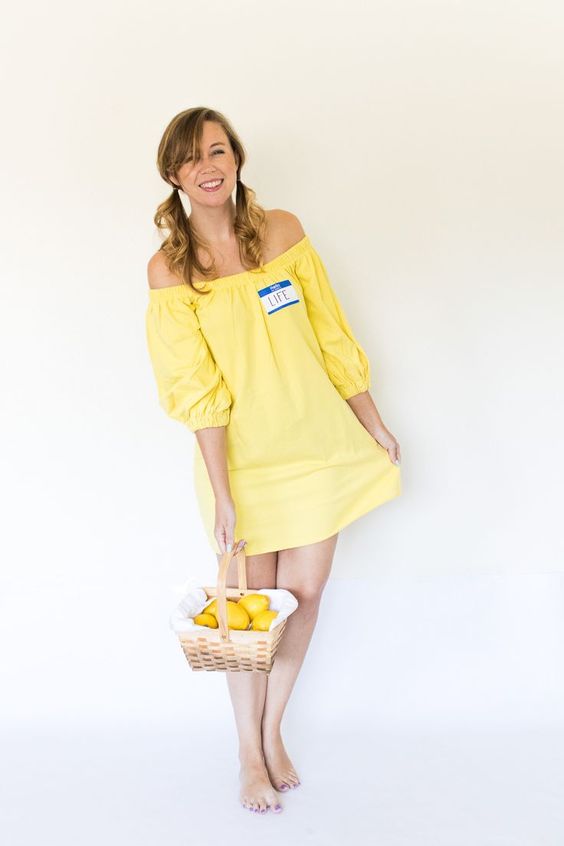 I really love a good pun inspired costume idea. This one hits the mark in the cutest way! I feel like you could recreate this costume idea in numerous different ways. If I were to be this for Halloween, I would go with this cute yellow dress or this more simple dress and have this adorable basket. Don't forget the name tags and either real lemons or fake lemons!
12. DIY Strawberry Costume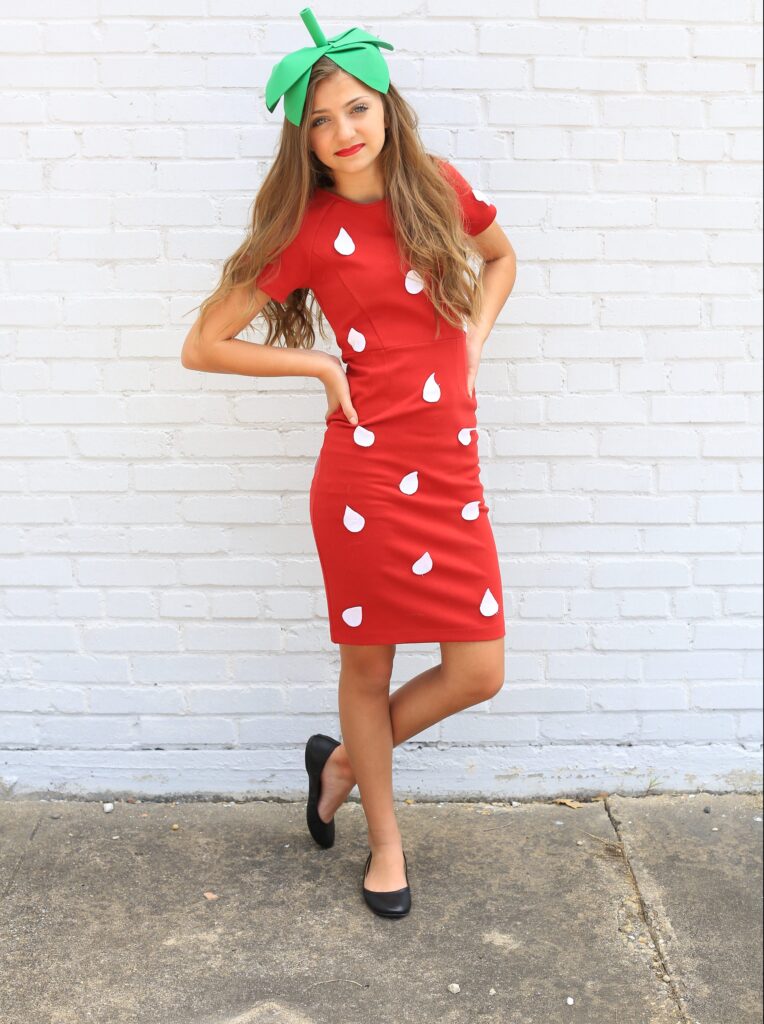 There are a ton of ways you could do a DIY strawberry costume! This one is incredibly cute, especially with the red dress and stem headband. All you need to do is grab a cute red dress, a green headband, some green felt for the leaves and some white felt for the seeds. You could even use a red tee shirt if you don't want to wear a dress for this costume.
13. DIY Animal Cooke Costume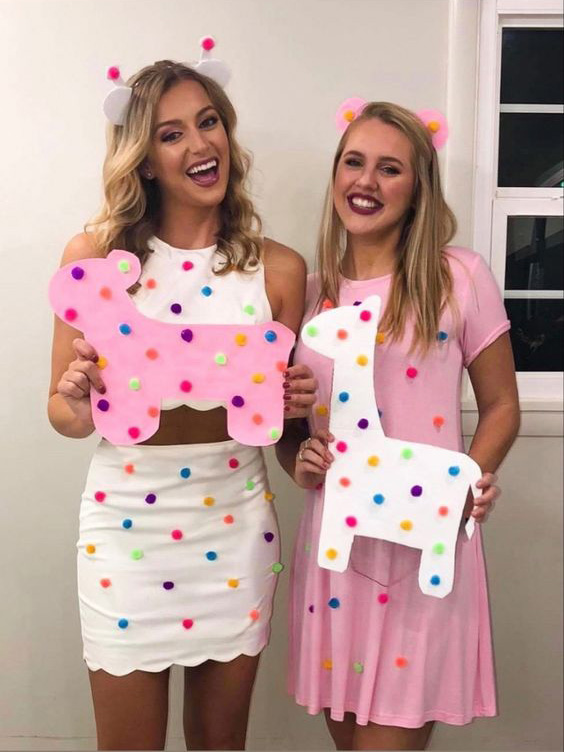 This costume idea would be so fun to do with a friend and makes one of the best Modest DIY Halloween Costumes! One of you could be the pink cookie and one of you can be the white cookie! Animal cookies are a classic treat that everyone recognizes and this costume is sure to be a huge hit! To get the look for this costume idea you'll need to grab some colorful pom poms, and either a white dress or a pink dress. Then to make the ears you'll need a headband and some matching felt (either white or pink depending on which cookie color you're going with).
14. DIY Sprinkles Costume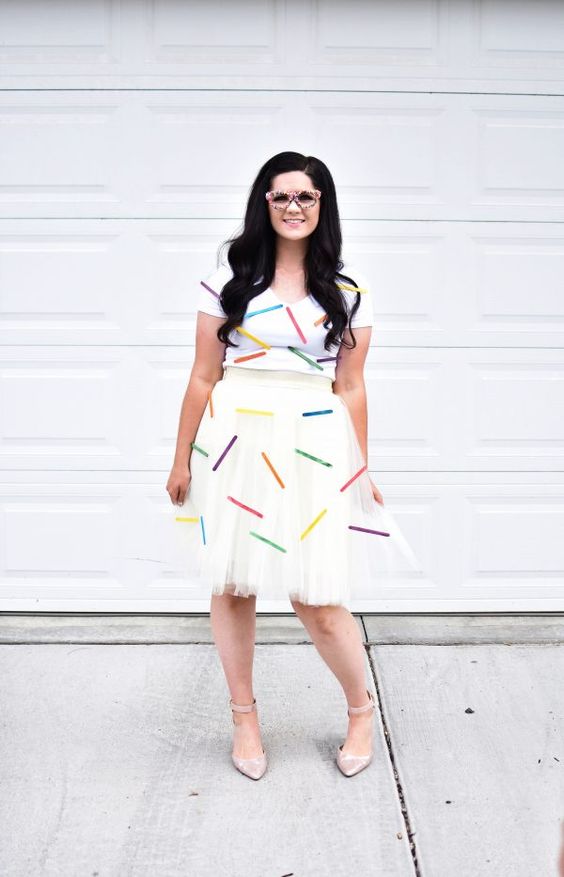 I love this idea for a DIY costume! It looks so fun and cute, yet not tacky at all, for a DIY costume using Popsicle sticks. The Tulle skirt really puts this costume to the next level! This costume is so easy to recreate! All you need is a white tee shirt, a fluffy tulle skirt, and some colorful Popsicle sticks (or paint your own!). I also love her cute matching glasses! Those are just chunky rimmed glasses with some rainbow sprinkles glued on!
15. DIY Starbucks Drink Costume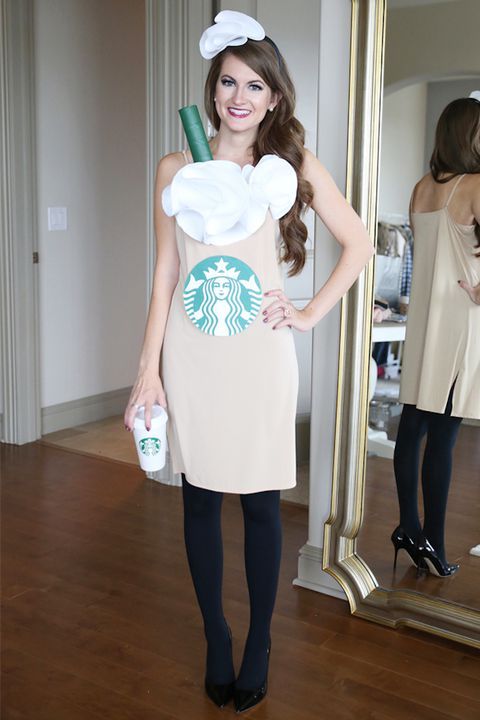 You guys know I love my Starbucks drinks! How perfect is this DIY Starbucks costume! All you need for this look is a beige dress, some opaque tights and some white felt. For the straw, you just need to use an empty paper towel roll and paint it green. Finish it off with a headband that has some more felt glued on and you're on your way!
This post showed you 15 Modest DIY Halloween Costumes For Women.
You May Also Like:
xx,
Lauren