27 Beautiful Fall Wreaths for 2023
Nothing makes your home look more inviting than beautiful fall wreaths! The cozy colors of fall hung on your door is the perfect start to decorating your home for the cooler temperatures.
Decorating for fall is one of my favorite things to do! But it can be overwhelming to find an affordable high quality wreath for fall. There are so many places to get a fun fall wreath and there are so many options to choose from.
In this post I'm going to help you by narrowing down the best places to buy fall wreaths so you can gather some inspiration for your front door decor. You can click images to shop any of these wreaths!
The Best Places to Shop for Fall Wreaths
I love this time of year. When the air gets crisp and the leaves start to turn colors, I can't help but bust out all of my fall decor and start decorating! Fall wreaths are one of the best statement pieces for your porch. They are so pretty and can match any decor style. They come in neutral hues as well as beautiful colors and large flowers. Here are the best places to shop for fall wreaths.
Pottery Barn
Pottery Barn has been around for a long time and is often touted as the best place for home decor, furniture, linens and more! So it's no surprise that when I'm looking for fall wreaths this is one of the first places I'll go. Their assortment of wreaths is gorgeous. Their attention to detail and simple elegance is unmatched at Pottery Barn, and the fall wreaths reflect those details.
My favorite wreaths from Pottery Barn are the Faux Pomegranate & Pinecone Wreath and the Handcrafted Lit Maple Pumpkin Wreath. The Handcrafted Lit Maple Pumpkin Wreath comes with a matching garland that you can use on your mantle or above your door or for a coordinated look. Check out all of their fall wreaths.
Wayfair
Wayfair is one of the biggest online retailers for all thing home. They have so many options for outdoor fall wreaths for 2023. They often have sales and their prices are already reasonable, so you can really get a good deal on some quality fall decor.
It's hard to choose a favorite wreath from the many, many choices on Wayfair. I really like this 28″ Faux wreath for thanksgiving. It's so cute with the pumpkins and the big flowers and greenery. I also love this Faux Sunflower Floral 28" Wreath. The swooping greenery and different shades of orange make the perfect color palette for a fall wreath.
Target
If you are looking for cute and affordable front door fall wreaths for 2023, then Target is the place. They have some amazing outdoor home decor and unbeatable prices. They work with some very well-known designers like Studio McGee (Shea and Syd McGee) and Hearth & Hand (Chip and Joanna Gains). So their decorations are always well executed, well thought out and always on trend.
At Target the best fall wreaths for 2023 are the Fall Leaf Wreath Green and the Neutral Leaf Wreath – designed with Studio McGee. I really love both of these wreaths for their simple elegance and their affordable price tags. I also love that you can easily shop at Target online and have your items shipped right to you. Shipping is usually very quick and well-packaged.
Kirkland's Home
Kirkland's Home has some of the best unique fall door wreaths. This store is full of the best seasonal home decor items at very low and reasonable prices. I really love the artwork and rugs from Kirkland's Home, but the wreaths are where it's at this season. They have so many to choose from, and a lot of them also have a coordinating garland to go along with them.
My Kirkland's Home picks have to be this Mixed Wheat and Protea Fall Wreath and this Tricolor Eucalyptus Wreath. All of the wreaths from Kirkland's Home are beautiful. I truly think that this store has the best fall wreaths for 2023.
Crate & Barrel
Crate & Barrel is one of my favorite stores to wander around. I can gather so many ideas from their showroom floor. Of course my favorite time to get my decorating inspiration is for fall. They have the best fall home pieces that are so unique and timeless.
My favorite front door wreath at Crate & Barrel is this Dried Greenery & Flower Wreath. I love the white mixed with green. It has such a classy look, and I feel like this wreath will be on trend for years to come. I also think this Faux Cream Lunaria Wreath is so simple and perfect for a neutral look this fall.
Williams-Sonoma
Williams-Sonoma is my all-time favorite kitchen store. They have a gadget and appliance for everything there! However, they also have some amazing home decor items. Home decor isn't what Williams-Sonoma is known for, but the pieces that they have are truly elegant and beautiful.
The Light Autumn Live Wreath from from Williams-Sonoma is so perfect for fall. I think this wreath would also be great for above a mantle or in a dining room above a buffet table. It would make the perfect decor piece for thanksgiving too.
Etsy
If you love to support small businesses or love a good fall wreath DIY, then Etsy is absolutely the place to go! There are so many to choose from, and so many eager sellers to go with . There is a style to fit every need on Etsy, and the sellers are usually so kind and nice to work with. You can even sometimes get custom wreaths made.
Items on Etsy can sell out fast since the sellers on Etsy can only make so many items. But currently my favorite on the site is this Beige Maple Leaf Wreath.
Amazon
You know that Amazon had to make my list. My favorite online place to buy everything. Amazon makes it so easy to find what you need and shipping is fast. They have wreaths for all different price points and styles to match the masses.
There are hundreds of front door fall wreaths on Amazon, so choosing a few is super hard. I found a ton that are super adorable. My favorite picks from Amazon are:
Autumn Wreath with Bright Oak Leaves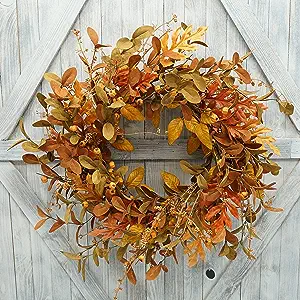 Fall Leaves Artificial Autumn Harvest Wreath with Cape Gooseberries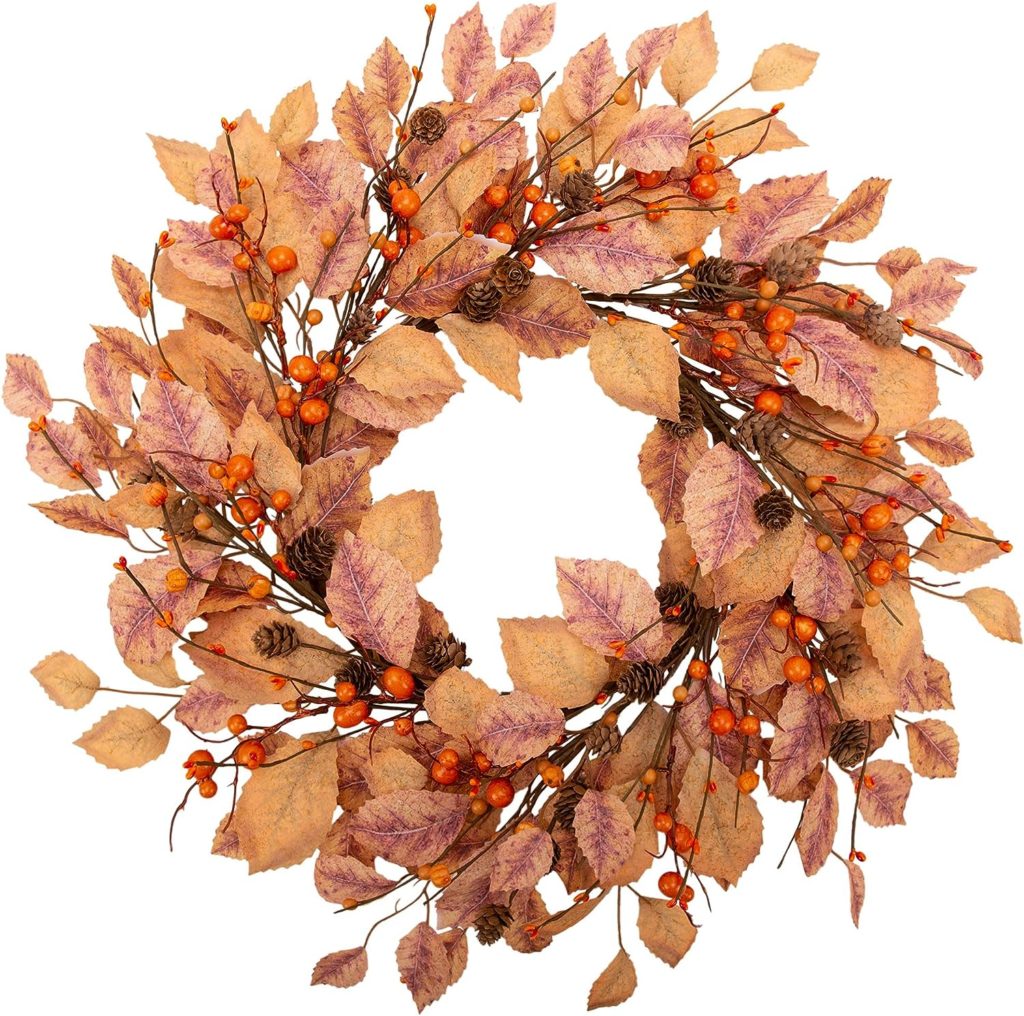 Hananona Artificial Pampas Grass Wreath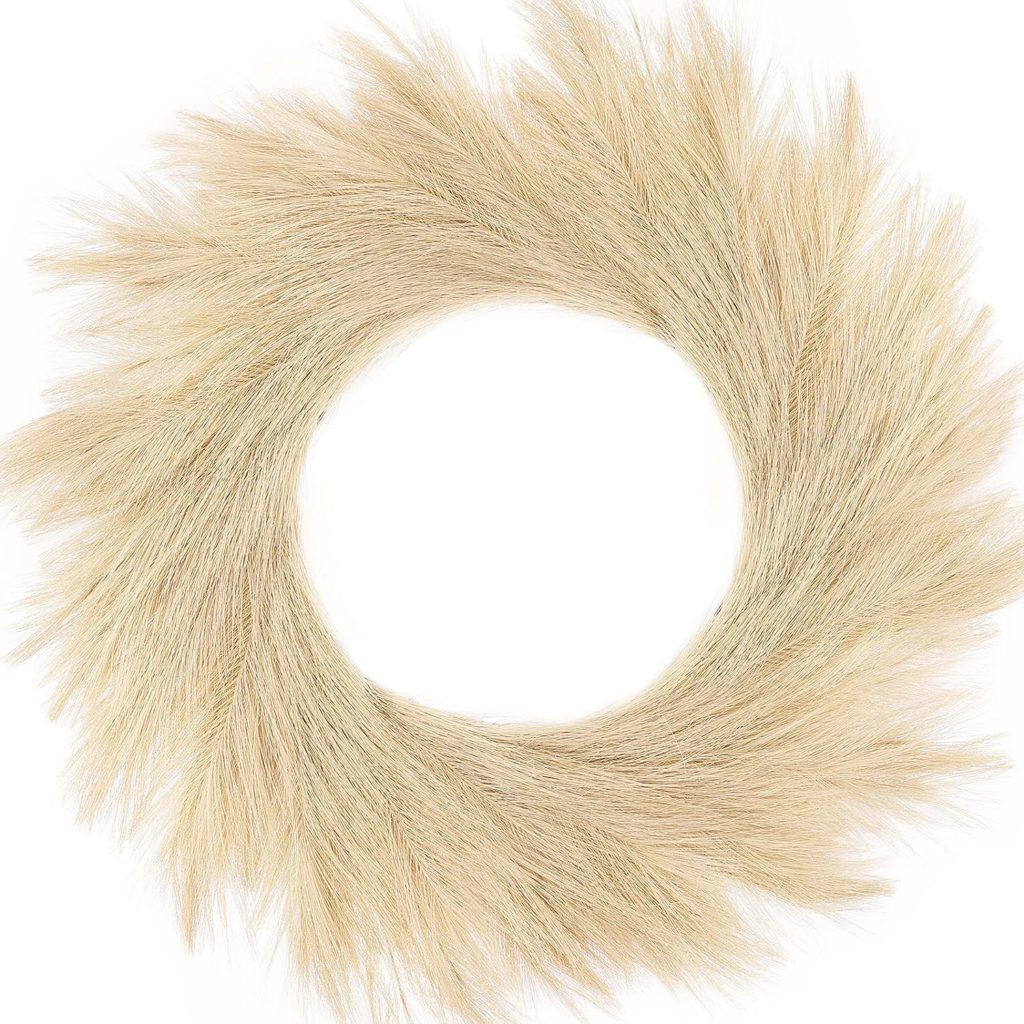 Fall Wreath Autumn Wreath for Front Door with Brown Magnolia Leaves and Small Pomegranate Fruits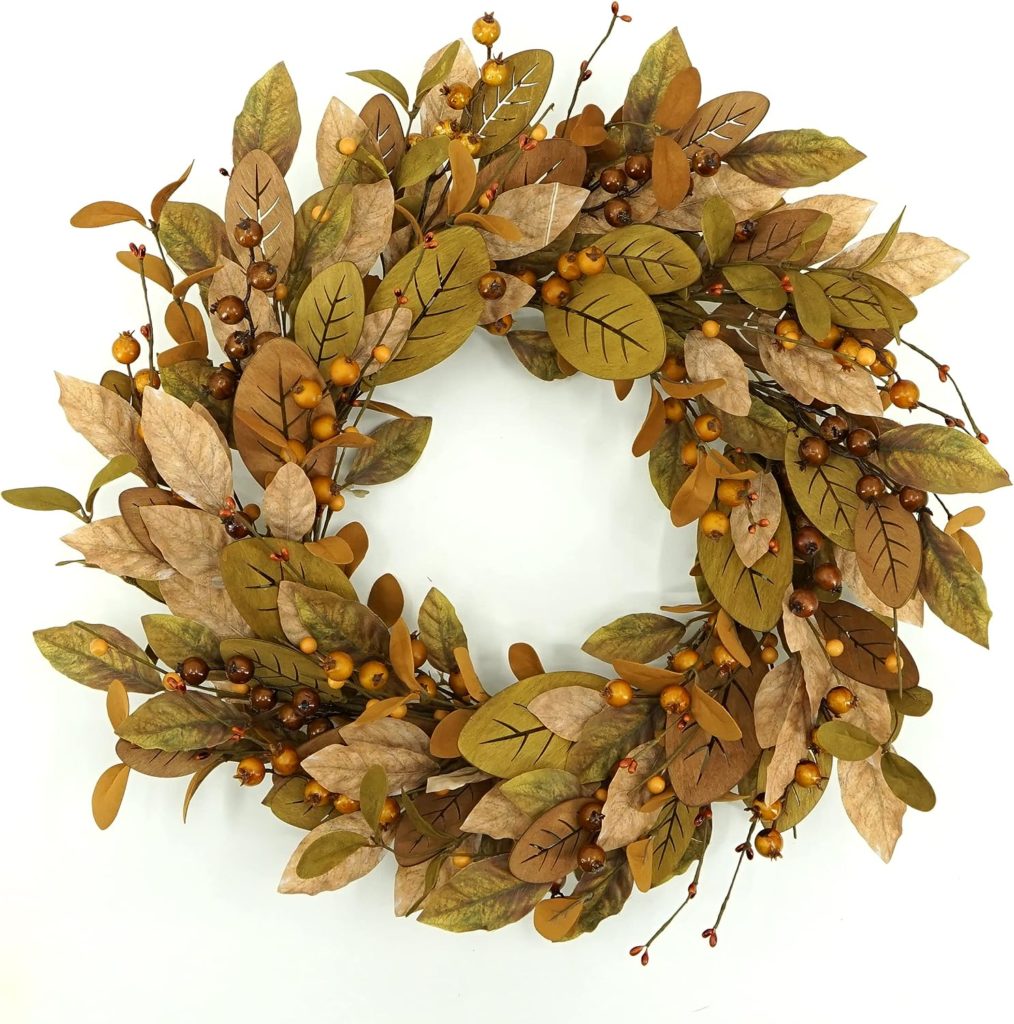 24 Inch Farmhouse Fall Straw Wreath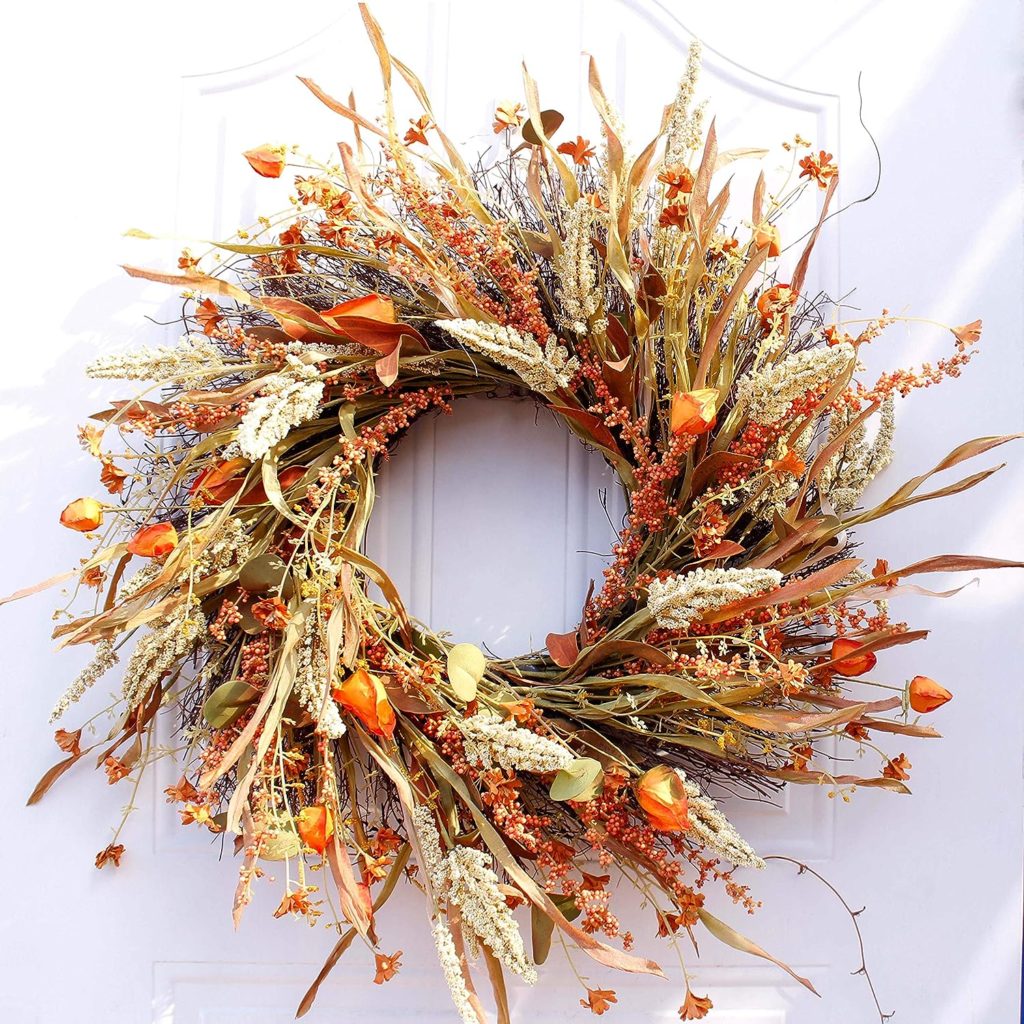 Highland Silk Fall Door Wreath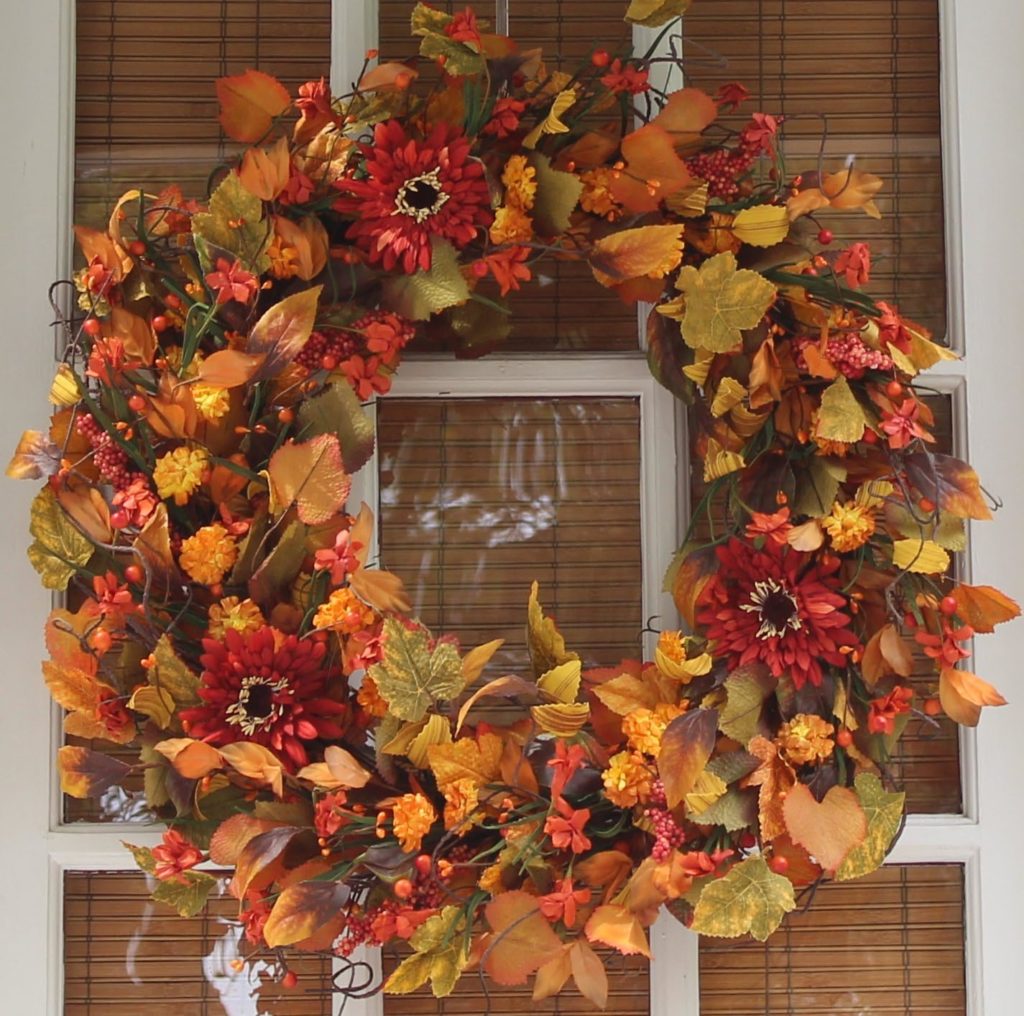 Fall Wreath Accessories
To keep your wreath in tip-top shape so it will be nice for next year, I highly recommend getting a few items for storage and nail-free hanging.
Wreath Storage Options
These wreaths will be beautiful for years to come! I recommend storing them over the spring and summer months in something that wont damage or crush them. Here are a few affordable options for storing your new wreath.
Wreath Door Hangers
You'll need a way to hang your new fall wreath! i don't recommend driving a nail into your frond door. There are so many options for nail-free hanging! I found a bunch of different hanging options!
Fall Wreath DIY
If you'd rather have a fall wreaths DIY session so you can come up with your own unique fall door wreaths, the best place for supplies is Amazon or Hobby Lobby! Here are some of the best wreath making materials for fall wreaths:
I hope you found some new fall front porch inspiration! I'm so excited for fall, and these wreaths are making me even more excited! Check out my 2023 Fall Nail Trends post if you need some nail inspiration for fall. Also check out my 10 Best Travel Sets For Women post for some cozy fall travel outfits!
xx,
Lauren