I am SO EXCITED for this post! Our new kitchen is COMPLETE! We bought a 70-year-old fixer-upper and completely gutted the entire thing.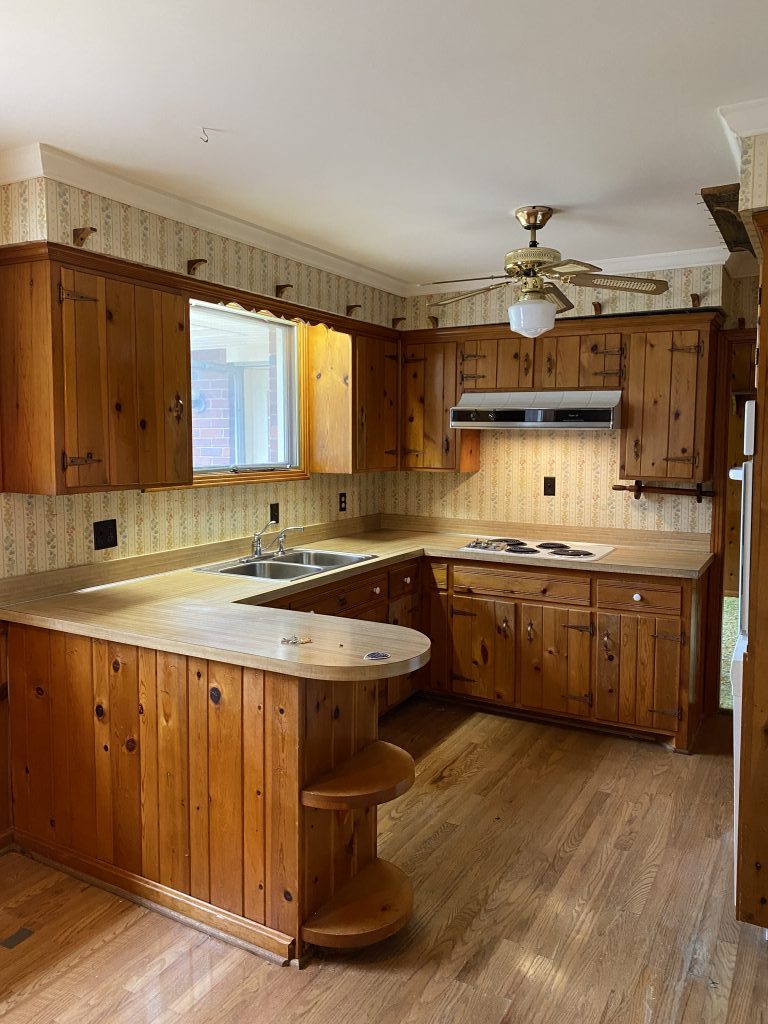 When we moved in the house wasn't completed but our rental's lease was up. I didn't extend It since we were supposed to be finished months earlier (long story, I'll share everything soon). Anyway, we've been living in our house for over 4 months and are slowly finishing things as vendors become available. It's been a journey and I am so relieved to have one full room actually completed!
The kitchen has been interesting to watch develop. When we first drew up the plans the architect had the kitchen in the same space it was before, minus a wall. We were planning to add an island and freshen things up but as we got further along in the project we realized the architect didn't draw anything to scale. Our kitchen would have literally been in our living room. The "dining area" would have only fit a 2×2 ft. table (LOL) and everything was starting to feel very cramped. We knew it wasn't going to work for us and if we continued on that path we wouldn't like the finished product. The contractor was trying to rush us and move the job along but we had to take a breather and think of a new plan.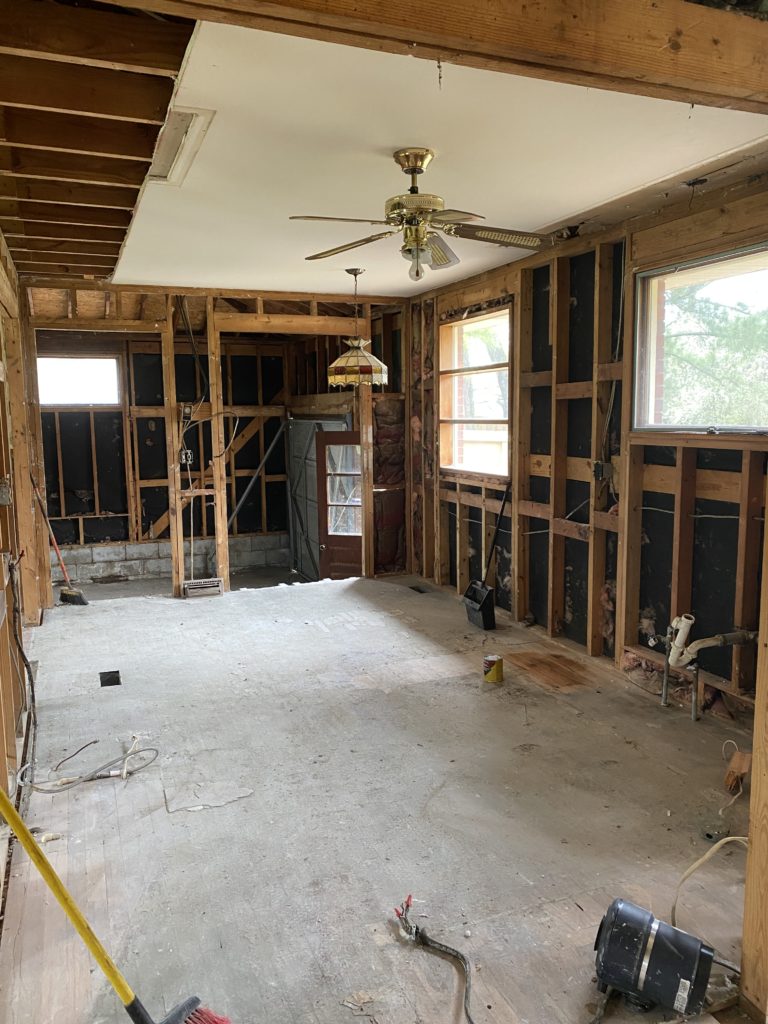 Steve came up with the idea to move the kitchen to where the garage was. We originally converted the garage into a pantry, laundry room, and half bath (that we never really wanted) so it wasn't a HUGE change- they already put up the wood frame, installed the floor, and plumbing, but that was it. We decided to nix the massive pantry and half bath and combine the laundry room and pantry into one.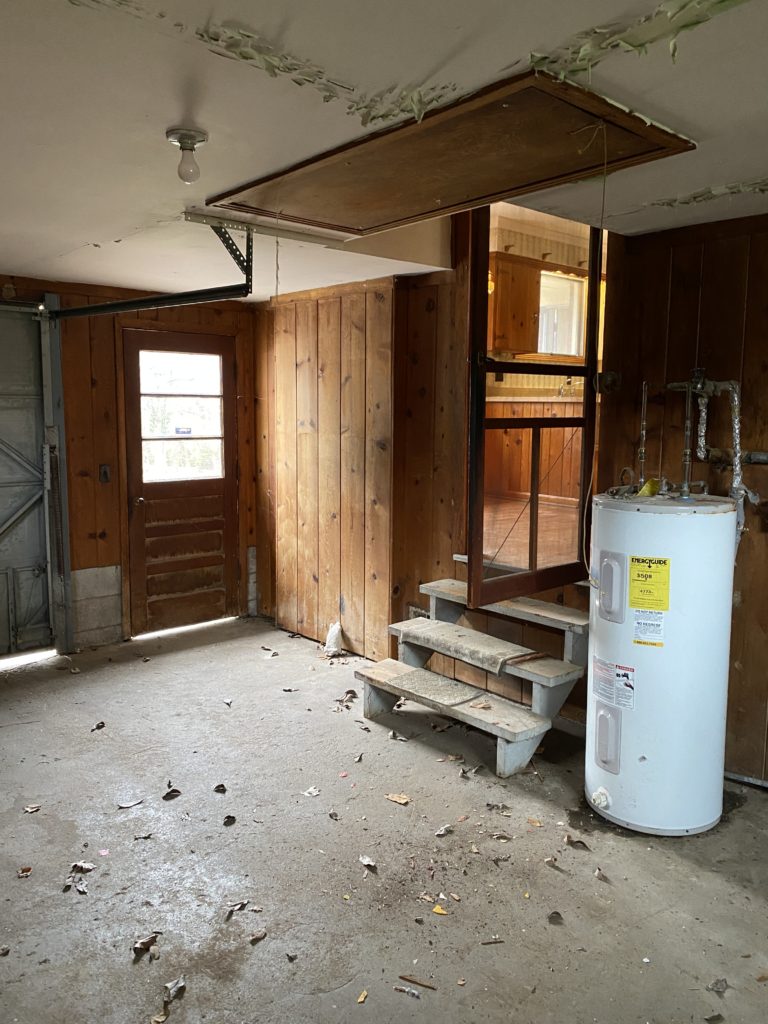 We reached out to our contractor and met him at the house the next day to share our plan. We also reached out to the architect to help us draw up new plans to scale and he didn't reply to us. Our contractor reached out to him (he originally was the one who referred him) and he told our contractor that it was a horrible idea and we should definitely not do that. He wouldn't even respond to Steve. The contractor told us we should wait for the architect before we move forward but we couldn't wait any longer (we gave him over 2 weeks to reply! He finally did weeks later and tried to talk us out of it).
After the initial demo, there was a lot of framing that had to be done since we took out the whole center wall and the wall between the garage and the kitchen. We installed a massive LVL beam down the center of the house, and another where the wall for the garage used to be. Our contractor said he would hire an engineer to make sure it was safe to move forward. Basically moving the kitchen wasn't a deal-breaker, but it would require some compromises on how much of the walls we could actually move. Steve drew up the plans for the kitchen and we got started building. I'm really amazed that Steve designed it all- he did such an amazing job!
I didn't hire a designer for the home renovation and while I'm very happy with the finished product, I probably should have because I tend to be indecisive and overanalyze everything. I'd spend hours looking at photos on Pinterest and see kitchens I liked but when it came down to making actual decisions there was a lot I never considered. I would agonize over every detail. Everything from cabinet style, to drawer pulls, to plug locations, appliances, etc. I'm going to share everything I selected and why I chose it because trust me, there's a reason for every little detail.
One thing that was pretty challenging was that Covid had just started (literally the day we signed to buy the house) and everything shut down. I had to make the majority of my decisions by purchasing things online. I would have items delivered and would have to decide to either keep them or return them if they weren't what I was hoping for. Many retailers charge return shipping so it put a lot of pressure on me to really trust my decisions. I would order 1 item- decide if we liked it- then order the rest if we did. Overall I'm so happy with everything we chose… Even the Appliances!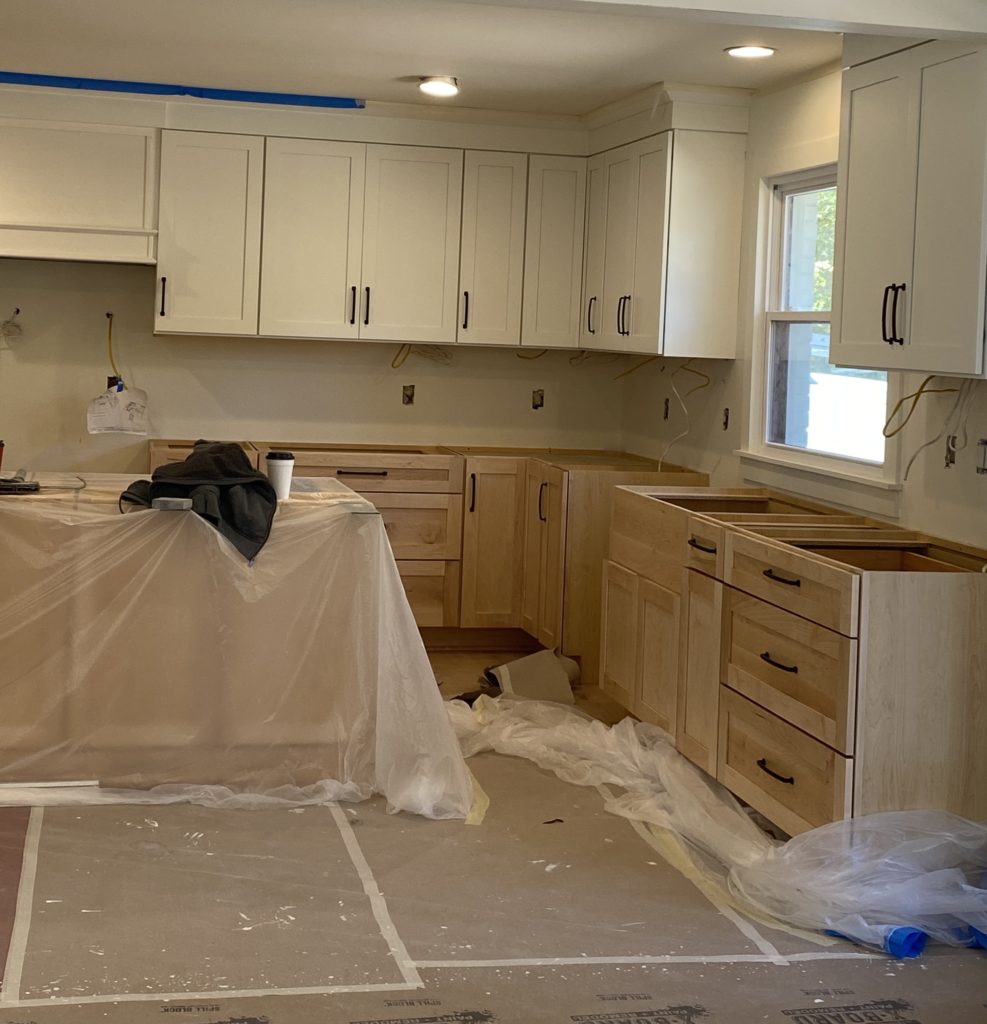 Let's get into the details of our new kitchen! I really wanted a warm and comfortable kitchen. We love to entertain and wanted the kitchen to be the hang-out spot in the house. I'm SO glad we moved it to the far end of the home!
I love the classic white style. It definitely makes taking photos easier but I really wanted to bring in natural wood elements to warm up the space. I decided to go with natural maple with a clear stain on the lower cabinets, and white paint uppers. The cabinet style is called Shaker, btw. We added as many drawers as possible on the lower cabinets- They are more functional to me and I love that we can use the whole space. We also added storage to the back of the island in front of the bar stools. The doors look like panels but are actually cabinets! One thing this house doesn't have much of is space for storage. Though we loved the look of exposed shelves we knew they wouldn't be practical for our needs so we went with cabinets where we can store a lot of items. Plus who wants to keep their shelves organized all the time!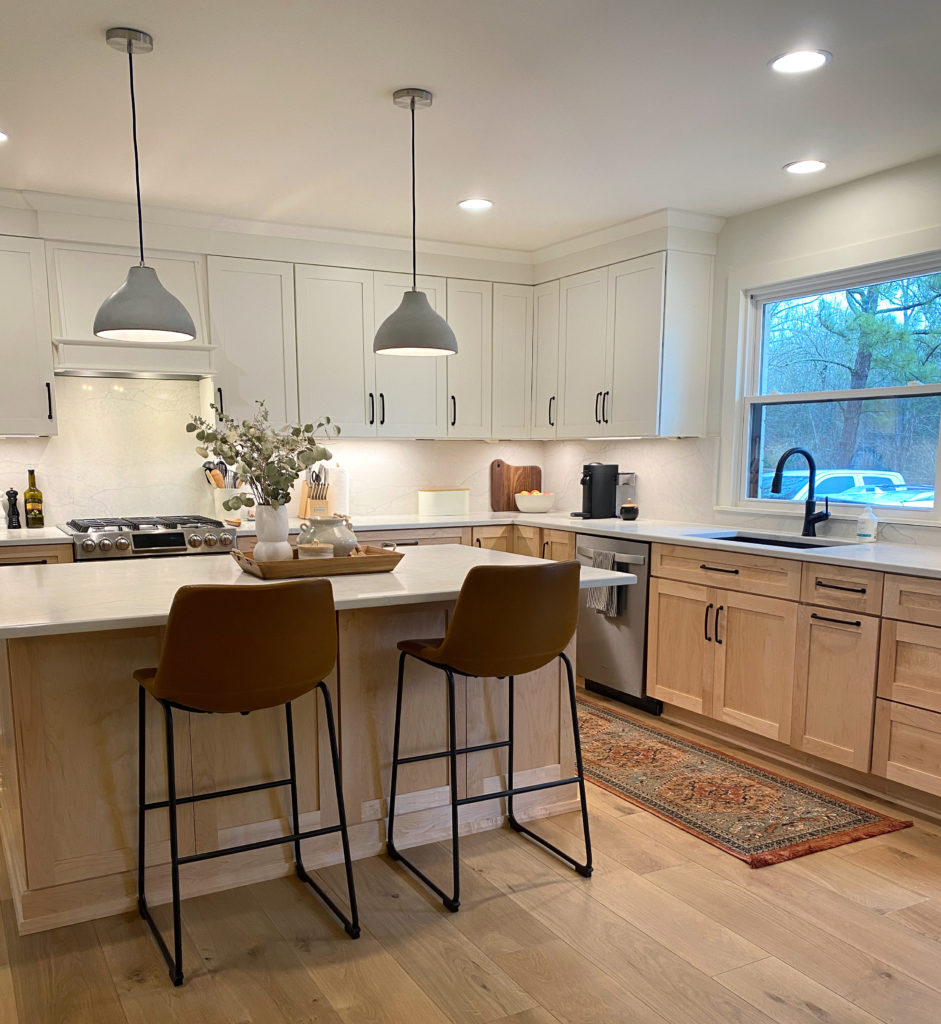 We went with a black quartz granite sink. I never thought I would ever get excited over a fixture but this sink is EVERYTHING. I knew I wanted a single basin BIG sink and I love the look of the black. This one had amazing reviews. I can 100% vouch that it doesn't sound hollow or tinny. It comes in many colors too!
When the quarantine lifted and we were finally able to go into some stores, we checked out Ferguson. Everything they had was beautiful and also pretty expensive. I got a lot of my inspiration from there and then went searching online for similar options. The kitchen faucet I found is everything I'd hoped it would be. It's not too modern, and not too farmhouse. I also love the spray nozzle and the pull-down cord. I wanted a single handle because I like the clean-looking simple design. It's also easier to clean.
For the countertops, we wanted something that looked like marble but with less maintenance. I also knew I wanted to run it up the backsplash instead of the tile so the veining had to be just right. After looking at what seemed like hundreds of showrooms we went with the brand Vadara. The color is Sereno Bianco and I couldn't be happier. They are GORGEOUS and look like authentic marble!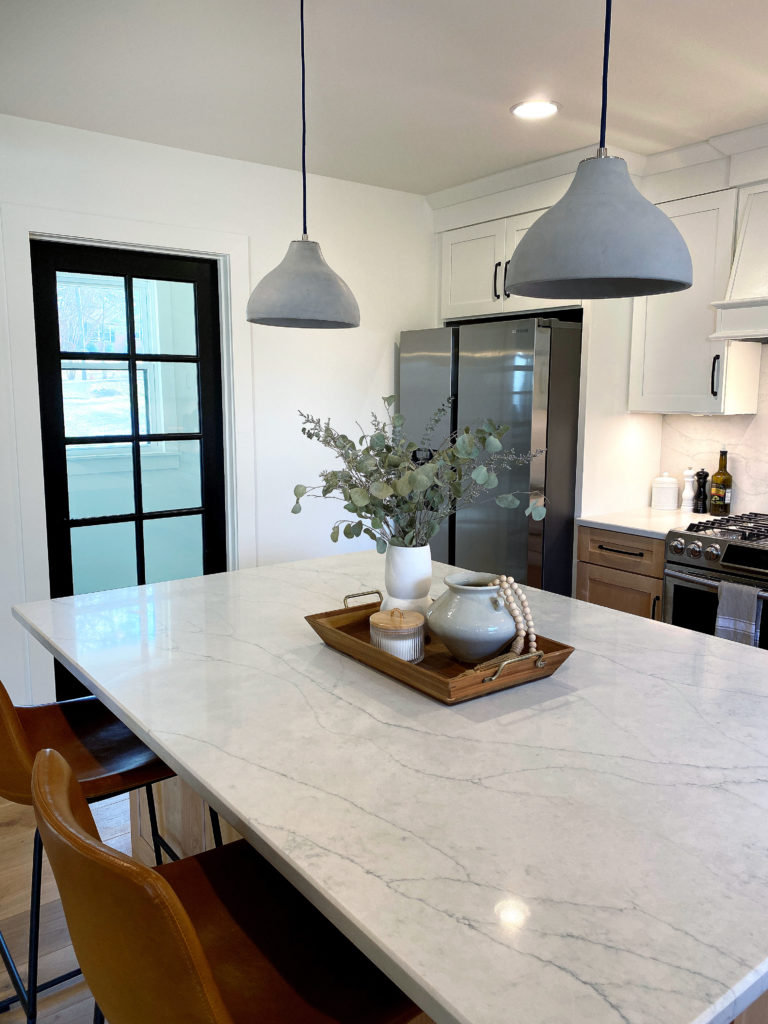 I love the white/ grey tone to the counters and wanted to find concrete pendant lights to give it a more rustic, vibe. I found these and knew right away they were it. They are exactly the look I was going for!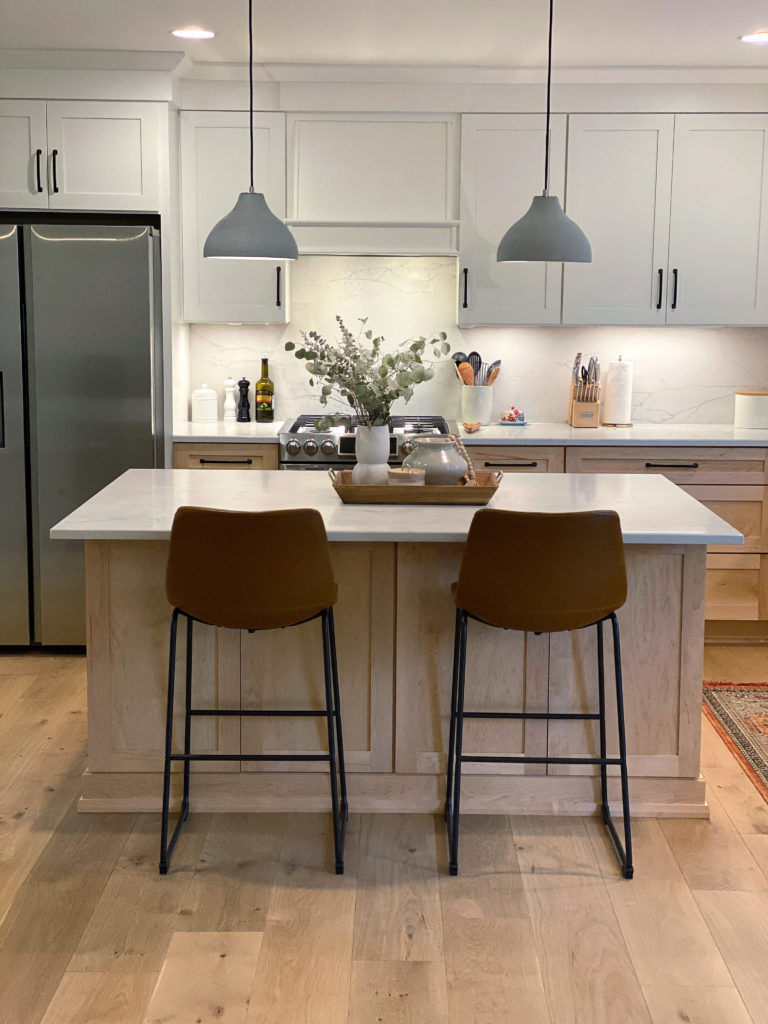 The drawer pulls were also very important to me- I wanted them to feel comfortable in our hands. I went back and forth with a more modern style but decided these went well with the modern farmhouse style and matched all of the other fixtures perfectly. I originally saw & felt them at Ferguson and found the exact same ones online for way less! We did 6 inch pulls on the vertical cabinets and 8 inch pulls on the drawers.
We put the majority of the plugs under the cabinets instead of in the backsplash because I take a lot of product photos and plugs always get in the way. I'm so happy we did that!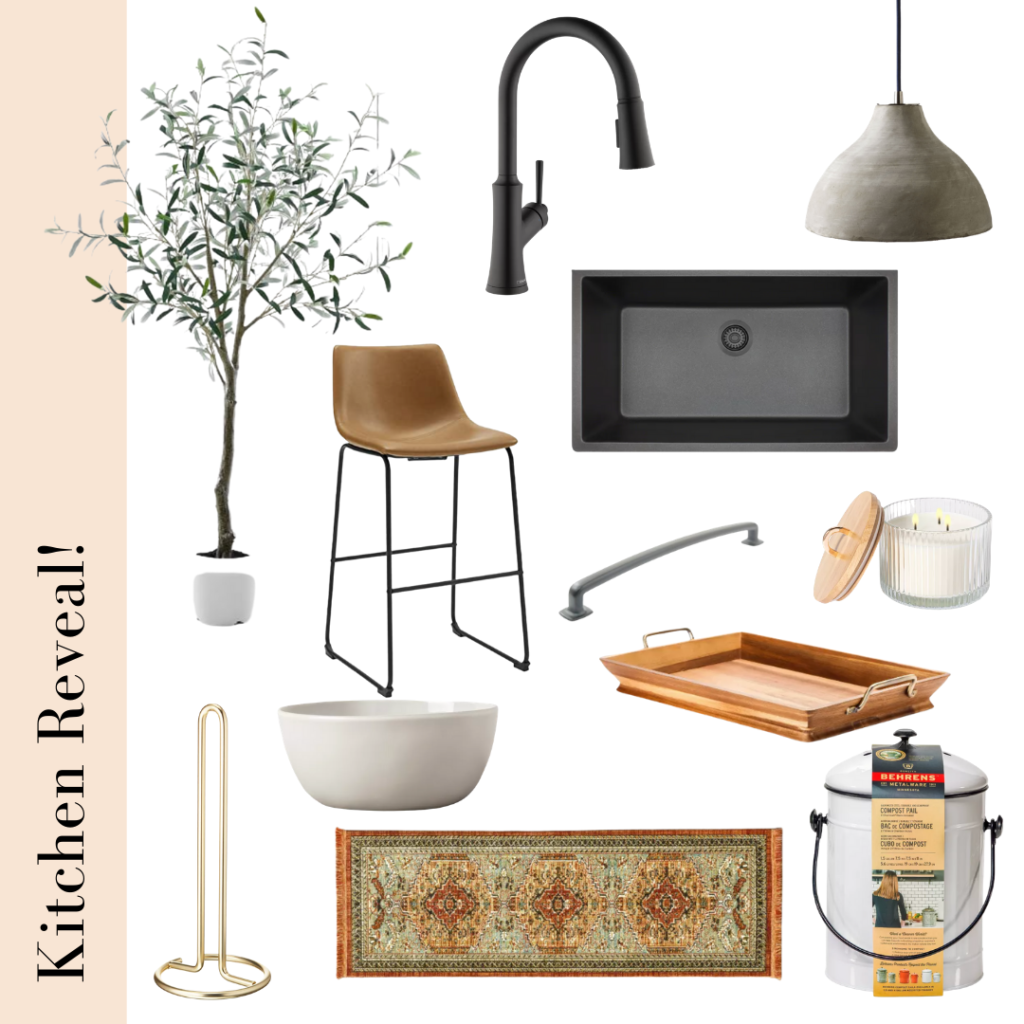 The white oak wide plank wood floors were something I wanted all along. Our contractor convinced us to keep the original 2.5 inch red oak floors and promised he could get them to the color we want. I'm not going to get into much detail on this yet (that's a long story) but when they went to finish the floors, the area where they installed new red oak and laced it in with the 70-year-old existing wood was like night and day. The new wood was pink! They also didn't do a great job finishing it and when we brought it up they said it's "restoration quality". Well, newly installed floors shouldn't be restoration quality. We had a big issue with that and ended up removing all of the old floor to install the one we wanted all along. I'm so happy we did but boy did it get ugly with the contractor. Our floors are from Floor & Decor.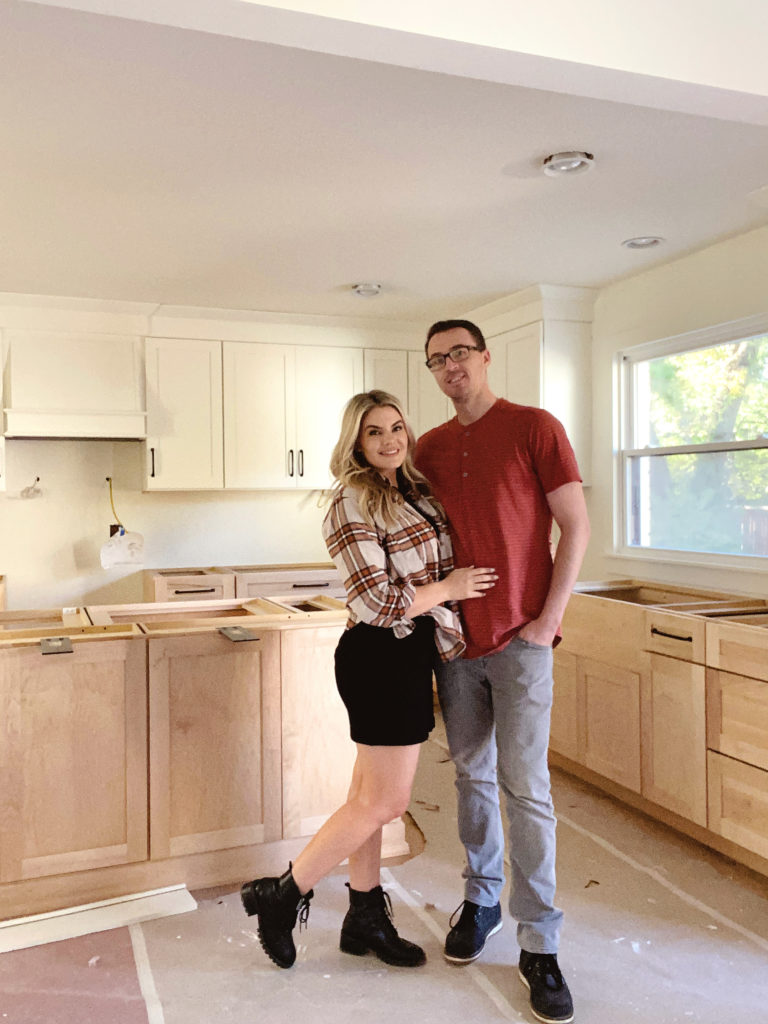 Overall I absolutely love the kitchen. I am so happy with Steve's design and everything we installed. It was definitely a roller coaster to get here. I'm not sure if I'd ever take on a home renovation again but it sure is fun to live in a home where you decided on all the details.
Have you ever renovated? How was it?
xx,
Lauren