We Bought A Fixer-Upper Home!
I'm so excited to share that we bought a house in Nashville! We absolutely love it here and since moving from San Diego in October it already feels like home. One of the reasons we moved out of California is because we wanted to buy a house with a big yard and unless you live way out of the metro area, or have a big budget, that's nearly impossible there.
Since we are new to Nashville, we wanted to be really sure we bought a home in an area we love. One day after Steve and I drove everywhere from Brentwood to Crieve Hall to West Meade we were on our way home feeling a little defeated that what we are looking for in our price range just doesn't exist here. I saw an open house pop up in East Nashville (where we currently live) so we stopped by. The house was one story, on a flat half-acre lot, was completely redone and at the top of our price range. We didn't think this existed in East! Most of the houses here are pretty close together and need a lot of work, or are new builds where they tore down an old house and built two new ones right next to each other. We contacted our realtor and found out it already had a few offers on it and was pending. I was SO BUMMED. In the following weeks, we kept looking at other houses but nothing really compared to this one.
The Stress of Buying a House
If you've ever bought a house you know how frustrating it is. You look at Redfin and try to fall in love with houses you've already seen on there for weeks. When there's no new inventory you get kind of desperate because as soon as something pops up everyone jumps on it. Steve and I kept looking at the same houses trying to make them work for us. I told him we can't settle- we moved to Tennessee so we could get our dream house and not compromise! So that night we wrote a list of everything we would want in our perfect home. Here's our list (check the date!).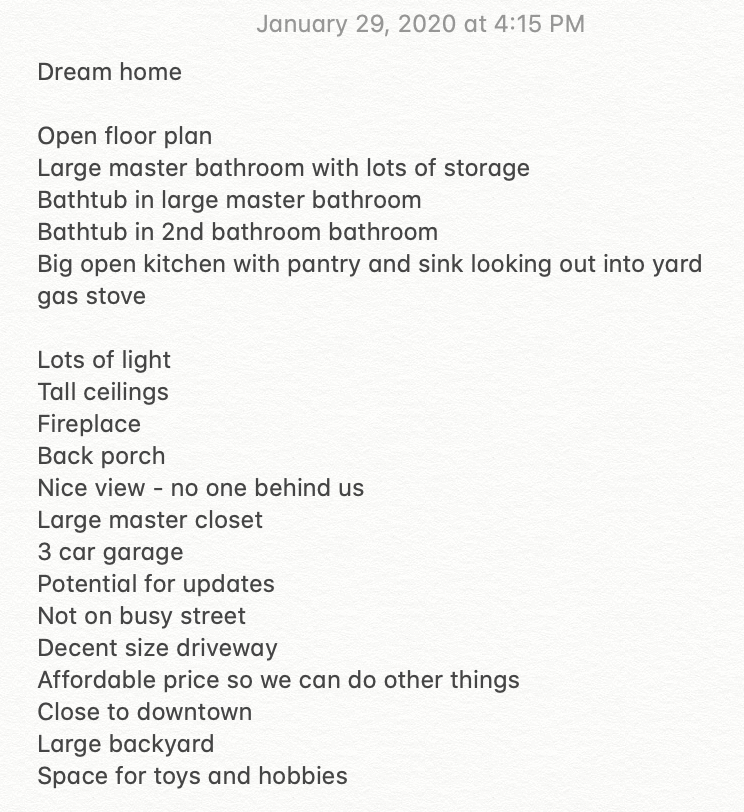 A new house popped up on Redfin a few weeks later in the same area as the one I loved. It was in our price range WITH room for renovations! I sent it to my realtor and we toured it that day with my contractor. He confirmed we could afford a full renovation-thank god because it needs it. Every room had a different color carpet- one had bright yellow shag carpet (LOL). We made an offer immediately- we wrote a buyer letter and offered the full asking price. Steve didn't even get to see it. The next day the house had showings every 30 minutes and multiple other offers. The sellers' realtor told us they were cutting off offers at 5 pm and will select one by 8… The suspense! It's like waiting for your crush to call… but worse!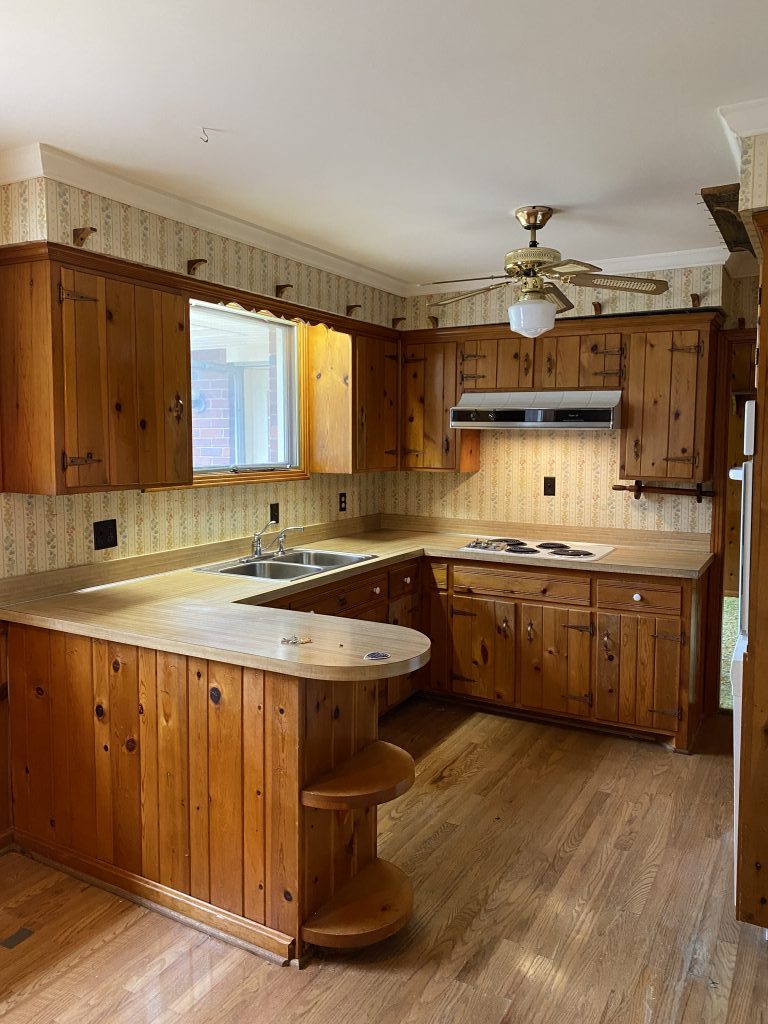 The Waiting Game
Well… WE GOT THE HOUSE!!! What's crazy is it has everything on our Dream Home List (above) that we wrote three weeks before (except the three-car garage hahah- that may have been a stretch anyway).
We closed on Friday the 13th… (eek), and we went by the house to film this for you! In this video, I take you through our new home and explain what we have planned for the renovation. I'm so excited!
I'll be sharing updates as they happen- so far they have completely gutted the house!
xx,