Review of Olive & June's New Press on Nails- The Instant Mani
Have you tried glue on nails yet? They're basically all I've worn for the past two years. I've never enjoyed going to the nail salon for a manicure… they just feel like a chore, right? When I discovered press on nails I thought I'd hit the jackpot- Shout out to Dashing Diva for getting the ball rolling. Press on's (like Dashing Diva) are great but glue-on nails are really where it's at if you want a long-lasting & secure feeling manicure. Not only can I now do my nails and have them look professionally done from the comfort of my own home BUT they also range from $8- $16 a set vs. $65+ for a dip manicure. I've tested all the main brands and usually stick to Static Nails because they are great quality and last the longest on me. But with Static Nails's recent price increase I've been on the hunt for something new. That's when I discovered that Olive & June recently launched The Instant Mani!
I have a 20% discount to Olive & June with the code: OJLaurenErro20
If you like video reviews and want to see the full application process watch here:
Initial thoughts of Olive & June's Glue on Nails:
First, I couldn't get over how much you get for $10! 42 nails! That's almost double any other brand out there. They go from SUPER narrow to SUPER wide, which I appreciate because I have wide nails and some brands don't fit (hello, Kiss Impress Press ons, I'm talking to you). But because Olive & June have 42 nails you can easily get two full sets out of a $10 container, that's $5 per set! They also provide you with a wood push stick (I love these), an alcohol wipe, a nail buffer & file, and glue.
They have SO MANY cute styles. Lots of fun designs & colors to choose from. I bought two sets, a neutral & white star set and a fun set for Valentine's Day.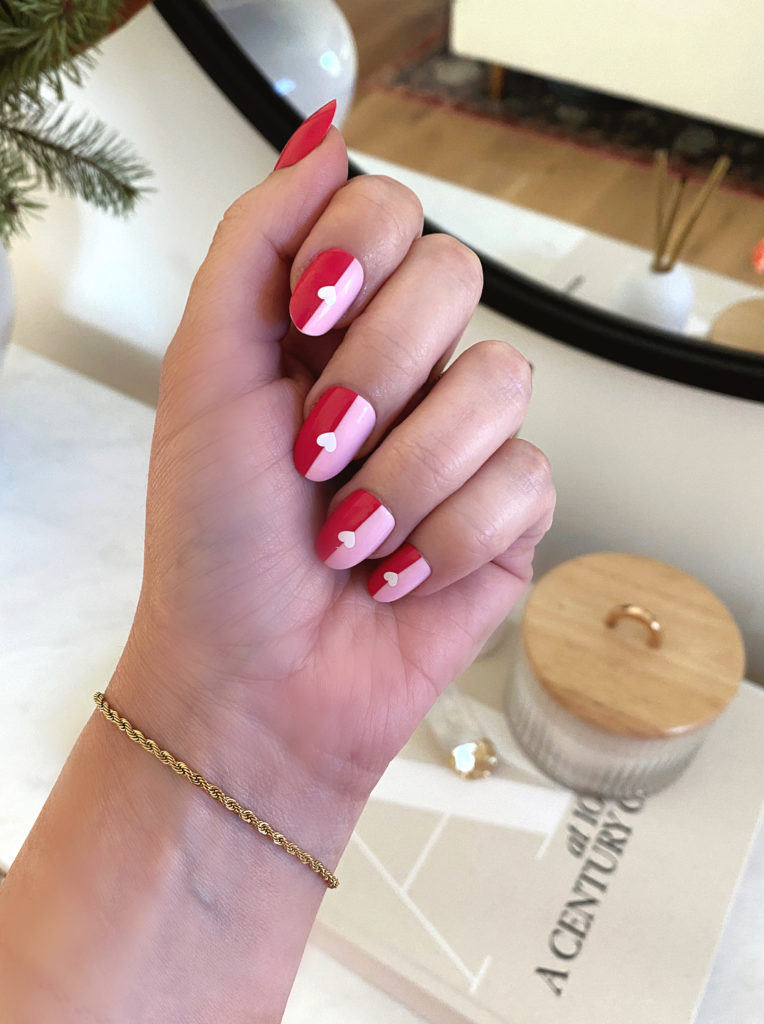 What you need to know about Olive & June's Glue on Nails
They come in 4 shapes: Squoval, round oval almond
And 4 lengths- Extra short, short, medium, long
These nails are made from 94% upcycled materials
Non-Toxic + Non-Damaging: Non-toxic nail glue and removal is always easy
They're Cruelty free & vegan
What was the application like?
I always start any nail application by using my favorite cuticle remover– This stuff is seriously a miracle in a bottle. I brush it onto my cuticles, wait 30 seconds, then use the push stick to press my cuticles up towards my finger. *You never want to trim your cuticles because it can lead to hangnails or infection.
Next, I washed my hands then buffed my nails with the buffer side of the nail file and waited for an hour as Olive & June recommends. I don't think the one-hour wait is necessary, in fact, I've never heard of this with glue ons, but I wanted to follow the directions exactly as they are so I could give the full review.
While I was waiting, I set aside the 10 nails that best fit mine. Olive & June's nails are nice because they are numbered so you can find the nails' number match and know it's likely going to fit both hands- unless your fingers are different sizes, but even if they are… You have 42 nails to choose from!
Before I started the application I wiped my nails with the alcohol wipe and kept it nearby to wipe excess glue off as I went. I LOVED having the alcohol wipe pad available! It isn't acetone so it doesn't remove the glossy coat on the nails, but it easily wipes off excess glue. I wish all nails came with one of these.
I always apply glue to the pinky press on nail first- then my pinky nail and wait 10 seconds or so so it can get tacky. Starting at your pinky and ending on your thumb is way easier. Also, adding glue to the press on nail first makes the process much less messy.
I finished by filling the little tab off of the center of the nails.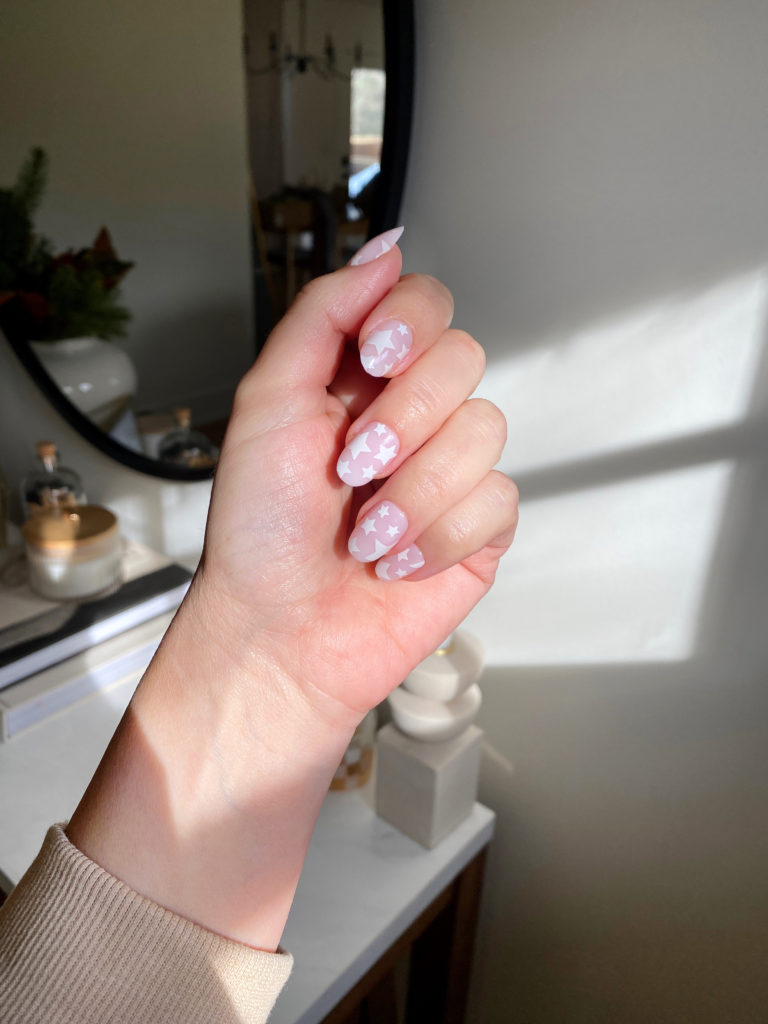 My Final Thoughts of Olive & June's Press on nails
I'm OBSESSED! These definitely give Static Nails a run for their money. Olive & June's nails are thicker and feel more durable than Static Nails, and many other glue on brands out there. Even though they are thicker they still looked seamless at the cuticle after six days of wear!
On day six a few of my nails started lifting. None came flying off though, so that's always a good sign.
I LOVE the shape. The short style is a tapered round so I didn't feel the need to reshape. All I had to do was file that little tab at the tip. I would consider the short length long for my nails but you could easily file them down to any length you prefer.
The only possible negative I can see is that the nails are pretty curved. If you have flat nail beds you may feel a little tender the first day. I read some review and some people mentioned they were painful. I have petty flat nail beds and did feel a little sore on my pinky, pointer, and thumb but I got used to it by the next day.
After six days, the design on the tips was a little worn but the glossy top coat still looked decent!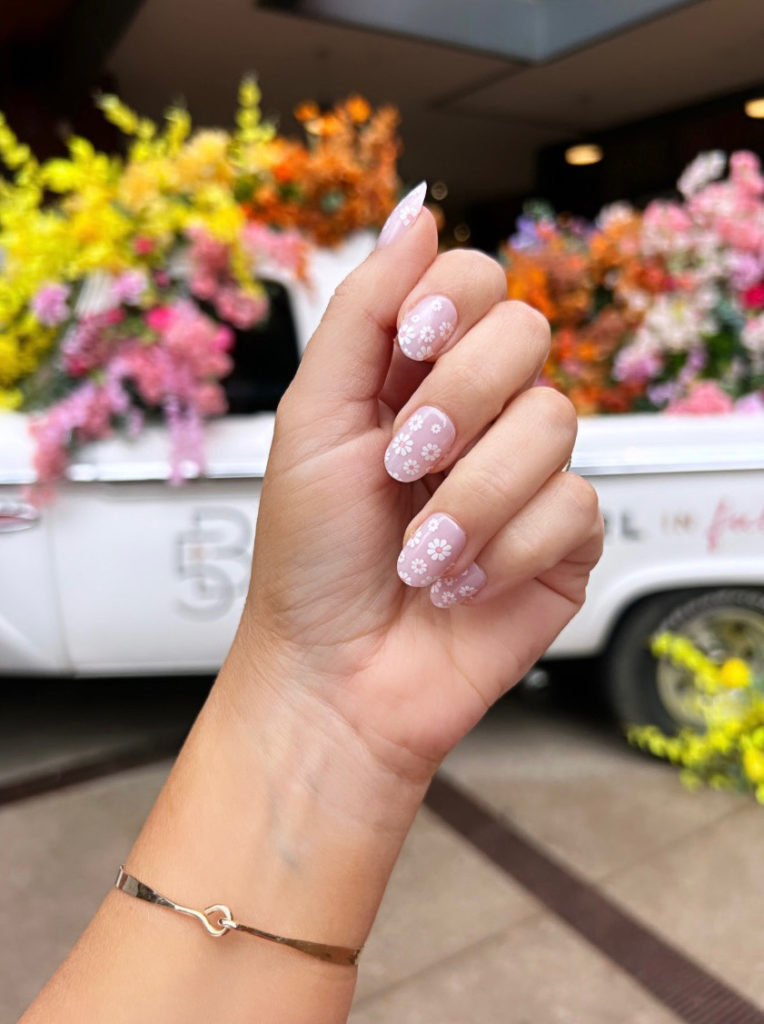 Removing Olive & June Press On Manicures:
The removal process was pretty straightforward. Since three of them were lifting at the cuticle and ready to come off I just peeled them off. For the other seven nails, I squeezed some of Static Nails' Acetone Free remover on my cuticles and let it soak for 10 minutes. This does ruin the glossy top so if you choose to remove your nails with any sort of remover then don't plan on using them again.
If you want to try and reuse the nails soak your hands in hot soapy water or a bath for 10 minutes. This will help the glue wear off quicker.
Olive & June has their Bye Bye Press On Removal System that I will be testing soon. It sounds amazing!
Overall, I'm very happy with Olive & June's Press On nails! I highly recommend them! You can grab some from Target or, for a better selection their website. I have 20% off their website with the code: OJLaurenErro20
If you've tried these or any other brands you've loved lmk in the comments!
If you enjoyed this post subscribe to my email list to get updates from me once a month!
xx,
Lauren
Do you follow me on Amazon? I post all of my favorites on there & update them regularly! Check it out HERE!