Dashing Diva Glaze Strong Semi- Cured Gel Review  
I'm back with a nail product review! I tested the Dashing Diva Glaze strong semi-cured gel and I'm so excited to share my thoughts with you.
In case you're new here, I have been wearing press-ons and glue-ons since 2019- I'm a huge fan of the Dashing Diva Press Ons, then I discovered Kiss Nails, Olive & June, and Static Nail glue-ons and have made the jump from press-ons bc I feel like they are more secure on my hands. But out of all of the press-ons I've tried, Dashing Divas are my favorite. Here is my review of them if you want to learn more!
I have tried the regular nail stickers in the past and was never impressed. I feel like they're good for people who have stronger more durable nails but my nails are paper thin… They always have been weak, peely and they would never grow very long. Even before I ever had my first gel manicure.
Glaze appealed to me because it's a nail sticker that you cure under a UV light and it hardens to feel like a thicker, more natural nail. Dashing Diva claims they will last for 14 days!
What's odd is Dashing Diva says the Glaze Strong is different than their other semi-cured nails. They say only the Glaze Strong will add strength. The only difference I noticed between them was the other Glaze's come with more color options and with 2 more nails in a set. The ingredients are the same! *Update* I tried the regular Glaze nails and they are definitely thinner and not nearly as good as the Glaze Strong! They chipped after one day and came off within two. I only recommend Glaze Strong.
Each set of the Glaze strong comes with 32 nails and claims they create the appearance of a thicker, smoother nail with a healthy, high-shine finish. This all-in-one formula promotes nail growth by shielding and protecting nails for up to 14 days as a basecoat, nail strengthener, nail hardener, and topcoat. 
They claim Glaze is 10x stronger than conventional hardeners, smoothes imperfections and ridges, and promotes healthy nail growth.
A few things to note: if these are exposed to sunlight or heat they will cure themselves before you ever use them. Same thing if you expose them to UV/ led light before the application. They also can become stiff with colder temperatures but when you return them to normal temps 59-77 they'll be fine to use.
What's in the Glaze Strong kit: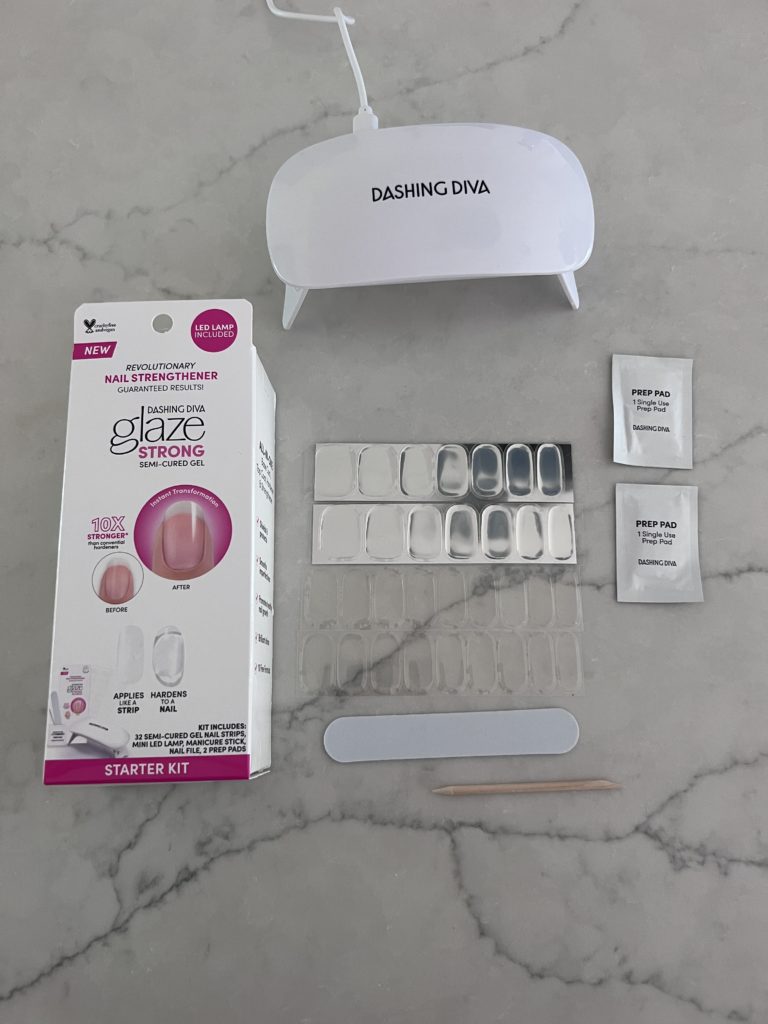 -Mini LED Lamp
-32 semi-cured gel nail strips (in 11 sizes)
-2 prep pads
-1 nail file
-1 manicure stick
*You don't need to buy the whole kit if you already have a UV lamp
How to apply Dashing Diva Glaze Strong Semi-Cured Nails:
-Wash hands with soap and water
-Shape nails and push back cuticles (this is my favorite cuticle remover)
-Use the prep pad to make sure nails are clear from oil and residue
-Make sure nails are completely dry before the next step
*Don't apply a base coat
-Next, you select the size – hold the sheet over your nail to find the size. If you're between sizes size down
-Start from the edge and lift the strip from the sheet
-Place the strip over the center of your nail starting at the cuticle line and press outward toward the tip- be sure not to put it ON the cuticle
-Remove the protective film and press down firmly from the center then side to side
*Pro tip use the wooden manicure stick and gently press down the Glaze strip thoroughly to seal all edges before curing this will prevent hair and debris from catching onto the perimeter like what happens with gel nails. 
-Trim the strip to be flush with your natural nail color using nail clippers
-Cure under LED light for 45 seconds. For optimal results, you can cure twice 
-File down edges and create the final shape. It's safe to wash your hands as soon as they've cured.
*Don't wipe the glaze with an alcohol prep pad it will affect the glossy finish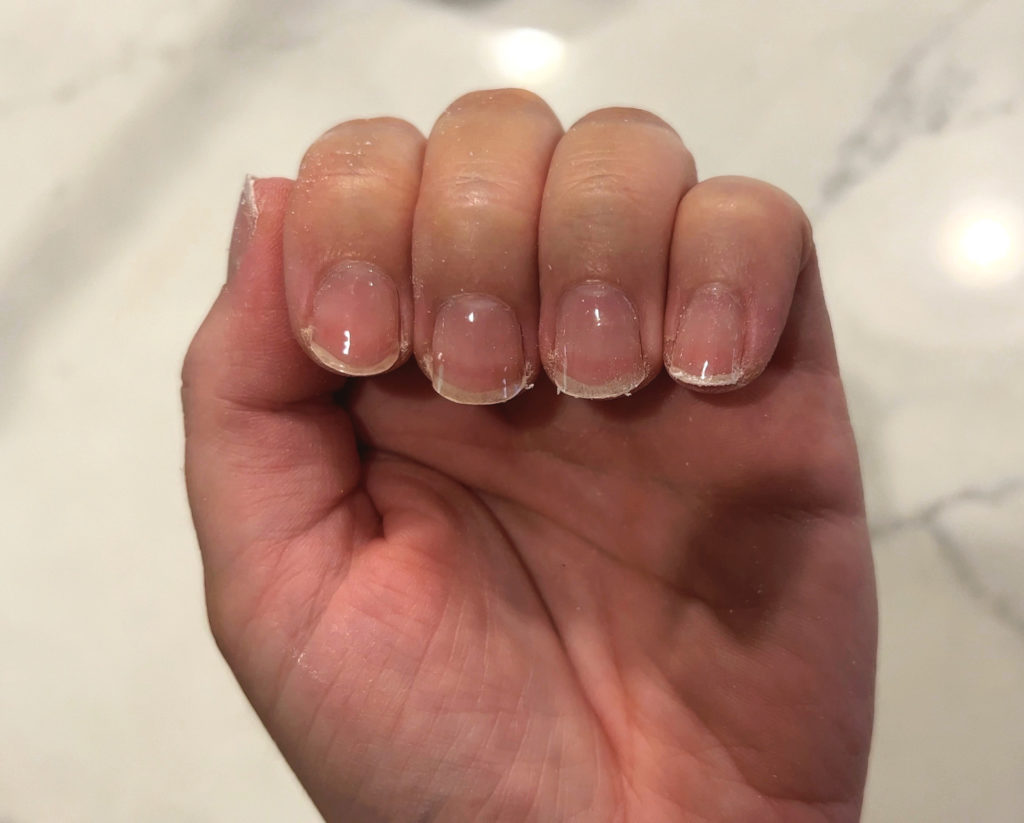 My initial thoughts on the Dashing Diva Glaze Strong Semi-Cured Gel Strips:
The application took about 30 minutes but next time would definitely go faster now that I know what I'm doing. I think good nail prep is very important- I buffed and smoothed my nails down quite a bit before application because the nails were clear and I didn't want any imperfections to show. If I went with a colored set I probably wouldn't have spent AS long on prep.
Finding the size match was a little confusing because they have two strips of paper strips with nails PER hand. And the sizing didn't seem to go from smallest to largest. I appreciate how long the nails are. If you have long nail beds these will easily work for you. The big thumb was too large for me and I have wide thumbs so I feel like these would be good for most nail beds!
When I was applying the stickers to the first hand I got a few of them on my cuticle and cured them on. On the second hand when I noticed they were on my cuticle I took the nail off and reapplied- I was worried they wouldn't work if I removed them but I'm happy to share that it wasn't a problem!
The tiny UV lamp worked well! I have a large one that I'll probably use next time but if you are traveling and need something right away I think this set would be perfect. Otherwise, invest the $19 and buy your own UV lamp so you don't have to break up your hand to fit underneath.
They were easy to file after I cured them. I was worried I would ruin them if I didn't cut them close enough to my nail and I'd have to file a ton but it wasn't bad. With that said, I do recommend cutting as close to your natural nail BEFORE you cure to save time.
How did the nails feel?
They feel like a gel mani on your natural nail- not hard like dip or glue on nails- and not soft like polish but kind of soft… does that make sense? My nails could still bend but they definitely felt stronger.
I think if these had a color they would be super forgiving. The fact that this set was clear just showed everything- like where they lifted after a few days on the tips or near the cuticle.
Overall I am very impressed with how they looked! Much better than I was expecting LOL. They look really natural and I got SO.MANY.COMPLIMENTS. ON THEM! If you don't want the fake nail look you will LOVE these. They're easier than painting and they are much less time-consuming.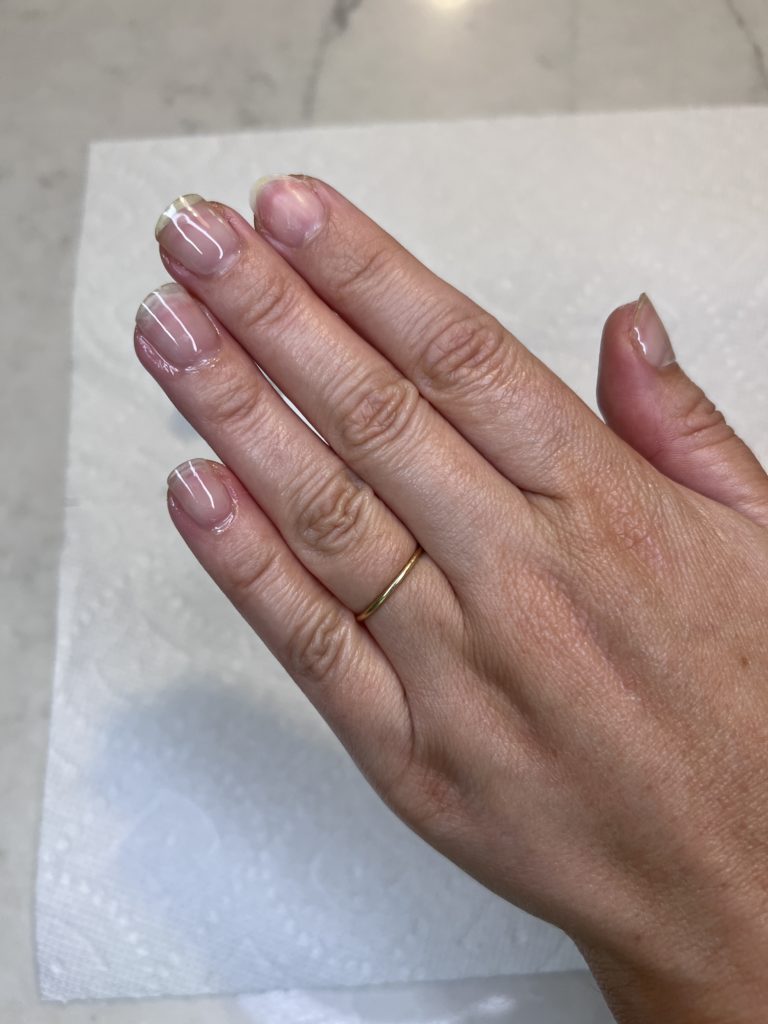 The removal process:
Removal was harder than I expected! The nails lasted 5 days before I took my pointer off- this was the one that I got on my cuticle the worst so that makes sense. I left the rest and decided to take them off on day 7 after my ring finger got caught in my hair- this was another nail I got on my cuticle. If I applied them better I bet these would have lasted much longer. The nail did start to pull apart on one of my thumbnails by the tip but that's because my nails are bendy and I tend to bite them. My natural nail bent away from the cured nail but even with this, the nail could have easily lasted longer.
To remove I applied cuticle oil all over my cuticle and underneath. I let it set for a few minutes then used a manicure stick to try to lift the nail off. It took a few tries to get them off! But once they're ready they easily come off and I had zero damage to my nails.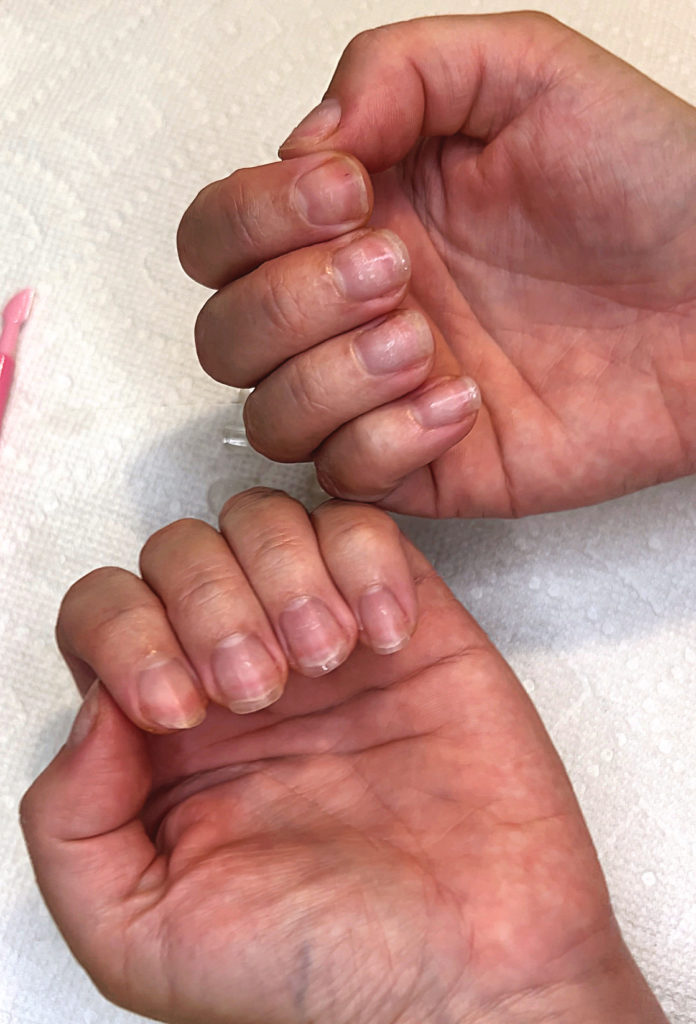 I truly am so excited about these Dashing Diva Glaze strong semi- cured gels! I HIGHLY recommend you try them!
Must-Have Nail Items
Here are the tools and products that I swear by to keep my nails healthy and in great shape. I like to do my own manicures at home, and these products do the trick to make my manicures last! Click the picture for the links!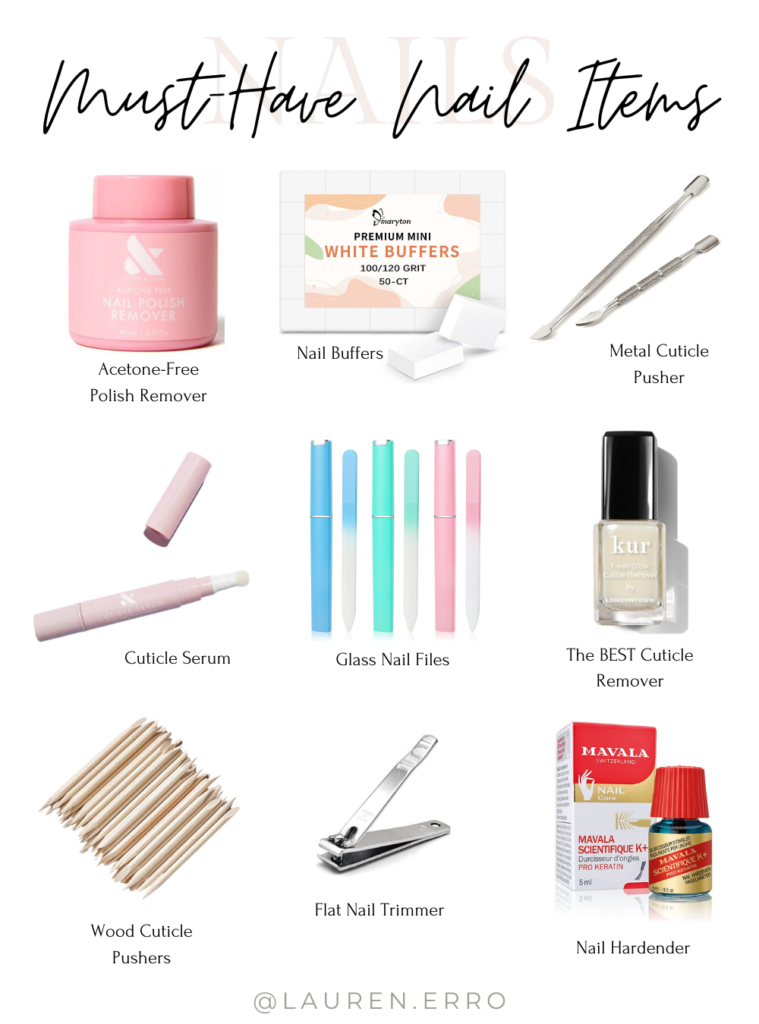 Are you subscribed to my newsletter yet? If not, SUBSCRIBE HERE!
Thanks for reading!
xx,
Lauren