Dashing Diva Magic Press-On Nail Review
Press on nails are making a major comeback! I was always so skeptical because I even struggle with dip manicures lasting that long on me, and gel? Not even 1 week! But, because I take so many photos of my hands with products, it's just better if the beauty bloggers' nails look put together, right? Plus, I have little boy hands and my nail beds just aren't that cute. LOL.
So, there I was spending $50+ tip every 2.5 weeks getting dip manicures and hating my life. I felt like I was stuck in that cycle for years where your nails become so thin that you have to keep getting dip because it's the only thing that keeps them from bending backward (ugh the worst feeling). But the funny part is, I absolutely hate getting my nails done. The drill, the time, the gamble as to will this set last at least 2 weeks? Will I like the color that long? What about the shape? I'd usually go home and reshape my own nails because they were never right. It was frustrating, and I felt stuck!
I've been wanting to get out of the nail cycle for a while and I finally had a good reason- Dashing Diva wanted me to be a part of their Magic Press nail campaign! The timing of the campaign was pretty fast and I had to take my 1-week old dip mani off early to meet the deadline. I went to the closest nail salon and had my nails removed and took my naked, thin nails home. Wow, I haven't seen my own nails like this for 2 years!
I didn't have high hopes because the last time I tried press ons (the glue on kind) they were popping off after 1 day. That may be one of my biggest nightmares- being in public without a nail haha. Anyways, Dashing Diva nails are stick-on, no filing the top of your nail, or glue necessary! Thank goodness because my nails were basically non-existent at this point.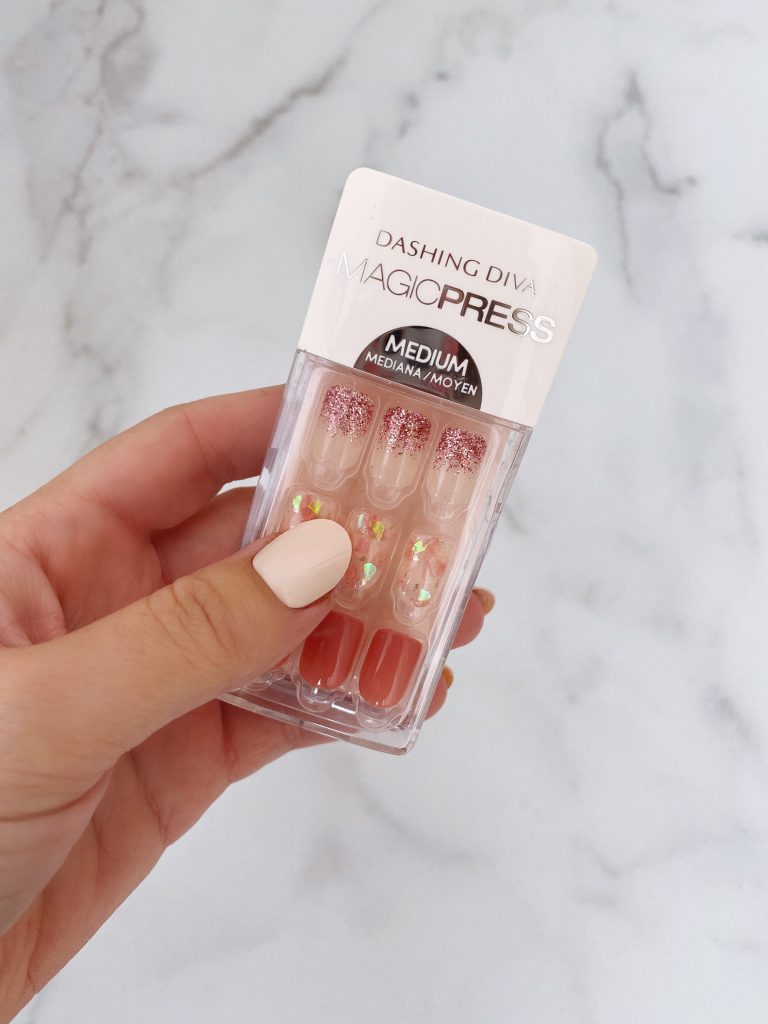 So after I applied the nails, I took the picture for my sponsored post and waited for them to pop off. 7 days later, 2 hair washings, and unpacking a whole house of boxes and one started to slide around on my nail. You guys…7 DAYS!!! The package said they will last 5-7 days (but so did the glue on ones and they barely lasted 1). I probably could have left that one nail on longer but I wanted to see what was going on underneath. I just lifted it up from one side of my finger to the other and voila! No nail damage, just the sticky glue which I rolled around for a bit until it easily came off.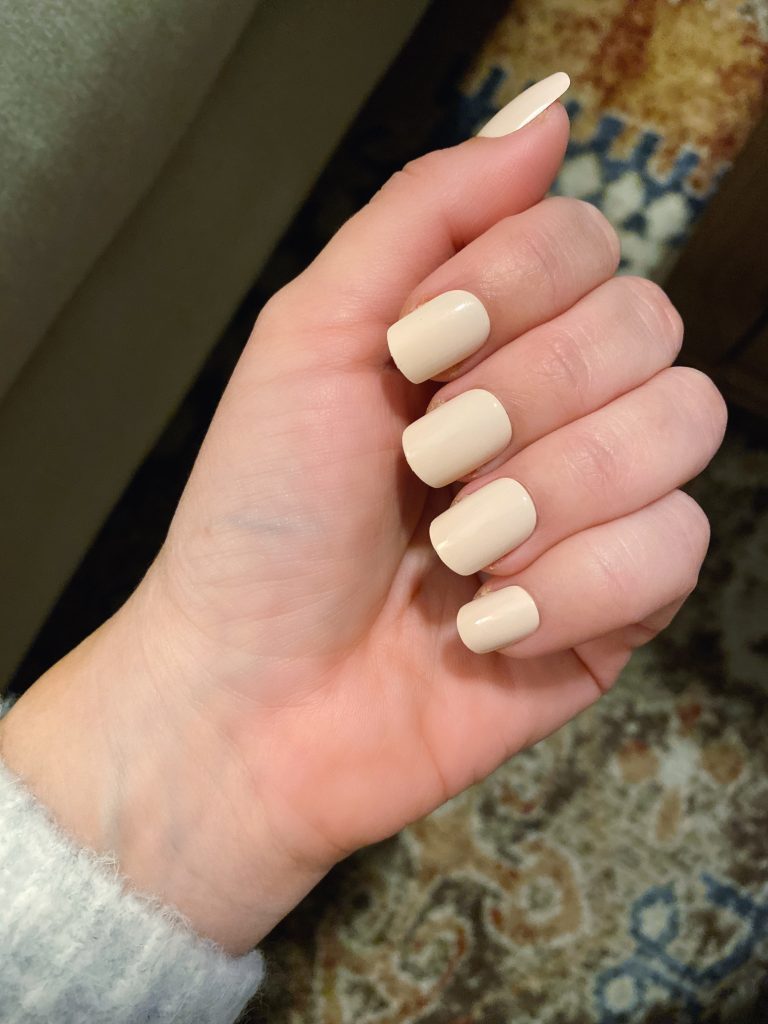 How long did they end up lasting?
After 10 days my other pointer nail started moving around so I replaced it and left all of the others because they were still totally secure! The full set ended up lasting for 2 weeks before I got a little tipsy one night and pulled them off. They probably could have lasted another few days but they did start to look worn and the tip of my thumbnails got a little rough.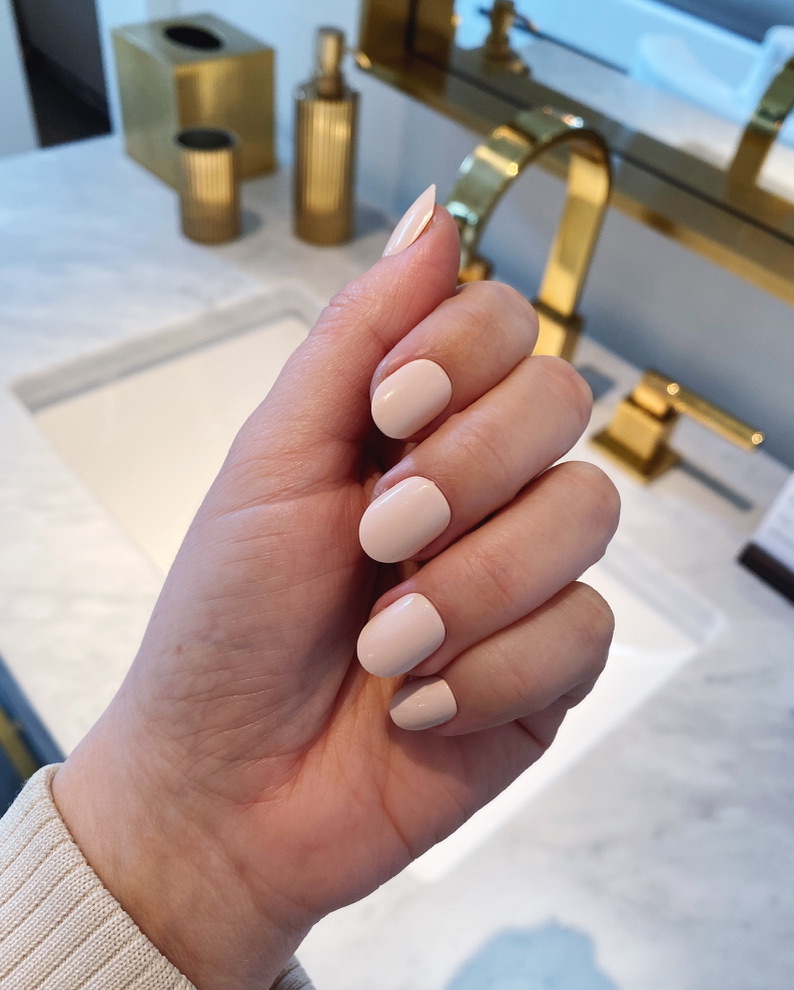 What tools do you need?
The kit comes with 30 nails, a mini file, a prep wipe pad, and a cuticle pusher. I suggest having your own acetone and cuticle remover so you can really make sure your nails are ready.
I used my own nail file. Theirs is cute but not very realistic if you want to shape your nails. I used a rough one for shaping and a crystal one for smoothing out the edges.
What's the Application Process?
The press-on nail process is super easy- It only took about 20 minutes!
Select the right nail size for each finger and lay them out in order. If you are between sizes they say to size down. You can also file down the sides of a larger nail.
Push back your cuticles if necessary. This is my FAVORITE cuticle remover ever!
Clean nails with nail polish remover and then wash your hands with soap.
Wipe with the Dashing Diva prep pad.
Peel off the clear backing and align the nail with your cuticle (sticky side at the cuticle).
Press down firmly starting in the middle, then press down on each side. The longer you hold it the longer they stay on.
Shape the nail to the length and style you prefer. As I mentioned earlier, I suggest investing in 2 things- a crystal nail file and a rough one. The small file that comes with the set is flimsy and not enough to really shape the nail.
Avoid water for 1 hour.
*the directions say to remove Magic Press, apply a little bit of acetone around the sides and gently lift the edges off with the wooden stick that comes in your pack. Since there is no glue, it will not damage your natural nails! I ended up just prying them and I was fine.
A few things to note:
Once Magic Press is removed, the adhesive on the back won't stick to your natural nails so it can only be used once.
Your pack comes with 30 nails so most people can get 2 full sets out of them! I say 2 sets since some might not fit your nail size, etc. It's also fun because you can mix and match with their sets.
If you used any type of lotion or cosmetics that contain oil an hour before or after applying Magic Press, it can affect the longevity of the adhesion even if the alcohol pad was used. There are some people with naturally oilier nail beds so that may affect the adhesive as well.
Magic Press is waterproof and has a patented pressure-sensitive technology adhesive which basically means the more you press after the first few minutes of application, the longer and stronger the hold will be!
I am so impressed with Dashing Diva. This blog post isn't sponsored I just needed to share this amazing life hack. $8 VS. a $50 manicure and an hour + of my time. WORTH EVERY PENNY. Go get yourself some! 
Have you tried press-on nails? Let me know what you think about them in the comments!
Check out this post to learn all of my nail tips and tricks!
xx,