Current Favorites- Winter 2019
I test A LOT of products and I have found so many new ones that I'm obsessed with lately! In this post, I'm going to go through my current favorites and why I love them!

I use Vitamin C in my regimen every day because it has so many benefits. It has antioxidants that offsets daily aggressors like UV damage and exposure to air pollution. Vitamin C aids in your skin's natural regeneration process, which helps your body repair damaged skin cells. Also, because it's highly acidic, when vitamin C is used topically the skin is triggered to heal itself by accelerating the production of collagen and elastin. Collagen and elastin are both naturally occurring protein fibers that help keep skin plump and firm. So, in helping to promote collagen production, topical vitamin C can help prevent premature aging. It also is a brightening agent that works to fade brown spots without altering your normal skin pigmentation.

I've tried so many Vitamin C serums at all price ranges (my last one was $160 and I wasn't impressed). This serum is only $20 and has Vitamin C and E to help with radiance and protect your skin, and it has Marine Algae to help keep your skin firm. This fast-absorbing serum hydrates, and increases radiance while working to firm the skin. I purchased a great Sephora Skincare Set and this serum was one of the items in it.
*One thing I will mention, Vitamin C (and retinol) should be stored in a dark or opaque bottle to prevent the ingredients from breaking down. The sample I received of this item was in a white plastic tube, when I looked at the bottle online it was clear and glass. A workaround is to keep it in the refrigerator or a cool dark place. A Skin Fridge is a great option to keep your ingredients fresh.
Because my skin has been dry and a little irritated I wanted to incorporate a soothing serum into my routine. This one has been a godsend!
Hora x Poosh's Hyaluronic Halo + CBD has a heavy hyaluronic acid base, helping to hydrate and moisturize your skin, while boosting firmness and plumpness. This serum restores and calms the skin with CBD, helping to lessen the appearance of redness and visibility of fine lines while soothing and illuminating the skin. The main ingredients include Hyaluronic Acid, CBD (200 mg), Vitamin B3, and Vitamin C.
A week after my VI Peel I got an oxygen facial with my friend and amazing esthetician, Kelly, from Faces Plus. She gave me a sample of the Alastin HydraTint and I was instantly obsessed! It is the best tinted SPF I've ever used. It provides great coverage and is super lightweight. It also lasts all day! It has 8.9% Zinc Oxide, which you know I love a good physical sunscreen and Zinc has so many other amazing benefits too (anti-inflammatory & anti-bacterial, helps prevent new acne, and heals wounds).

At night I've been incorporating more oils into my skincare routine. I ordered this Sephora skincare kit and love all of the products in it! One of my favorites was this oil- I was instantly hooked. It's lightweight and makes your skin look incredible! It helps with dullness, texture, dryness, and loss of firmness.
This oil has Tetrahexyldecyl Ascorbate which is an oil-soluble, stable form of Vitamin C that brightens your skin and Squalane which helps your skin lock in moisture.

Move over Laneige Lip Sleeping mask, there's a new lip balm in town. WOW, I love this. I don't even know why I strayed from Laneige because ya'll know how much I like it… but wow I'm glad I did. I honestly think the Biossance packaging got me… It's chic… haha. Anyways, I love the more mature, slight rose smell of the Biossance, and it's not as goopy as the Laneige. This lip balm contains Wakame Algae which helps restore the look of lip plumpness and Hyaluronic Acid which helps smooth and plump the lip area. I apply it right before bed and wake up with my lips feeling hydrated and plump!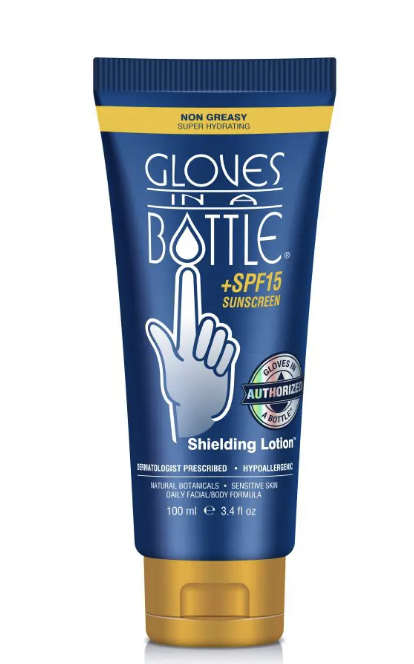 Since my move to Nashville I've been struggling with dry skin, hands, feet… everything. I tried Gloves In A Bottle and was instantly sold. I chose the one with SPF because, well duh, but I use it at night too. It dries instantly so it isn't a super heavy moisturizing cream. It bonds with the outer layers of skin cells, creating an invisible shield that helps the skin to retain its own natural moisture and oils as it shields and protects the skin from exposure to UV rays, water, cold or dry weather. I am SO impressed with this stuff.

I have to preface this by saying I don't think eye creams do much. I've tried SO MANY that claim to get rid of wrinkles, de-puff, brighten, etc… So I'm not saying this will get rid of your wrinkles BUT it's still very important that you hydrate your delicate eye skin with its own specific moisturizer (not your face moisturizer). I have NEVER found one with an SPF over 15, and usually when they have SPF I don't enjoy using them- they're too thick, don't sit well under makeup, or just burn my eyes.
With that said, I have found an eye cream with SPF that I LOVE. This product isn't new for me but it's something I love using every day. Even if I'm testing eye creams I always use this during the day. It has SPF 37 with 10.1% Zinc- this is unheard of in an eye cream! It's super lightweight, sits well under makeup, hydrates, and brightens. It has oat peptides which claim to boost collagen production. And it has light-diffusing mica minerals that help brighten and reduce the appearance of fine lines, wrinkles and dark circles.

I wrote a post about my experience with Billie razors. I include the good, the bad, and my thoughts… but I clearly like it if it made it to my current favorites!

I never have a natural tan- if I look like I have color I guarantee it's 100% fake. I prefer to tan myself at home vs. getting a spray tan (unless I have a huge event and I want to be DARK) and I've always been afraid to try body self-tanner on my acne-prone face. So I splurged on these (years ago) and I haven't looked back since. I've tried so many face tanning products but these are the best. They have Dr. Dennis Gross's signature Alpha and Beta Hydroxy Acids, so they buff away dead skin cells and decongest clogged pores, revealing a smoother, more refined appearance.
These are also packed with antioxidants and use encapsulated DHA and Vitamin D to deliver time-released color that creates a natural-looking, streak-free tan overnight.
*If you use my link you get 25% off of your purchase with the code LAUREN
This is the best eyelash serum I've ever used (compared to Latisse, Grande Lash, Gerda Spillman, and a quick try at Rodan & Fields but it dried my eyes out horribly). LiLash conditions and nourishes the follicles to boost the appearance of length & thickness. I definitely notice a difference in length! It's also physician formulated, ophthalmologist tested, and safe for sensitive eyes and contact lens wearers.
I've been using this for 6 months and am on the same tube. It's amazing and SO worth it! They were nice enough to give me a discount code for you: LAURENERRO20 gets you 20% off on their site!

I'm convinced that these supplements keep my melasma at bay. If you aren't familiar with melasma, here's a whole post about it.
Melasma is activated from hormones, sun, and heat so even if you are an avid SPF wearer you can still get it! I hid out on my entire honeymoon under a palapa and STILL aggravated my melasma. I started taking these pills and saw it lighten up drastically.
Heliocare contains specific antioxidants that help fight against the harmful effects of free radicals, which will fight skin sensitivity and pigment from the inside! These are also great if you have a sun allergy!

I've been testing different brands of press on nails since October. I'm rehabbing my nails from years of dip powder and these are so easy and cute! Read my review of the Dashing Diva press on nails. I've tried Kiss, Impressions, Impress, Clutch, and Red Aspen. I prefer the press-on nails with the sticker pre-attached compared to the glue on but they're both great alternatives to the nail salon!

As always, I'm testing products to treat my melasma and pigmentation. This is one of the top-rated pigment fighters on the market so of course, I had to try it! It has Tranexamic Acid, Phenylethyl Resorcinol and a Marine Extract Blend to help support skin's melanin balance, encourage a healthy skin barrier and most importantly, visibly correct hyperpigmentation. Not only tackling current areas of uneven skin tone, but the formula is also infused with Niacinamide and Tetrapeptide-30, which work together to prevent future occurrences.
I just started using this regularly so I will report back on my results in another post.
*If you use my link you get 25% off of your purchase with the code LAUREN

I love sonic cleansers and since I've learned how horrible the brush bristles on the Clarisonic are I've switched to silicon cleansers because they are odor-resistant, antibacterial, hypoallergenic, and the heads never need to be replaced. The PMD Clean has over 7,000 vibrations per minute, which ensures a deep clean by breaking down dirt and oil from deep in the pores. and helps to lift, firm, and tone your face for a more youthful appearance.
*If you use my link you get 25% off of your purchase with the code LAUREN

Years ago I would have been afraid to try "cheap" acids. I had this mindset that the more expensive the product, the better it must work. Boy was I wrong. There are some amazing, simple and affordable products on the market that can do exactly what you need without having to spend a ton. The Inkey List is a perfect example. They make great, simple, and affordable products that work. This Lactic Acid Serum is so great at combating dullness, uneven texture, dark spots, and fine lines. It helps your skin look brighter and adds hydration. It has 10% Lactic Acid which is a gentle chemical exfoliant, and 1% low molecular hyaluronic acid to hydrate. It will work for normal, dry, and combo skin. Whether you are new to chemical exfoliation or want to mix it up, I've been really impressed every time I use this one!

This shower gel is amazing- it lathers nicely and feels really luxurious. Steve and I love the scent of this and we both use it! Apparently this is Soap & Glory's signature Original Pink Fragrance – It combines fresh bergamot, mandarin, rose, jasmine, peach, strawberry, and soft musk & amber base notes for skin that is blissfully clean and silky-soft.
*If you use my link you get 25% off of your purchase with the code LAUREN
Have you tried any of my current favorites? Please let me know in the comments!
xx,