Honest Review of Billie Razors
I've been seeing Billie Razor ads all over Instagram and even as a blogger I question the authenticity of ads- because let's face it, ads are made to sell you on something. But not this review, this is my honest opinion about Billie. I reached out to them to see if they interested in working together and they turned me down- they weren't even interested in sending me their product to try and review! So I bought my own set for $9 and here are my unbiased thoughts after testing the Billie Razor for a month. Enjoy!
*I updated this post after having the razor for 4 months.
What is billie razor?
Billie is a subscription razor service that also sells shaving and body products. Their starter pack is only $9! They set this price point because they wanted to go against the "pink tax" or when women pay more for the same item as a man. I didn't even know this was a thing because I've always used men's razors because they're sharper and the blades last longer. Billie also donates 1% of all revenue to women's causes around the world. Their blades made in America, surrounded by charcoal shave soap, and dermatologist approved for sensitive skin.
They have a starter kit that comes with two razor blades that should last you for the first month. This means a blade should last you about 2 weeks BUT they have different subscription options to help meet your needs.
Billie subscription options are:

four replacement razor blades one time in a month
four replace razor blades every 2 months
four replacement razor blades every 3 months
The Ordering Process:
The process is easy and unique; You go to their website and select your handle colour and how often you'd like to receive the replacement cartridges.. Then, you have the option to add the $8 shave cream, $12 lotion, and/or the $10 travel bag. I opted for the shaving cream and the starter kit.
My new razor came 7 days later and I was so excited to shave! The packaging is super cute and straightforward!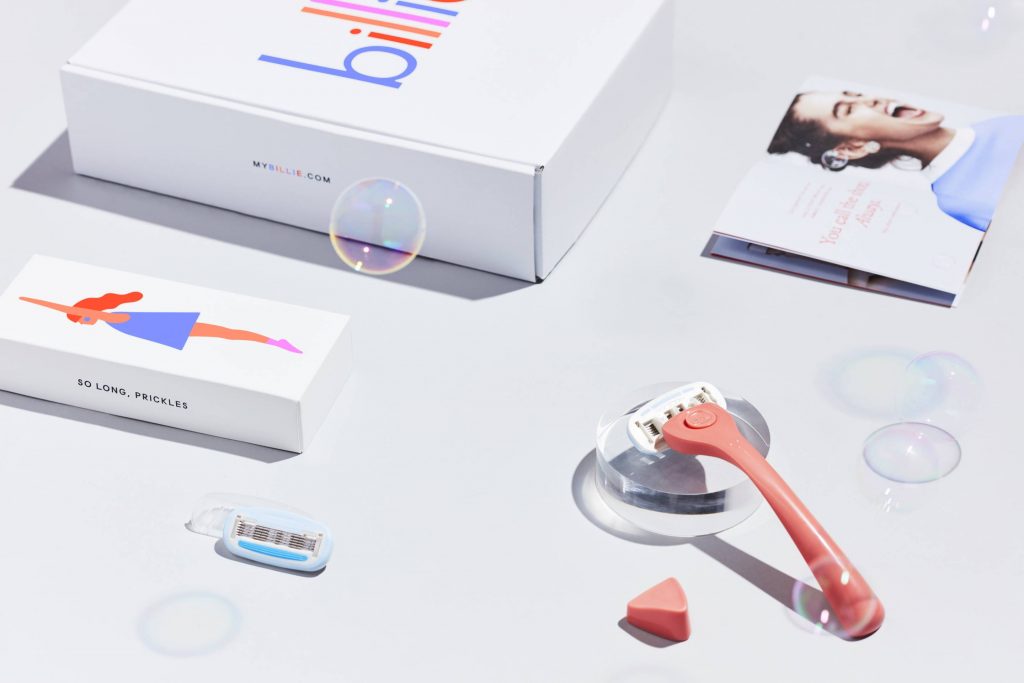 My Thoughts After One Month of Use:
The first time I used my Billie Razor I wasn't sold because it is SO LIGHTWEIGHT compared to my old men's Gillette Fusion razor that I've used for 13 years. This was a big adjustment for me because I felt like I had to press the Billie razor pretty hard against my skin to get the same close shave. But it's doable and after a few uses, I got the hang of it. The other big adjustment was that the razor has a wide border so it made it challenging to really get into those oddly shaped areas.
The Billie razor glides very well and I love the shave soap around the blades so I felt like I didn't need shaving cream or body wash. I try the shaving cream with it and honestly felt like it unnecessary. The soap around the blade does a great job helping it glide!
Update* With use I've found that using their shaving cream makes a big difference! The first razor's soap seems different than the rest, and while they do have soap they don't glide as well without the cream.
I didn't use the magnetic wall hanger the first day and the razors soap made a mess and stuck to my shower shelf. When I went to pick it up the head popped off of the handle and there was gooey shave soap all over. This was obviously my fault, the magnetic holder is necessary! More on this below…
I like to shave when I wash my hair every 3-4 days. This gives me something to do while my hair soaks in all that benefits of my conditioner. You can read more about my hair tips here. Anyway, this turned out to be challenging because the hair I would shed from my head would stick to my legs or arms. Then I would shave over that area and these long strands of hair would get stuck to the soap and block the blades.
So, of course, I tried to get the most out of the razor blades before to replace them. The soap on the Billie razor lasted about 3 weeks and the blades still seemed sharp. Although it could have gone longer, I had grown to really like not needing to use soap while shaving so I replaced the razor head.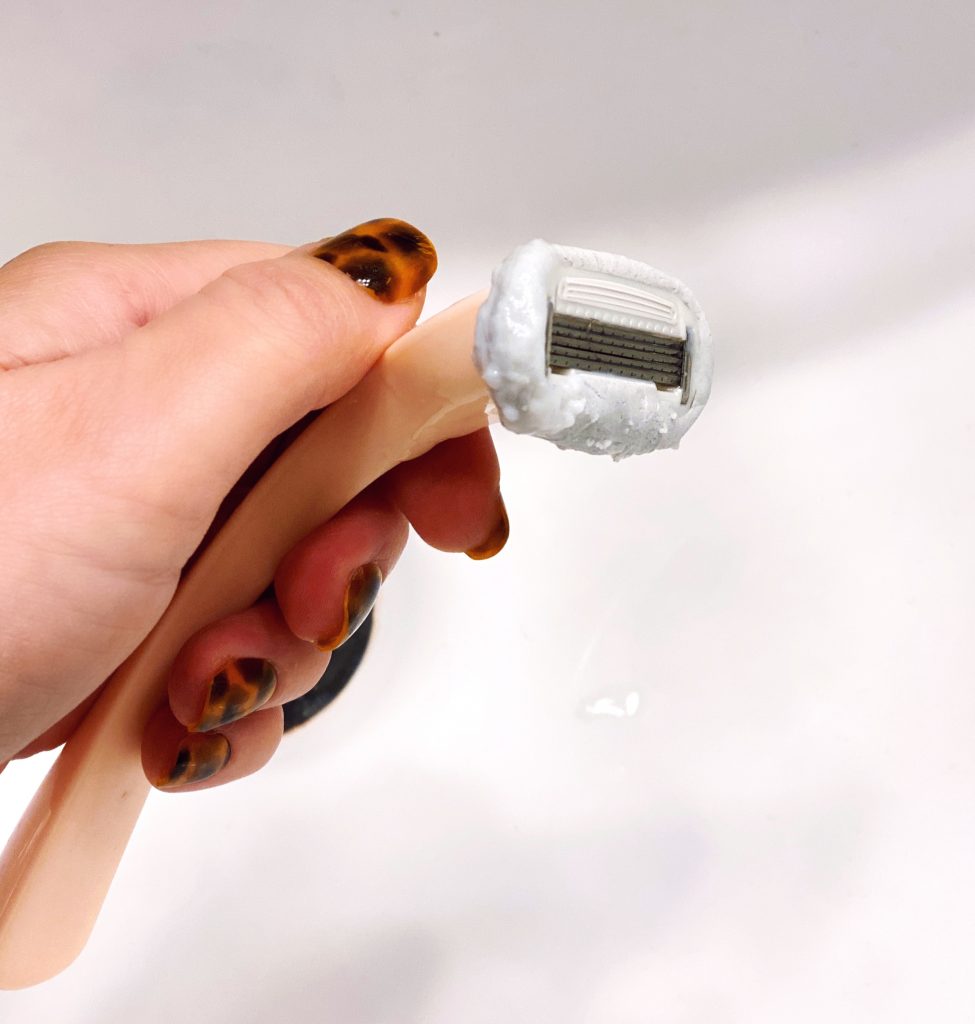 So about that magnetic holder… It great in theory except it stuck on with a little sticky round that you apply to your shower wall. After 3 weeks, just after I replaced the blades, the sticky wore off and I found my razor and the holder on the floor of my shower. The soap around the new razor leaked all over the blades and was covering them completely! I tried to use the razor after that but the soap that surrounds the razor changed shape so I could no longer reach my skin when I was shaving. This a real let down especially since I expect to use the razor when I found it, and its a brand new blade that wasted due to the holder popping off in the shower.
*Update- I replaced the sticky on the back of the razor holder and it has held on just fine for 3 months.
I've cut myself twice in 4 months with Billie. I've read other reviewers say this too (I haven't cut myself in over 10 years with my other razor).
Ok, it's weird to have so much to say about a razor and it might sound like I didn't really like it but I actually do!
Price Comparison: My Men's Razor and the Billie Razor
I normally buy my Gilette Fusion razor refills at Costco. I get the 16 pack for $38. But if you ran to the grocery or drugstore for a refill you get 4 razors for $17 or 8 for $24.
With Billie, you get 4 razors for $9. Cost-wise it's pretty close IF you buy your refills from Costco, otherwise, Billie razors are a bargain and I love that they donate 1% of their revenue to charities.
*Update- Beware that you will not get a reminder email when Billie is getting close to shipping your razors. They just charge your card and ship them. I ended up cancelling my membership and will renew when I use up the 6 razors I currently have.
Final Thoughts:
Overall, I impressed with my Billie Razor. I did nick myself behind my knee when my razor was 2 weeks old, which I haven't done in years, but I think that was because it glides so smoothly you can go really fast!
The part I don't love is the mess. I'm going to order another month to give it one more try to see if the wall hanger falls off again. If it does, I will be sticking with my good ole' men's razor.
Have you tried Billie Razors yet? Tell me your experiences below!
*I should mention, my hair is thick and coarse. I've had laser hair removal and still need to shave regularly because I have some hairs that were too blonde to be picked up by the laser.
xx,