Whenever people ask me what I want for Christmas I never know what to say! Does this happen to you? I'm here to help- These are all of the items I have and absolutely LOVE!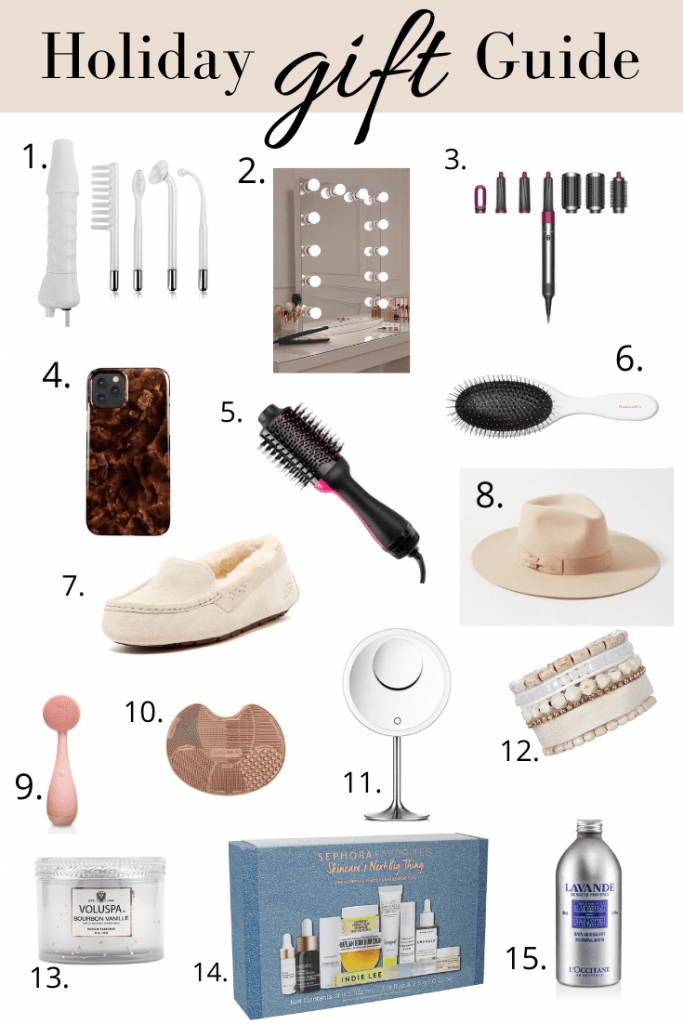 1. High-Frequency Machine– This is my #1 sold item EVER. It's also my most popular Youtube video. High Frequency has SO many beauty benefits but I mostly use it for zapping my zits away fast!
2. Vanity Mirror Lights– These work on any mirror! You don't need to spend hundreds on a light-up vanity mirror anymore, you can stick these on the mirror you already have and give you the best lighting for flawless makeup application.
3. Dyson Airwrap– If you want the best at-home voluminous blowout, you need this! It's very expensive but SOOOO worth it.
4. Tortoise Phone Case– I'm loving the Tortoise phone trend right now and this case is super high quality and so cute!
5. Revlon One-Step Hair Dryer- I LOVE this for quickly drying my hair after the shower. It's quick and makes your hair so sleek and straight!
6. My FAVORITE hairbrush– This is the best gift- I'm pretty sure this is why my hair has grown so long over the past year. It doesn't tug on my tangly hair so it doesn't cause unnecessary breakage!
7. Ugg Slippers– I love my UGG Slippers. I've had them for years and they still look new. They are so comfy and warm. *If you're between sizes size up.
8. Wide Brim Hat– You can't beat the price point for this high-quality hat. It's a Lack of Color dupe and is so cute!
9. PMD Clean Facial Cleansing Brush- I love this for an extra deep clean. It has 7,000 vibrations per minute and helps to lift and firm your skin too! I linked one from Skinstore because I have a 25% discount if you use the code LAUREN.
10. Brush Washing Mat & Brush Drying Rack- This is one of those things no one wants to buy themselves so now's the perfect time to ask! This is how I use mine.
11. Magnifying Mirror – This has the best light/ magnifying mirror combo I've ever used. It's dimmable and really helps you ensure that your makeup is perfect.
12. Victoria Emerson Bracelets– These are SO CUTE! I love when jewelry is easy to put on and these have a magnetic clasp!
13. Voluspa Candle- Bourbon Vanille– This scent is my favorite, I have these all over my house. Even Steve loves it- it's not too feminine or masculine, it's just beautiful.
14. Skincare Set– Value sets are the best gift! I got this one a few weeks ago and I LOVE every product in it. These are the best way to try a variety of products without spending a ton of $$.
15. L'Occitane Lavender Harvest Foaming Bath– If you love baths this is pure luxury! The scent is beautiful and a little goes a long way.
I hope you found some gift inspiration here!