You Need A High-Frequency Machine
Ok, I know this looks like a sex toy but bear with me. I was scrolling through the skincare section on Amazon and saw that they are selling high-frequency machines(!!!). I thought these were something only estheticians had because they needed a professional license to use them. Nope! $30 and 2 days later I had my own! 
I used to have very bad acne. My chin was always broken out, clogged pores, whiteheads, etc… That's a post for another day, but it's the main reason why I love and know so much about skincare. Whenever I get facials, which surprisingly isn't often, the esthetician always uses their high-frequency machine on me because I have some sort of break out and it makes zits heal WAY faster. That's the main reason I bought my own at home version, but I'm SO glad I wrote this post because I discovered all of the other amazing benefits of high frequency! It seriously helps so many skin concerns.
What does High-frequency do?
When the glass tip is applied to the surface of the skin, a mild electrical current passes through the gas-filled glass wand causing it to submit a subtle glow and buzzing noise. The wand is filled an inert gas which is either a neon red/orange light or violet/blue light. The color of the gas is somewhat targeted depending on your concern, but honestly, either one will work.
Benefits of High-Frequency Machines
Dries up live acne quickly & makes pores appear smaller- It cleans out all the debris and toxins, controls sebum production, and eliminates blackheads. The high-frequency current produces a gentle spray of oxygen molecules that penetrate deep into the areas that are affected by bacteria.
Makes you glow- It causes an increase in hydration and nutrients so that the skin cells can produce more collagen and elastin, and help the overall skin condition and texture.
Encourages lymphatic drainage- It boosts blood circulation, gently exfoliates the skin,  flushes toxins, and promotes healthy cells.
Reduces puffy eyes and dark under eye circles- Dark eye circles are often a result of red blood cells that have leaked out of broken capillaries under the eyes. The electrical current from a high-frequency treatment causes healthy blood circulation to rush in that area
It reduces cellulite – lymphatic drainage helps with cellulite by flushing toxins and creating a space for healthy blood flow.
Can restore thinning hair – heat is sent to the targeted area so local blood circulation is improved and the hair follicles are stimulated.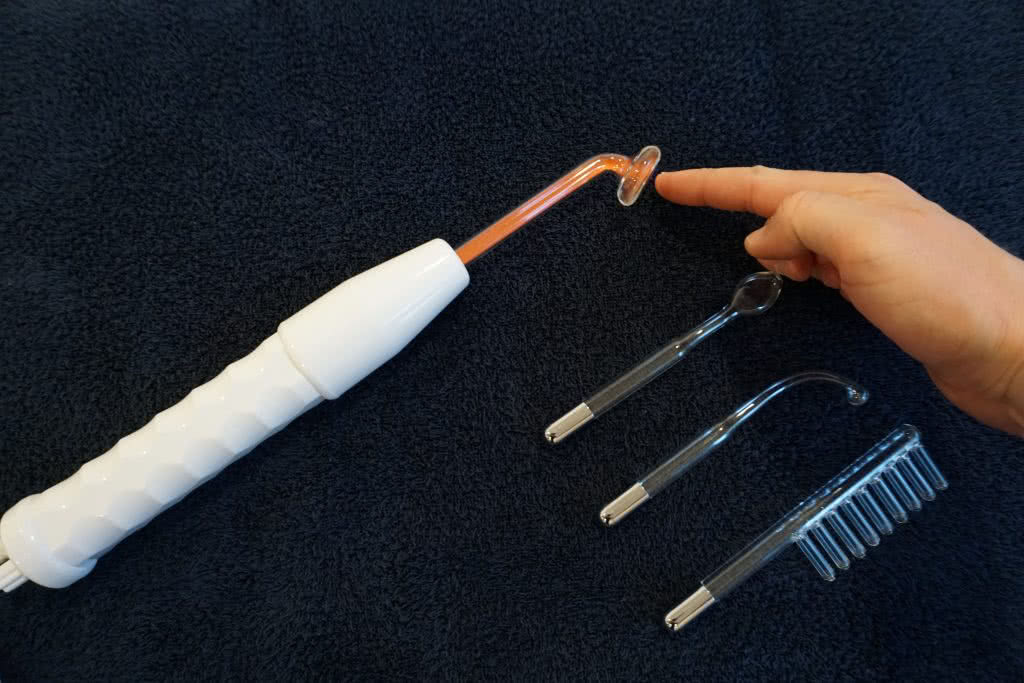 How do you use high-frequency?
It's safe for everyday use. You can spend up to 20 minutes a day using it! Or just treat areas as necessary.
Thoroughly wash and dry your face.
Insert the electrode into the wand and turn it on.
Turn the dial up on the wand until you feel a slight tingling sensation. You should feel it, but it should not be painful.
Move the wand over your face in circular motions, working on each area for no more than three to five minutes. You can also 'spark' the acne by tapping the tip of the wand on it a few times, and then move in the circular motion again.
Once you've hit all the spots you need to, finish by applying your serum and moisturizer.
So easy, right?
The one I recommend has 4 different tips:
The comb is for your hair
The round one is for your whole face
The spoon shape is for under your eyes
The small round tip is for acne (this one is very targeted and can hurt if you turn it up too high)
Are There Any Risks with using High-frequency?
High- frequency is generally safe, but I suggest staying away from glycolic acid and AHA, when you're using high-frequency machines, and when you are pregnant.
Add high-frequency to your beauty skin care routine to keep the skin glowing, clear and younger looking!
Have you ever tried high-frequency? If you have please comment on your experience below, I would love to hear from you!
Watch my youtube video where I explain all of the benefits AND how to use your high frequency machine:
I wrote a separate blog post where I answer the most common high frequency questions I receive HERE. I recommend purchasing this travel case for it too because the electrodes are glass and you definitely want to keep it protected.