There's nothing I enjoy more than seeing other people's most used product lists… So, here is mine! A lot of the items are my ride-or-dies that don't change year over year, and some of them are new finds that I discovered this year. So, from beauty to hair and fashion, here are all the things I was obsessed with in 2021… in this post, I also have a bonus… I'll be sharing my Instagram followers' favorite product recs FROM me. I'm always so intrigued to know what people purchase and love that I recommend so here's the top-rated! I put a * next to the items they love so you can easily spot them.
Skincare: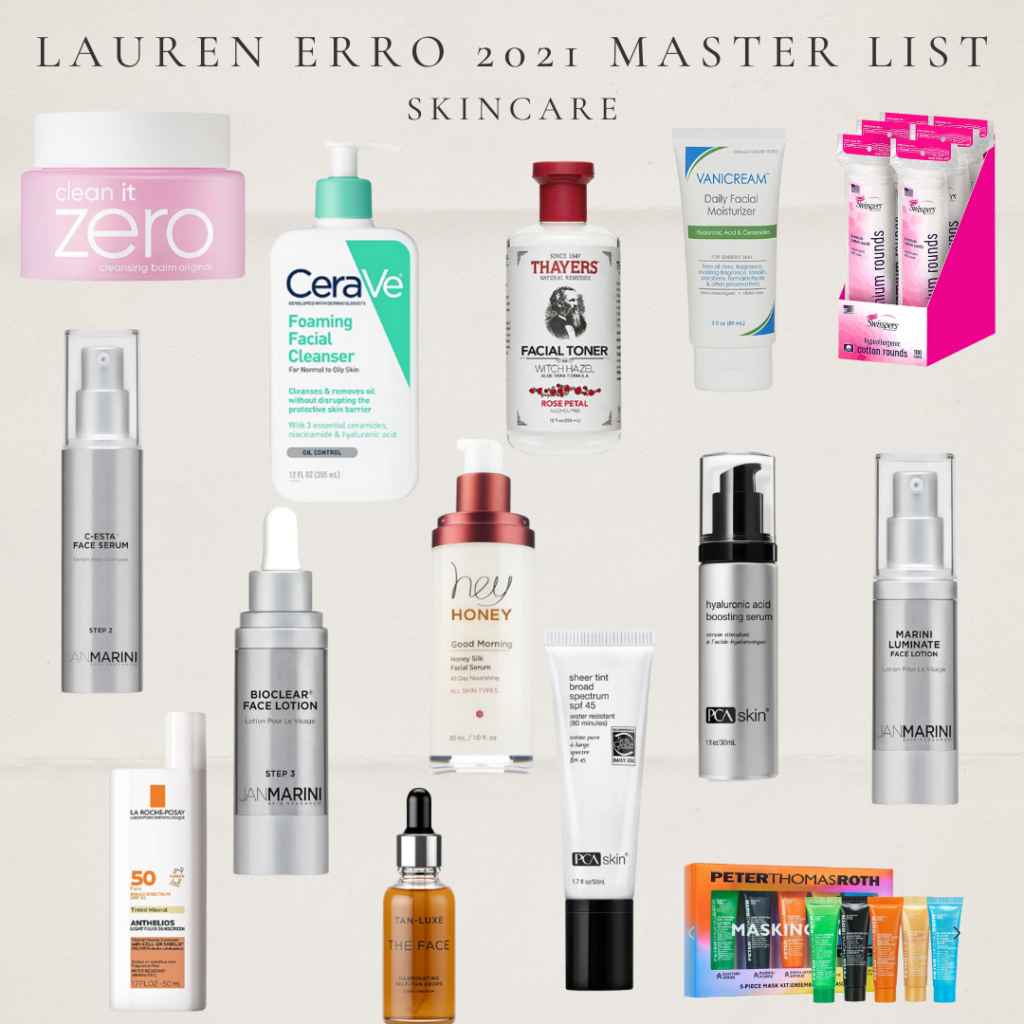 *Face Wash- Cerave Foaming Facial Cleanser– I always say don't waste your money on face wash! This one is affordable and effective- gets all your makeup off. Doesn't taste bad if it gets in your mouth & doesn't burn your eyes.
*Cleansing Balm- Banila Co. – Removes EVERYTHING without that greasy heavy feeling. Rinses clean and smells incredible.
*Toner- Thayers Alcohol-Free Witch Hazel Facial Toner – I use it every day and it keeps my skin happy, hydrated, and calm. The Rose Petal scent is my favorite.
Cotton Rounds – These are just the best- I've used them for years. This year I tried to go green and use the washable ones but they just didn't do it for me.
*Vitamin C- Jan Marini C- Esta Serum – This serum truly is incredible for brightening and toning your skin. It's a little pricey but it lasts forever! The code LAUREN10 gets you 10% off.
*Acid- Jan marini BioClear – I've tried acid toners, serums, lotions, masks, etc and I keep coming back to this miracle product! A little goes a long way and it keeps my skin looking glowy and clear. It helps with acne, acne scarring, inflammation, discoloration, enlarged pores, the appearance of wrinkling and texture. The code LAUREN10 gets you 10% off.
*Hey Honey Good Morning – My skin is easily aggravated and whenever I'm feeling dry, sensitive, or breaking out I always reach for this serum. It smells incredible too!
*Hyaluronic Acid- PCA SKIN Hyaluronic Acid Boosting Serum– This is the best Hyaluronic Acid! It's almost creamy (unlike most HA's) and feels incredible on your skin.
*Retinol- Jan Marini Luminate Face Lotion – Everyone can benefit from retinol and Jan Marini's are my favorite because they cause zero irritation and are very very effective! I love Luminate specifically to help with my melasma and dark spots but she also has one for acne and aging skin. The code LAUREN10 gets you 10% off. This blog post explains how retinol works.
Moisturizer- Vanicream Facial Moisturizer With Hyaluronic Acid For Sensitive Skin – I'm a big believer that you don't need to spend a lot on moisturizer- let your serums do all the work! While there are many high-end ones I love, if you're in the market you really can't go wrong with the Vanicream.
SPF- I couldn't pick just one! I have so many favorites but these are probably my top two.
La Roche-Posay Anthelios Mineral Tinted Ultra Light Sunscreen Fluid SPF 50- If you like K beauty type SPF you'll love this. The tint has good coverage and it dries down quickly!
PCA Skin Sheer Tint Broad Spectrum SPF 45: I LOVE this for when my skin needs some coverage but I don't want makeup. It makes your skin look absolutely beautiful.
*Mask- I have so many favorites but if I had to pick one brand it would be Peter Thomas Roth. This set has all of my favorites in it. The black is what I reach for when I have acne. Gold or Orange- when I'm feeling dull. Blue or Green when I want soothing hydration.
*Self Tanner – Tan-Luxe The Face– I love this self-tanner! You control how much product you use & can add it to your serums or moisturizer. It gives a great natural-looking glow.
Makeup: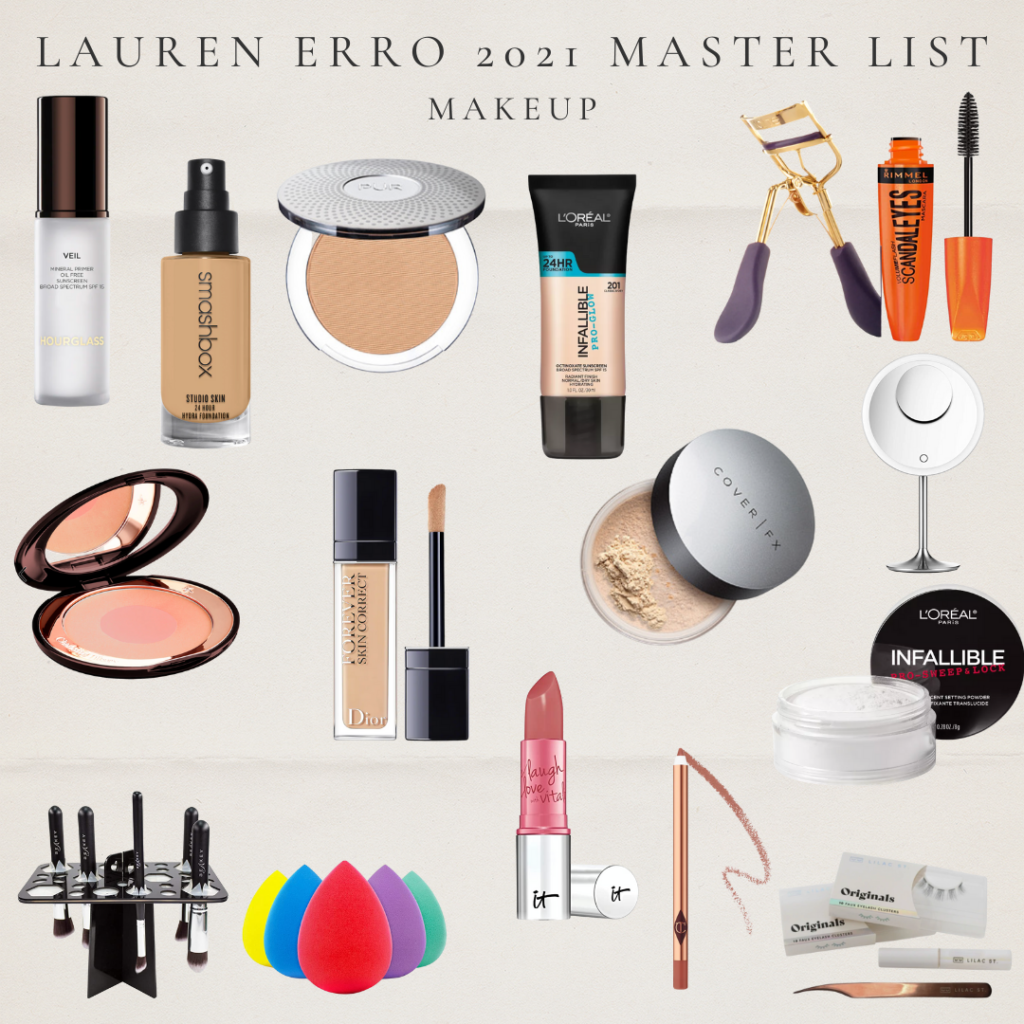 *Primer- Hourglass Veil– I've used this for years and keep testing new ones but always ultimately come back to this. I love that it has zinc (great for acne-prone skin) and a little added SPF.
*Concealer- Dior Forever Skin Correct Concealer– This was a new find in 2021 and I am obsessed. It's great coverage but lightweight and never cakey.
Foundation- This is a hard one because I love so many!
*Studio Skin 24 Hour Oil-Free Hydra Foundation– I always reach for this one when I want it to last all day but still look natural. It's buildable to full coverage without looking cakey.
*L'oreal Pro Glow– The most beautiful luminous foundation! Medium coverage.
PUR 4-in-1 Pressed Mineral Powder Foundation SPF 15– I love powder foundations for lazy makeup days. This one is a new find of 2021 and it looks beautiful on! Medium coverage.
*Sponges- Beakey– Better than Beauty Blender and you get 5 for $8!
Mascara- Rimmel Scandaleyes Mascara– My favorite for adding length and volume. Does not smudge!
Blush– Charlotte Tilbury Cheek To Chic Blush- Color Ecstasy- the most beautiful natural flush!
Bronzer- I'm actually on the hunt for a new one. That's a goal for 2022. Becca was my favorite but they went out of business 🙁
*Lipstick- Most days I wear the It Cosmetics Vitality Lip Flush in the color Rose Flush. It feels like a chapstick but it slightly adds beautiful color to your lips without the hassle of lipstick.
If I'm wearing lipstick it's most likely Mac Blankety, Loreal Fairest Nude, GrandeLips Au Natural, or Charlotte Tilbury Pillow Talk. I linked my favorite Nude swatches here.
Lip Liner- Lately I'm loving Charlotte Tilbury Iconic Nude but here's a swatch with all of my favorites!
Setting Powder:
Cover FX Perfect Setting Powder– This one is just incredible. Stays all day and doesn't look cakey.
Loreal Pro Sweep & Lock– This is my favorite drugstore option. Very lightweight and effective. More of a matte finish.
*Lash curler– This gives the best curl and doesn't pinch my eyes.
*Lilac St. My favorite long-wearing lash "extensions". Full video review here.
Brushes- I have a full post with all of my favorites here.
*light up mirror– This is the best mirror I've ever used. It's rechargeable so you can unplug it and move it around, dimmable, and the magnification is great!
*Makeup Brush Drying Rack– This is the best drying rack. It holds the brushes upside down so the water doesn't get into the shaft and mess with the glue or wood. Here is my video with all of my tips on how to wash your brushes.
* Lilash– The best lash serum! I've used it for years. I've actually been off of it for 3 months and definitely see a difference in my lashes. I want to let my lashes completely reset then start using it again so I can take before and after photos. Stay tuned! The code LAURENBEAUTY gets you 20% off!
Hair
*Unite 7 Seconds Detangling Spray– This is the best- it detangles, protects, repairs, and boosts shine.
*Unite Blonda– The best purple shampoo! It is effective but won't turn your hair purple. It also isn't drying like most others out there. I use it every 3-4 washes.
Hair Mask- I'm obsessed with the new Olaplex no.8 Bond mask. It makes my hair feel great!
*Repair- Of course, the Olaplex no. 3 treatment had to be on the list!
This Color Wow shine spray is amazing! It even makes blonde hair look shiny!
*Hair brush– I discovered this $9 brush this year and it's so good! It gets the tangles out but doesn't yank and pull my hair.
*Clips- I use these clips when I sleep. I grab all my hair and put it in a bun on top of my head and clip it in place with these. They usually don't leave marks and will keep your hair looking fresh for much longer!
*Revlon dryer brush– This is my go-to. I usually let my hair air dry then grab this to finish it off. It gives me the sleekest blowouts! I prefer this to my Dyson Airwrap for drying. I use the Airwrap when I want a voluminous curl- but I don't think it makes my hair as sleek when I dry with it.
Silk hair ties– I started using these this year and love them! I sleep with them in a loose ponytail on top of my head and wake up with no crease. I use this or the clip method and enjoy them both.
Nails:
*Static Nails– My all-time favorite glue on nails! I also love their cuticle oil.
*Cuticle Remover- This one from Londontown is the best cuticle remover out there!
Nail repair combo- The Zoya Gelie Cure Repair Base & Rescue Serum are SO good for fixing my nail damage!
Nail drill Kit– If you do your own nails you need this Nail drill set. It saves me so much time with filing!
Skincare devices:
*High frequency– This is my #1 favorite skincare tool! It kills acne FAST. I'm pretty sure this is the top item I've ever sold to my audience too. Everyone loves it! Here is more info.
*Skin scrubber– The easiest extraction tool! Full tutorial here.
*Lumify– These eye drops make your eyes SO WHITE and they don't burn! They seriously look like you are wearing a filter.
*Microcurrent- Nuface – Everyone can benefit from using microcurrent! I love the accessibility of NuFace but also love the Myolift and have a full blog post with all of the benefits of Microcurrent here. The code LAUREN10 gets you 10% off of NuFace.
Silicone Neck Patches– My tech neck lines were looking bad this year so a combo of losing fat & these neck patches have really helped them! I usually sweat off silicone patches in my sleep but these have a wrap that holds them in place and it stays all night!
*Schick Face Razors– I stopped using Tinkle Razors after I got a few bad ones that scratched my skin. I found these and they are SO MUCH BETTER!
Billie Body Razors– I love Billie razors! Here's my full review.
Lifestyle
Moon Toothpaste– I made the switch to fluoride-free this year (blog post coming soon) and this is by far the best tasting fluoride-free toothpaste out there. It also foams up nicely.
*Ring cleaner– This $8 ring cleaner is fast and easy. Makes your jewelry sparkle again!
*Parakito mosquito repellent– This product saved us this year! We wanted a nontoxic mosquito repellent and this works!
Burst Toothbrush – I love this toothbrush! I am generally not a fan of sonic toothbrushes because I just don't like things vibrating in my mouth in the morning (or ever LOL) but this one is amazing and does a great job!
Rosie Perfume- I made the switch to mostly clean perfumes this year (blog post coming soon) and am LOVING this sample set.
Body Wash– These body washes are incredible. They last forever and the Mint Tea and Lilac Hyacinth fragrances are our favorites.
*Plate Bowl– These are basically all we use now! I love the more rustic style and they really make eating easy. LOL that sounds weird but they are just the best.
Fashion:
Necklace Layering Clasp – I absolutely LOVE this thing. My necklaces always get tangled and this prevents that from happening and makes it so easy to put them on and remove them, even with long nails!
Everyday Bra– This is the most comfortable bra you will ever try! It is wireless and gives you a lift. My favorite feature is that it's a little thick so it hides when your headlights are on (lol).
Underwear – I've worn these forever! They are no show so you really won't see any panty lines and the material is very comfortable. I always buy 5 at a time because you save a ton when you do it that way and they last for years.
*Swimsuit – This swimsuit is SO flattering! I've never enjoyed wearing swimsuits until I found this one.
Boots – I was searching for a tan boot that goes a little higher up my calf and finally found the perfect pair! I love these and wear them multiple times a week.
*Heels – These heels broke the internet this year! They are the most comfortable heel you will ever own. I have very sensitive feet and have worn these for HOURS with zero pain.
Sneakers – These are my go-to casual sneakers. They go with everything and are pretty comfortable!
*Workout Tank – This is the best workout top! It has a built-in bra so it's perfect for your low-impact workouts. I have multiple colors. (Size down)
*Initial Necklace – This $13 necklace is a dupe for the Bracha and the quality is amazing!
What were your favorite products of 2021?
xx,
Lauren