Olaplex… What it is and why you need it!
If you're a blonde, your stylist has probably mentioned Olaplaex. Why is it such a big deal? Well, it doesn't just add moisture like most hair products, it rebuilds the bonds of your hair and restores each strand from the inside.
Olaplex has launched two more products to their at home lineup. Shampoo & Conditioner! I bought some at the IBS show in Las Vegas last week and I am obsessed. You barely need any shampoo to get a nice rich lather and same with the conditioner. It smells fresh and feels light. This would work well for any hair type/ color!
I don't think I've ever been excited about a hair launch before. I mean… I used Pantene Pro- V for basically my entire life. Until April when I FRIED my hair somehow (my hair has had a rough year) I thought I was doing my hair a favor and I cut off 3 inches (!!!). Since then I've been struggling with frizzy ends and have tried numerous products from masks to oils to try to mend them. I ended up purchasing Pureology shampoo and conditioner, which I didn't love, especially for the price.
Why is Olaplex so special?
Olaplex claims to "reconnect broken disulfide sulfur bonds in the hair." The treatment is labeled a "bond multiplier", which limits damage to hair during or after coloring. It maximizes the strength of hair, which gives hair a thicker look and feels healthier and stronger.
If you color or use hot styling tools, chances are you are breaking the bonds of your hair. Olaplex allows you to rebuild the strength, structure, and integrity of hair and it is compatible with all hair types.
There are 5 products in the Olaplex lineup now. 1 & 2 are for professional use only (meaning you can't just go to Sephora and purchase them). 3, 4 & 5 are all for consumer use!
This is from Olaplex's website:
"Our simple three-step process includes a patented active ingredient that works on a molecular level to seek out broken bonds in the hair that are caused by chemical, thermal, and mechanical damage. You can use Olaplex to restore compromised hair, or add it to another service to provide the ultimate breakage insurance."

No.1 Bond Multiplier
Olaplex's first step is a water solution that is applied in the salon to repair the damaged hair. It can also be added directly to the permanent dye solution that is used in the hair-coloring process. No.1 is meant to help mitigate damage during the color, lightening, and relaxing process. Next time you color your hair ask your hairstylist to try this (be sure to ask the price first as it can get expensive).

No.2 Bond Perfector
The second step is applied to the hair when the bleach or color is washed off and left on for 20 minutes. No.2 is necessary after every single service when using No. 1 because it is a system. No.2 is not an activator, neutralizer, sealer or conditioner and it contains the same active ingredients as No. 1. No.2 finds more single sulfur hydrogen bonds and cross-links them back together without color, lightener or relaxers working against it.

No. 3 Hair Perfector
You've been able to purchase No. 3 for a while 3 is basically a less active version of 2 (but its still super effective!). No. 3 Hair Perfector is not a conditioner, it's an at-home treatment that contains the same active ingredient found in all professional Olaplex products. It contains bond-building technology, which relinks the broken disulfide bonds caused by chemical, thermal, and mechanical damage to the hair. This formula is made to work with every hair type, providing real, structural repair that works from within.

No. 4 Bond Maintenance Shampoo
The shampoo repairs bonds while gently cleansing all types of hair. Impart moisture, strength, and manageability with every wash. UPDATE I used the entire bottle and while it does lather nicely, I didn't notice an improvement in the strength or structure of my hair. It almost felt drying.

No. 5 Conditioner
The conditioner restores, repairs, and hydrates without adding excess weight. Eliminates damaged frizz for strong, healthy, shiny hair. UPDATE I used half of the bottle but it didn't make my hair soft enough so I stopped using it. 

How to use Olaplex at home?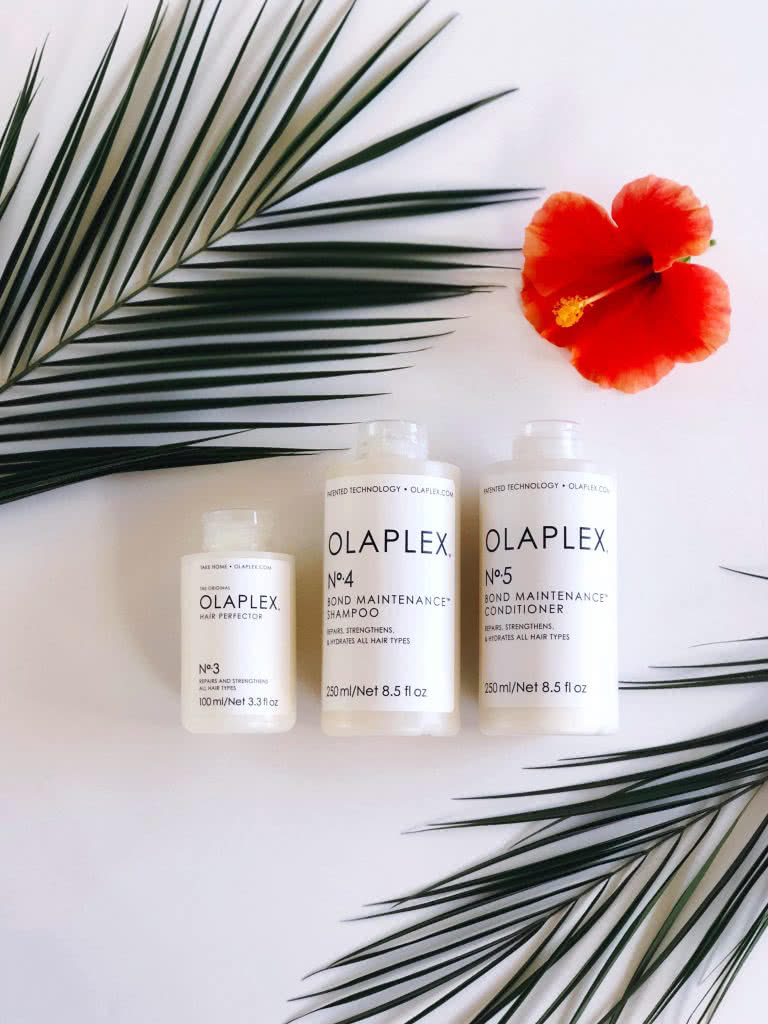 You want to apply a generous amount of No.3 to towel-dried hair, comb through and leave on for a minimum of 10 minutes or longer, then rinse, shampoo and condition.  The longer you leave No.3 on, the more effective it will be. This may be used more than once a week if necessary. You can use the shampoo and conditioner as often as you'd like.
As of now, I'm only aware of purchasing No. 4 and No. 5 from Olaplex's website, but it's supposed to launch July 1 everywhere!
Have you tried Olaplex? What did you think?