Makeup Brushes and Tools Everyone Needs In Their Makeup Bag
The right makeup brush and tools can definitely boost your makeup game! But there are so many to choose from it can seem overwhelming to know which ones are right for you. I've tried SO MANY different types and I always keep going back to my core few. I've narrowed it down to my must-have brushes and I've created a video showing you how to use them.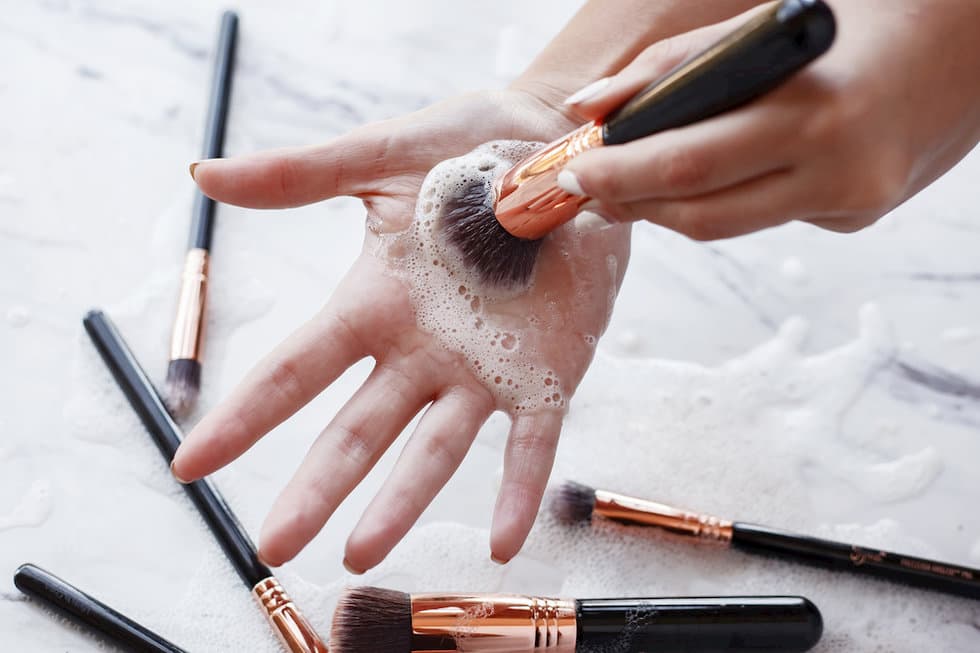 A makeup brush can last for a long time if you take proper care of them- I've had some over 10 years!. Simple things like washing your brushes at least once a month and using them correctly can help them last longer. Washing your brushes is an important part of makeup application. Think of your foundation brush- you apply a thick liquid to your brush and use it over and over again, the bristles will start to stick together and not work as well. Also, they'll harbour lots of nasty bacteria…ew. But washing them regularly can keep them in tip-top shape!
In this video, I go through all of my top brushes, explain why I like them, and show you how to use them. If you want more details I've explained each brush below- and linked to each one.
Stippling Brush– I love these for applying foundation- they are easy to use for all types of makeup coverage, light, medium, or heavy.
Blending Sponge– This is a must if you like seamless looking makeup. It blends all the brush strokes and makes your makeup look flawless. It's also great to press makeup into your pores so you don't miss any spots. You can use these for undereye concealer, setting powder, applying highlighter, and blending contour too!
Powder Brush– I tap the brush onto my face to apply powder, then once you have a base layer you can lightly brush all over to blend. The fluffier the brush the better!
Contour Brush– I prefer a flat dense brush to apply contour because it creates precise lines and you can use the same brush to blend the color out.
Bronzer Brush– I love the tapered edge of this for really getting under my cheekbones. It's also really fluffy so it's hard to over-apply your bronzer.
Blending Brush– The shape of this brush is so great to ensure you're all blended out (great for extra contour blending). I also love it for under my eyes if my makeup is creasing.
Blush Brush– This brush is so soft but still dense enough to apply pigment perfectly. The shape is perfect for the apples of your cheeks.
Highlighter Brush– I love using this little round brush for applying highlighter to above my cheekbones, bridge of my nose, on my brow bone (right under brow), middle of forehead right below the hairline, and above the upper lip. It's great to give you a glowy look without making you look oily.
Eyeshadow Primer– I love a dense eyeshadow brush to apply eyelid primer. Because eyelid primers are usually fast drying liquids, it's helpful to get them blended before they dry.
Eyeshadow Brush– This brush is EVERYTHING. You can use it to create almost any eye look! This is my all-time favorite brush.
Color changer– If you use more than one eyeshadow color on your lids, and don't want to invest in a few eyeshadow brushes, this is a must-have!
Eyeliner Brush– I use black or dark brown powder eyeliner on most days because it's not as severe-looking as a pencil or pen. I also like how the powder particles fill in your lash line to make them look full. This is my oldest brush (16 years!). I love how thin it is so even if you aren't super precise, you can still create a nice lined eye.
Lash/ brow Brush– I love these for brushing out my mascara clumps, and cleaning up my brows.
Real Hair Or Synthetic makeup brush?
Another question you may have… real hair or synthetic… Which is better? I have both in my makeup kit and I can honestly say it does 't seem to matter. I used to think real hair is best BUT many brands are making the switch to only synthetic and have maintained the same great quality.
If you purchase a brush and experience a lot of shedding RETURN IT! Brushes are expensive and you shouldn't be stuck with a dud. I notice most of the shedding happens right after I wash my brushes- that's normal, but excessive shedding is not. Also, the price point doesn't seem to affect this or the quality of the brush. I've had $50 brushes shed like crazy and $6 brushes that barely shed.
There you have it! My top makeup brushes & tools! If you have any of these please let me know in the comments!
xx,