Morpheus 8 with Platelet Rich Fibrin Review
We're all looking to slow down the aging process, right? You can use all the SPF, Retinol, and products under the sun but aging is inevitable. Once we hit our mid 20's we lose 1% of our collagen per year. That adds up quickly so I'm always on the hunt for ways to keep my skin looking its best. I recently tried Morpheus 8 and added Platelet Rich Fibrin (PRF). I'm so excited to share it with you! In this post, I'll explain the benefits of Morpheus 8, PRF, and share my experience.
I filmed the procedure (if you want to see what it's really like!) and also share my review here:
What is Morpheus8 and Platelet Rich Fibrin?
Morpheus 8 and Platelet Rich Fibrin (PRF) are actually two standalone treatments. You can combine them like me, but they both have incredible benefits on their own. I explain why each is so great below.
What is Morpheus8?
Morpheus8 is micro-needling with radiofrequency. The radiofrequency triggers collagen and elastin production at a deeper level than what microneedling can reach. The Morpheus8 has 24 gold-coated pins which penetrate into the dermis (the deepest layer of skin) and emit energy that causes thermal damage. This makes the tissue heat up and tighten/rejuvenate. The added heat promotes the production of collagen, elastin, and hyaluronic acid at a much greater level than traditional microneedling. By reaching those deeper layers in the skin, it truly contours and transforms the skin. It provides results with little to no downtime and is safe for all skin tones.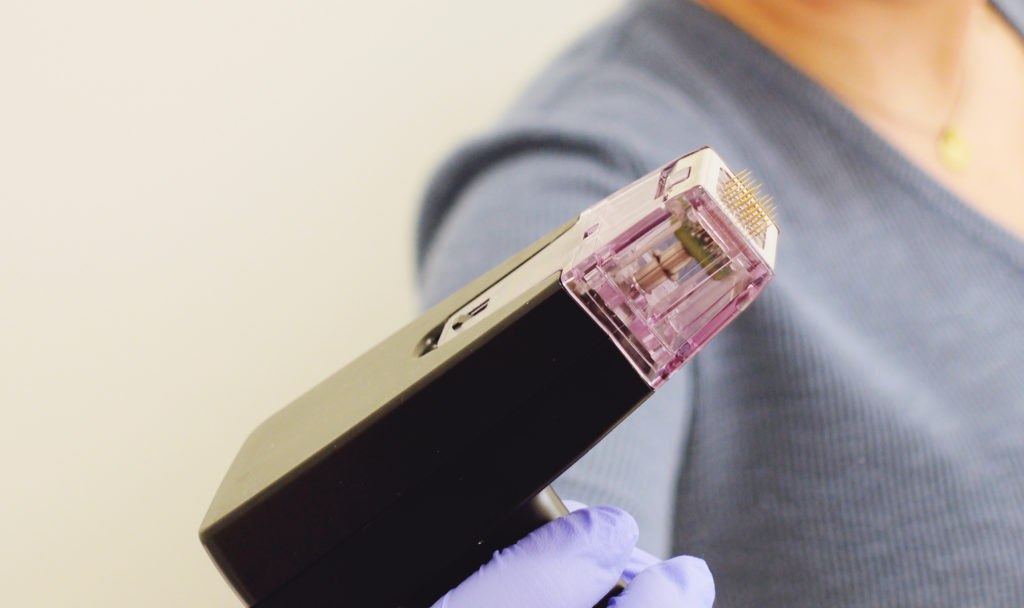 Morpheus8 can help to:
Encourage collagen production
Smooth wrinkles & fine lines
Make pores smaller (by increasing collagen)
Improve texture
Reduce dark spots
Treat stretch marks
Improve the appearance of cellulite
What areas can you treat with Morpheus8?
Morpheus8's most popular target area is the face, jowls, jawline, and the area below the chin. But it can also be used virtually anywhere on the body, including the face, arms, neck, and hands. It can even tighten loose skin on the inner and outer thighs, above the knees, and abdomen!
Who is Morpheus8 for?
Anyone with aging skin is a candidate. Whether you want it as a preventative measure to keep your skin as tight as possible, or you're ready to treat your sagging skin, Morpheus8 will help you. It's a subtle antiaging treatment with progressive results over time.
When you'll see results from Morpheus8?
You may see results within weeks after your treatment but your results continue to appear up to 4 months after. It's recommended to have at least 3 sessions spaced roughly 4 to 6 weeks apart to see full results. Then one a year to keep the results.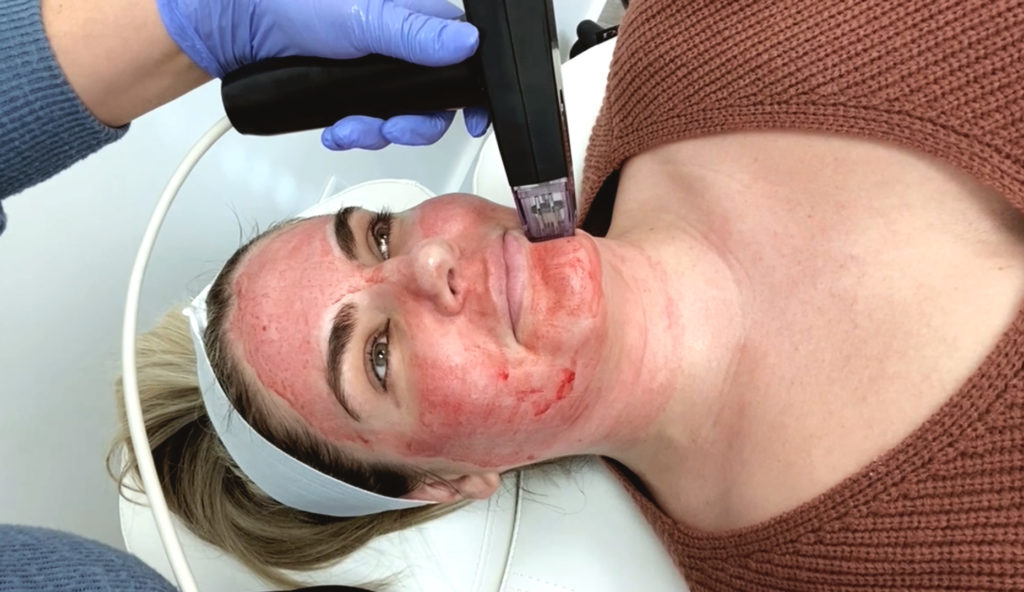 What is Platelet Rich Fibrin?
Platelet Rich Fibrin (PRF) is the latest technology of the "vampire facial". It used to be all about Platelet Rich Plasma (PRP) but they found after a few years of studies that after you draw blood and spin it at a lower rate you actually retain more of the growth factors, fibrin, white stem cells, and platelets. PRF increases collagen production and improves elasticity. It helps with acne scarring, pigmentation and helps increase healing time.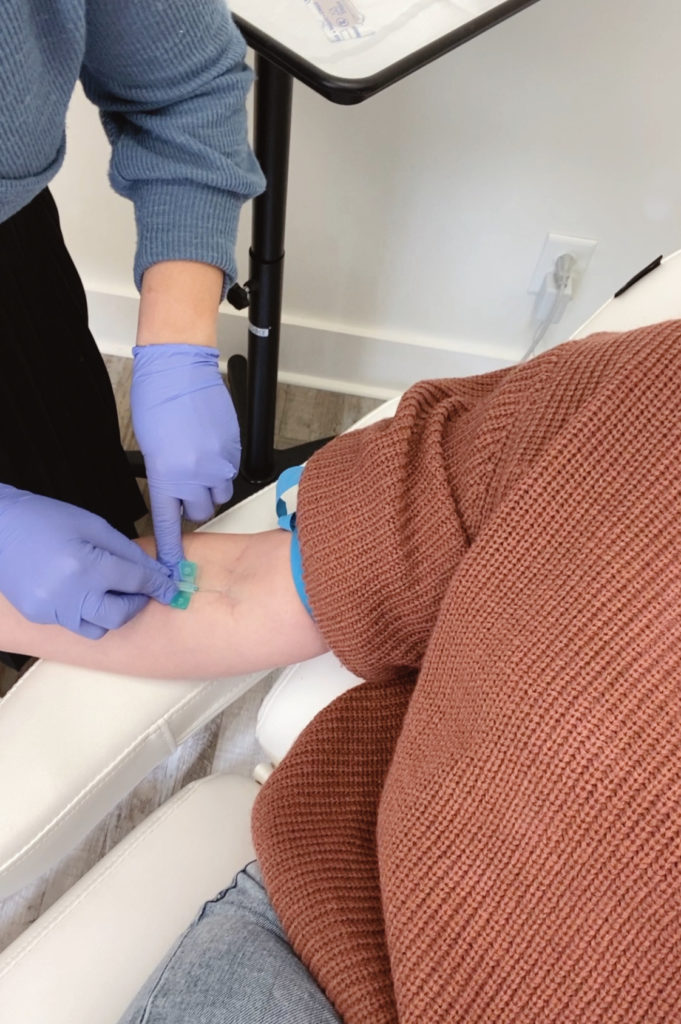 They draw a few vials of your blood and place it inside a centrifuge machine. This separates the PRF from the other blood components and spins all of the benefits to the top of the vial. After spinning, the PRF is harvested from the top of the vial into a syringe which can be injected into areas of concern like undereye hollows or darkness but it can also be used topically in conjunction with microneedling or Morpheus8 treatments to boost results.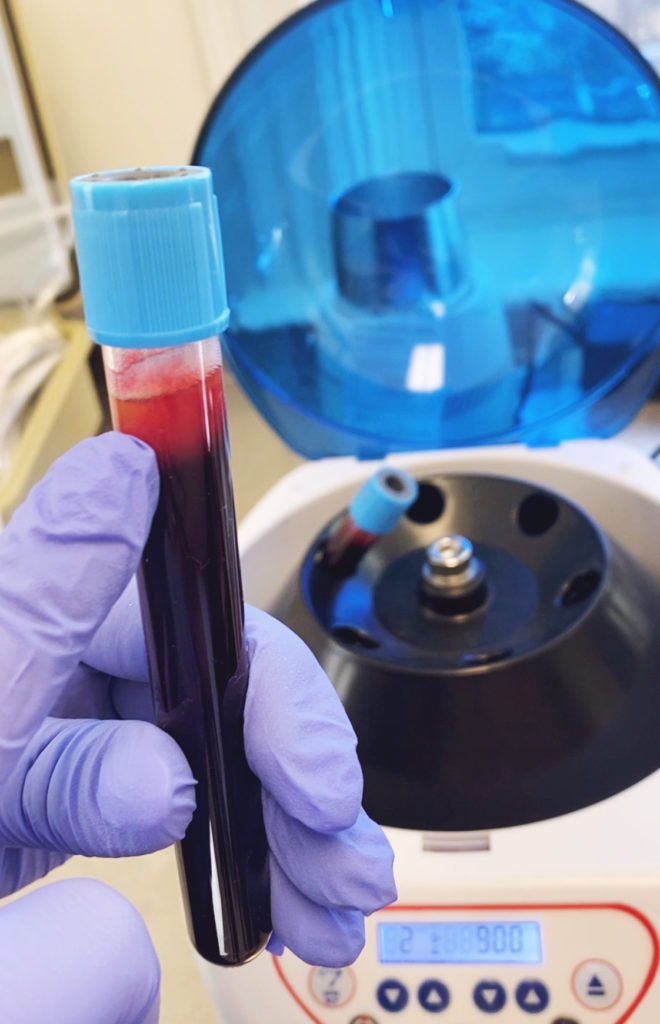 My Experience with Morpheus8 and PRF
I struggle with acne scarring, melasma, large pores on my nose, and I'm starting to notice some skin laxity. I had my treatment done last week and was surprised at how easy it was!
What was the Morpheus8 +PRF Procedure like?
I arrived at Sunday Skin (the spa I had the procedure at) with a bare face to save time. We applied numbing cream and I waited for 30 minutes for it to really kick in. When I was almost done numbing they took two vials of my blood and put them in the centrifuge machine. You have to act fast with PRF because it's 100% natural and has to be used quickly.
We wiped off the numbing cream and started the Morpheus8 treatment. The PRF was applied to each area of my face right before they went over it with the Morpheus8 device. The whole procedure was only about 8 minutes long for my whole face and neck. The pain was minimal but I definitely felt the zap in some areas like my neck and forehead. It's definitely more intense than just regular microneedling.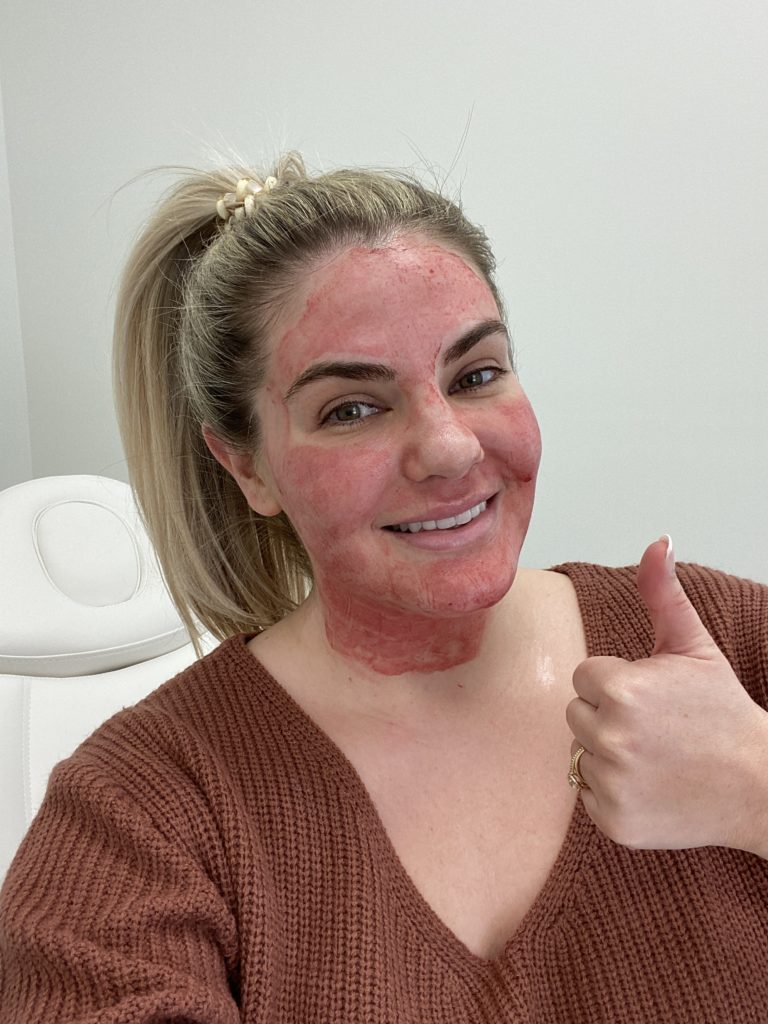 After the treatment, they wiped the PRF off my face with water and I looked a little red but not crazy! The numbing cream always makes me turn red so I actually looked just as red before the treatment started than after it was complete. I feel like you could definitely go back to the office after the treatment. That could be from the healing properties in the PRF though because I've seen some people say they were red and swollen for a bit afterward.
3 hours later you'd never know I even had anything done! My skin looked glowy and felt completely normal. The next day I felt 100% fine. I used the Epionce kit that Sunday Skin provided for three days then I started incorporating my active skincare again (acids & retinol). I did have a minor breakout but that happens every time I do anything to my face so I wasn't surprised or concerned.
Normally after I microneedle, I feel dry and tight but after this treatment, I was completely fine. I'm impressed! Although, they mentioned I may experience tightness so if you try this treatment just know it can happen.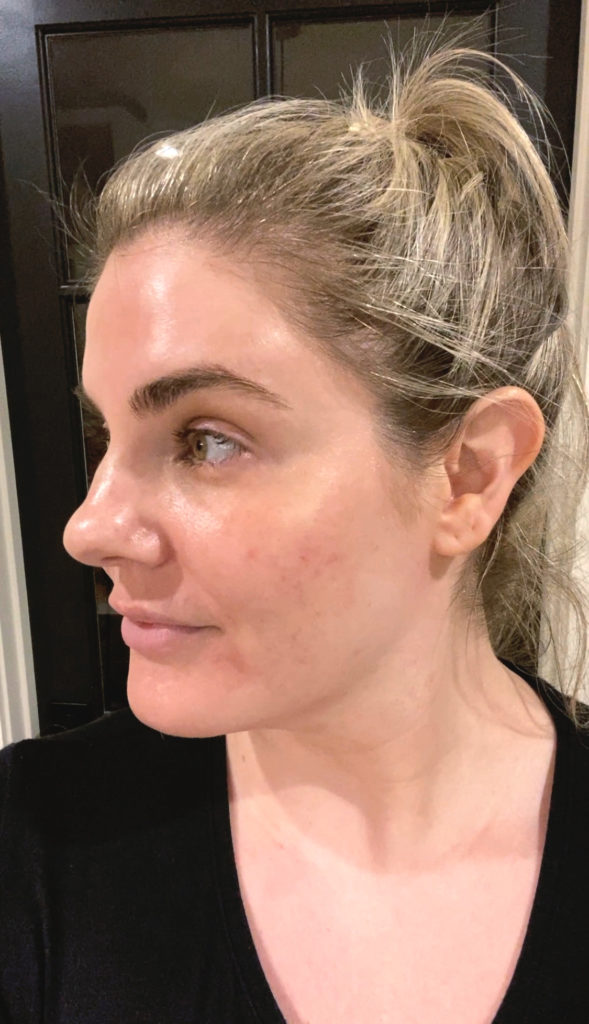 How much does it cost & how many treatments are needed?
Morpheus 8 is $995 for the face and when you add PRF it's $1,350. The prices for specific areas or standalone treatments are listed on the Sunday Skin website. If you aren't near Nashville and need help finding the right Medical Spa check out this post with all of my tips!
It's recommended to get 2-3 treatments spaced 4-6 weeks apart.
I'm going back to get my under eyes injected with PRF to hopefully help with rejuvenating that skin and help with some of the darkness I struggle with. I'll have another video and blog post about that treatment coming soon!
Be sure to subscribe to my blog so you're notified when I post my final results from Morpheus8 and PRF!
Have you tried any cool face treatments? Tell me in the comments below!
xx,
Lauren
Do you follow me on Amazon? I post all of my favorites on there & update them regularly! Check it out HERE!