Rooted Rituals: A Healthy Scalp = Healthy Hair
This is a sponsored post written by me on behalf of Rooted Rituals. All opinions are 100% mine.
I love finding affordable high-quality drug store products that really work. I've been testing Rooted Rituals haircare and wow, I'm impressed! You know I'm a huge skincare fanatic and I love that haircare is becoming more scalp focused. Our scalps take a beating, especially with all of the heat, dry shampoo, and other products we use on it. It's no wonder our hair isn't as healthy as it can possibly be. Think about it, we are damaging it at the root- where it needs to be taken care of the most!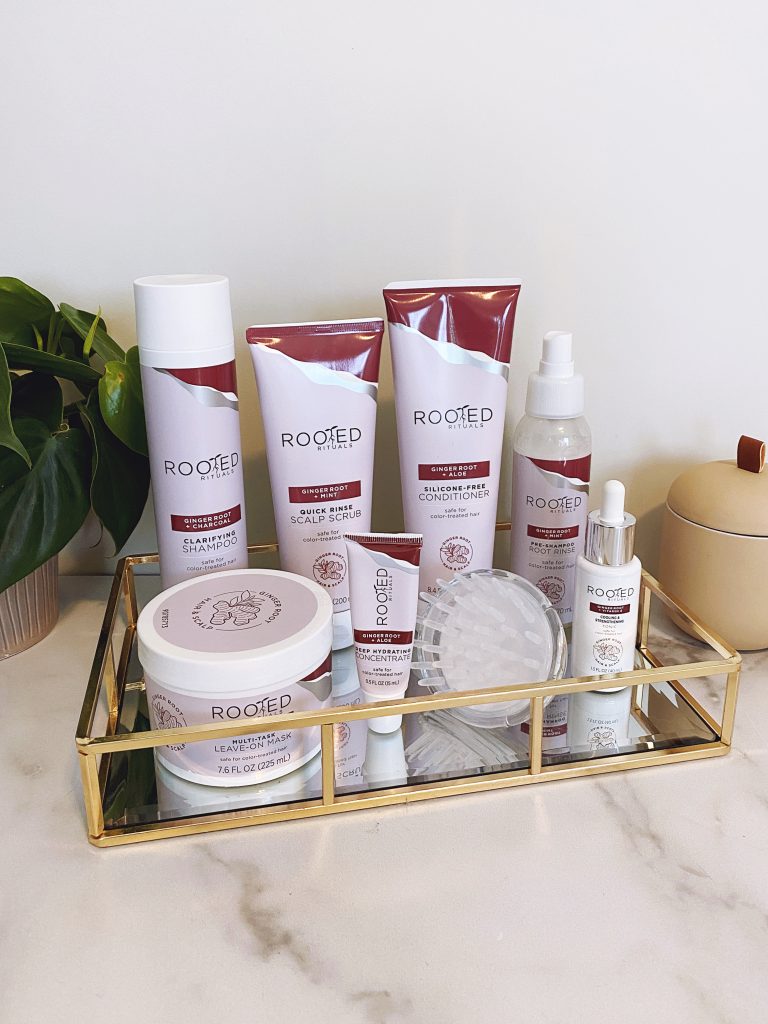 Rooted Rituals is focused on getting your scalp in order, which will equal healthier, stronger hair! It makes total sense! Rooted Rituals' products cleanse and remove build-up but also focus on treating your scalp with amazing ingredients like ginger root, aloe, charcoal, mint, and vitamin E. 
If you struggle with dry scalp, unhealthy hair, breakage, dryness, hair loss, and more then it's time to start paying attention to your scalp and hair follicles! I'm going to go through the whole Rooted Rituals line up and explain why each product is so unique. Oh, and all of the products are under $10!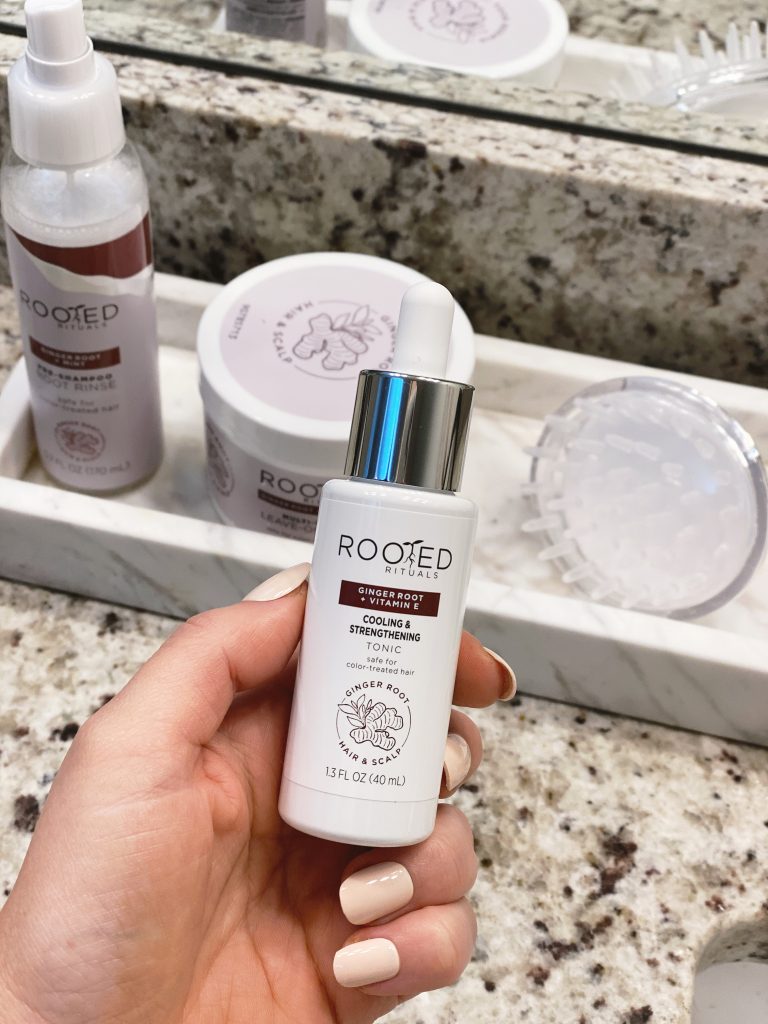 The Routine:
First I used the Ginger Root + Mint Pre-Shampoo Root Rinse to break down stubborn oil and build up.  I sectioned my hair and sprayed it all over my dry, dirty hair at the root. I massaged it and let it sit for 5 minutes before I rinsed. 
Then I used the Ginger Root + Mint Quick Rinse Scalp Scrub. It has little micro-exfoliating scrubbies that feel amazing but also it lathered really nicely! This helps exfoliate your scalp and remove buildup. It also improves your scalp's condition as you wash. I also like that it rinsed out easily and left my hair feeling soft and hydrated.
After rinsing, I used the Ginger Root + Charcoal Clarifying Shampoo. I LOVE when shampoos leave your hair feeling silky smooth. Sometimes you feel dry and tangly after shampoo and can't wait to apply conditioner, this one didn't feel like that at all! 
Then I applied the Ginger Root + Aloe Conditioner. It was really nice! My hair felt even softer after I brushed it through my wet hair and rinsed. I love how it rinsed out easily and didn't leave a residue in my hair- just left it feeling super silky.
The last product I used while in the shower was the Ginger Root + Aloe Deep Hydrating Concentrate Treatment. I applied it to the lower half of my hair down and massaged it in. A little went a long way! The tube is small but I could probably get three uses out of it, not bad for a $4 product!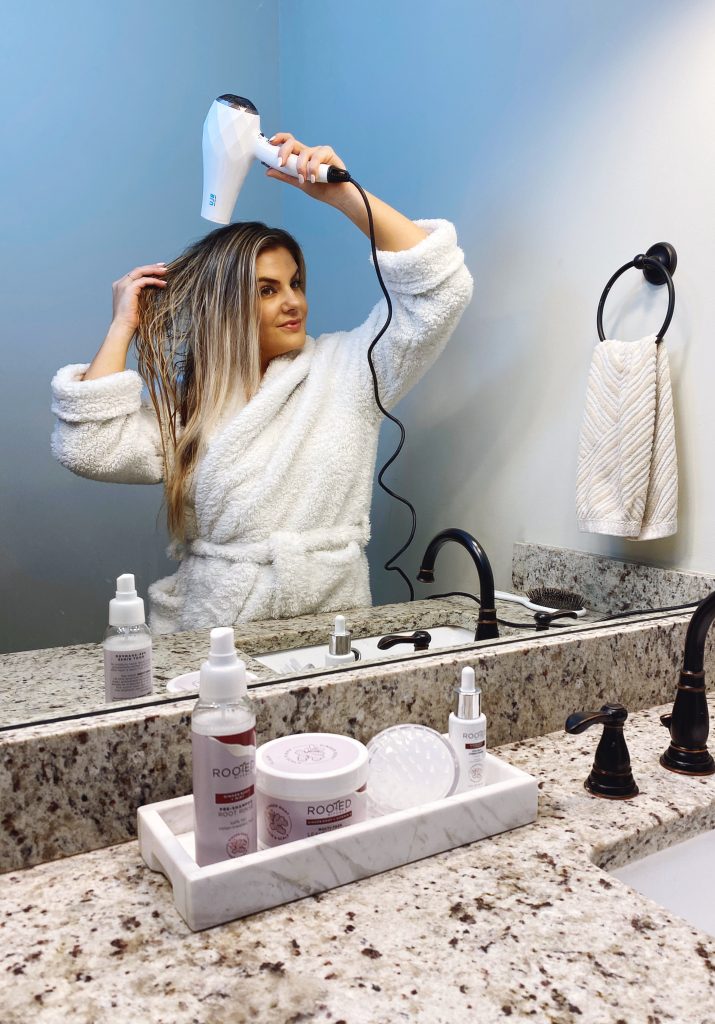 After I towel dried my hair I applied the Multi-Task Ginger Root + Vitamin E Leave-On Mask and brushed it through- first with my fingers, then my detangling brush.  I used this in place of my usual detangling spray and it worked really well. I felt like it absorbed nicely and made my hair very soft. 
The last product I tried was the Ginger Root + Vitamin E Cooling & Strengthening Tonic for Scalp. I used this the next day on dry hair and tbh was a little worried it would make my hair oily but it didn't! It absorbed quickly and felt very soothing. I separated my hair applied a few drops all over then massaged it in with the Rejuvenating Scalp Massager to increase circulation. It felt so good!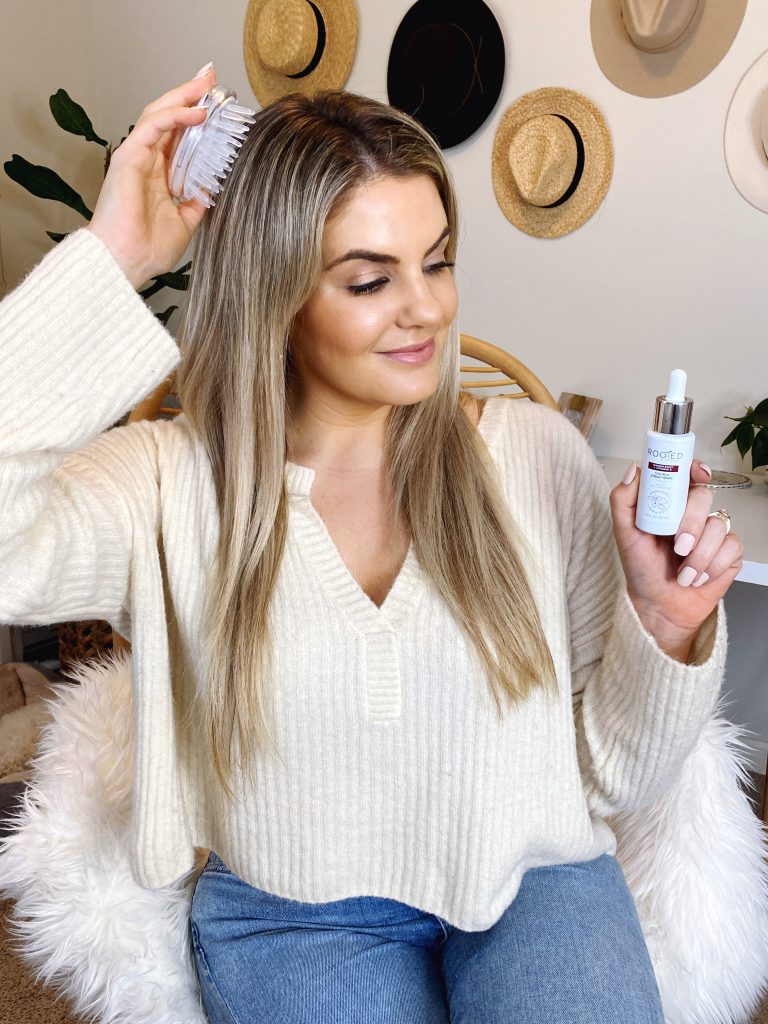 Overall, I'm impressed! The products smell nice, feel great on wet hair, detangled, and left my dry hair feeling really smooth! My scalp felt really clean for days!

Have you ever tried any scalp treatments? Let me know in the comments!
xx,