Review of the K18 Peptide Prep Detox Shampoo
Earlier this year I discovered the new K18 Leave-In Repair Hair Mask. Yes, $75 for an at-home hair treatment seems crazy but it makes your hair look and feel SO GOOD! When I heard that K18 launched a few shampoos I was so excited. And let me tell you…. they did it again with their new K18 Peptide Prep Detox Shampoo. I just tried it last week and it's GOOD. They also launched their Peptide Prep pH Maintenance shampoo that I'll be reviewing soon.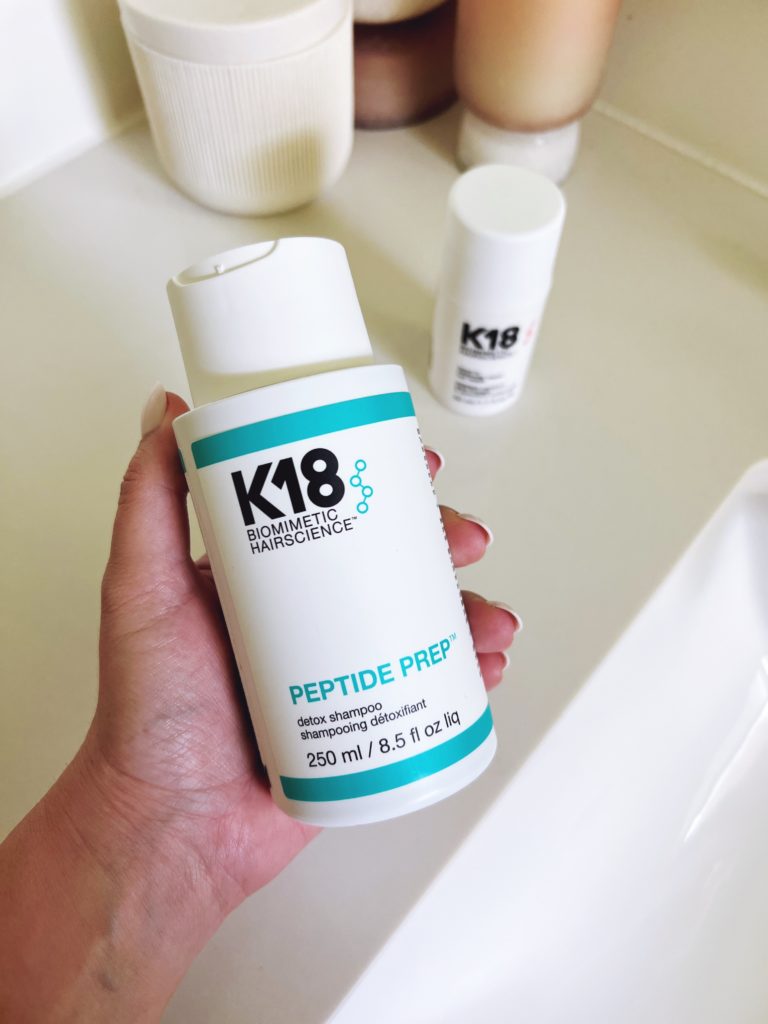 Why are K18 products so great?
Before I dive into the shampoo I want to explain why K18 is so unique. It took them ten years to perfect K18's patented ingredient- the K18 Peptide. It mimics your hair's natural structure to seamlessly fit in and reconnect broken keratin chains responsible for hair's core strength and elasticity.
K18's leave-in molecular repair hair mask is clinically proven to reverse damage in just 4 minutes.
Heals damage from bleach, color, chemical services, and heat
Restores strength, softness, smoothness, and bounce
Doesn't wash away with shampoo, leaving lasting results
Vegan, color-safe, cruelty-free
So how is K18 different from Olaplex?
We are talking about the K18 Molecular repair mask (not the shampoo yet) vs. Olaplex no. 3– neither is worth the spend if you don't have any damage (if you don't heat style or color repetitively). Both products are designed to seek out and repair severe chemical and heat damage, so if yours doesn't come into contact with either, you're better off treating yourself to a more affordable moisturizing hair mask every now and then.
Olaplex has a single active ingredient, Bis-Aminopropyl Diglycol Dimaleate which rebuilds broken bonds in hair. It reduces damage from chemical services and heat styling.
K18 rebuilds and repairs the molecular chains of the hair. It deeply penetrates the hair to reconnect broken keratin chains for smoother, stronger strands – like a souped-up at-home keratin treatment that also repairs.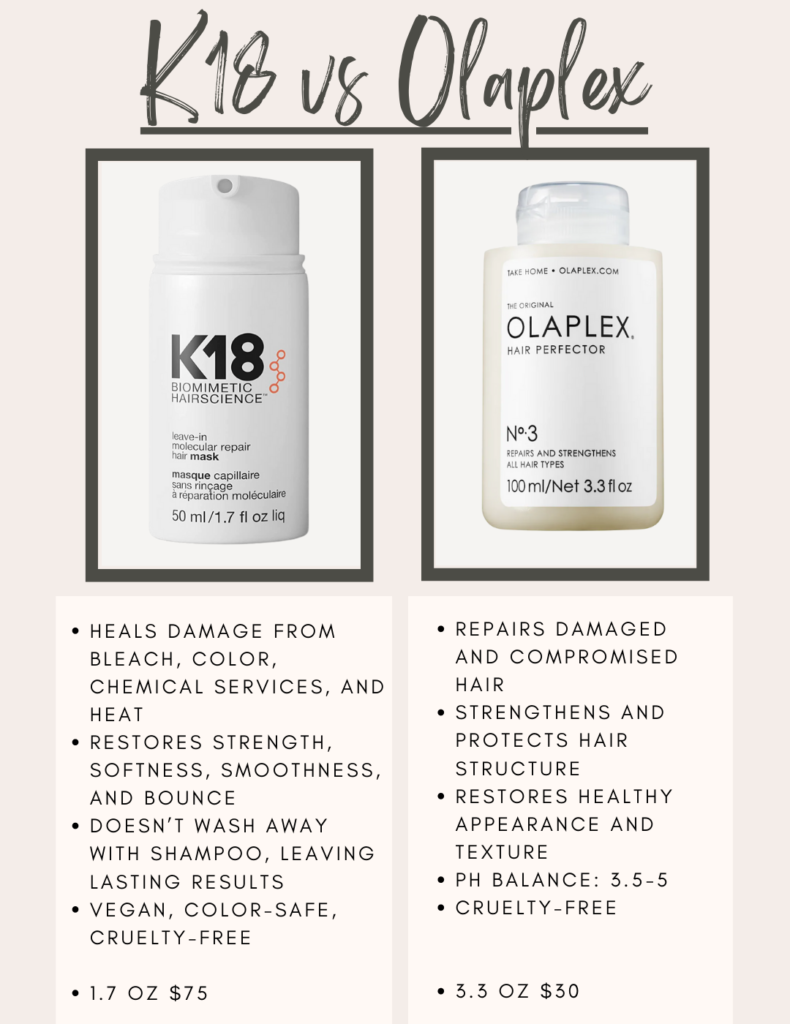 Can you use both Olaplex and K18?
Yes, you can use both Olaplex and K18 together. In fact, many people do! If you have severely damaged hair, using both can actually help repair your hair even faster and maintain healthy, strong hair.
Using K18 and Olaplex together can actually be a great idea because they both work differently, so you're getting 2 different repairing mechanisms to repair even the most damaged hair.
What is the K18 Peptide Prep Detox Shampoo?
It's a color-safe clarifying shampoo that clears buildup from our own oils, products, & dry shampoos.
It uses activated charcoal to absorb toxins, excess oils, and dirt in the hair and scalp. It uses Salicylic Acid tp clear sebum buildup in follicles without stripping hair of essential moisture and lipids. It also has the patented K18 Peptide that nourishes your hair while removing silicone buildup. The shampoo creates an optimal environment to further the benefits of the K18 Peptide treatments and other styling products.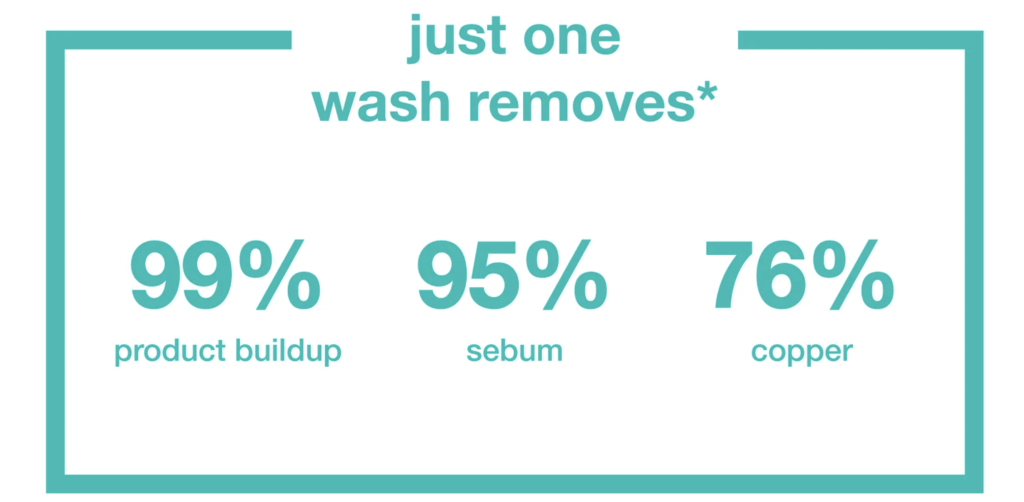 key benefits
Intentional active ingredients remove buildup without stripping
Removes 99% of product buildup with one wash*
Removes 96% of sebum with one wash*
Reduces 76% of copper found in hair with one wash*
Color-Safe
Non-Sensitizing
Dermatologist tested
pH 3.8-4.2 which helps maintain color and doesn't dry out the hair
How to use K18 Peptide Prep Detox Shampoo
Swap out your regular shampoo for this once a week or as needed. Massage into wet hair and scalp to remove excess build-up. Thoroughly rinse and follow with your typical conditioner, mask, or K18 treatment.
My First Use Review of the K18 Peptide Prep
The color surprised me! It's a clear-ish gray color- almost like a diluted purple shampoo, but gray. In my experience, clear (not creamy) shampoos are best for clarifying & oily hair types so we were off to a good start!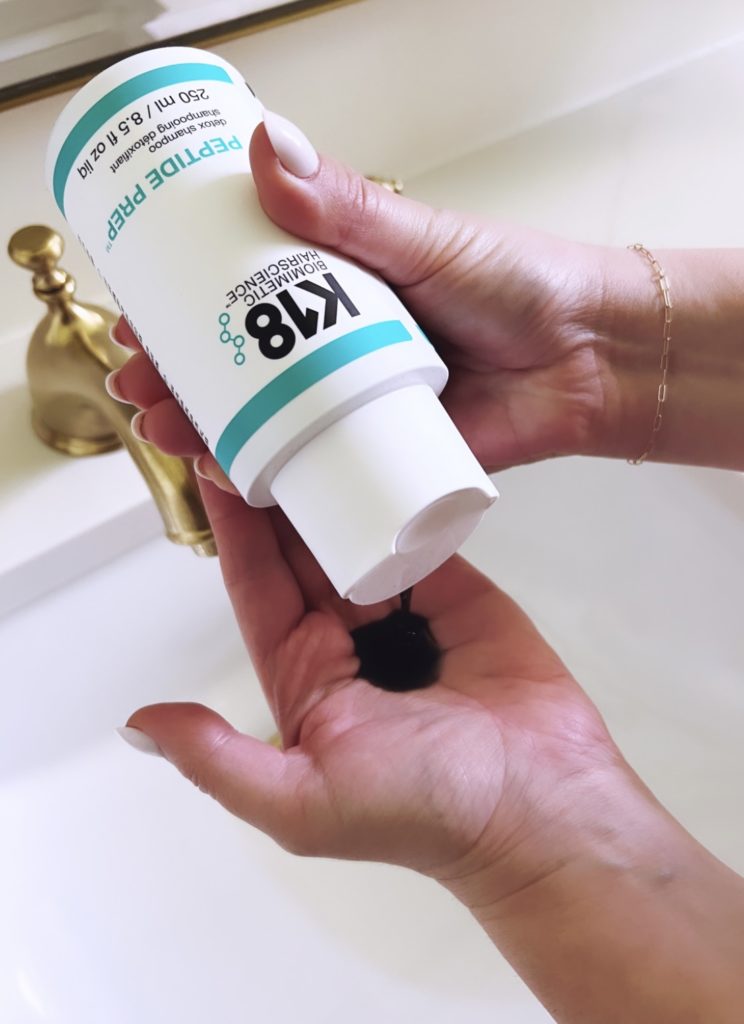 The fragrance is very subtle- I don't see it offending anyone. Not bad and not amazing… which IMO is what all brands should do if they're adding fragrance.
It lathered VERY easily! Even on my dirty day 4 hair! It felt luxurious and made my hair feel smooth as I was lathering and rinsing. I did a double cleanse, as usual, though I'm not sure I needed to since it lathered so well the first time. My hair felt very clean!
After thoroughly rinsing K18's Peptide Prep out my hair felt tangly but that's normal for me. I didn't use conditioner or a mask because I was planning to use the K18 leave-in treatment after I towel-dried my hair. This towel is life-changing, BTW.
I applied K18, waited the standard four minutes, then followed it up with my favorite detangling/ protecting spray.
I like to let my hair air dry as long as possible then I go in and blow dry it. I've found that a little blow drying helps to keep my oil at bay longer than if I let it completely air dry. I also feel like it bumps up my blonde more.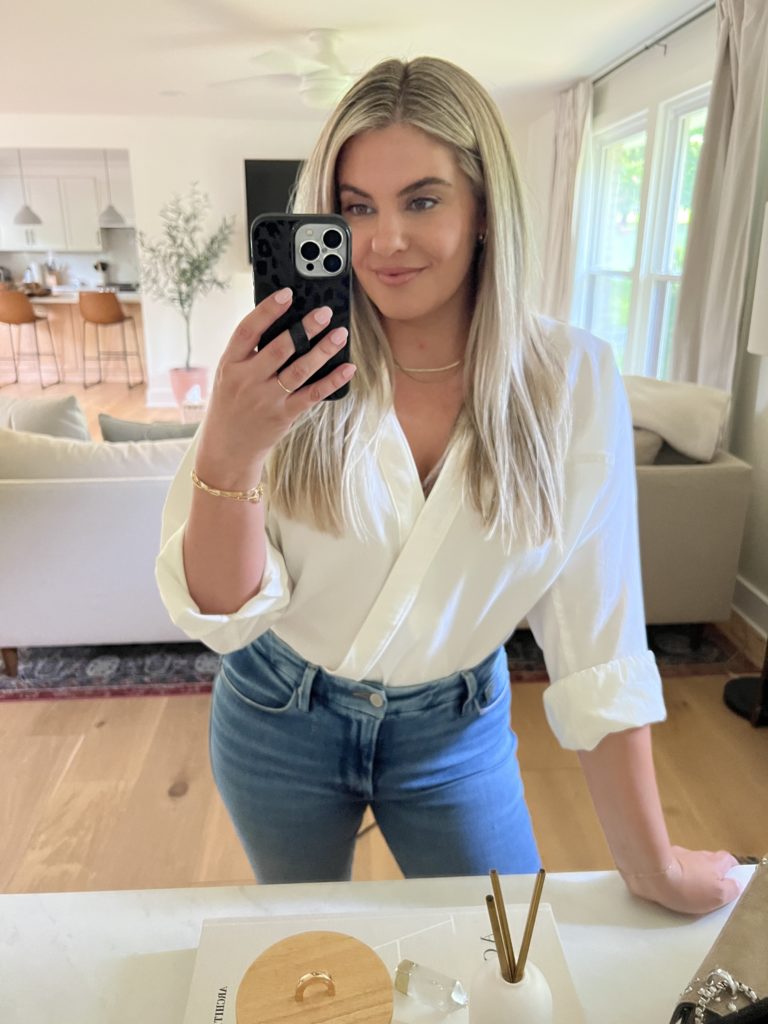 The results of K18 Peptide Prep Shampoo?
Lately, my day 2 hair has been getting very oily so I was pleasantly surprised when I made it to day 3 before I felt greasy!
My hair felt great and healthy! I'm very impressed with the K18 Peptide Prep shampoo! If you are oily, use a lot of products, or just want to make sure the products and treatments you are using can provide the best benefits I definitely recommend this shampoo! If the price point is a bit high, my all-time favorite is this one. It smells AMAZING and works so well!
Have you ever tried a clarifying shampoo? What do you think about them?
Thanks for reading!
xx,
Lauren