Honest HoneyLove Shapewear Review
If you're curious about HoneyLove shapewear this post is for you! Do you have a love/hate relationship with shapewear? Me too- especially since I had my botched liposuction. I have lumps and bumps that I'm always trying to cover up. I usually end up wearing looser dresses that don't highlight EVERYTHING but sometimes I just want to wear that tight dress… ya know? I've used my lightweight shaping shorts for years but never really tried full-on shapewear because every time I try it on it's just so uncomfortable. That's when I discovered HoneyLove shapewear.
Why HoneyLove Shapewear?
We've all seen the HoneyLove Shapewear ads everywhere and they are so compelling I decided to give them a shot. I bought this TIGHT white sweater dress online and you'd think that the thicker sweater material would hide my bumps but it definitely didn't. I love the dress and I decided its time to buy some real shapewear. I ended up ordering quite a few of HoneyLove's styles to meet every shapewear need I've ever had – shorts, full bottom coverage, thong, and the bra and tank. 
Here is my full review of HoneyLove- I show you what they look like on, with clothes & without in this video:
About HoneyLove Shapewear
HoneyLove has a few key features that sounded amazing. They claim their products will not roll down because they have these special structures in every product- it's their version of boning like in a corset but way more comfortable. These are hidden in the seams to hold the garment up without needing the additional bra straps like many other brands have. HoneyLove does give you the straps with your item if you like to use them, but they say they aren't necessary to keep the shapewear in place.
Honeylove doesn't have those rubber grips that a lot of brands used to help the products stay up. That's good if your skin is sensitive to the rubber  
I didn't realize that there's a difference between shapewear and sculptwear. My elastic shorts are considered very light shapewear. They have basically the same level of compression all over and squeeze every area uniformly. 
HoneyLove is actually "sculptwear". They use compression panels that are strategically placed to apply more compression through places like the tummy and upper thigh where you want extra support. Then they taper off the compression where you want room to breathe or move, like through the rib cage and at the hems of legs- this is one thing I always struggled with- the leg squeeze!  You know where it pushes the fat out under the bottom of the shapewear and you can see it in your dress or pants? I hate that and HoneyLove says their products won't do that.
All of HoneyLove's products come in sizes XS to 3X. I purchased a large in everything and I'm typically a size 10 or 29/30 in jeans.
Their products are machine washable so you don't need to wear underwear when you wear them. All of the items come with a garment bag that you can use when you use the washing machine. HoneyLove also put a gusset in many of their products so you can easily use the restroom while wearing them.
I love a good return policy and Honeylove lets you return anything within 30 days for a full refund or exchange- so if you try it on and it's the wrong size or you just don't like it you can return it. 
Try on Review of HoneyLove Shapewear
The first thing I noticed when I put the items was how comfortable and breathable they were. Yes, they're tight but they aren't miserable to wear. I was really impressed!
HoneyLove The Queen Brief
The Queen Brief has medium compression for natural smoothing. It has what they call the powermesh brief that helps smooth your booty without causing panty lines.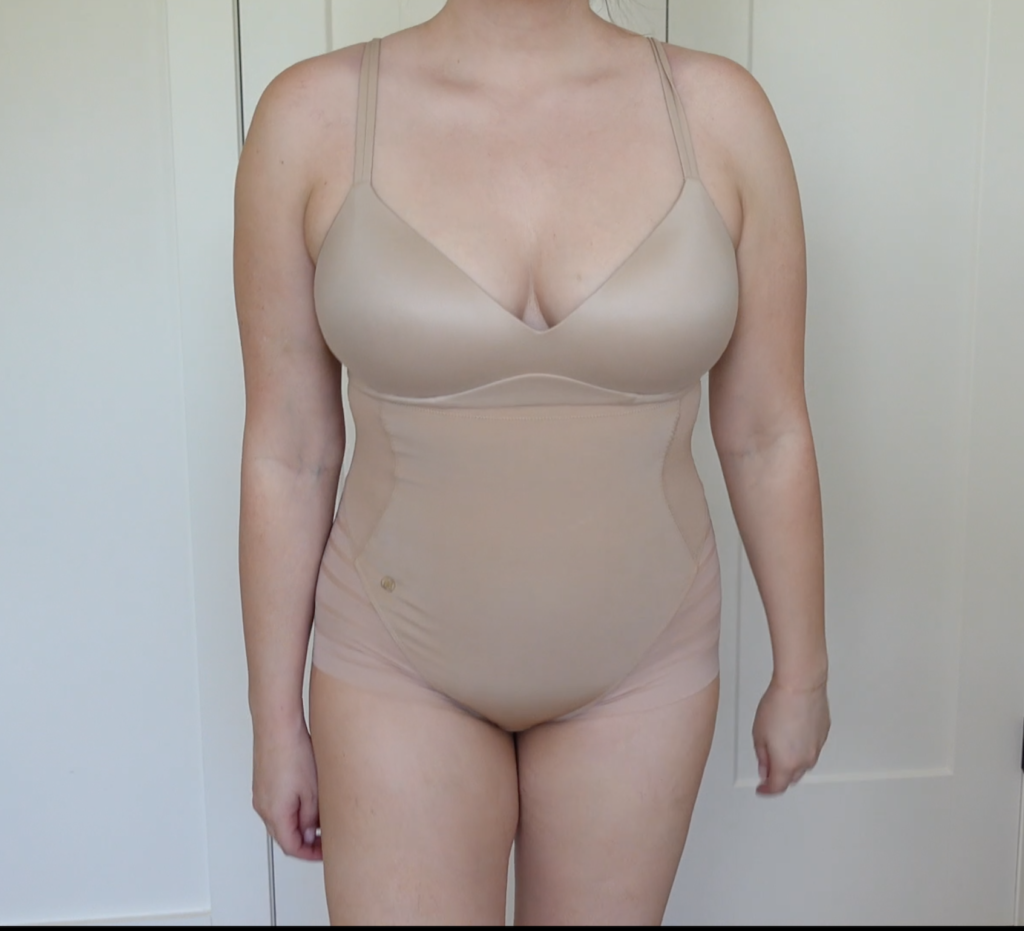 This has a compression panel on the front and flexible boning on the sides to prevent roll-down. This and the superpower brief would be great if you're wearing a dress with a slit and want to hide cellulite on your bottom. While this was comfortable I didn't feel like it gave me enough compression. And since I have a larger bottom the brief gave me a panty line.

HoneyLove's The Superpower Brief
The Superpower Brief has more targeted compression and it uses these panels that shape where you want shaping and releases everywhere else. The SuperPower is Honeylove's most compressing line so if you want a lot of hold look for anything that says "superpower". 
This is basically the same as the Queen Brief, but with an additional layer of structure with the X Band compression in front.  I had the same issue with this one- the brief gave me a panty line. I tend to prefer thongs in my everyday wear because extra material on full underwear ends up in my butt crack anyway… LOL. So If you have that same problem I wouldn't recommend either of the HoneyLove briefs.

HoneLove's The SuperPower Short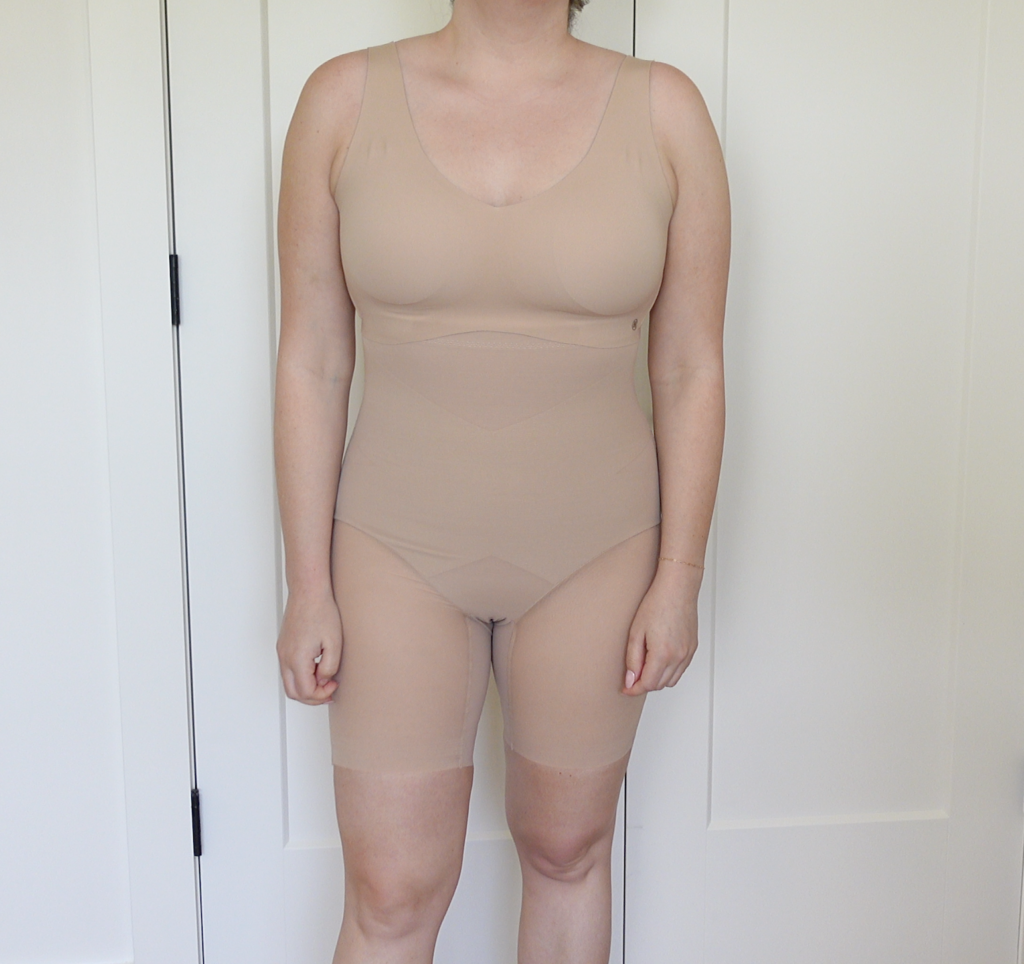 The SuperPower Short is the first product HoneyLove launched! It's basically the same as the Superpower Brief but with shorts. It has the cotton gusset for easy bathroom trips. The SuperPower has the targeted X compression that sculpts your waist and also has boost bands in the thigh area to lift your booty. These were much better for me. They didn't give me a panty line and the mesh on my thighs didn't squeeze the fat out the bottom on my outer legs.

HoneyLove's SuperPower Thong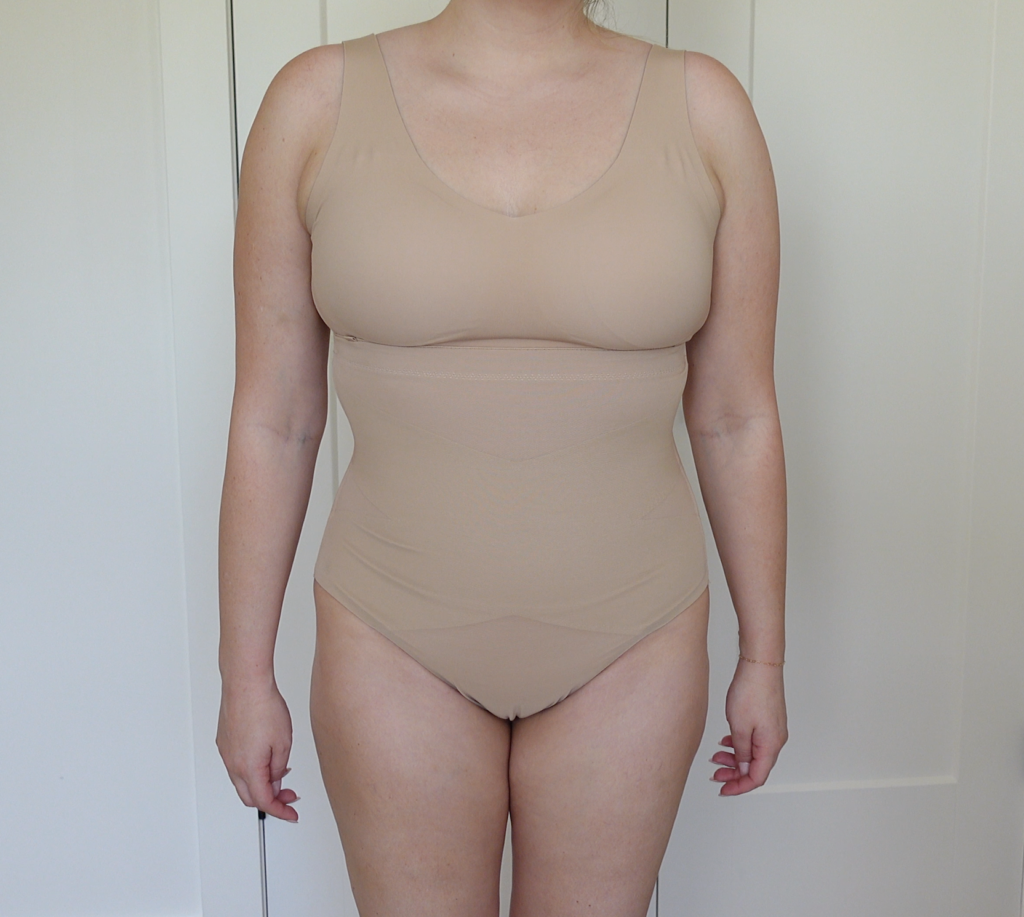 The SuperPower Thong is my favorite of the bunch. It has the same level of compression and flexible boning as the SuperPower Short but has a thong bottom. I prefer a thong bottom because even though I have cellulite, I'd rather have that show than a panty-line that the QueenBrief and SuperPower Brief gave me. 

HoneyLove Bras
One thing I've always struggled with was my bra fat on my back. I tried to have it removed with lipo but the surgeon left me with remaining fat and now loose saggy skin. I struggled with concealing that when I was trying the Sculptwear bottoms on because they are tight all the way up to my bra. 
So I ended up ordering the invisible lift v neck bra to see if it helped and it did a little! This is one of the most comfortable bras I've ever worn. It's comes in 8 colors and goes from size xs to 3x. I wear a size large and am a 38C in most bras.
I love how It smooths my back fat and really goes up to my armpits! It also has flexible boning on the sides to help keep your bust centered.
The only thing I don't love is that it has reusable cups that don't completely hide my nipples so I have to wear these nipple covers all the time. I need to try the other HoneyLove bras with the thinner straps. The v neck bra goes up a little high and the straps don't really fit with most of my shirts- this is a good T-shirt bra though!

Honeylove also has their LiftWear cami and tanks that are smoothing tops. They have the bra and then have the smoothing features in the stomach and back area. I have a short torso and the large in these was too long- I recommend sizing down if you do too.

Final Review of HoneyLove Shapewear
Overall I could definitely see HoneyLove helping a lot of people with their shapewear needs. Because of my back fat, I ended up not keeping any of the sculptwear pieces because they just squeezed it out the top- but if you don't struggle with back fat I think you'll love them.
If you're going to try HoneyLove they have some great resources to help you find the right fit. You can measure yourself or book a consultation and talk through your shapewear needs with a Honeylove Fit Expert. They help provide tailored size and style recommendations to help you find your perfect shapewear!
Have you tried any products from HoneyLove? Or are there any other shapewear brands that you love and recommend? If so let me know in the comments! I'd love to hear your thoughts!
I created a Skims dupes blog post if you're looking for a less expensive alternative!
Thanks for visiting my blog! If you enjoyed this review please subscribe to my newsletter I'd love to stay in touch!
xx,
Lauren