10 things to know about Secrets Moxche in Playa Del Carmen
We just returned from the most amazing vacation at Secrets Moxhe Resort in Playa Del Carmen. I've never been to this part of Mexico before and it was incredible! Playa Del Carmen is green, lush, and jungle-like… Absolutely beautiful! We stayed at the brand new, all-inclusive, adults-only, Secrets Moxche Resort. In this post, I'm going to share everything you need to know about Secrets Moxche before you book your trip.
1. Say Moxche!
We weren't sure how to pronounce Moxche- it's Moe- Shay- much softer than you would think. It almost sounds French when you hear it spoken…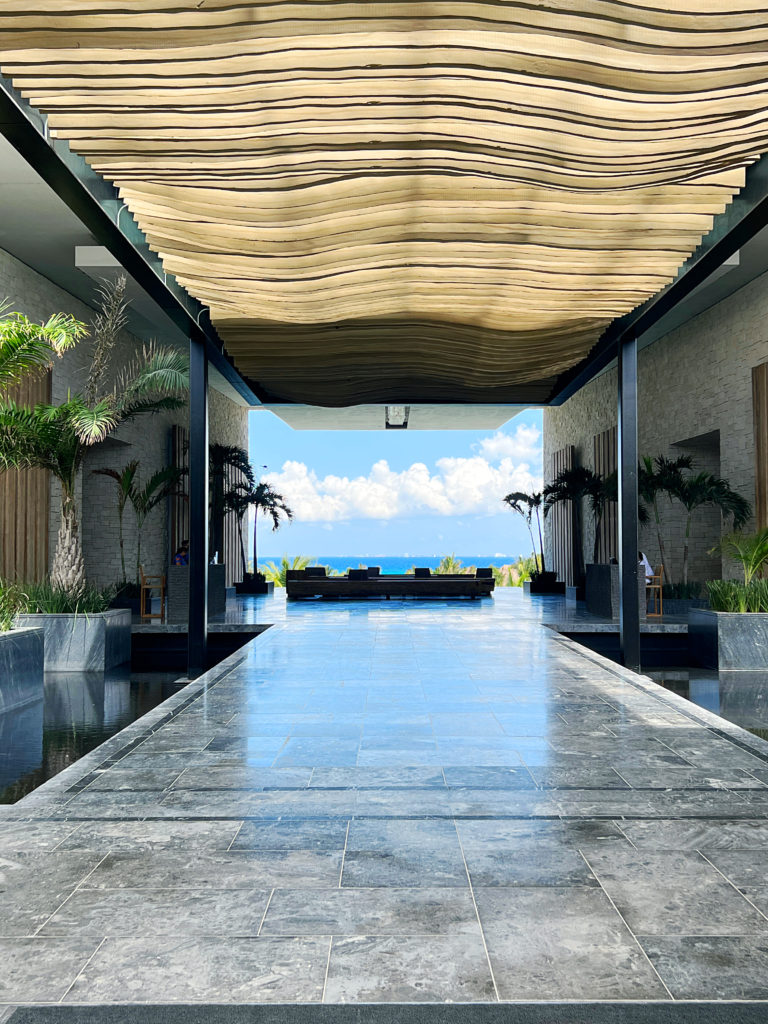 2. No Wrist Bands and No bills
Like all Secrets Resorts, Moxche is adults-only & all-inclusive. This was key for us when we planned our vacation. We've learned that all-inclusive is the way to go because you pay for everything up front and unless you want to tip the staff you don't need to carry money. I've been to other all-inclusive resorts that make you sign a "bill" after each service so you feel pressured to tip. There was ZERO pressure at Secrets Moxche. They made it very clear during check-in that they want you to be comfortable during your stay and they don't even make you wear wristbands like other all-inclusive resorts.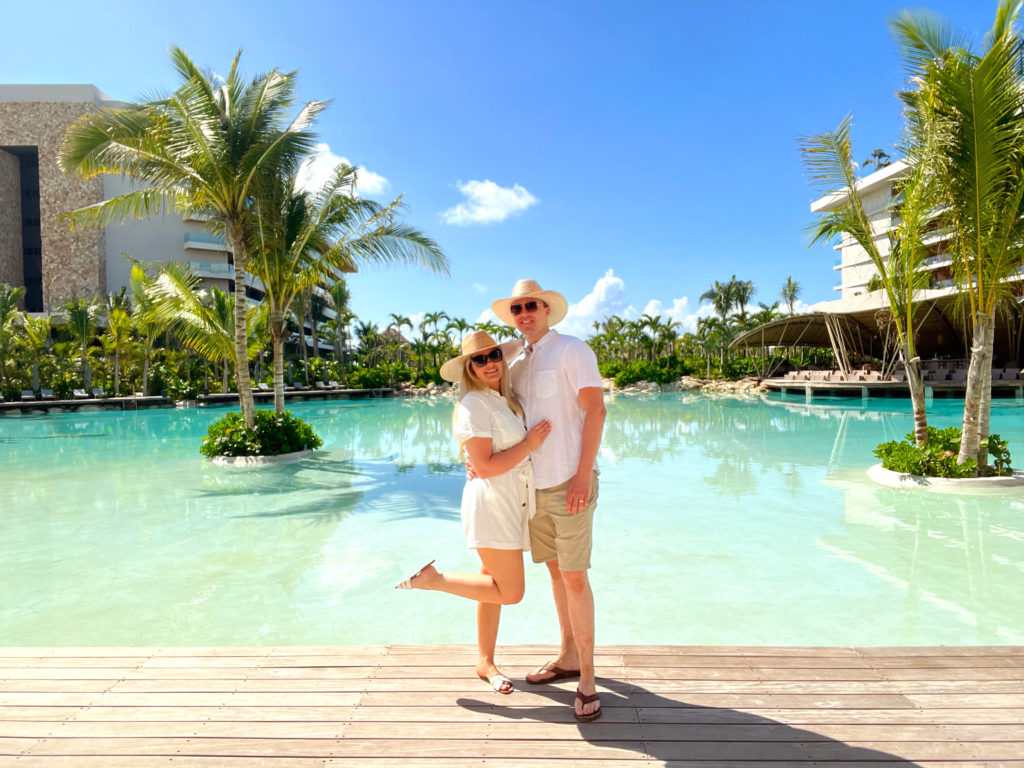 The first few days we weren't quite sure what to do when we were done with meals or drinks since the staff just kind of waited for us to leave- there was no rush and no pressure. We made the decision to start carrying our cash around and tipping $3-5 after each meal because it feels weird to not tip for great service. I've read reviews that at other resorts you don't get as good service if you don't tip and that definitely isn't the case at Secrets Moxche. To be honest, there is so much to do and so many staff members that you rarely see the same people unless you eat at the same pool or restaurant every day. And even then, they never made us feel weird for not tipping those first few days.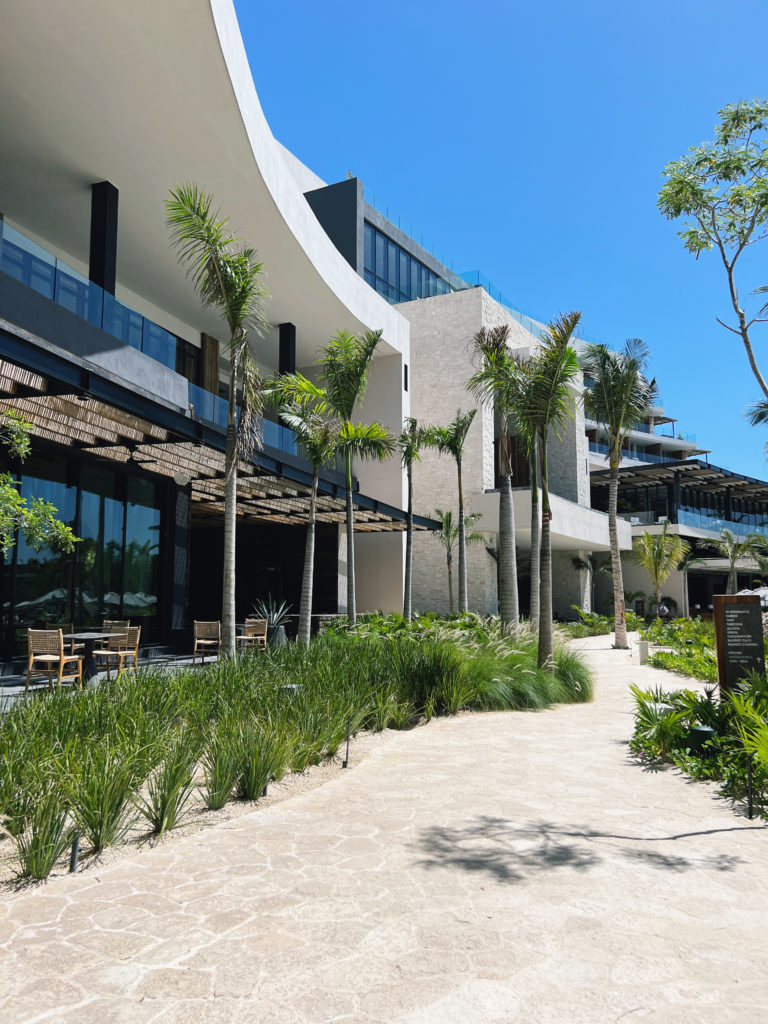 3. Moxche es grande!
The Secrets Moxche resort is HUGE. There were so many restaurants, pools, and bars to hang out in. We went to a different pool every day! The pools are sort of broken up by interest, some were more beachy, others were more modern, and then there were those that were clearly all about the party with the swim-up bar, live music, and games. It was easy to try out new spaces and move away from things that didn't fit our vibe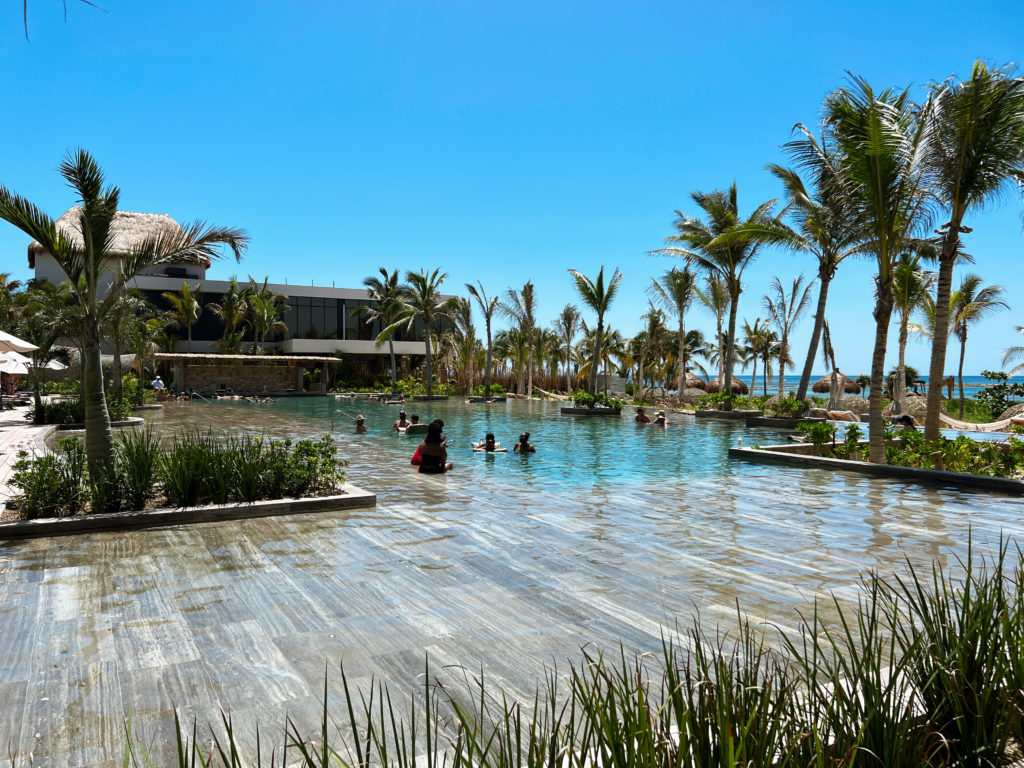 One thing that's important to us on vacation is to get lounge chairs that are under some sort of shade. I mean, I am a skincare blogger after all. We had zero trouble finding covered lounge chairs. Each space had plenty of umbrellas or covers that allowed us to get out of the sun, even on the beach!
The third building hasn't opened yet (it's supposed to open in September 2022) so things may change as far as how busy the resort is. Given how big Moxche is, I feel like it is unlikely that you will have trouble finding a place that you enjoy.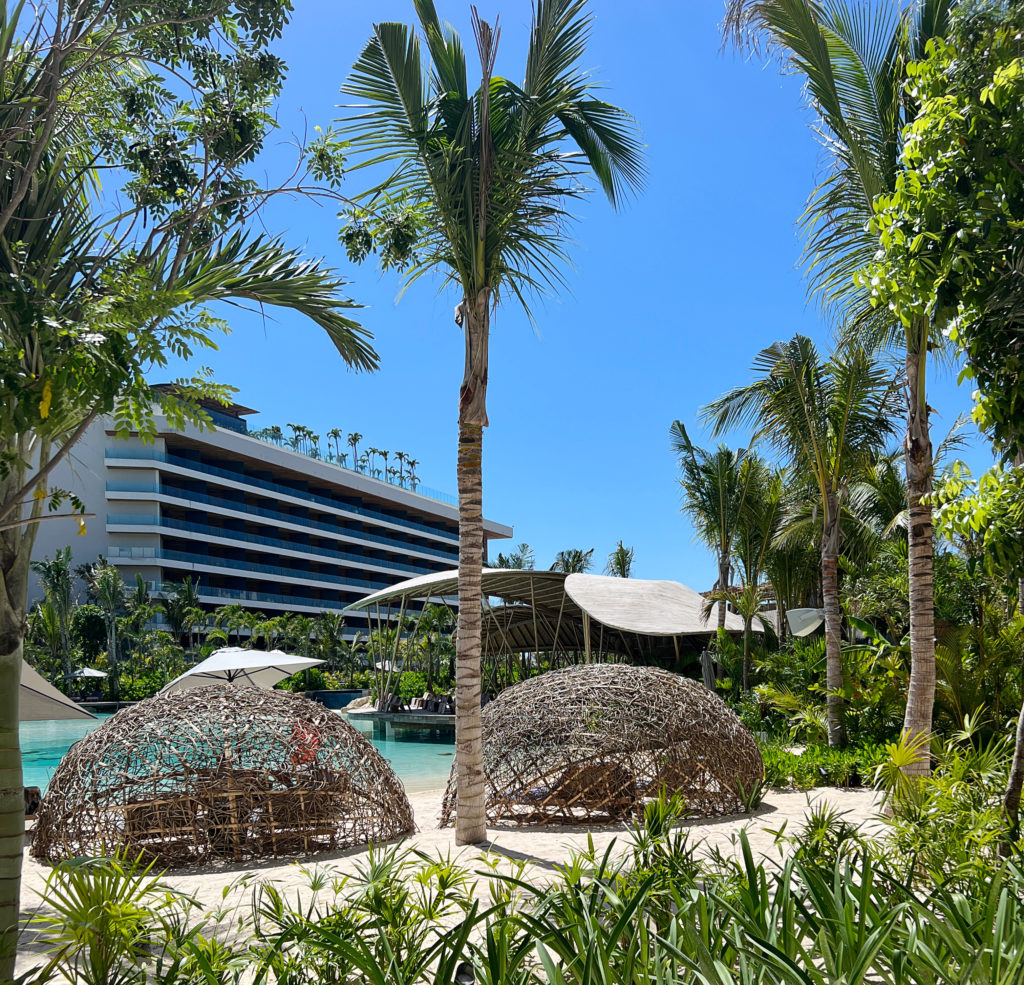 4. The food is top-notch
The restaurants at Secrets Moxche aren't your typical all-inclusive fare. They go above and beyond to provide gourmet food. There are 10 restaurants of all types + the Preferred Rooftop. The restaurants were incredible! They also have a bar/ lounge that has a pool table, golf simulator, and karaoke some nights. The resort really feels like an adult summer camp.
Our favorite restaurant at Secrets Moxche was Suki, the Japanese restaurant, and Ember, the Fire Kitchen. Our one complaint was that they didn't have your typical Mexican food. We're from San Diego and moved to Nashville a few years ago. We miss good Mexican food and were hoping to get some in Mexico… At the pool, they had chips & Guacamole, which was great, but no tacos…? The Mexican restaurant claims it has a taco-tasting bar but we didn't see it. We ended up getting Mexican food when we went into town and it was delicious.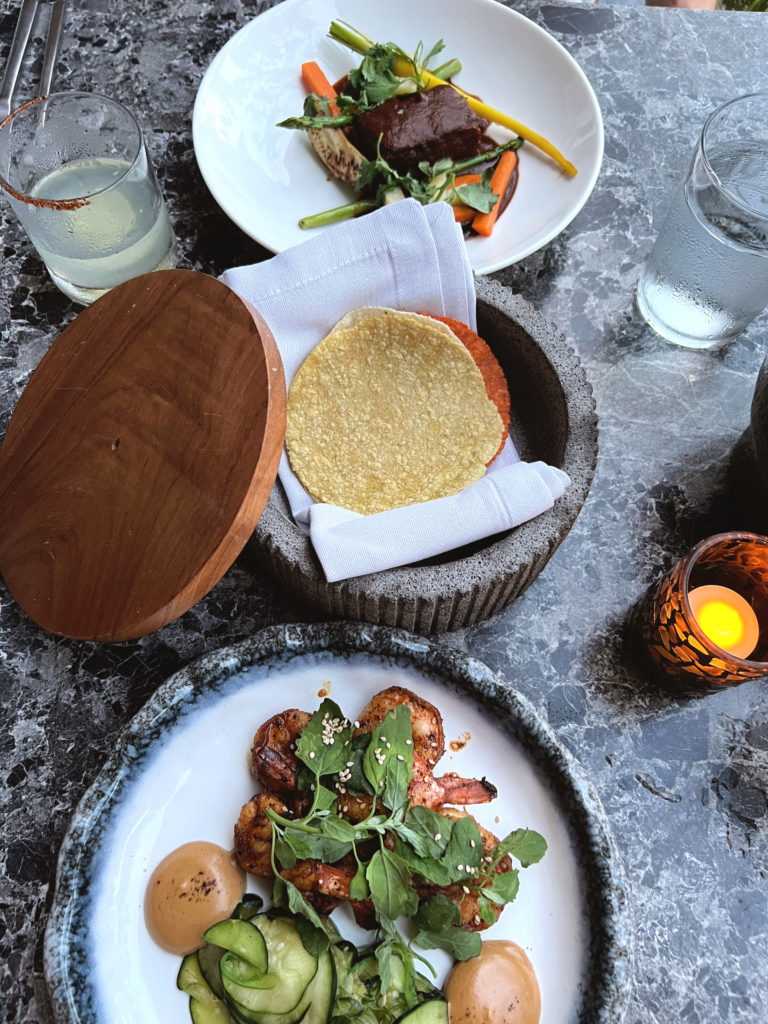 Here is a list of all the restaurants at Secrets Moxche:
Suki – Japanese Cuisine
Dos Almas – Mexican Cuisine
Ember – Open Fire Cooking
Allora – Italian
Seasoul – Fresh Seafood
Barefoot Grill – Light Lunch Specialties
Bamboo – Asian Cuisine
Bisou- Gourmet French Cuisine
Coco Cafe- Coffee & Snack Bar
Market Cafe – International Buffet
*Men, make sure to pack pants and shoes other than flip-flops for the restaurants. They have a strict dress code and Steve had to change his outfit our first night there. This might sound like a downer but it was actually really nice. It made some of the more rambunctious folks sober up before coming to dinner in a nice restaurant.
5. 24-hour caffeine and dessert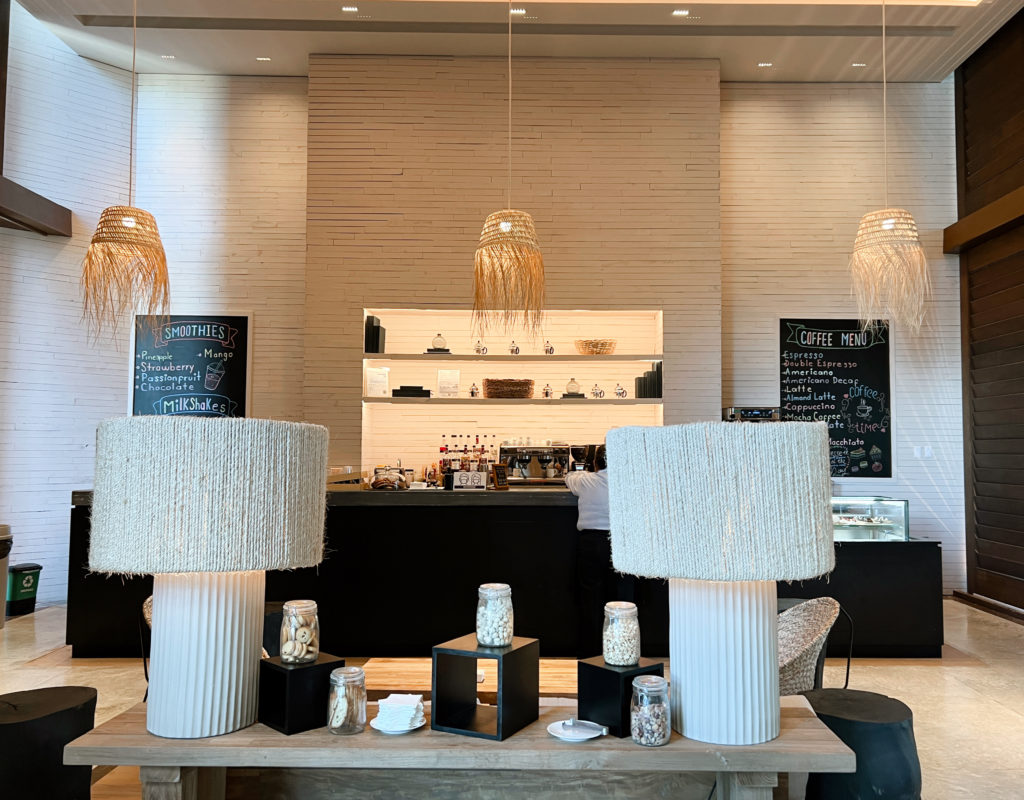 One of our favorite parts of the resort was that they had a cafe that was open 24/7. In my experience, resort staff in Mexico stare at you blankly when you ask for even the most simple iced coffee. Here they had lattes, frappes, iced drinks, espresso… etc. All types of milk and milk alternatives too! The cafe also had ice cream, pastries, yogurt, granola, and mini sandwiches.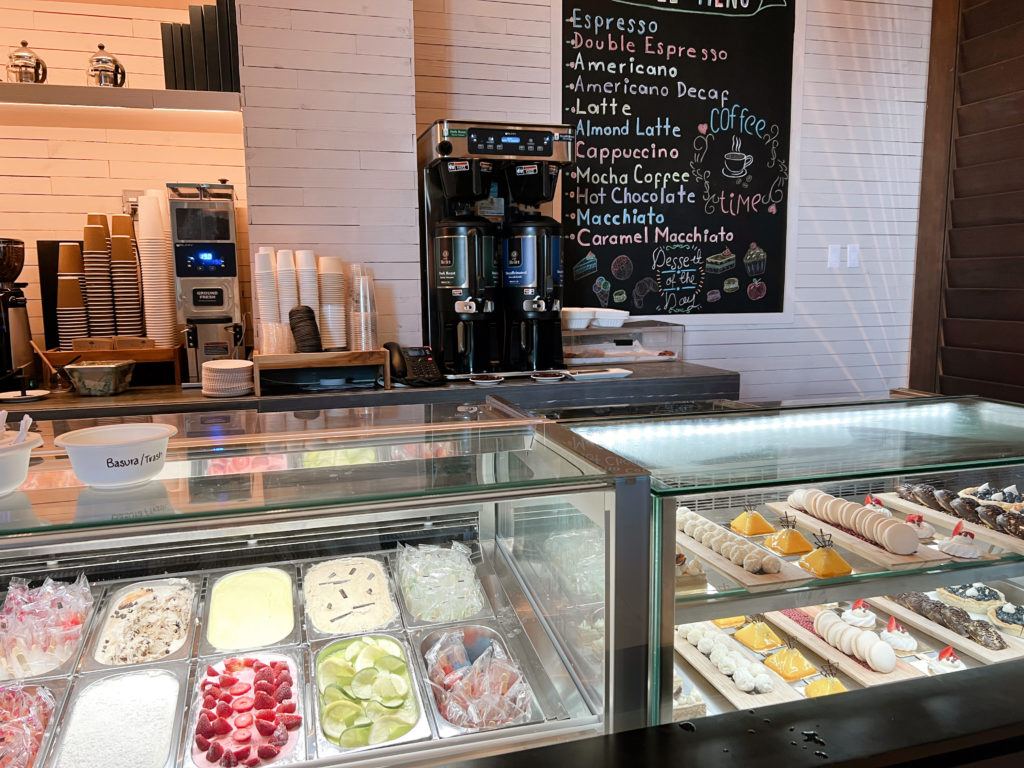 The breakfast buffet restaurant closes at 11 am. We missed it the first day and couldn't figure out where to get food because none of the restaurants were open yet. The Cafe was our savior that day.
As for drinks- the mango or tamarind margaritas are a MUST. Get the Tajin rim. Also, the espresso martinis are to die for. They sneak up on you though… Although Secrets Moxche is all-inclusive and they claim they include premium liquor in your fee, the pool bars are serving the bottom shelf. You have to be very specific if you want premium liquor and some of the servers said it isn't available. I thought that was kind of shady.
6. The Live Music
They have amazing live music during the day at a few of the pools! Not mariachi music, but acoustic/ relaxing music with hits we all know and love. They have pool games at the bottom/ party pool by the beach but they were brief and not obnoxious. We saw volleyball, basketball, and a football throwing competition throughout our day at that pool. There is also plenty of room to get away from them if you choose. There are pools with bars and more private pools available. All have servers that take your drink and food orders. The pool food was decent but the menu was minimal. Burgers, nachos, weird salads, fruit plates… no tacos.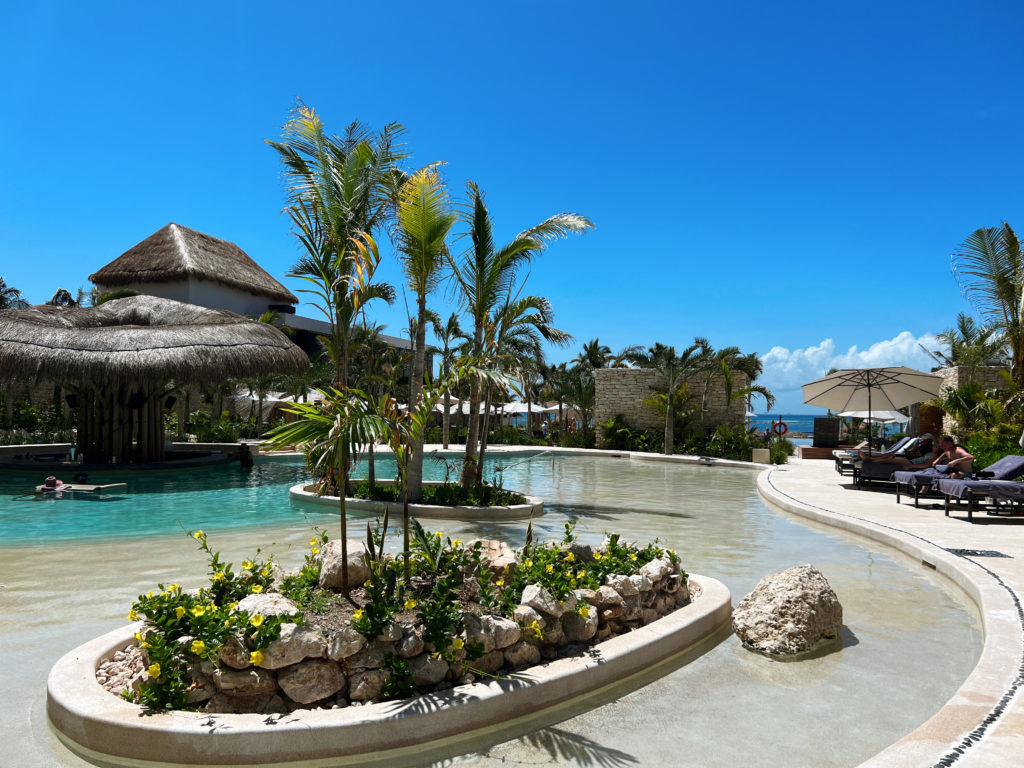 7. Secrets Moxche is pretty high tech
If you are one of those people that don't like having your phone with you while you're on vacation then Secrets Moxche may not be the resort for you. Everything is on an app. Even your room key. When you check in you have to download two apps (make sure you have room on your phone before you arrive!). One app is how you get into your room and one app has all of the restaurant times, menus, activities… etc. I'm not the most technical person and I could figure it out but the first day was kind of frustrating. They also have QR codes for menus at restaurants- one day I left my phone in the room and they did have printed menus so that was fine. I ended up enjoying the app because you could see the menus before you got to the restaurant. Room service is also ordered on their in-room tablet. It was very easy to use!
8. No need to upgrade
We booked our trip 1.5 weeks before we went so the only room available was the Junior King Suite- tropical view. Normally I opt for an ocean view but in this case, I'm very happy we didn't! Every room has its own soaking tub on the patio and the ocean view room patios are visible from the pool area. If you want privacy I recommend NOT getting the ocean view.
They had the bottom floor rooms that had their own swimming area. Those look cool but again, if you want privacy I'd probably skip those since every room above you can look down and see what you're up to.
The room itself was perfect for us- It was large enough and had 3 full-size mirrors (this is rare for any hotel!), the bed was very comfortable and the pillows were also great. The bathroom had a light-up magnifying mirror and the shower was incredible- It has an overhead nozzle and a handheld. One of the coolest features was the secret room service cubby. They have access to put the food in the cubby from outside of your room for those times when you want complete privacy.
Like every resort I've been to in Mexico, they will try to sell you a timeshare. Be aware that when you check in they introduce you to someone that will offer to give you a "tour" of the resort and have you sign up for a breakfast with them. They try to entice you by giving you vouchers for hotel spa services or activities. They offered us $150. We declined as we've learned from experience that these meetings are high pressure and last for HOURS. Many of the other couples we met at the resort felt bamboozled into doing the tour and regretted it. They also offered another couple $400 in resort credit- way more than the $150 they offered us!
9. Safety
Secrets Moxche is very secluded. It took about 35 minutes via shuttle from the airport and you go through two gates with security to get into the resort.
To get to 5th Avenue, the main downtown area in Playa Del Carmen it took about 15 minutes and the cab ride was $18 from the resort and $20 to get back. We walked the whole 5th avenue strip and had a great time!
When we booked our room they provided a shuttle to pick us up and drop us off at the airport. If you've ever flown into Mexico you know how stressful negotiating with taxis can be. This was a great perk from Secrets Moxche! After staying at the resort I realized it's because they want to have full control over whether you sign up for their timeshare presentation vs. another one from the airport… but hey, a free shuttle is a great perk!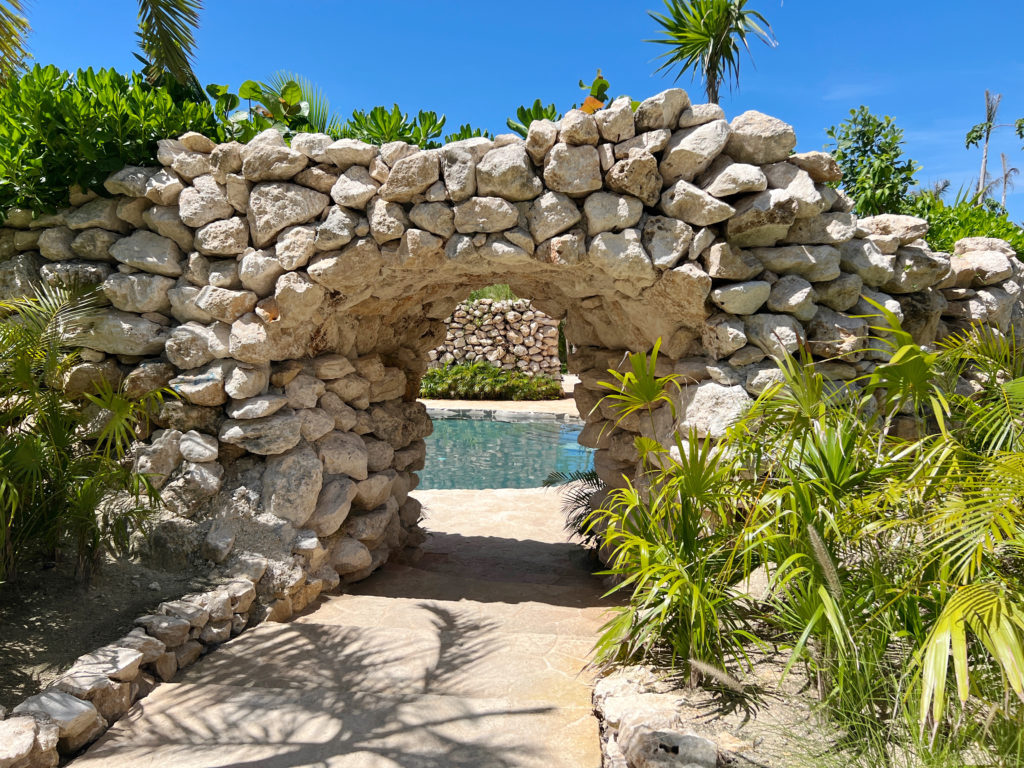 10. Secrets Moxche is the place for your Resort Wear
What to wear at Secrets Moxche resort? If you're like me and you love resort wear then Secrets Moxche is the right place for you. People were dressy but not over the top. Chic bathing suits & cover-ups, cute straw hats and visors, dresses, and fun outfits for dinners. There is a dress code for most of the dinner restaurants so make sure the men pack pants (jeans or slacks), closed-toed shoes, or nice sandals (they said Birkenstocks are ok). If you want the resort wear look but not the cost, check out sites like Forever 21 and Amazon! They have great, affordable vacation items!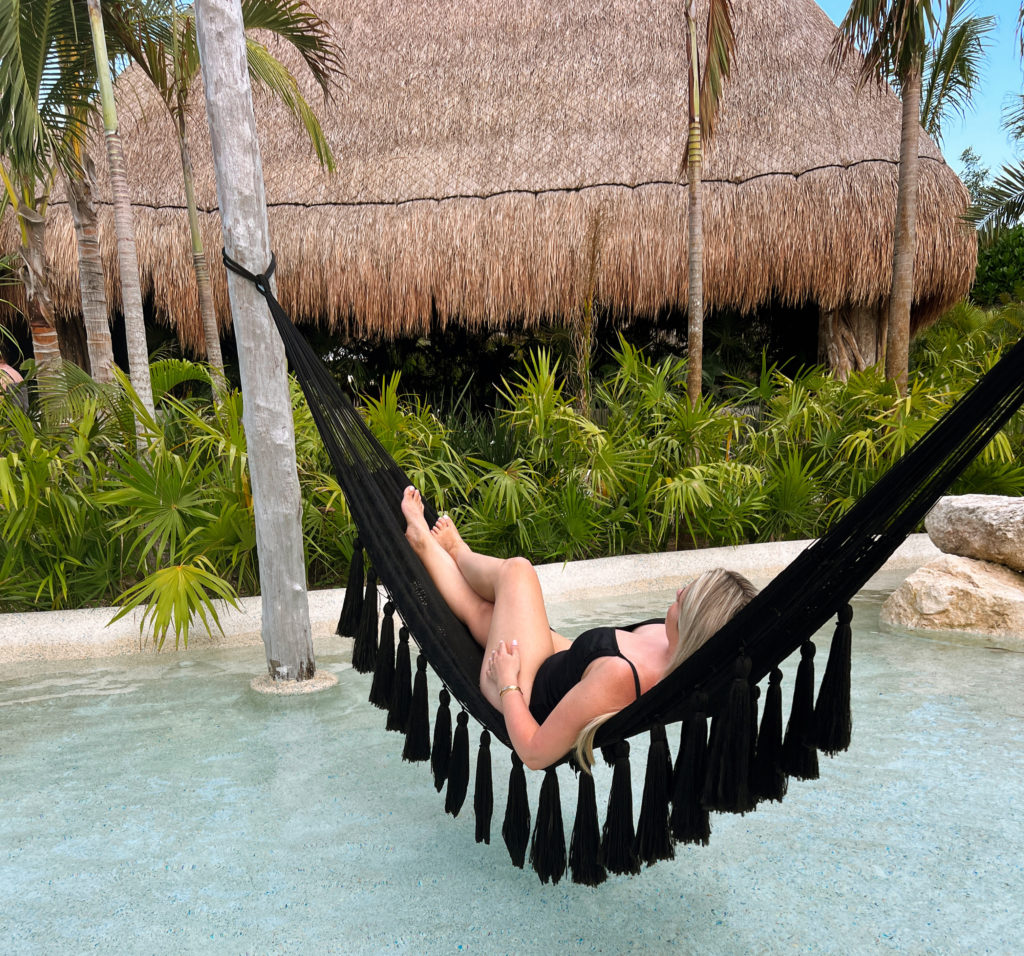 Overall we are really happy with our time at Secrets Moxche. It's truly an amazing resort and the pictures don't do it justice. It was definitely the nicest resort we've ever been to and I would recommend it to anyone! 
We made a few friends on the trip- there were a lot of honeymooners, anniversary trips, couples, and also groups of friends. There were even some families with kids that must have been over 18, though I kind of felt bad for them… There weren't many other young people to meet and hang out with. I'd say Secrets Moxche would be perfect for any adult-only getaway. 
Have you ever stayed at a Secrets Resort? Let me know in the comment section below!
Thanks for reading!
xx,
Lauren
If you have a vacation in the sun coming up check out this post with everything you need to know about sunscreen! I also have a post with a ton of affordable resortwear finds, and if you need packing inspiration for an upcoming Europe trip (or any trip!) I have an ultimate Europe packing guide that outlines everything you need for a long vacation!