The Best Natural Body Washes From Amazon
Changing to natural, toxin-free products can be overwhelming. We use so many products on a daily basis, from shampoo to dish soap to laundry detergent. I'm slowly converting my whole house to non-toxic products, and I recently came across the best natural body washes on Amazon. Because nothing beats the convenience of shopping for clean products from the comfort of your home!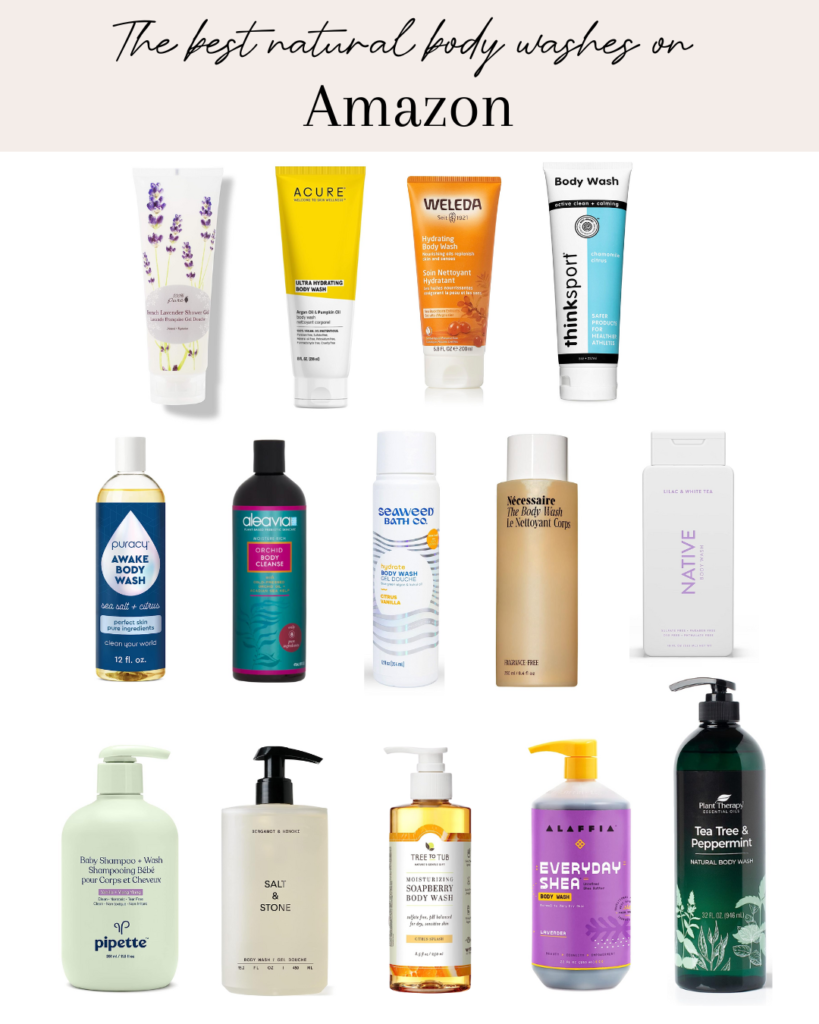 Most body washes on the market contain toxic ingredients like phthalates, parabens and sulfates. These ingredients can really mess with our bodies in very undesirable ways like hormone disruption, ADHD symptoms and even hair loss. Companies are becoming aware of these ingredients and their side effects, but real changes still have a long way to go. I'm here to make your switch to a clean body wash a smooth one because I found tons of great options.
The Best Clean Body Washes Found on Amazon
Pipette Baby Shampoo and Body Wash with Vanilla and Ylang Ylang is formulated for babies, but that doesn't mean adults can't use it too! This brand has a host of other natural product options for babies and adults. This is one of my all-time favorite body washes!
100% Pure French Lavender Shower Gel is a great clean option. I love the smell of lavender. Especially at night time. I also appreciate 100% Pure's commitment to creating clean products.
Puracy Body Wash with 98.6% Pure Plant Ingredients smells so good and comes from a very reputable brand. It comes in a few different scents and has a rich foaming action.
Aleavia Orchid Body Cleanse Organic & All-Natural Prebiotic Body Wash with Pure Cold-Pressed Orchid Oil has only 8 ingredients! That's amazing even for a clean product.
Acure Ultra Hydrating Body Wash is vegan so if that's important to you this may be a winner. It is formulated with argan oil and pumpkin oil to provide ultimate hydration.
Nécessaire The Body Wash is fragrance free, and hypoallergenic. This brand has so many amazing clean options. Their body serum is a cult classic that lots of people love! I also LOVE their deodorant.
Tree to Tub Citrus Body Wash for Dry Skin & Sensitive Skin is made with soap berries (a nut that suds up and is very cleansing). It's also pH Balanced so you can use it in delicate places as well.
Native Body Wash is a popular one. This option is Sulfate Free, Paraben Free, and Dye Free. It comes in lots of scents and also a fragrance-free option. Native deodorant is my favorite clean deodorant!
Alaffia EveryDay Shea Body Wash is made with Shea Butter, Neem, and Coconut Oil. This huge 32 oz. bottle and will last you forever!
Plant Therapy Tea Tree and Peppermint Essential Oil Natural Body Wash also comes with a cute travel-size body wash. Peppermint is so refreshing and I love that it is a natural fragrance.
Thinksport Body Wash. It's EWG verified, so you can rest assured that the ingredients are safe. Formulated for athletes, you know this one will WORK!
SALT & STONE Antioxidant-Rich Body Wash is the most aesthetic of the bunch. I love the clean design of the bottle, and I also of course love that it's free from Parabens, Sulfates & Phthalates.
Weleda Hydrating Sea Buckthorn Body Wash also comes from a very clean, reputable brand. This option has Sea Buckthorn and Sesame Oils for a rich lather and great cleansing power.
Seaweed Bath Co. Hydrate Body Wash. This one contains green algae and sustainably harvested seaweed, which offer a host of skin benefits.

I hope you have fun shopping on Amazon! If you ever have a question about how clean a product is, you can always check out the EWG website. They have a ton of products listed on there so you can research your own products and make sure they are clean! They've made switching to clean beauty so much easier for me. Let me know if this post was helpful and if you'd like to see more content like this. If you want more clean product recommendations, check out my glowy makeup tutorial for combo skin where I use a bunch of clean makeup products to create a summer glow.
xx,
Lauren