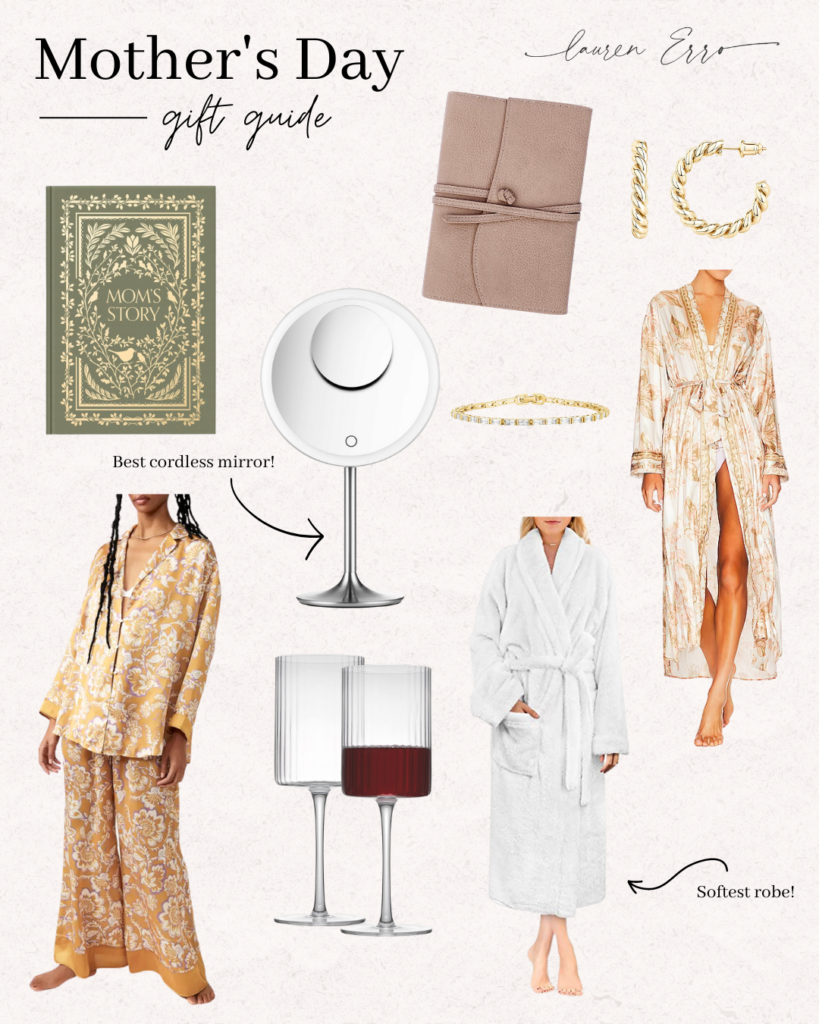 For the past few years, I haven't seen my mom on Mother's Day because we moved to Nashville and she lives in San Diego but this year is different! My mom is visiting and I'm so excited to finally celebrate her in person! Here are a few of my top Mother's Day gift items in case you need some inspiration for what to get your loved ones, or tell your loved ones to get for you!
Mother's Day gifts I love and recommend
Mom's Story book. I love this idea! It's such a great way to record memories.
Cordless Magnifying Mirror. This is the best mirror! It's the perfect size, the light is super bright, and you can move it around as you do your makeup. It came in handy when we had that huge power outage in Nashville a few months ago… LOL
Leather Journal. I have this and it's my all-time favorite journal. It looks so pretty on your nightstand and comes in 3 colors.
Gold Hoop Earrings. The perfect gift for a jewelry lover. They don't tarnish, and they are so good for the price!
Gold Tennis Bracelet. So pretty and well-made! Very classy and simple design.
Pretty Silk Robe. This robe is so feminine and lux. I love the neutral tone and the length.
Silk Pajamas. These pajamas are so classy and elegant. A little oversized so they are nice and flowy. Come in 3 colors!
Wine Glasses. These are a fun twist on a classic glass. I love this style.
Super Plush Robe. I'm obsessed with this robe and it's been a top seller with my followers for a few weeks now! It's so comfortable and so fluffy. Comes in many colors, too!
I hope you found this Mother's Day gift guide helpful!
xx,
Lauren
If you're looking for a men's gift guide here are my husbands top picks!