The 10 Best Travel Sets For Women
It's no secret that I love to travel. There's something about exploring a new place that feels so freeing and exciting. The worst part of traveling is by far being crammed in an airplane with dozens of strangers. To say that it's uncomfortable would be an understatement. So, today I'm here to make the trip to your destination a little bit better with the best travel sets from Amazon. These sets are cute, fashionable, and most importantly, comfortable!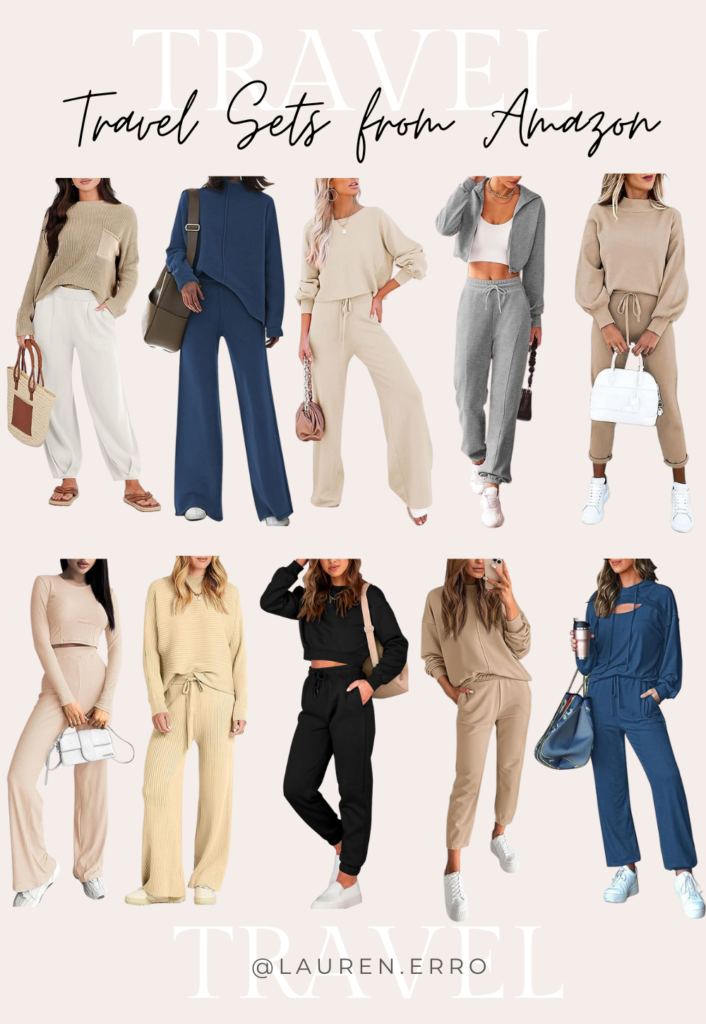 These sets would make such a versatile staple in your wardrobe. Aside from wearing them to travel in, you could wear them to pick up your kids from school and to run your afternoon errands. You can even wear them to take the dog for a walk, or to go grocery shopping. I like to wear them on road trips as well as doing yard work when it's chilly outside. Whenever you want to be comfortable and look somewhat put together, these sets will be the perfect outfit!
The Best Travel Sets From Amazon
Buying these cute sets on Amazon has to be one of the best things ever! You can order from the comfort of your home. You get your clothes super fast, and if you don't like what you order, you can return it… no questions asked. Here are my picks for the best travel sets from Amazon. You can shop any of the items by clicking on the images.
1.
This two piece set with sweater and coordinating joggers is giving me Free People vibes! I love that the joggers have a pintuck detail and that they have pockets! The sweater on this set is so classy-looking. I love the ribbed fabric and the pocket in front. This set comes in 8 different shades and all of them are great fall colors!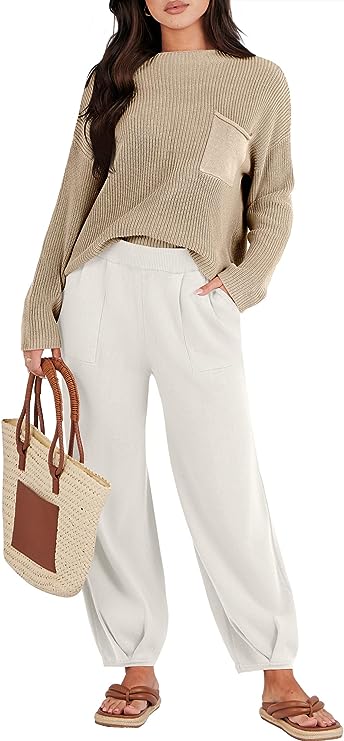 2.
I love this two Piece matching cream set with wide-leg pants! The wider sleeves on the top make it look so cozy and I love that it's cropped, but not too high. Wide leg pants are very trendy for fall, and these ones look like they are so dang comfortable. I love that this set comes in a ton of colors, but I have a thing for the beige shade.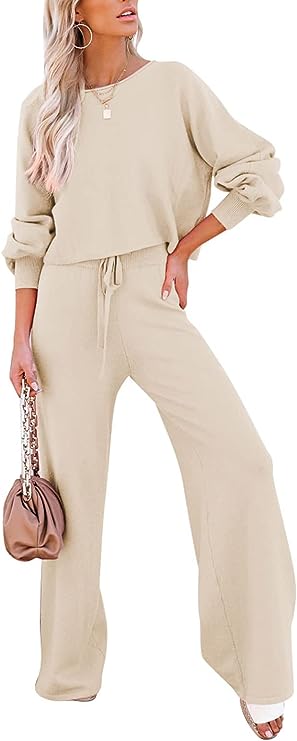 3.
This two piece jogger set with zip up sweatshirt would be perfect to travel in! I really like the stitching details and the drawstring waist. This set would be great for the fall or spring when you don't know what the temps are going to do, or if your destination temps are going to be different. It's nice that you can just unzip and take off the sweatshirt if you get too hot. This set comes in 8 different colors, and I would take any of them, because they're all cute!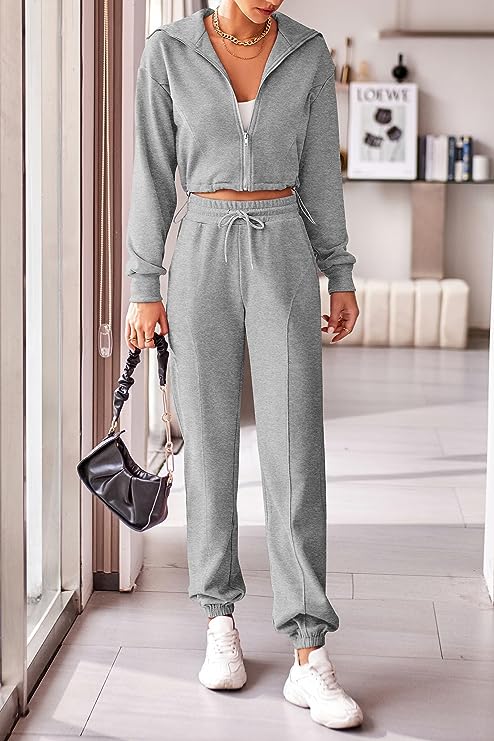 4.
I love the simplicity of this two piece tracksuit matching set. You can never go wrong with wearing black while you're traveling. The cropped sweatshirt is so cute and makes this set stand out without being frumpy. I like that this set looks fitted without looking too restricting. The fabric looks thick and comfortable. This set comes in 8 different colors so there's one to fit whatever aesthetic your looking for.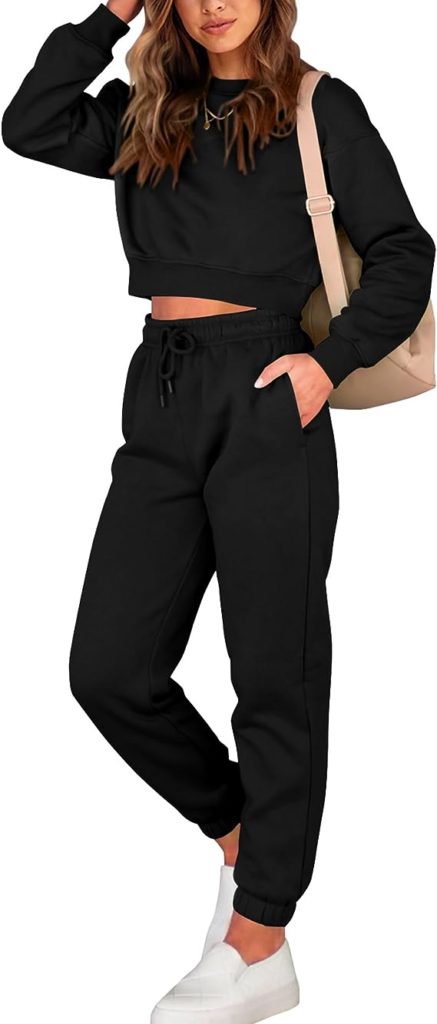 5.
This two piece matching ribbed set looks like something straight out of Kim Kardashian's closet. I love the ribbed detail on the fabric and the corset stitching. The pants are high-waisted to cover all your curves in a very flattering way. This set is so different, and I love that it comes in 8 colors. It's so affordable and the reviews on this set are really good!

6.
The details are strong on this 2 Piece Long Sleeve cutout hoodie with drawstring pants. I really love the cutout detail and hood on this sweatshirt. The fabric looks like it is so soft and breathable for long trips. I can't get enough of sets that have pockets, so this one is on my wish list for sure! You can grab this set in 10 different colors.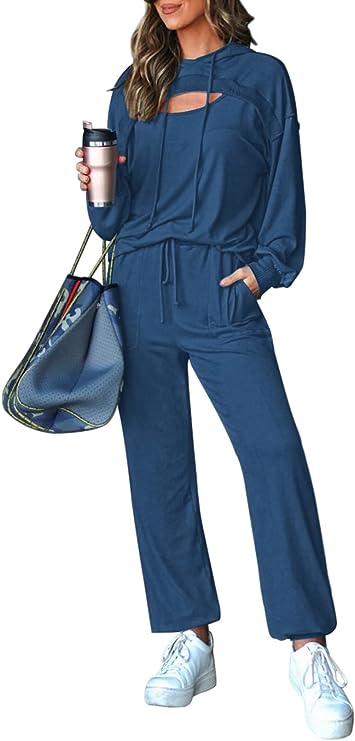 7.
I really love the silhouette of this long Sleeve sweatshirt and cropped pants. The shape of the sleeves really sets this one apart and makes it look so flattering and cute. The mock turtleneck also looks cozy and not too restrictive. I'm also obsessed with the cropped pants with drawstring waist. This one would be great for you shorter ladies. This set comes in a ton of different colors and even a few patterns as well. It has good ratings so you know you'll get something high quality here.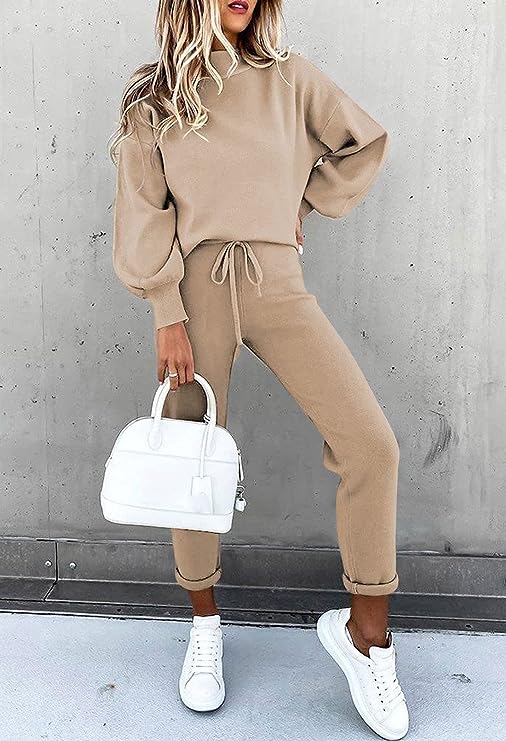 8.
This matching two piece sweatshirt and jogger set is giving me all of the comfortable vibes. I love the stitching down the center of the sweatshirt and the hem of the joggers is so unique! The fabric on this set is high-quality and people are saying it's very soft and washes well.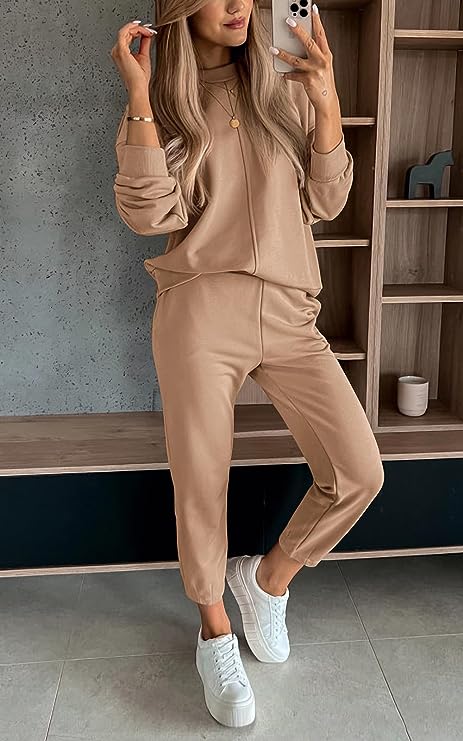 9.
This matching two piece ribbed set with wide leg pants looks like a dream! The batwing top with coordinating pants is so flattering on anyone and every body shape! This set is currently in my cart and I can't wait for it. The reviews are stellar for this set and they are saying that the fabric is high quality, thick and buttery soft.

10.
How comfortable does this matching sweater set with wide-leg pants look? This set is also giving me Free People vibes and I think it would keep you so warm on that cold flight. It comes in 10 colors and patterns and all of them look amazing. For the price, this is a solid set!!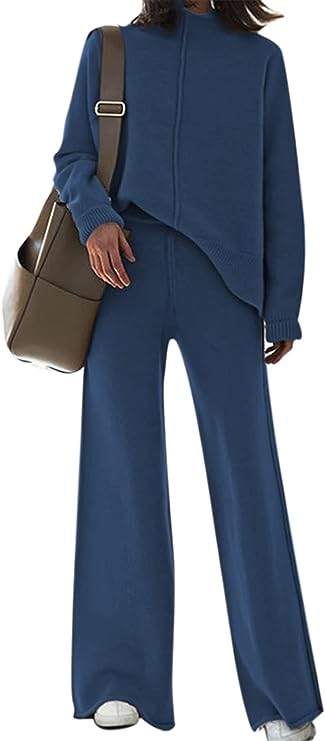 The Best Travel Sneakers
If you need shoe recommendations to go with any of these sets, I really love the Rally Sneaker by FitFlop. I wore these sneakers all over Europe and they were so comfortable. They clean really easily and they didn't need to be broken in at all.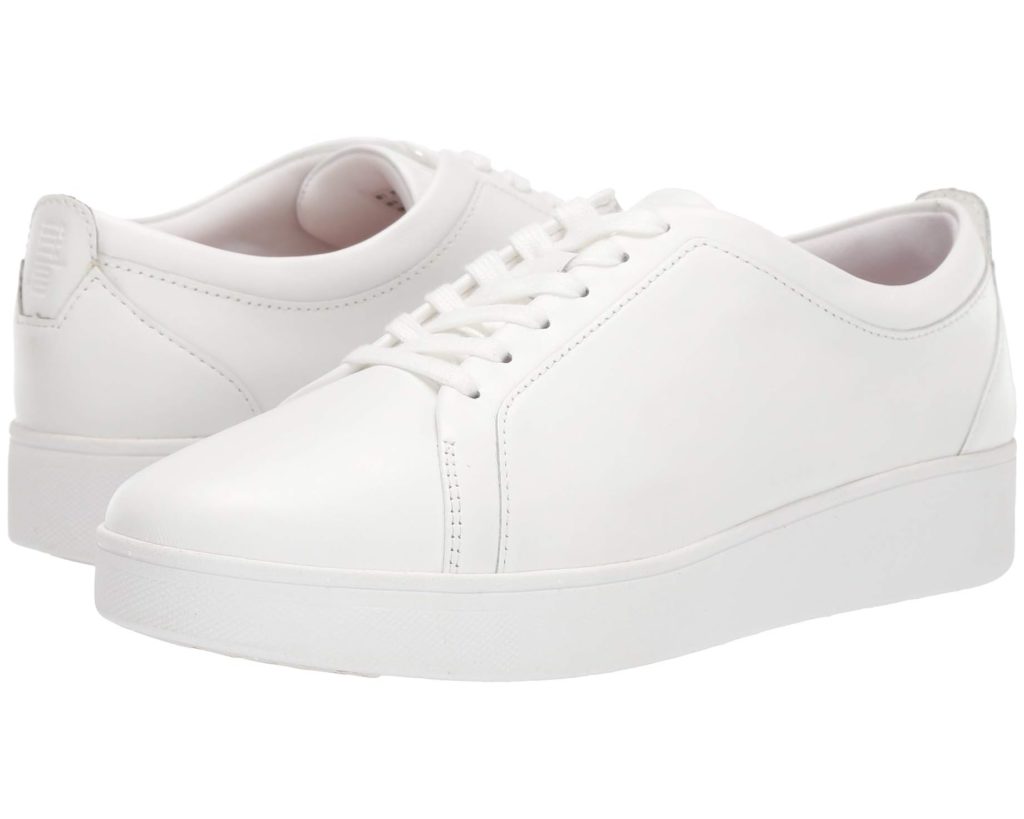 I hope you found some great travel sets for your next trip! These 10 best travel sets from Amazon are sure to make your next trip more comfortable! Don't forget to check out my ultimate Europe packing guide, where I outline all of my essential travel products. And if your packing a hat on your vacation, check out my post on how to pack a hat in a suitcase. Also, check out my Skims dupes from Amazon post where I found a bunch of pieces on Amazon that give you the look of Skims for less.
xx,
Lauren