The Easiest Hair Curling Routine Ever!
Classic waves are a great way to add volume and texture to your hair. It's my go-to style because I love how it can really make your hair look like you just stepped out of a salon. These refined, classic curls are easier to achieve than you think! Keep reading to see my tutorial on the easiest hair curling routing ever!
Check Out My YouTube Video Tutorial For My Easy Hair Curling Routine:
The first thing you'll need is a big curling iron. I use this 1.5 inch curling iron from Hot Tools. You don't need anything expensive or fancy to create long-lasting, beautiful curls.
Next, grab some hair clips. I use these big clips and these small clips to section off my hair for this look. I feel like it gives me more control and helps me get to all my hair so every strand gets curled.
A brush is necessary for these curls to look right. You'll want to make sure your hair is nice and brushed before you curl it so it has a clean look. This is my favorite brush.
I like to use hair spray to lock this look in place. I usually spray after each curl with this hairspray. And if you want to add a little more volume to your curls, use this hairspray.
When you're done creating your curls, and you find that your hair doesn't have that shiny wow factor, I highly recommend this shine spray. This spray will make your hair so shiny and healthy!
For those pesky flyaways or baby hairs that everyone has, I use this wax stick to glue them down. Be careful to only get it on those little hairs and not your face! Especially if you have acne-prone skin. This product is also great for any ponytail or slicked-back bun look.
And, my last recommendation for this look, if you have frizzy hair that's hard to control, I would definitely give this smoothing spray a try! I have friends who swear this product changed their life when it comes to frizz control! For best results, apply it to damp hair before you blow dry.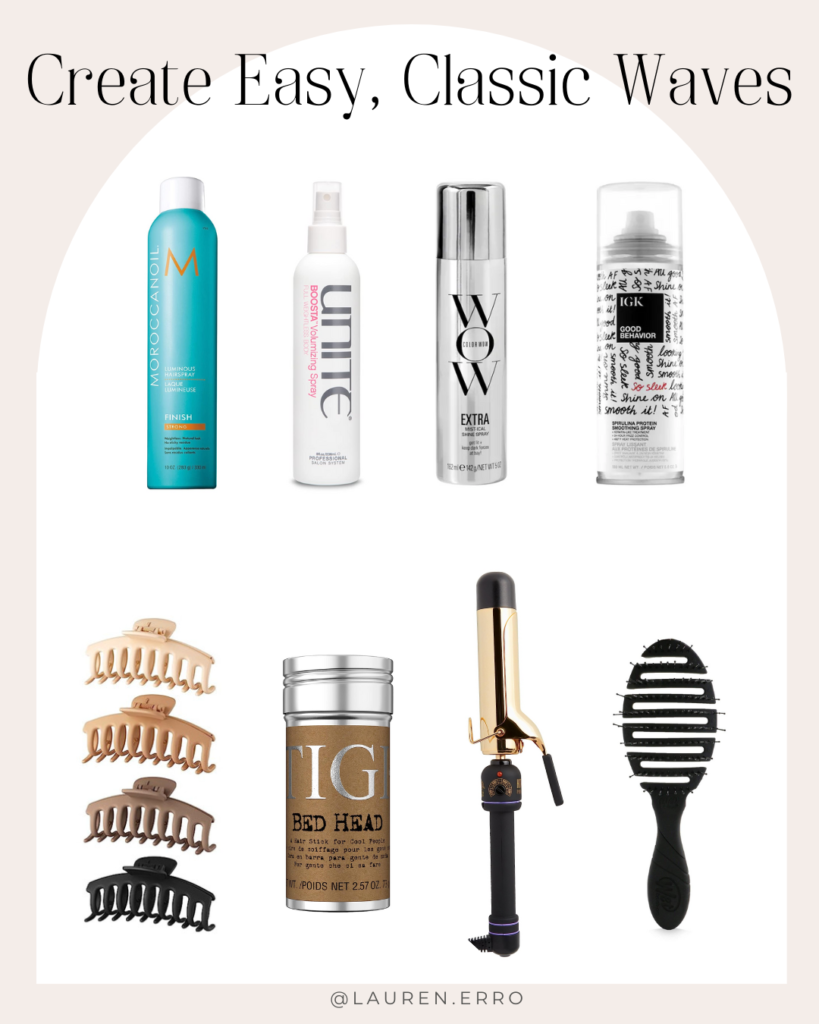 I hope this easy hair-curling tutorial was helpful! Let me know if you'd like to see more hair tutorials. Check out my last YouTube video tutorial for how to get glowy skin using mostly clean anti-pore-clogging makeup!
xx,
Lauren