21 Holiday Nail Ideas for 2023
This post is giving you 21 Holiday nail ideas for 2023.
The Holidays are fast approaching. It's the most wonderful time of the year to make your nails festive and fun. I love any excuse to go all out on my nail designs. These nail designs are so cute for the Holiday season. Read on to see 21 Holiday nail ideas for 2023!
2023 Holiday Nail Ideas
I love the colors of the season, and this year for nails it's bold reds, bold greens and soft metallics. Sparkles, chromes and mattes are a hit this year as well as a glitter accent. Whatever makes you feel festive is what is going to be the best design. You can be as creative as you want when it comes to holiday nail ideas.
The most common shades for winter holiday nails are red, white, green and gold shimmer. For a DIY manicure I would recommend OPI nail polish. Here are a few good choices:
Santa Hat French
These red french tip nails with a twist are so cute for Christmas nails. I love the classic red color and the nude nail base. The length of these nails is perfect for the cute accent design.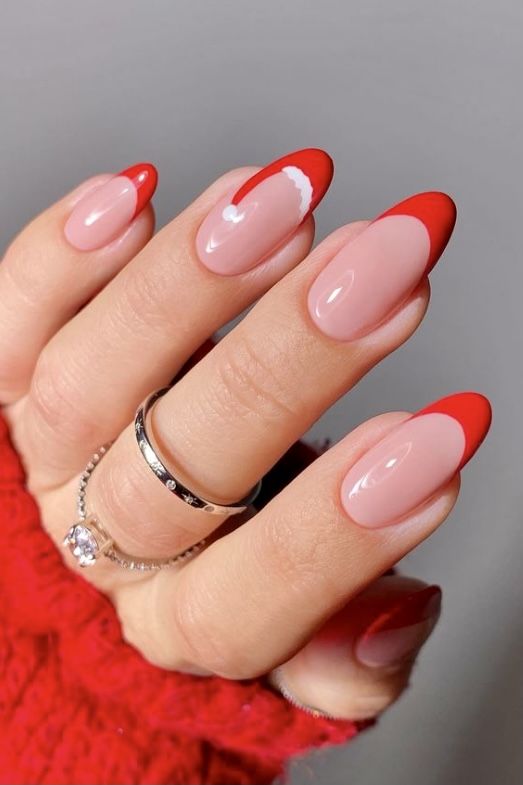 Red Chrome
Red chrome nails are the perfect festive shade and finish. They really pop without being too over-the-top. I love red nails for the Holidays and this nail color would even look great on a pedicure too!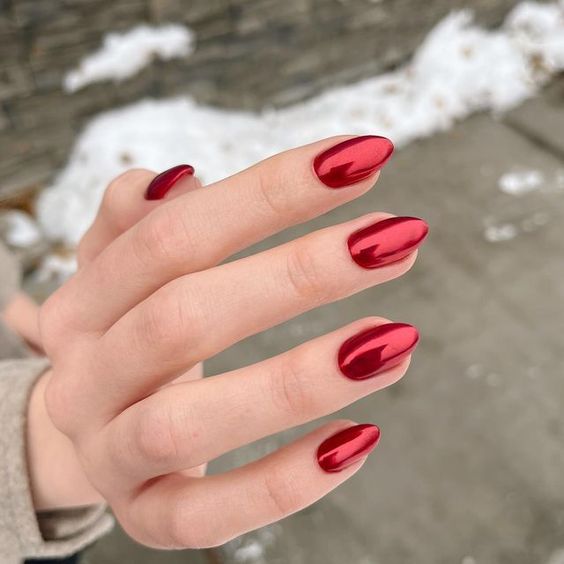 Natural Nails with White Accents
It's so fun to play around with different patterns on each nail but keep the color pallet the same. These nail designs all work together to create a fun design that is super festive and cute.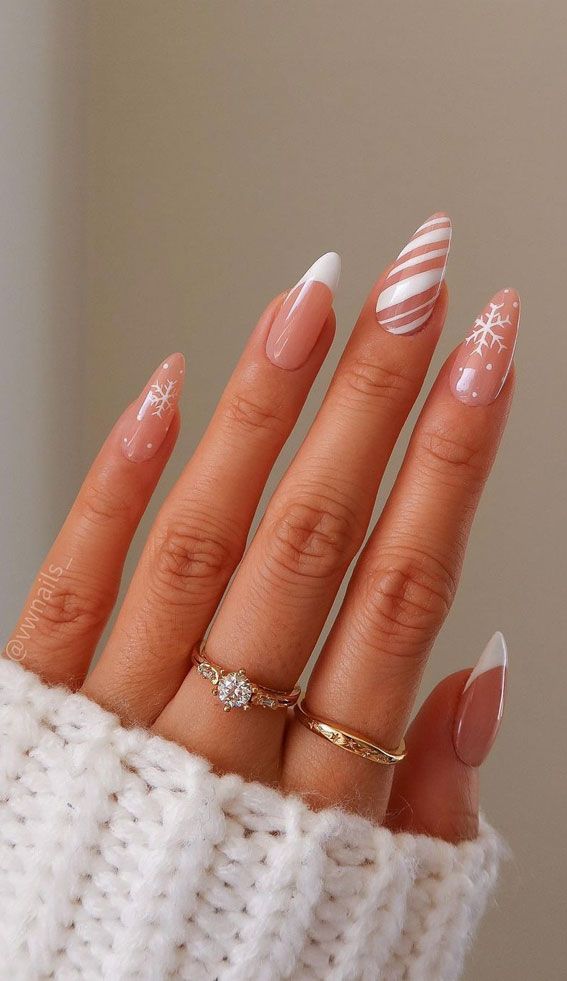 Red and White Christmas Lights
This nail design is so fun! Christmas light nails could be done in a ton of different ways and in so many colors to match your Holiday aesthetic. I love the simplicity of the red and white lights in this design.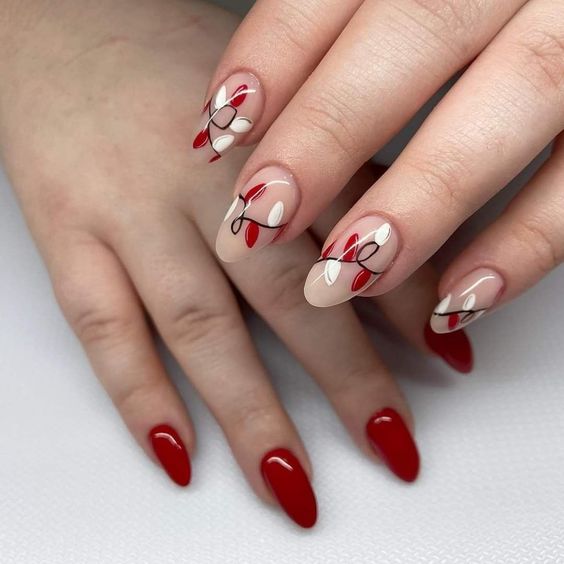 Neutral Nails with Stripes and Snowflakes
Gold and white with nude is so pretty for the Holidays. I love how each of these nails is drastically different from the others, yet they all look great together and the whole design works super well.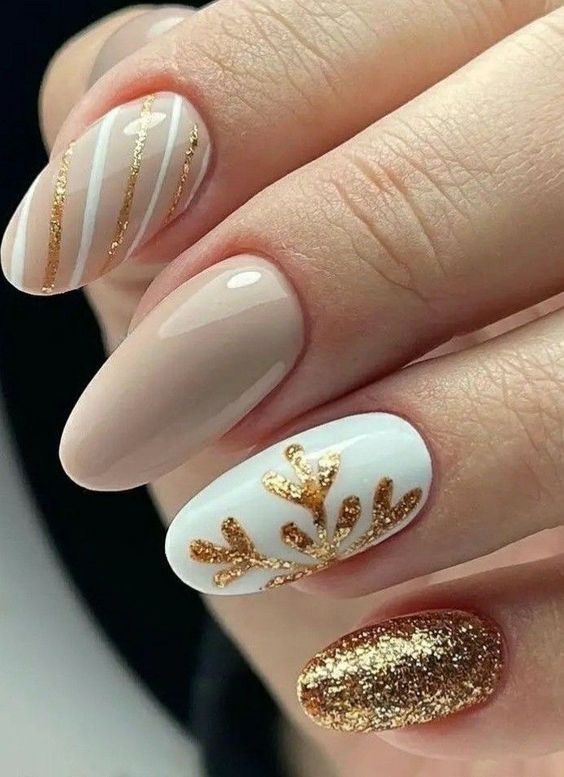 Pink Nails with Peppermint Candies
These Matte pink nails with a cute little peppermint candy are giving me candy cane lane vibes, and I love it! The different finishes and textures on this nail design is so unique and pretty for the Holidays.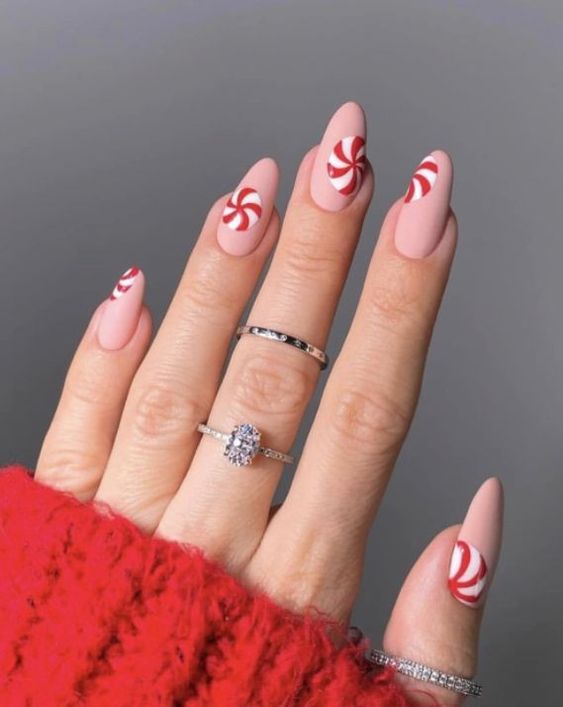 Brown Tones with Snowflakes, Reindeer and Plaid
Brown tones can be so festive if you do them right, and this a great example of a good festive nail design for the Holidays.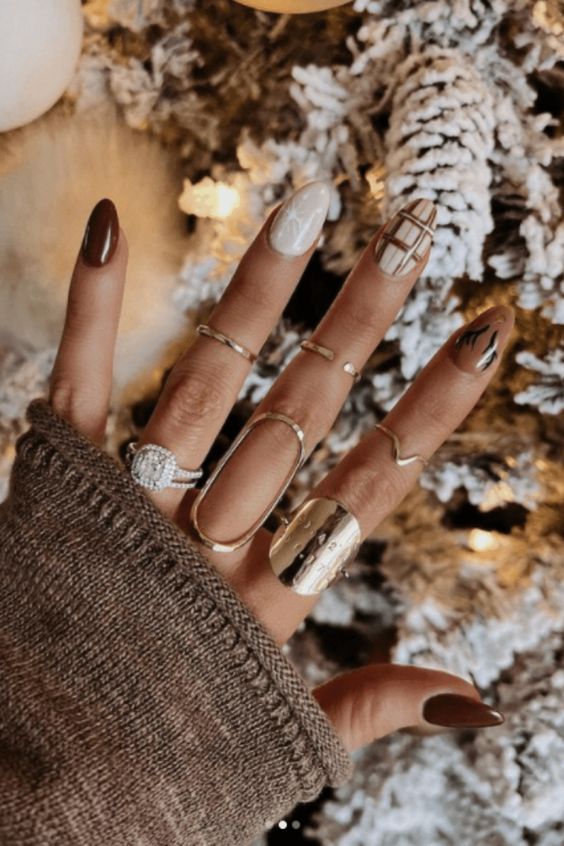 Red, White and Gold Stripes
I love the red stripes and red french tips from this Holiday nail ideas. You can go as bold or as subtle as yo want with this type of design for the winter months.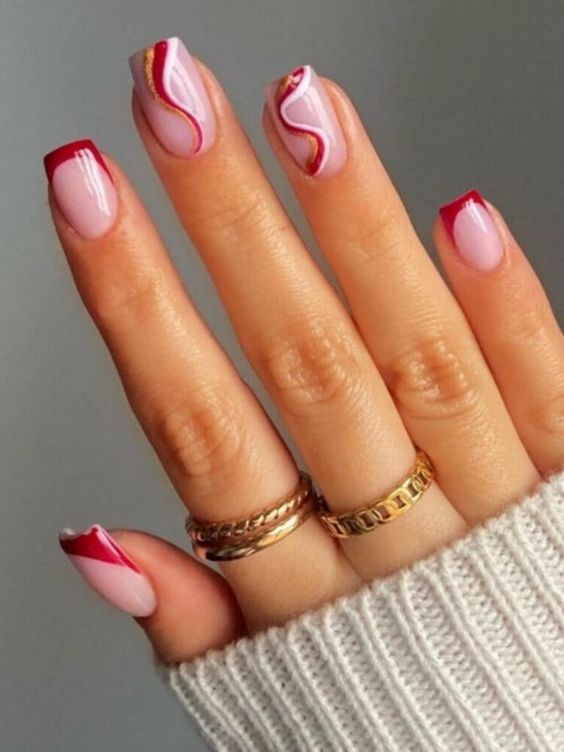 Gingerbread Man and Snowflakes
These winter Holiday nails have the cutest gingerbread man accent nail! This warm brown shade is perfect for Christmas time and I love the snowflake design as well!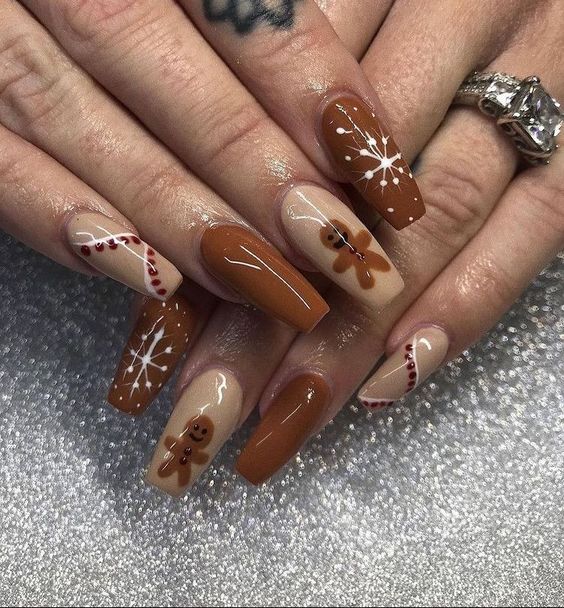 Red French with Gift Wrap Accent Nail
This red french tip nail design with a gift wrap accent nail is the perfect holiday nail idea. I love that a few of the nails also have a very subtle white line making this manicure very unique and fun.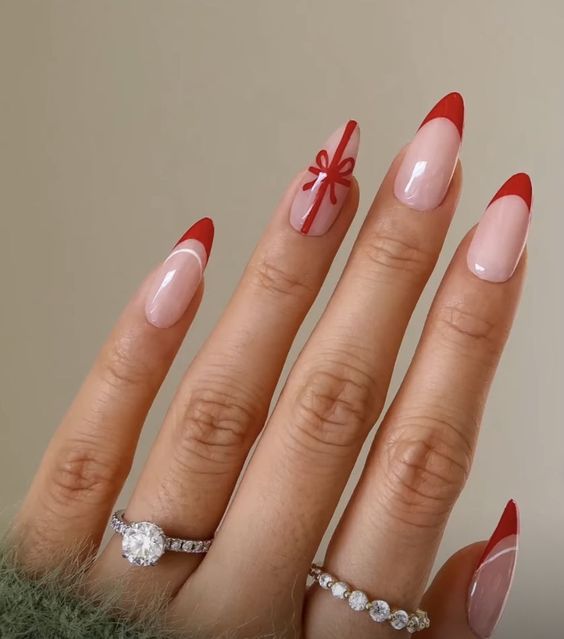 Matte Neutrals with a Sparkle Accent Nail
Matte nails are super trendy this Holiday season. Pair them with a sparkly accent nail and it really makes the whole manicure pop! This length is so perfect for the holidays.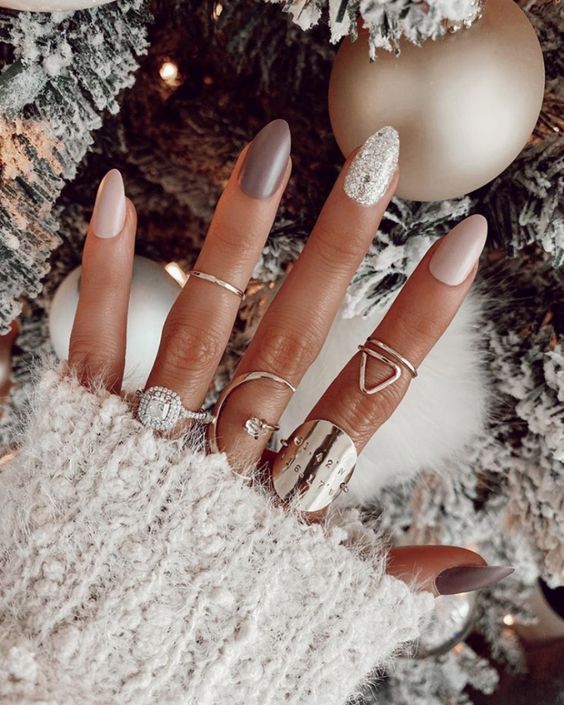 White and Red French Tips
You can never go wrong with a white and red nail design for the holidays. This french tip design is the perfect element for Holiday nail ideas.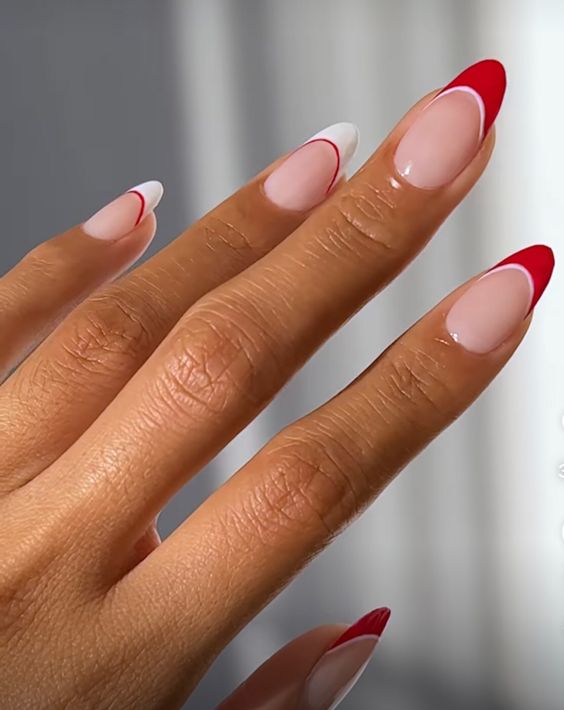 Candy Canes and Stripes
Matte nails are back in this red, green and white nail design. The different patterns on this design are so festive and cute for the Holidays.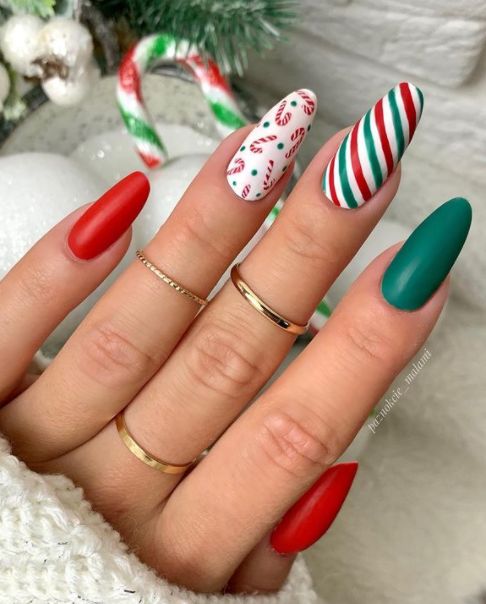 Red Chrome and Green Sparkle
If you like red chrome nails but want some extra sparkle, then this Holiday nail idea is perfect! The emerald sparkle accent nail is the perfect shade for Christmas.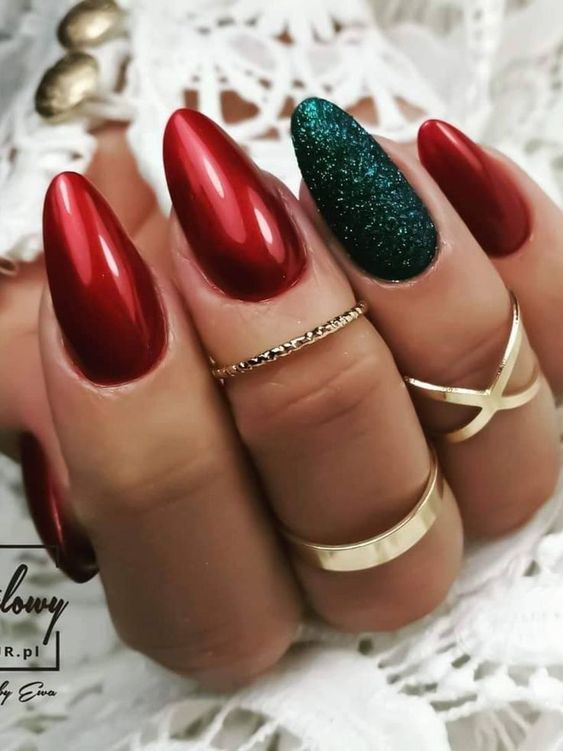 Candy Cane French Tips
If you love french tips like I do, but want a fun twist then try these candy cane stripes! What a fun way to elevate your french tip manicure for the Holidays!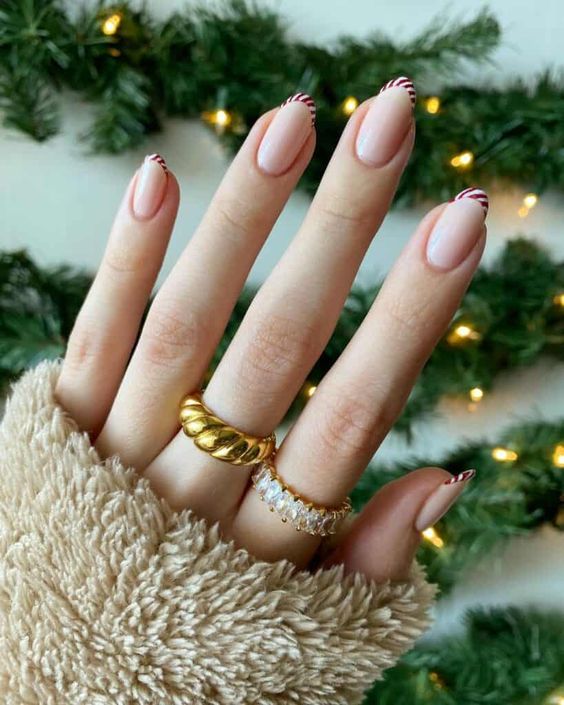 Neutral Nails with Some Sparkly Accents
This neutral nail design is so feminine and pretty for the Holidays. I love the white and gold accents on this manicure. The stars are the perfect element for the Christmas Holiday.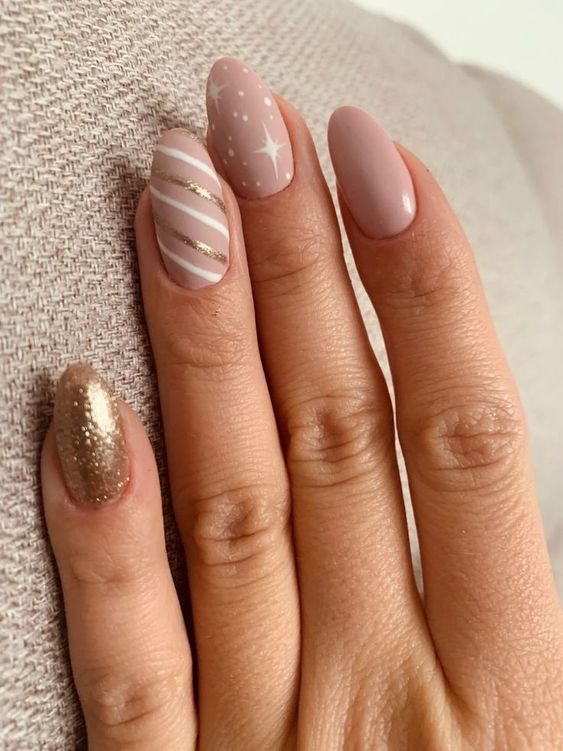 Red Sparkle French Tips
If you want your french tip manicure to sparkle this Holiday season, then look no further that a red tip with gold sparkle. These nails are so cute for the Holidays and french tips are definitely a classic design.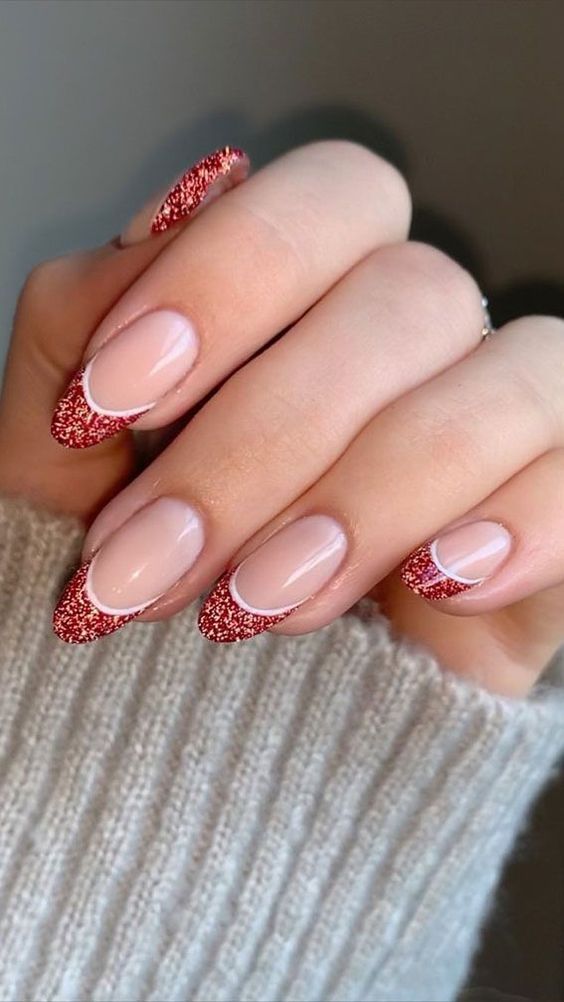 Emerald Green with Berry and Sparkle Accents
I love a dark green nail for the Holidays. This almond shaped design has the cutest berry accent that is so whimsical and fun this year.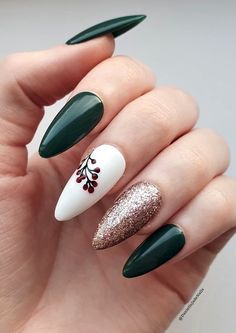 White Nails with Sparkles and Sweater Accents
This is the best Holiday nail idea if you like to stick to one color, but you also want some texture. I love the sweater accent nail in this nail design, and the sparkles really make this manicure stand out.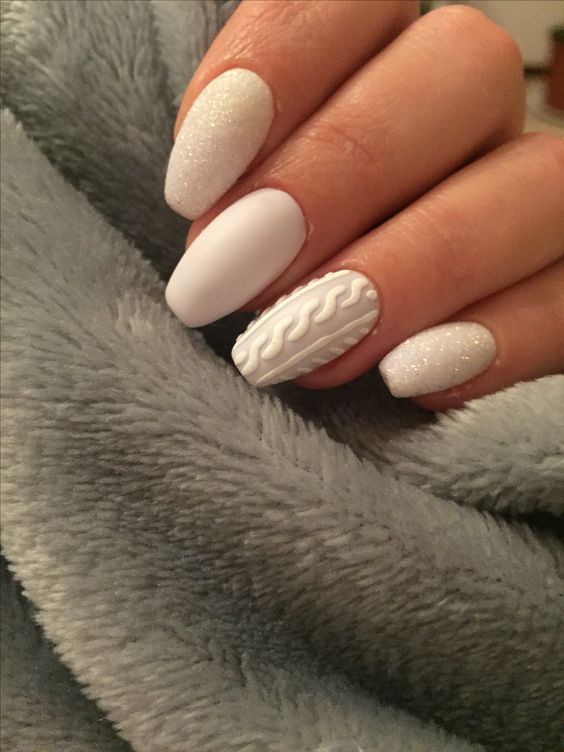 Blue French with Snowflakes
French tips are back on this list, but this time it's an icy blue shade that's just right for the Holidays! This neutral nail design is perfect all winter long! You can never go wrong with a snowflake accent nail this time of year.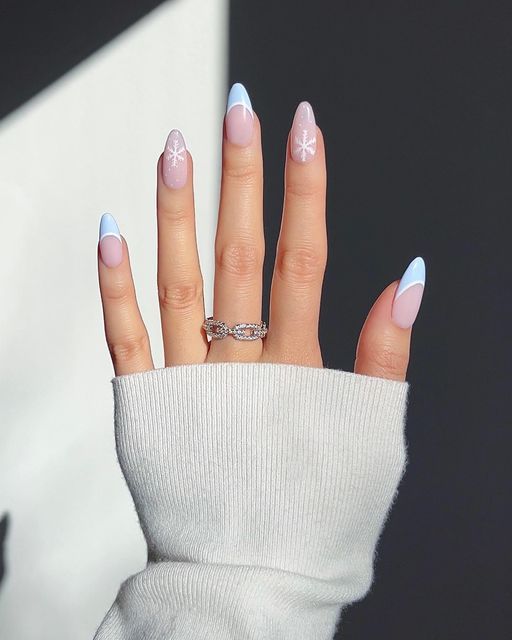 Matte Green with Gold Sparkles
Matte with sparkles has to be my favorite combination this year. I love the depth of texture that the different finishes bring to the design in this festive Holiday nail idea.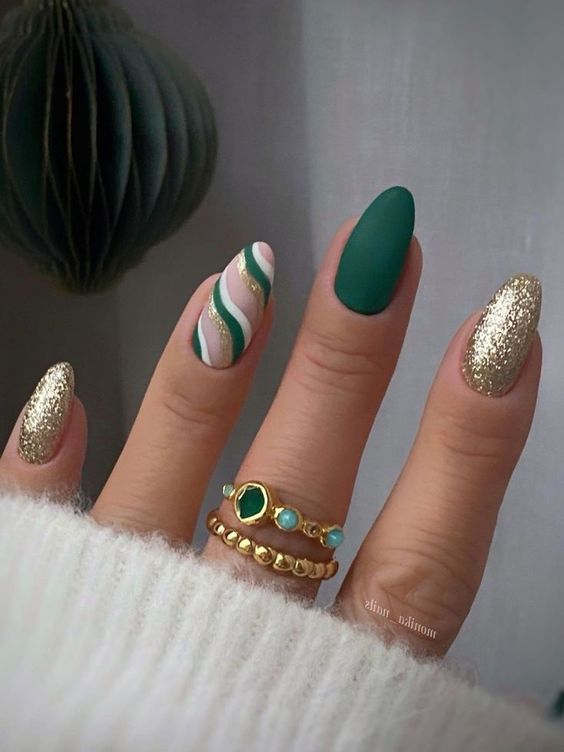 Must-Have Nail Items
Here are the tools and products that I swear by to keep my nails healthy and in great shape. I like to do my own manicures at home, and these products do the trick to make my manicures last! Click the picture for the links!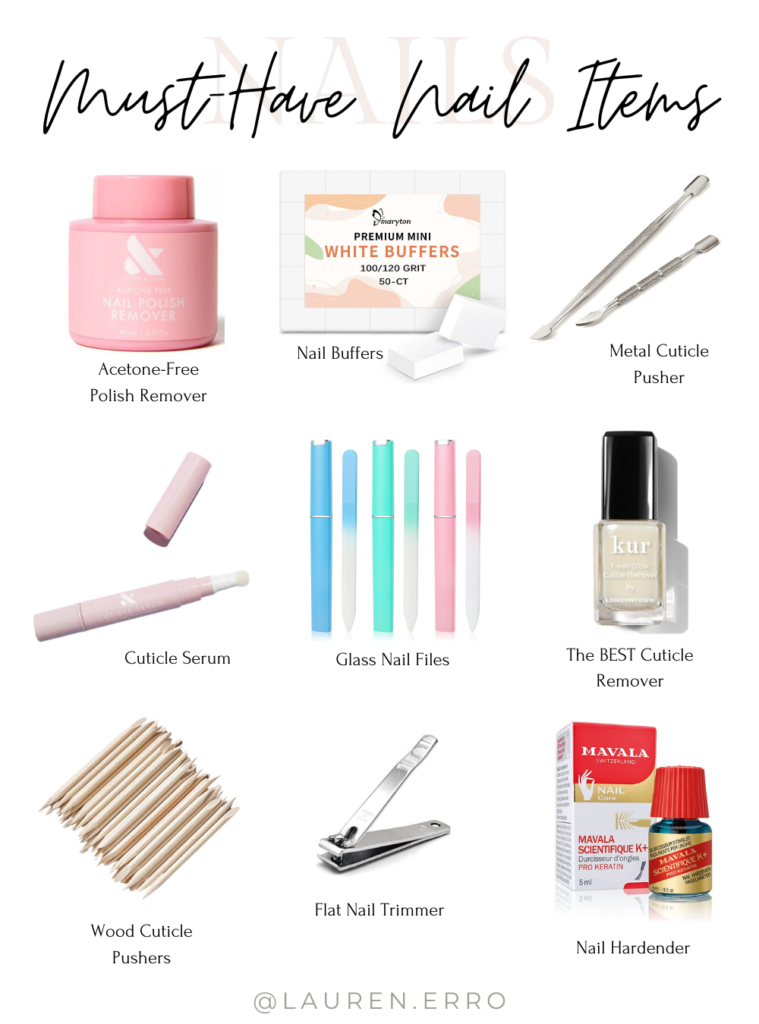 This Post Gave you 21 Holiday Nail Ideas
You May Also Like:
xx,
Lauren