TESTED: Averr Aglow Luminous Clear Skin Kit
We've all seen Averr Aglow Luminous Clear Skin Kit cute packaging and amazing before & after ads on Instagram but do their products really work? I put their Luminous Clear Skin Kit to the test and I'm so excited to share my results with you!
What is Averr Aglow?
When I was doing research for this post, I discovered that the founder of Averr Aglow, Camille, is a lot like me! She's very open about her struggle with her skin and has battled with acne for more than 16 years! She sought to create a line that gets rid of acne, is cruelty-free, and uses more natural ingredients. She really wanted to fix her skin and while doing so realized she could help others as well.
While she was learning about skincare, Camille found that the majority of exfoliants on the market are too harsh, cleansers are too stripping, and we are compromising our skin's moisture barrier as we try to cure our acne. She discovered that you need to balance your skin with its own oils and your products should help you do that, not get in the way.
She created Averr Aglow Luminous Clear Skin Kit to help even out skin tone, heal scarring, balance skin, fight acne, and leave her skin glowing and happy and many people have experienced amazing results!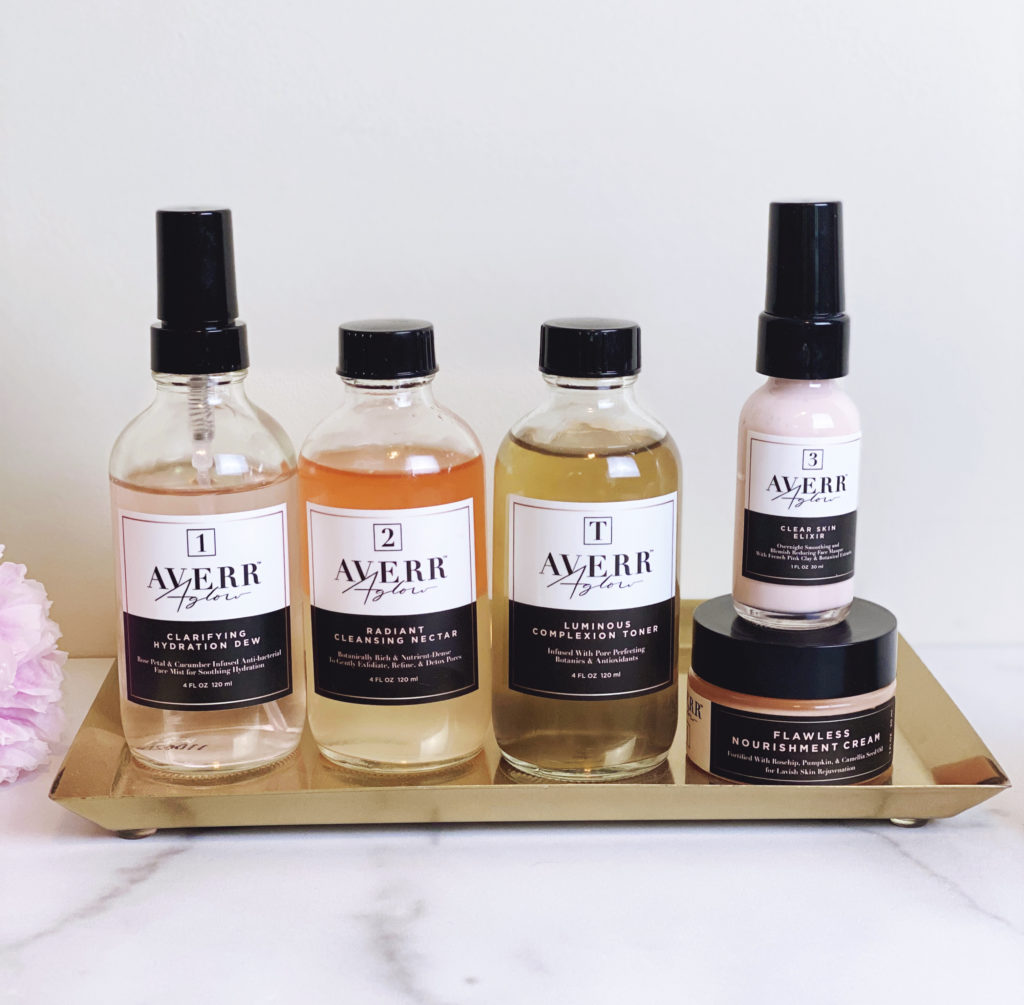 The Products
I tested the 5 products in Averr Aglow's Luminous Clear Skin Kit for two weeks (it retails for $189). They have two kits- the Luminous and the Clear Skin Kit ($149 and doesn't have the Luminous Complexion Toner). The Luminous Clear Skin kit helps balance your skin's oil production while eliminating the bad bacteria that causes breakouts and promote the good bacteria that keeps your skin glowing.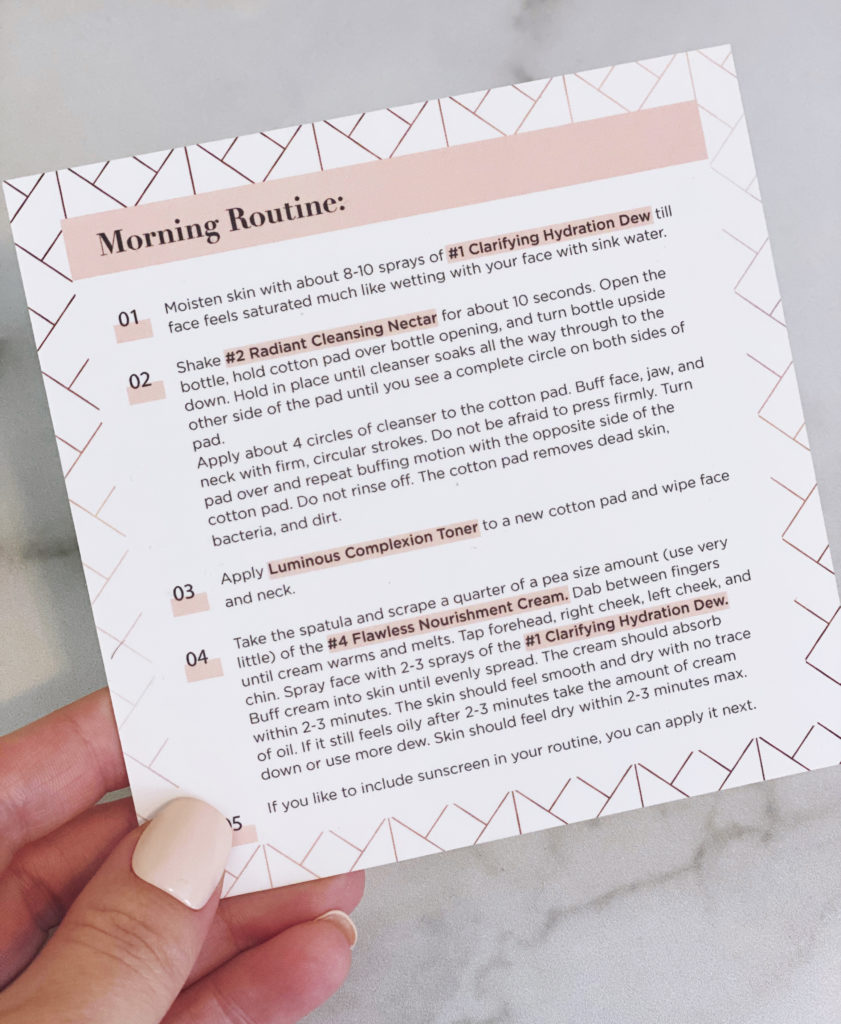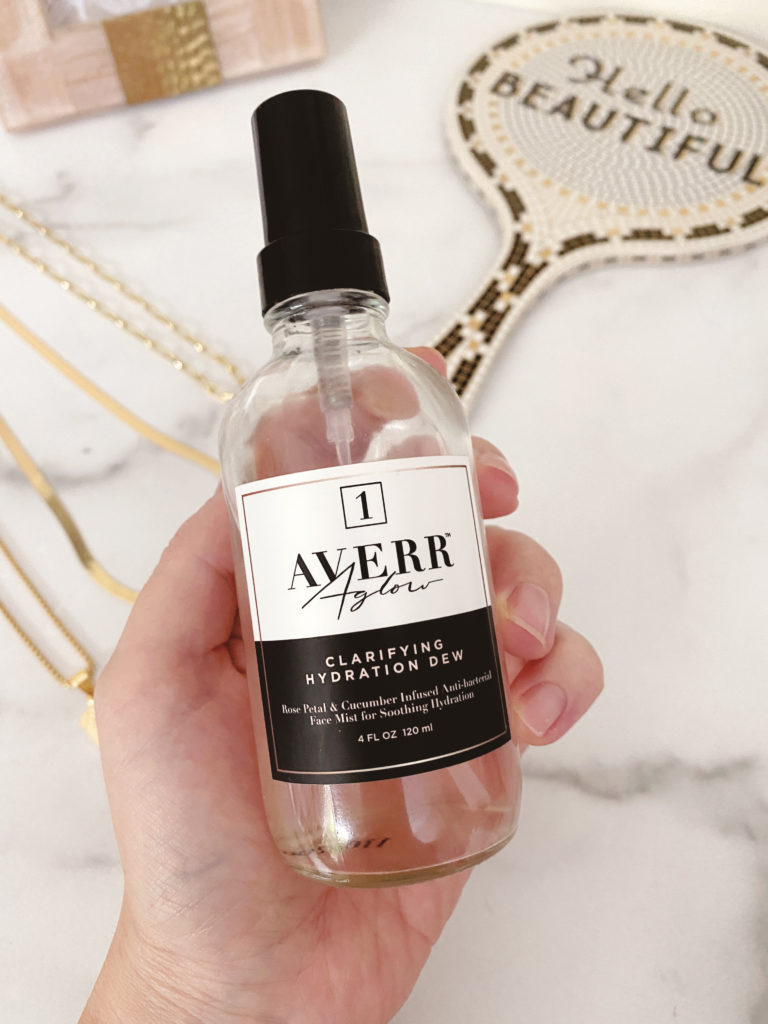 This is a spray-on toner that balances oil, helps with redness and inflammation, soothes skin, adds hydration, and balances bacteria. It has vitamin c, minerals, and antioxidants that help shed dead skin.
This is the first step in the system. You spray it on before you cleanse with the Radiant Cleansing Nectar. The Hydration Dew smells like one of my favorite scents in skincare, Thayers Rose Petal toner! *I'm very sensitive to smells, not because they affect my skin but because strong scents that linger drive me crazy. So, I will be reviewing the scents in this review as well.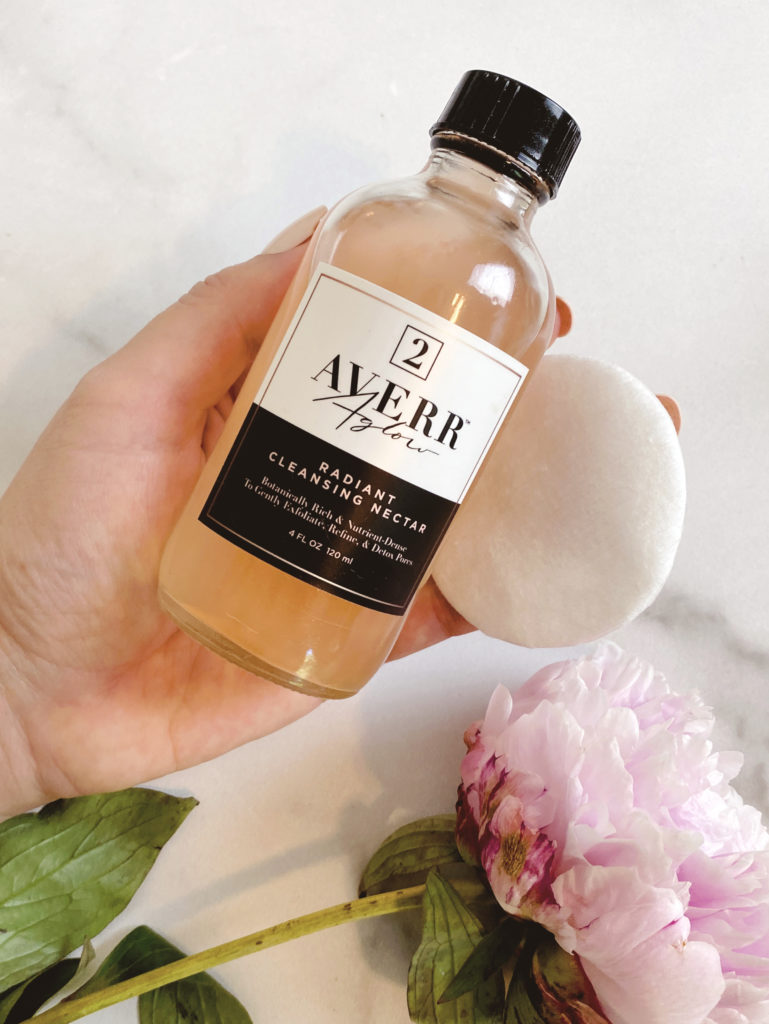 This is an oily cleanser/ toner that balances oil production and decreases sebum, it helps minimize scars & marks, prevent breakouts, clarifies pores, reduces inflammation, soothes skin, eliminates the bacteria that causes breakouts, heals old scars, and aids in fresh skin growth.
The way you apply this is very unique. You shake it until the bottle looks mixed, soak it into a cotton round, then buff it into your dry face and neck in circular motions. You don't need to rinse this off but you will feel oily after you use it.
I did like this as a double cleanse but I would always wash my face first with my regular cleanser to ensure my makeup is properly removed. I see that Averr Aglow also has their Completely Clear Gelée Makeup Remover ($25) that isn't part of the kit but I imagine it's amazing as a first cleanse.
The Radiant Cleansing Nectar smells amazing and fresh and though it does feel oily, I don't mind that feeling, especially because it left my skin feeling hydrated and happy.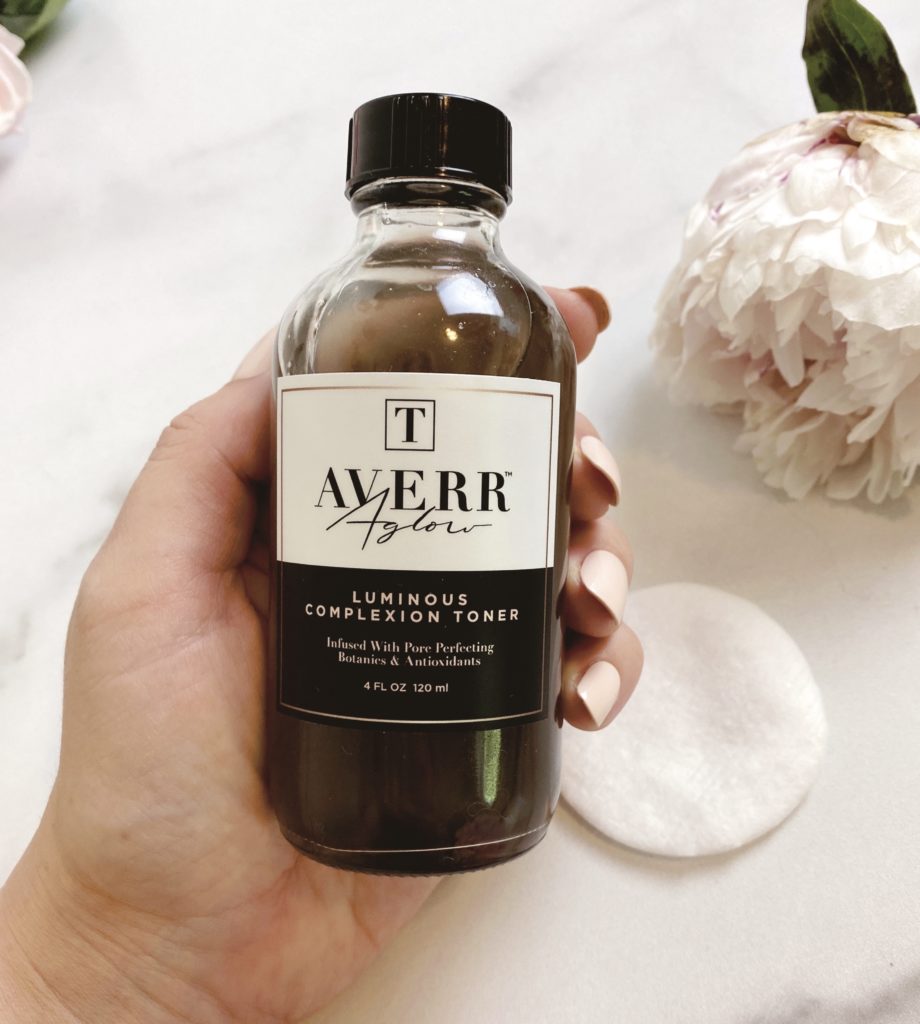 This toner helps minimize pores, reduce blackheads, eliminate breakouts, infuse skin with hydration, stimulate's new healthy skin, reduce puffiness, and dark circles. This toner will not dry you out and is ideal for oily, combo, and dry skin types.
I enjoyed using this toner after the radiant cleansing nectar because it really cut the oily feeling down. It feels just like a regular liquid toner and dries quickly. If you smell the product in the bottle it has a VERY slight vinegar scent, but when you apply it you can't smell it.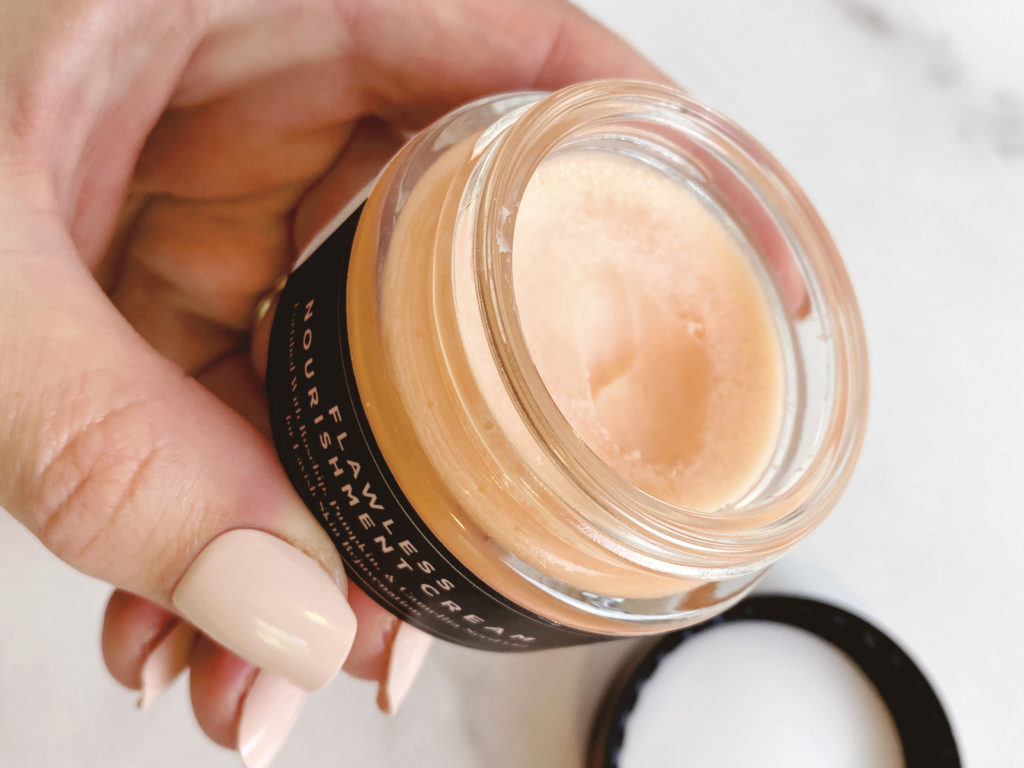 The cream helps correct dark spots, scars, & fine lines, moisturizes, calms the skin, and reduces inflammation.
As you can see, this is more of a balm than a cream. You use a quarter of a pea size on your whole face so this jar would probably last forever! It's pretty thick and heavy so after you apply it you need to spray it with the Clarifying Hydration Dew and rub it in. I felt that this was a little heavy for daytime in the humid Nashville Summer but I can see myself LOVING this in the winter! The scent is similar to Fruit Loops cereal but very subtle and doesn't linger.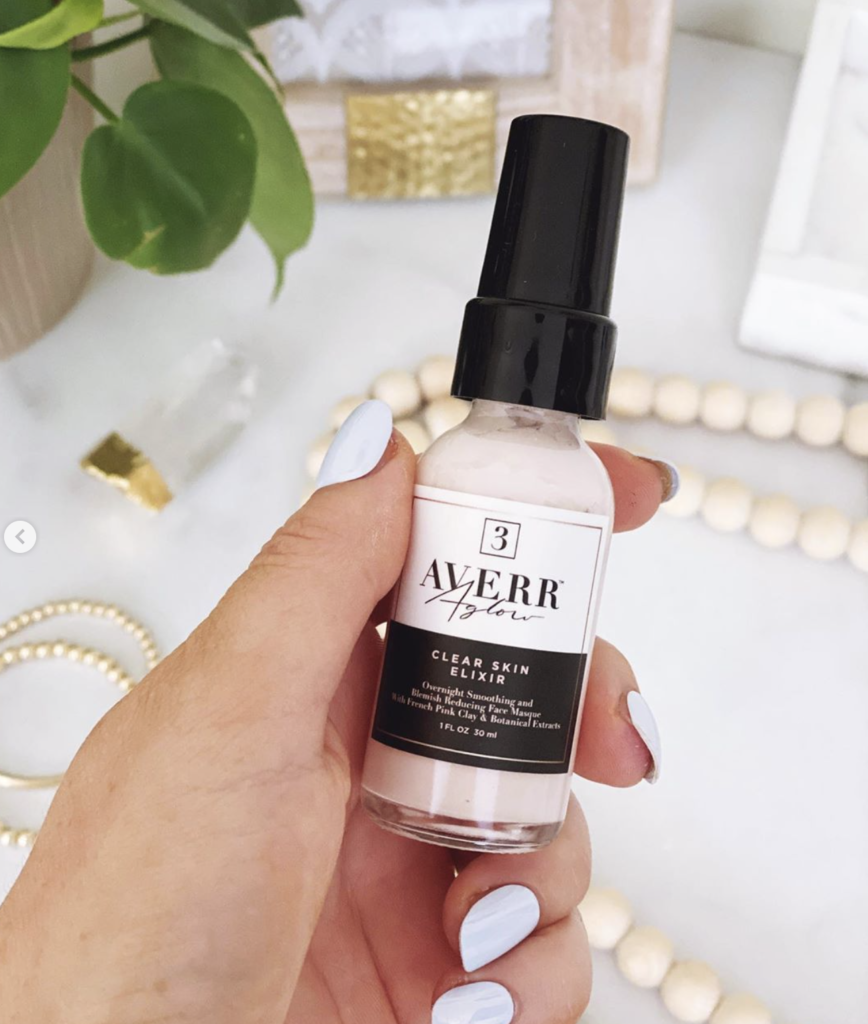 The Clear Skin Elixir helps to heal breakouts and blackheads. It's formulated with zinc oxide, witch hazel, pink clay, chamomile water, jojoba oil, grape seed oil, tea tree oil, vitamin E oil, and more. I LOVE zinc in skincare – especially if you're acne-prone!
. I tried it as a full sleeping mask, and also as a spot treatment. It reminds me of similar acne spot treatments that I've used in the past (Mario Badescu)- even the smell is similar!
If you have dry skin, try this as a spot treatment first. If you have normal/ combo/ oily skin you can try this as a full sleeping mask but if you find that your skin gets more oily during the day it may be drying you out.
My Final Thoughts
I enjoyed using this system! I don't mind a lot of steps in a skincare routine but there was a learning curve for me to remember the order of application. This truly is unlike any skincare I've tried before. I normally load up on hydration at night but this kit has you do it during the day. I would probably tweak it a bit and use the Flawless Nourishing Cream at night. Besides that, my skin felt great! Some people have said they purged for a bit when they first switched to Averr Aglow (this is common when you mix up your routine), but I didn't experience that.
This kit comes with disposable organic cotton rounds, but if you try to avoid waste you could definitely use reusable ones. Overall, I'm impressed with Averr Aglow and I will definitely keep using them as part of my routine!
If you want to clear up your acne and pores with clean beauty, definitely give Averr Aglow a shot!
xx,

*I partnered with Averr Aglow Luminous Clear Skin Kit on this post but as you probably noticed, the reviews are 100% my own opinion.