Coco & Eve vs. Loving Tan
I love self-tanners that are quick and efficient… one and done, you know? I kept hearing amazing things about Coco & Eve and Loving Tan so I did a side-by-side comparison. In this post, I share everything you need to know about Coco & Eve's Sunny Honey compared to Loving Tan's Deluxe Bronzing Mousse- application, color guide, scent, price, size, and wear. I tested both in the shade Ultra Dark and was shocked by the results!
Here is my video review of Coco & Eve vs. Loving Tan:
I prefer foaming self-tanner because they dry fast and are pretty foolproof to apply. I also don't mind a color guide- which is when a tanner has a tint so you know where you applied it. This makes it really easy to ensure that you'll have a streak-free tan.
Coco & Eve Sunny Honey Bali Bronzing Foam
Let's start with Coco & Eve. The bottle is $34, is 6.7 fl oz., and has roughly 260 pumps that should give you 10-20 full-body tanning sessions. It has a beautiful tropical Balinese mango and guava scent.
Coco & Eve says their product:
Blurs pigmentation and perfects skin.
Has a lightweight, non-sticky formula.
Is fast-drying and develops in just 2 hours.
Has a green-grey base for a natural-looking, golden glow with no orangey tones.
Can last up to 2 weeks.
Is made with 100% natural DHA (the tanning ingredient)
Is vegan, silicone-free, cruelty-free, gluten-free, ethically sourced, paraben free, & PETA approved
Other key ingredients include raw virgin coconut which hydrates and firms skin, along with other botanicals and amino acids.
Coco & Eve also has a proprietary ingredient called Cellushape™️. Cellushape was created using powerful active ingredients to help delay aging, restore cell activity, and boost caffeine's effects helping to remove cellulite. A clinical test was carried out to measure the slimming effect of CellushapeTM on 15 volunteers between 30- 50 years old. Volunteers applied the treatment twice daily for a duration of 28 days on their thighs, hips, and buttocks.
Coco & Eve recommends giving their tanner 30 minutes to dry before getting dressed… Yikes, that's a long time!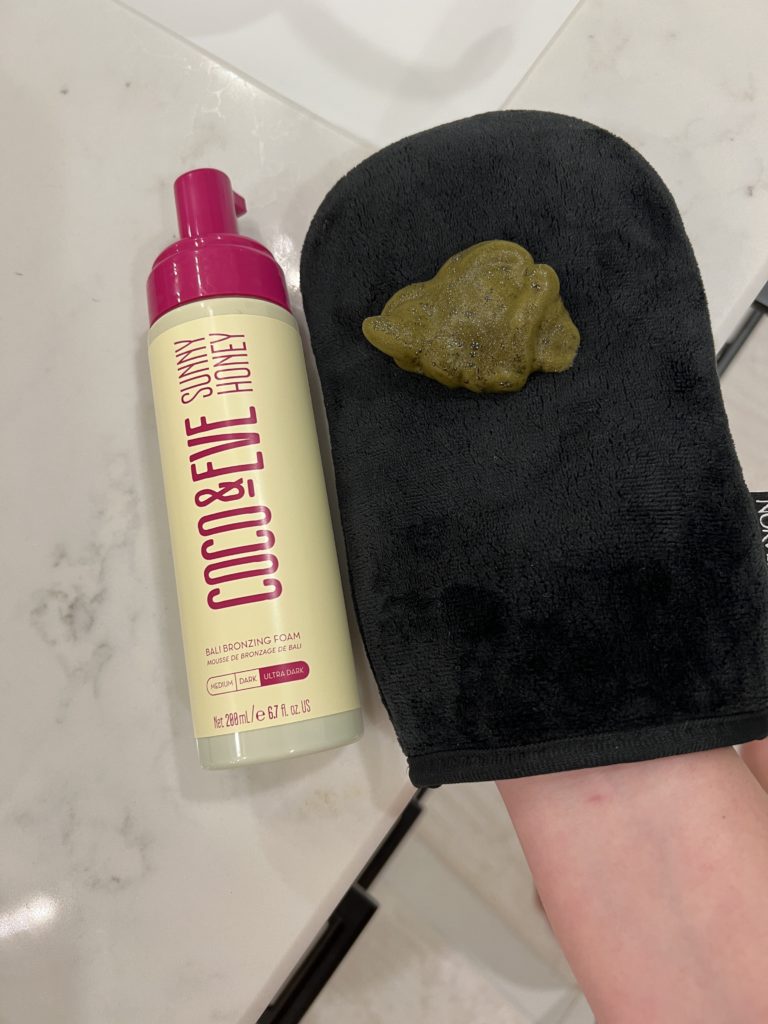 LOVING TAN Deluxe Bronzing Mousse
The Loving Tan bottle price varies depending on where you purchase it… (lol why?) It's $39.95-$44. And you get 4 fl. oz. Loving Tan says you should get 5+ full body applications per bottle. They also say the color Ultra Dark is suited for experienced tanners only (I'll explain more on this later).
Loving tan says their product:
Has a natural olive color.
Is quick drying (in as little as 60 seconds!).
Also has naturally derived DHA.
Has a hydrating Aloe Vera base.
Is Cruelty-free and vegan.
Loving Tan recommends leaving their tanning mouse on for six to eight hours before gently rinsing it off and patting dry. Their tan continues to develop for 24 hours.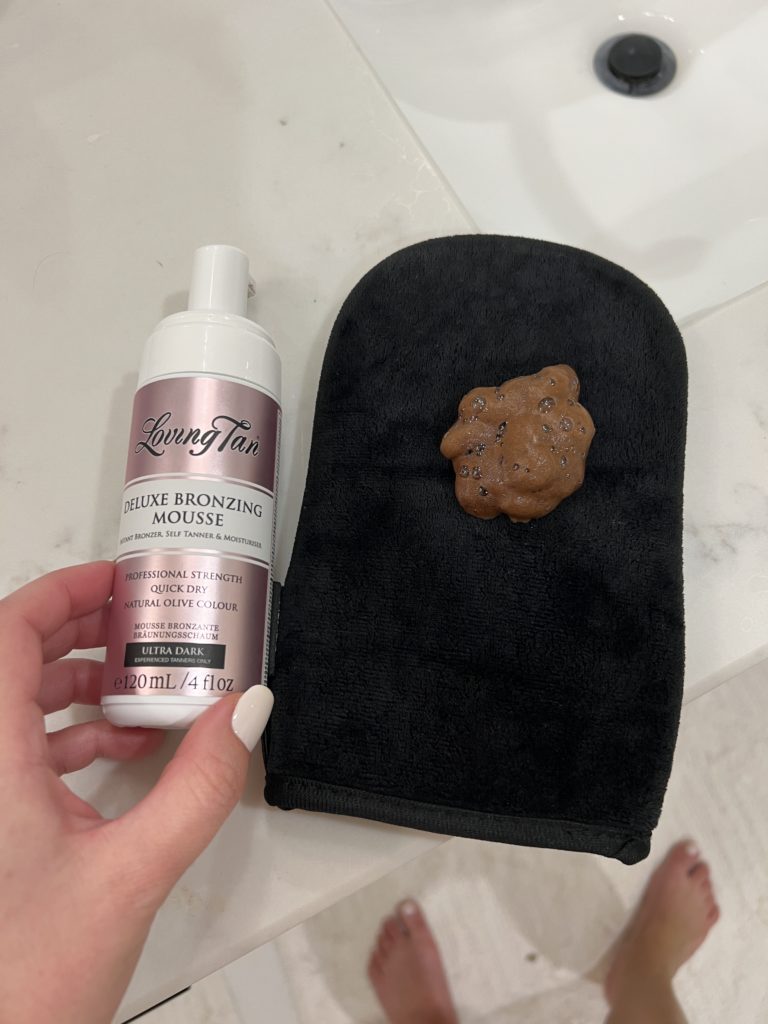 How to Use Mousse Self-tanner
1. Shave and exfoliate thoroughly (ideally 6-24 hours before.)
2. Apply moisturizer to your hands and feet paying particular attention to your ankles and wrists.
2. Apply the mousse to the mitt then use circular motions to blend as you go to ensure even coverage.
4. Allow to develop for a minimum of 2 hours or overnight for a deeper tan.
5. Shower in warm water to remove the guide color and pat skin dry.
My thoughts on Coco & Eve vs. Loving Tan
The application of each was pretty straightforward. I was caught off guard by how green Coco & Eve was. I thought there was NO WAY it could look normal when the color set but it did! It also smells really good! Like sweet & coco butter. It dried down just fine- it did not take the 30 minutes that they said it would. I was able to get dressed within minutes of finishing the application.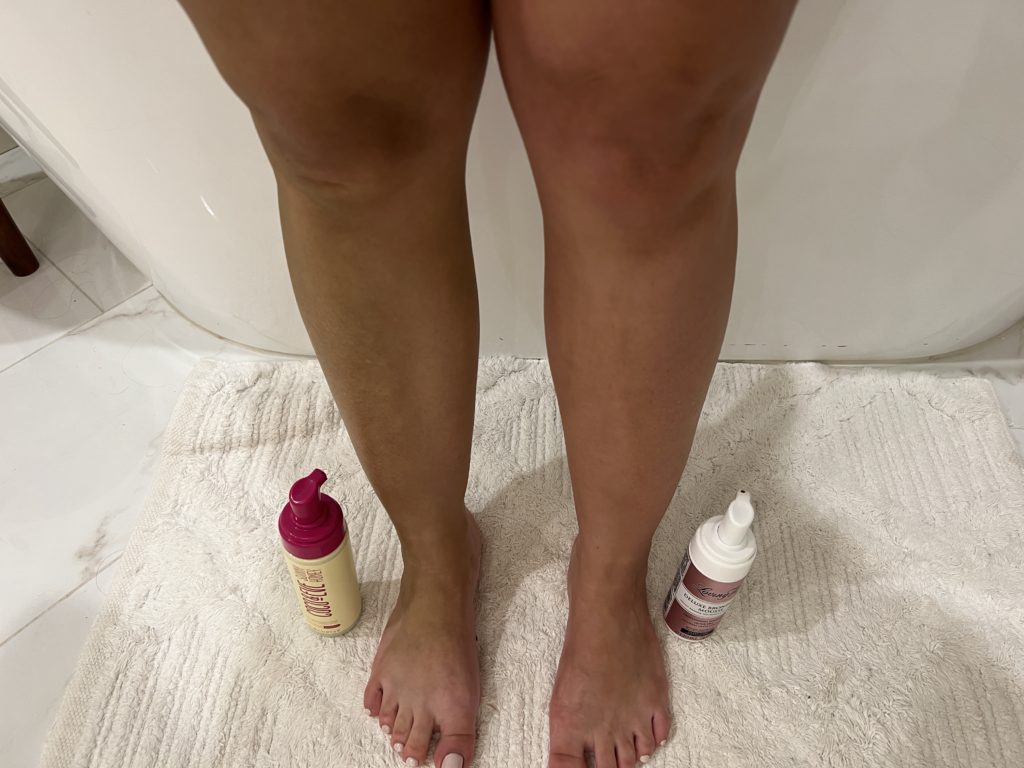 The Loving Tan mousse dries super fast as you apply it which is good and bad. It's good because you can get dressed quickly after but it's bad because it could turn out streaky if you don't move fast. That is why it's recommended for experienced tanners only- but really, you could easily figure it out and have no issues. The color guide is a rich brown- not olive like they claim. It smells like baby powder and flowers.
I applied Loving Tan to one full leg then the Coco & Eve to the rest of my body and went to bed. When I woke up I didn't stink like a typical self-tanner and I didn't have bronzer all over my sheets!
When I rinsed off the color guide the tans were very close to the same color! The darkness was almost identical. As the days went on I feel like the Loving Tan turned more orange and the Coco & Eve stayed naturally tan.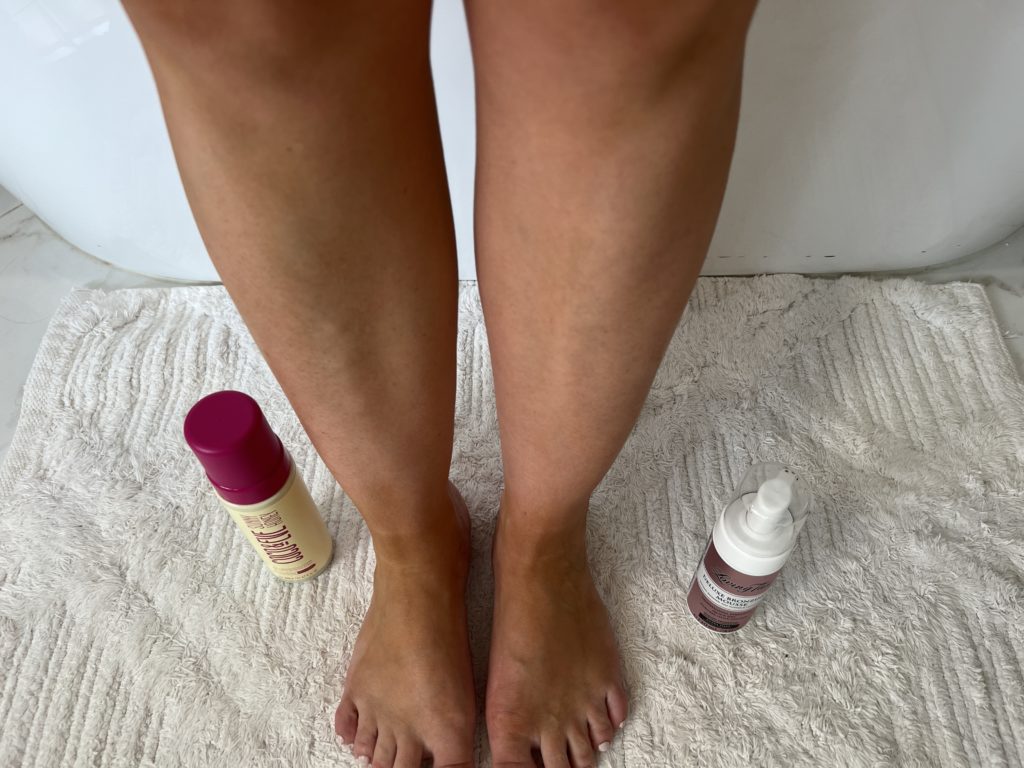 After 5 days I still had great color from both!
Which should you buy? 
Overall I'm happy with each tanner. I think you'll be happy with either one you choose but I suggest Coco & Eve. Pricewise you get almost 3 more ounces for $5 less and it has a lot more ingredients that focus on benefiting your skin. 
Have you tried them? Which one do you think is better? 
Here are videos of other self-tanners I've tried. Here is my review of Tan-Luxe.
xx,
Lauren