I'm trying Musely's Custom Prescription Skincare for my Melasma & Acne
I like to be very transparent in my skincare struggles because I want others to feel comfortable in their own skin. I've tried so many products to combat my melasma, acne, pores, and pigmentation and yet I still am frustrated with my skin. I've been seeing the Musely ads all over and its one of those products that just seems too good to be true… I obviously had to try! In this post, I'm going to share everything you need to know about Musely prescription skincare, what they offer, why I chose them, and what the ordering experience is like.
If you prefer to watch videos I have my Musely review below:
Why I Chose Musely
I chose Musely because they offer 12% Hydroquinone… This is UNHEARD OF. I have NEVER seen 12% Hydroquinone in any skincare product! Not even 6% is common- most products don't have more than 4% which is what Obagi, the most popular Hydroquinone on the market, has and you still need a prescription for it. Musely also has a product that is a combo of Hydroquinone and Tretinoin. I am just so intrigued.
I am very impressed with their online reviews too… I mean a 4.7-star rating out of 278k reviews? WOW. Many of the reviewers show their before and after photos and talk about how quickly they saw results and how happy they are. Again, they just seem too good to be true but look at these results below!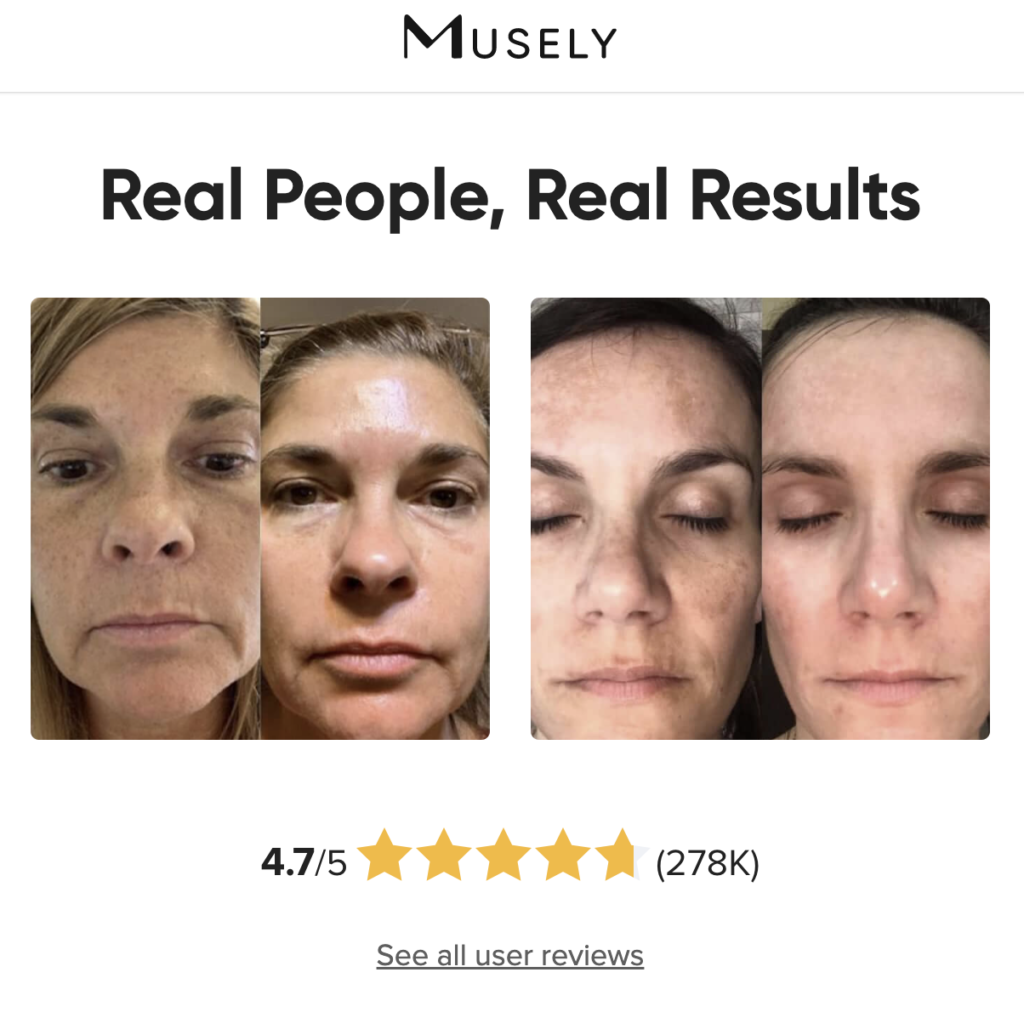 What is Hydroquinone?
If you struggle with pigmentation, sun spots, or Melasma it's likely you've heard of Hydroquinone. It truly is one of the most effective treatments for dark spots. Hydroquinone works by blocking the formation of melanin in the skin and lifting away dark spots.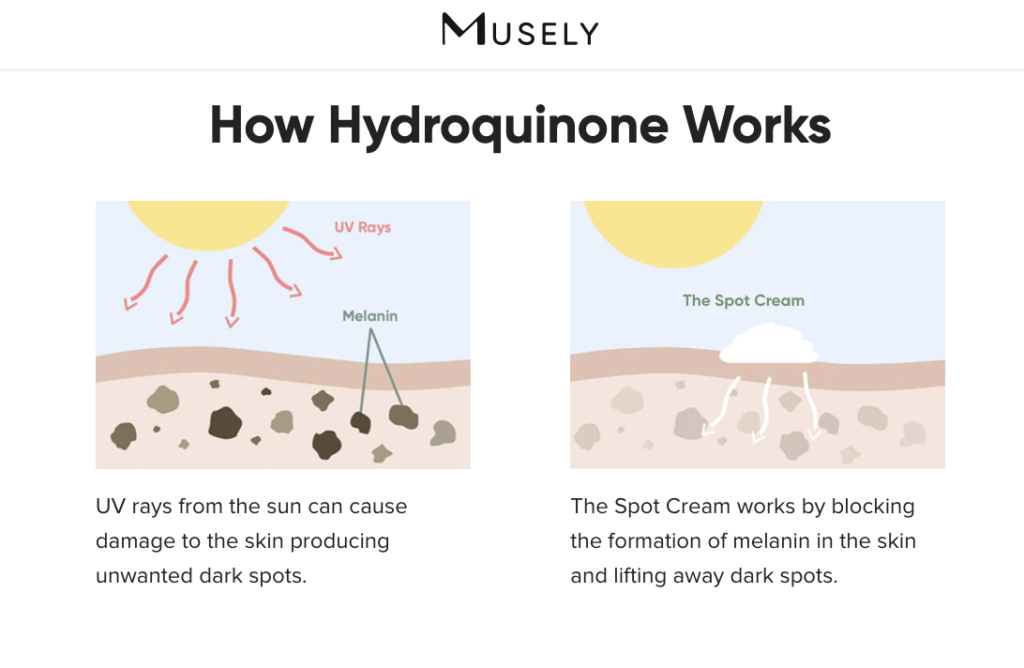 Over the past 5 years, I have only tried two other Hydroquinone's (HQ as we'll call it moving forward) and while I did see results in my pigmentation, my skin didn't react well. I used Obagi and broke out, then, last year I tried ZO, which is Dr. Zein Obagi's new company, and broke out again. Watch my full ZO review here. I was hesitant to try HQ again but am hoping maybe it's just the "Obagi" ones that my skin doesn't react well to…?
HQ is no joke and it is one of those ingredients that people either love or they hate. A lot of people claim it's bad, and it IS banned in other countries… it also should be avoided if you are pregnant or nursing. Other people think it's fine and it is the gold standard ingredient for treating pigment. My thoughts on HQ are that you don't want to be on it continuously. You use it for up to 5 months, then go off of it for a few. Rinse and repeat as needed. *Musely does offer Hydroquinone-free products- more details on that below.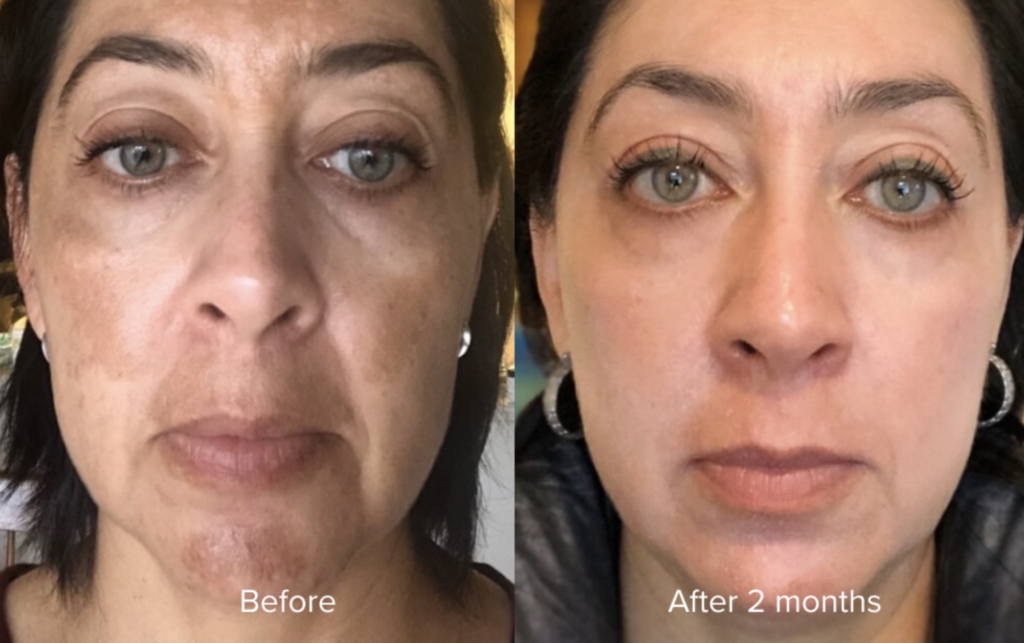 Musely's Guarantee
I really like how Musely has a 60-Day Result Guarantee. You have to complete the 60- day eNurse check-up program to qualify for it but this is actually quite brilliant. It holds Musely's customers accountable to give their products a chance for 60 days before asking for a refund. If they are struggling with anything they HAVE to check in with the nurse if they want to potentially get a refund. This is in an app on your phone that is super easy to use.
How much does Musely cost?
The price for the product is $60 and then they added on a $20 one-time doctor fee at check out. Musely isn't the least expensive online prescription brand out there, but it's not the most either. Plus- you'd likely spend way more for a dermatologist appointment + prescription. Also, many of the products I purchase from Ulta cost about the same as this. I don't find the $80 offensive- especially if I get results! I mean really, how many products have we tried for this price that didn't do much?
What's the ordering process? 
I placed my order online- on a Friday at 4 pm and they say they'll get back to you within 24 hours… they did! The ordering process was a little confusing at first because I know I wanted tretinoin and I didn't know they had a combo with HQ. So I almost thought I had to order 2 products (you don't).
On the home page you choose from the 4 options: 

Dark Spots- melasma, sun spots, acne scars 
Anti-Aging- wrinkles, pores, texture
Rosacea- redness, blushing, adult acne 
Hair Loss- thinning, alopecia, hormonal
I selected Dark Spots. From there you have five products to choose from. I selected The Spot Cream. They also have the Body cream, The Neck cream, The Private Cream, and The Spot Peel.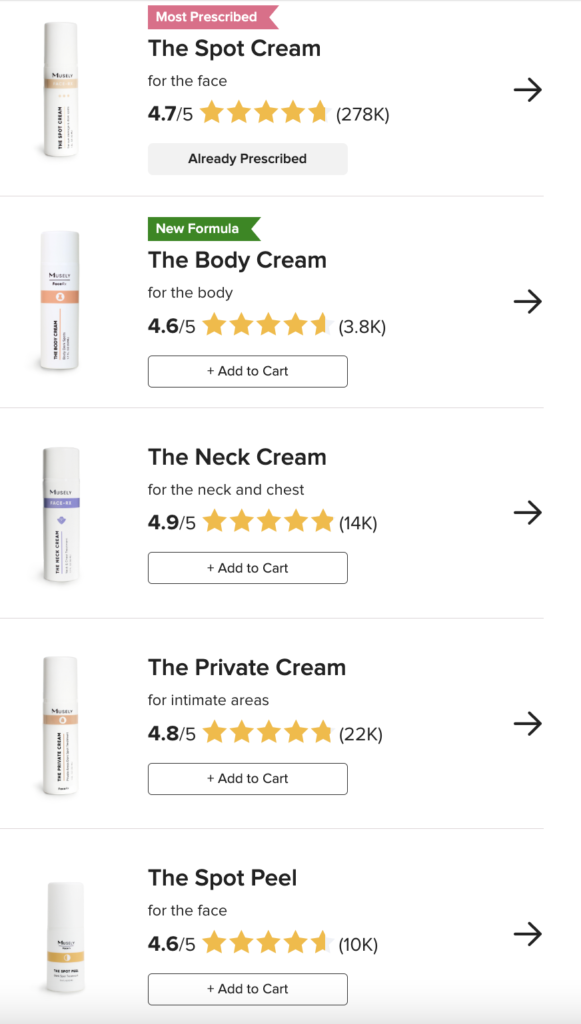 When you select the product you want it brings you to a page where you can get a 2-month supply for $60 or a set that has The Spot Cream, The Cleanser, and The Day Cream with SPF 50 for $76 (normally $82). It doesn't give any details on what those products are so I just chose a single product. 
After this point it makes you create an account and requires an email verification code to move forward- so don't enter a fake email LOL.
This is when it gets into all of the questions- age, gender, ethnicity & medical history. Then it asks you to select exactly which product you want- there are variations of the spot cream. I like how you can scroll over the "?" and it gives you more details but I've also included them below. 
Musely Spot Cream Ingredients:
Musely has five different options for their Spot Cream. It's basically a combo of the following ingredients:
Hydroquinone: Fades dark spots by preventing the formation of excess melanin (pigment) in the skin.
Niacinamide: Helps visibly minimize pore size, improve dull/uneven tone, and reduce wrinkle depth. Also known to fortify skin's barrier strength and boost hydration.
Kojic Acid: An antioxidant that is great for fading dark spots, evening skin tone, and for anti-aging.
Vitamin C: Another antioxidant that improves skin tone, helps fade discoloration, and visibly firms skin.
Tranexamic Acid: Fades discoloration- great for dark, brown, and gray patches.
Azelaic Acid: A very soothing product that gently exfoliates. It refines skin texture and reduces blemishes and scarring.
Tretinoin: Great for acne and keeping pores clear, wrinkles, pore size, reversing skin damage.
Hydrocortisone: Helps calm inflammation.
Musely Spot Cream Products to choose from:
Erase:
Hydroquinone 12%,
Niacinamide 2%,
Kojic Acid 6%,
Hydrocortisone 2.5% (for Initial 2-month only)
Nurture:
Hydroquinone 6%,
Niacinamide 2%,
Vitamin C 1%
HQ Free+ (6% Tranexamic Acid, 10% Azelaic Acid)
Tranexamic Acid 6%,
Azelaic Acid 10%,
Kojic Acid 6%,
Niacinamide 2%
HQ Free (20% Azelaic Acid)
Azelaic acid 20%,
Niacinamide 2%,
Vitamin C 1%,
Kojic Acid 6%
***Safe to use while pregnant or nursing*** (I love that they have this because many people get melasma aka the pregnancy mask and feel completely helpless!)
M+ (12% Hydroquinone, .05% Tretinoin)
Hydroquinone 12%,
Tretinoin 0.05%,
Kojic Acid 6%,
Niacinamide 2%,
Hydrocortisone 2.5%(for initial 2 months only)
Or you can select no preference and let the Dr. prescribe you what they think is best.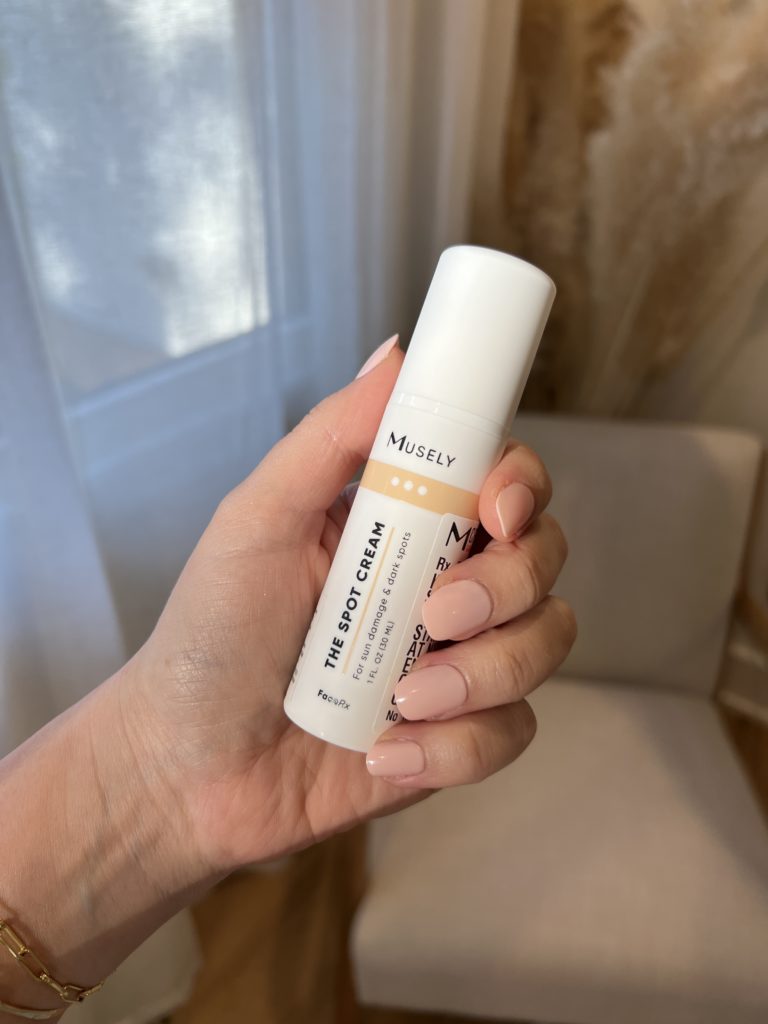 My Musely Formula:
I received my formula, Erase, the next day (a Saturday!), with an intro to my Dr., a how-to-use The eNurse app, and instructions for the Spot Cream. The product arrived about a week later.
I also received a VERY detailed message from my doctor explaining basically everything you'd ever need to know. I really appreciate how thorough he was.
It's a LOT so I'll try to shorten what I can:
Shake the bottle before use
You can use 2x a day but build up to it to make sure your skin can handle it.
Redness is normal. If you experience irritation, it's best to pick up an over-the-counter hydrocortisone 1% (if your product doesn't have it) and cut out any other potentially irritating ingredients (alpha- or beta-hydroxy acids, salicylic acid, glycolic toners, retinol, scrubs, etc). You might also consider reducing your use of Musely or taking a short break.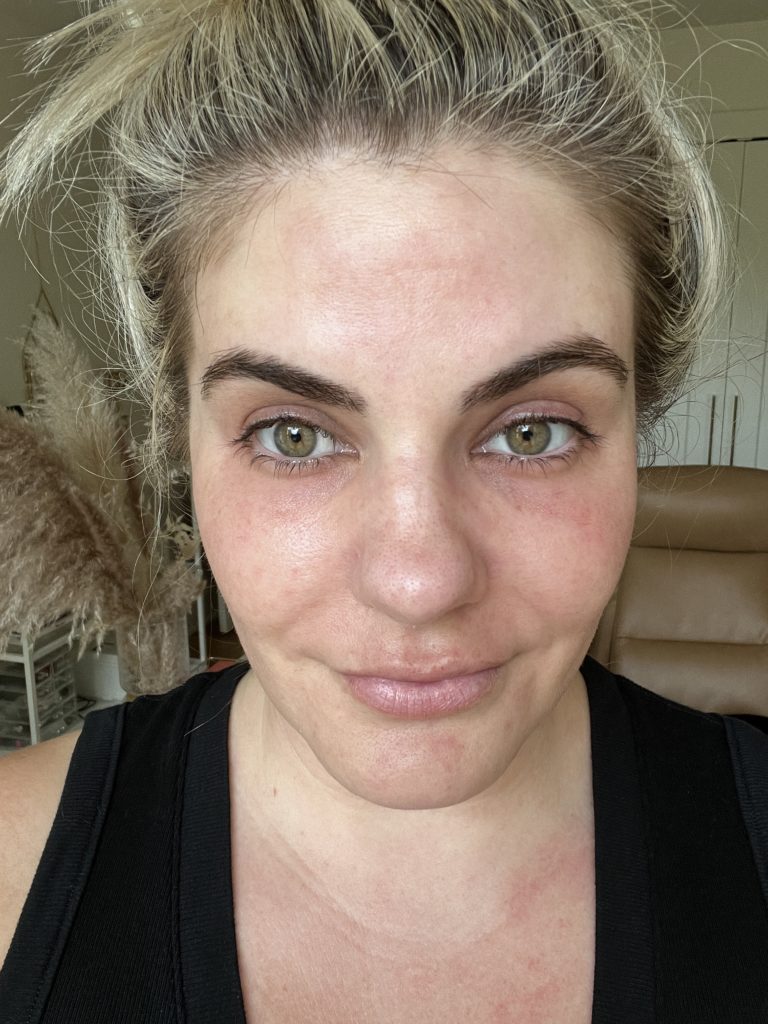 Despite what it says on the bottle, it is best if you apply the cream only on the areas that are dark, not the whole face. If too much cream gets on your normal colored skin, these areas can become lightened too. If your whole face has dark spots, then you can put the medicine on your whole face. But if the dark spots are only on your cheeks, only put the medicine on your cheeks.
It is safe to continue other over-the-counter components of your skincare routine while you are on this medicine, but the Spot Cream should be the last thing you apply in your routine so that it doesn't spread around.
The only thing that should be applied on top of the Spot Cream is sunblock when going outside. For example, if you are using a retinoid such as the Night Cream with the Spot Cream, the Spot Cream should go on top.
I don't recommend any cosmetic procedures while using this medicine (eg, laser, peels, microneedling, etc) unless under the care of a board-certified Dermatologist (MD) who is aware you are on this medicine.
You should stop using any other hydroquinone products while using Musely.
Musely care is not a substitute for having an in-person dermatologist, and you should regularly see an in-person dermatologist who can examine your skin in person for signs of skin cancer and ochronosis before, during and after your Musely treatment.
Don't use hydroquinone products for longer than 5-6 months continuously (including use of hydroquinone prior to Musely) and to take a break for a few months after that. If you use it for longer than recommended, it's uncommon but you can actually cause pigmentation (ochronosis) rather than decrease it.
After a break from hydroquinone, the dark spots can come back. Usually, people have to use hydroquinone intermittently for a few years to get full control of dark spots. During breaks, hydroquinone does not need to be tapered; it can be stopped immediately. If you become pregnant or are breastfeeding, you should not use hydroquinone at all.
If you requested our harshest cream, M+, but were given a different cream such as Erase, it is likely because you are not currently using a hydroquinone-retinoid combination product, have an allergy to one of the M+ ingredients, or have sensitive skin. Once your prescription is signed by the doctor (at the time you receive this message) it cannot be changed until your next fill at 60 days. After 45 days of using any cream, if you feel that you want to try something different, including something irritating and stronger like M+ or something weaker such as HQ-Free, please go back to the Musely site and place an order for a prescription change, which will be active for your next refill.
It can take 3-4 months to notice improvement.
You will not notice an improvement in the first month (some people notice temporary darkening, in fact). It is essential to be wearing daily, high SPF sunscreen (SPF 50+ is recommended, reapplying every 2-3 hours). Even one day of sun can set back months of progress fading dark spots, and this is the most common explanation for when patients don't improve with medicine. Your Spot Cream prescription may be for two products, first a hydroquinone-containing product and later a hydroquinone-free product. Hydroquinone carries a rare of causing very stubborn and difficult-to-remove bluish black discoloration of the skin, thought to arise from overuse or continuous use. Taking breaks can help avoid this condition, called ochronosis.
I recommend that after 4 months of HQ (at ANY strength) you should stop hydroquinone and switch to Musely HQ-free for 2 months. To time this properly, you should keep track of your HQ usage and around 4 months, place an order for a prescription change to an HQ-Free formula for your refill. A break from HQ is necessary regardless of whether the discoloration is completely gone or not. It sometimes takes several cycles, 4 months on HQ, and 2 months without HQ to get the majority of discoloration to go away, and for some people, 100% removal of all discoloration may not be possible. Once the discoloration is better you will likely need to cycle on and off hydroquinone for a few months on, a few months off in order to keep your body from producing new pigment.
I replied that I really wanted tretinoin and he promptly responded!  He said "We try to accommodate the prescription that people request; however, upon checking your chart, it seems that you haven't used Hydroquinone, and M+ is the strongest formula we have. Note, my primary objective is to do no harm first and help you improve your skin. Sometimes it's better to go slow and steady rather than very aggressive initially, so we don't cause any irritation. After a month if you are tolerating our spot cream formula, we may change your prescription to the strongest formula."
I'll be honest, I was kind of upset that I spent $80 on hydroquinone and no retinol but I really appreciate how thorough they were in explaining why.
Here is my skin before I started the treatment. I will do periodic updates on here as I see progress so if you're interested, subscribe to my emails so you'll be notified when I post about it.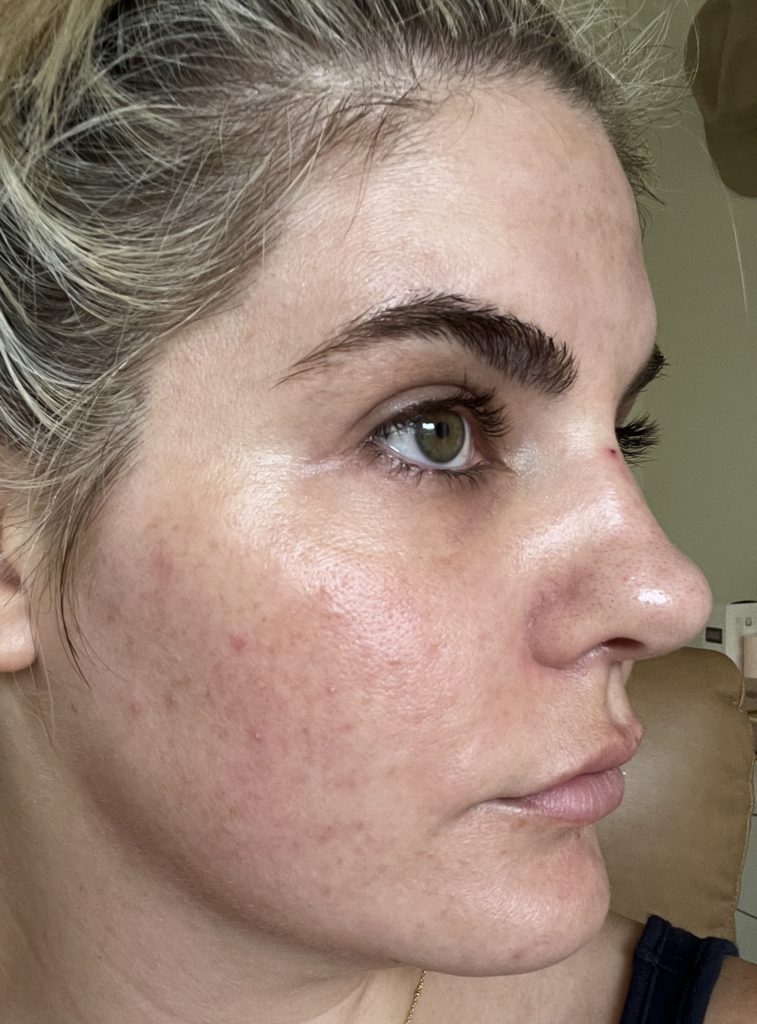 I'm feeling really excited and optimistic about Musely and can't wait to see my results!
*Update* Here are my results: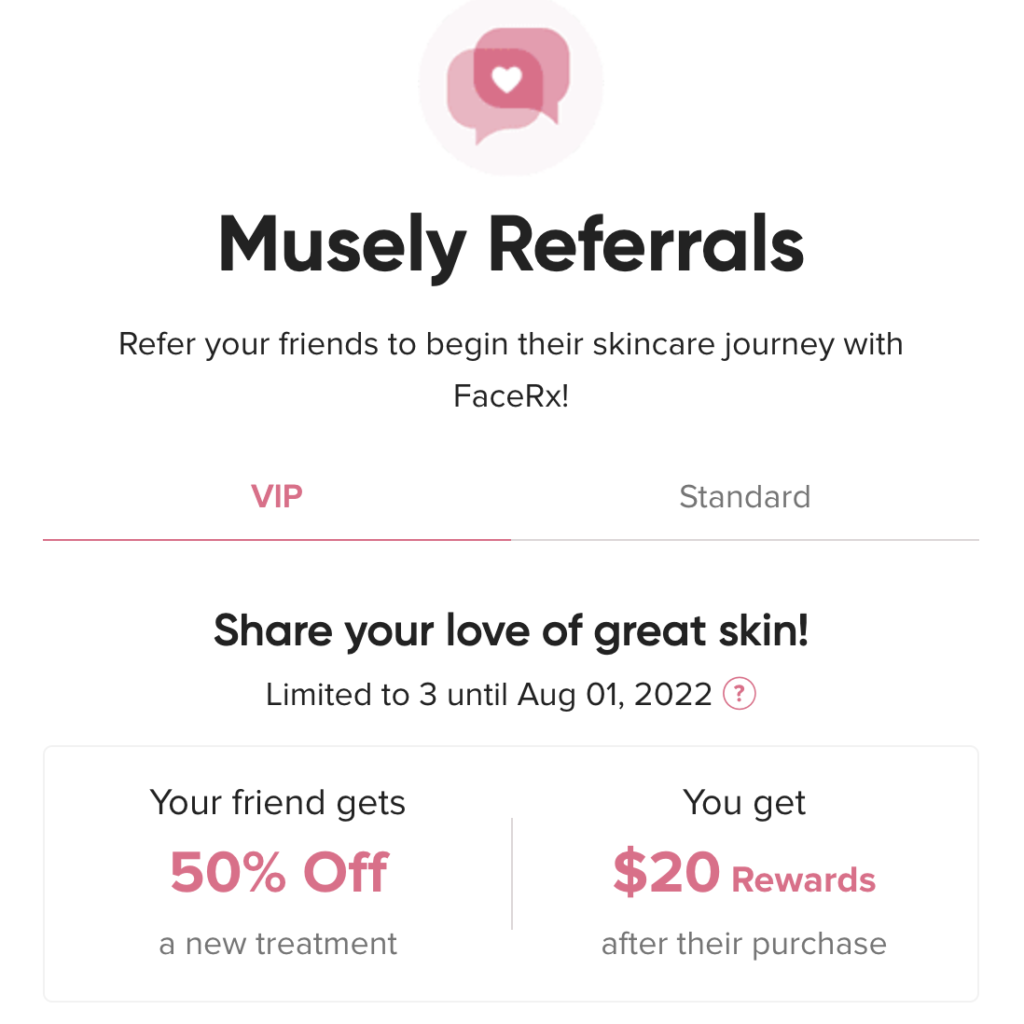 If you want to try Musely for yourself I have 3 referrals for 50% off of your treatment. I'll give the code to the first 3 people that dm me @lauren.erro or email me at [email protected]. This is pretty cool because this is accessible to anyone! If you sign up and like it you can share it with your friends and get $20 off your next treatment!
Have you tried Musely or any online prescription skincare like this? Let me know how it went in the comments!
xx,

Lauren