First Use Review of the Revlon One Step Blowout Curls
I'm a big fan of the Revlon One Step – I don't even have a regular blow dryer anymore because it's all I use! So when I saw that Revlon came out with their new One Step Blowout Curls I knew I had to try it! In this post, I'll share my first-use thoughts, and my YouTube video review so you can see it in action.
The Revlon One-Step Blow Out Curl tool has a blow dryer and curling iron in one! It has a detachable handle and comes with two attachments – a root drying concentrate that reduces dry time and preps for curling and the 360-degree vented barrel with a clamp that dries hair and sets curls. If you're one of those people that likes to curl your hair on hair wash day this could potentially save you a lot of time! 
What's cool about this is if you have the Revlon One Step 2.0 it will also fit on this base. This would be very convenient when traveling since you can bring one base and just the handles you need.
The base has cool, low, medium, and high heat settings and a 1.25-inch barrel curling iron.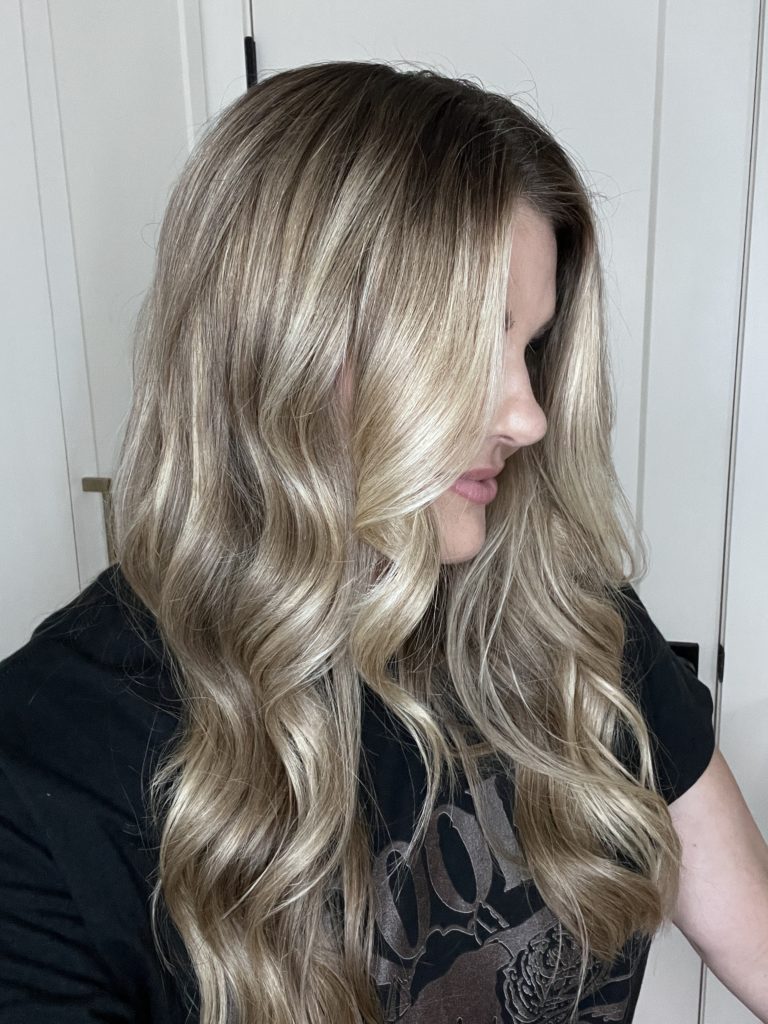 How to use the Revlon One-Step Blow-Out Curls:
Dry roots with concentrator attachment
Switch to vented barrel
Clamp 1-inch sections of hair at the end and roll up toward your scalp
Turn on the device- I suggest doing this after you've clamped your hair
Hold until your hair is dry
Release clamp
Repeat until you're done styling
Here is my first use review:
My curls still looked great the next day! I'm very impressed with this tool!
Revlon One-Step Blow Out Curl Vs. Dyson Airwrap
I see some minor similarities between the Revlon One Step curler and the Dyson Airwrap. I used to have a Dyson and ended up selling it after only using it 7 times in 3 years.
The Revlon is WAY less expensive
The Dyson gives you more of a blown-out look BUT the curls never lasted long on me- my curls from the Revlon still looked great the next day
I prefer a curling iron clamp style to a wand so I actually think the Revlon is easier to use.
I almost thought the Revlon was swirling my hair around the wand like the Dyson does but it doesn't swirl- it just blows air out evenly.
Both caused my flyaways to stick straight up. This wax stick is my new flyaway obsession- use it sparingly- a little goes a long way and it can make your hair look greasy if you use too much.
Overall I'm loving the Revlon and think it's definitely a better purchase than the Dyson.
See all of my hair tips HERE.
Have you tried the Revlon yet? What do you think?
Be sure to follow me on TikTok for more quick beauty reviews! I test so many products over there!
xx,
Lauren