Dolce Glow Self Tanner Review- Lusso Self Tanning Mousse
Looking for a Dolce Glow self tanner review? You're in the right place! In this post, I share everything you need to know about the brand Dolce Glow and the Lusso Self Tanning Mousse.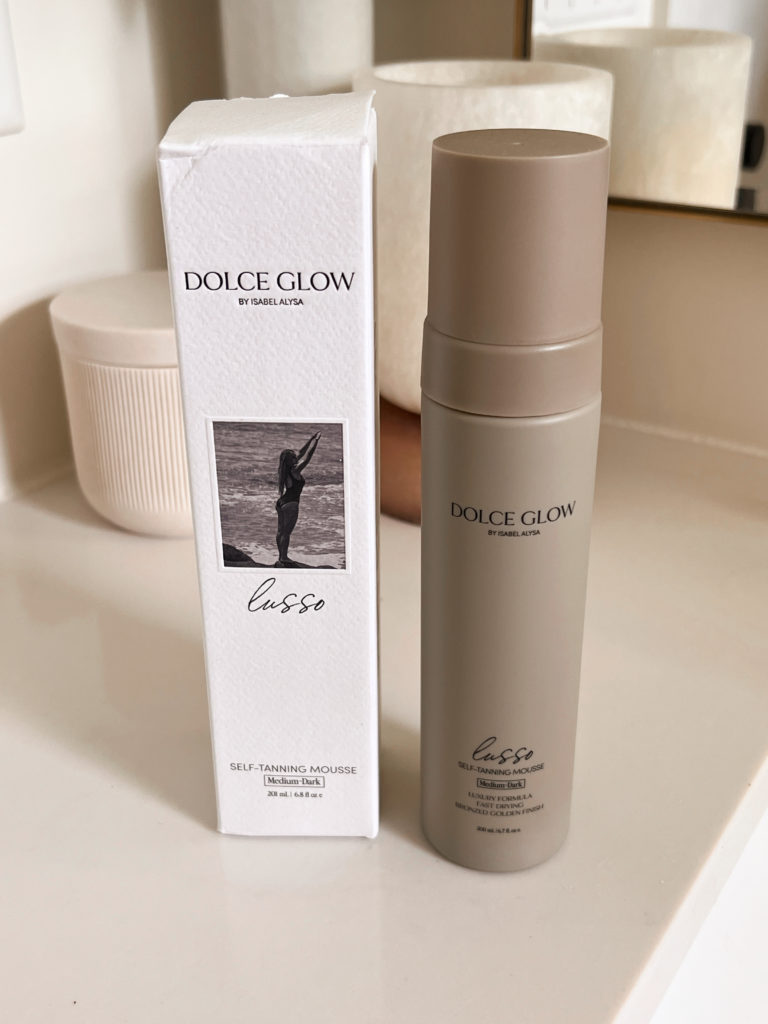 Finding a self tanning product that provides great color and lasts for days is not easy. If you're anything like me you're doing all the research to find the best Dolce Glow Self Tanner Review.
This post will show you what the mousse is like to apply, what the color looks like, how long it lasted on me, and what the removal was like.
Keep reading for my Dolce Glow Self Tanner Review!


If you prefer to watch- here is my video review!


I've been seeing EVERYONE talk about this self tanner and was questioning it because it's quite expensive for a self tanning product- This bottle was $51!!
About Dolce Glow
Dolce Glow was founded by a celebrity spray tan artist, Isabel Alys. Isabel has tanned many A-list celebs like Selena Gomez, Kim Kardashian, Jennifer Lopez, and Miley Cyrus. Cyrus loves Isabel's products so much that she became an investor in Dolce Glow!
The products are manufactured in Australia- where many of the best self-tanners in the world are manufactured. Dolce Glow's Mousse is $51- so it's pretty expensive. It is 6.8 fluid ounces so that equals $7.50 per ounce.
They say their tanner should last 7-10 days. To keep your glow continuous, apply our self-tanners once a week.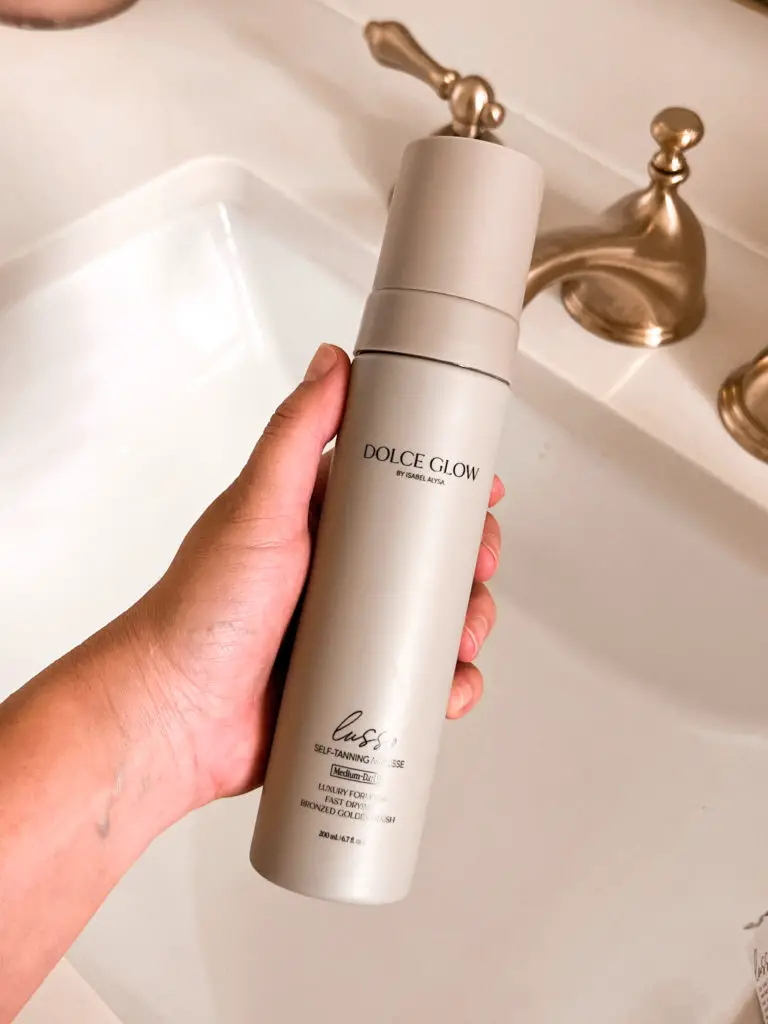 Skincare First, Tanning Second
Dolce Glow's whole thing is they put skincare first and tanning second. All of their products are formulated with clean and anti-aging beneficial ingredients. They say their products have a seamless application, subtle scent, swift dry time, and satisfying natural-looking results.
Key Skincare Loving Ingredients in Lusso
Squalane: The ultimate complexion booster – Its natural fatty acids replenish dry, irritated skin while balancing oily conditions to brighten your complexion and leave your skin feeling silky smooth.
Vitamin E: Supports collagen production, strengthens the skin barrier, and restores balance to overly oily or dry complexions for beautiful glowing skin.
Vitamin B5: Rapidly renews surface cells, restores skin elasticity, and revitalizes dullness locking in moisture to reveal healthy skin and reduce the visibility of wrinkles.
Jojoba Oil: An indulgent, luxury skincare oil that gently replenishes skin's natural sebum for a softer and more radiant complexion.
Australian Macadamia Oil: A deeply hydrating oil with Vitamin E to help repair + squalene for resilience and protection… this super-oil is the key to total skincare success!
Sodium Hyaluronate: A form of Hyaluronic Acid that helps build collagen and replenishes skin's moisture for skin that radiates with health.
Dolce Glow's Yuka Score
All of the Dolce Glow products are Clean, Vegan, Cruelty-Free, Paraben Free, Sulfate Free, and have a subtle fragrance. This mousse got a "GOOD" rating on the Yuka app, which is an app where you can see how toxic products are. It got a 50 out of 100 so it's funny they call that good. But to be honest, compared to most other tanning products, that is a high score! This is the best clean self tanner I've found!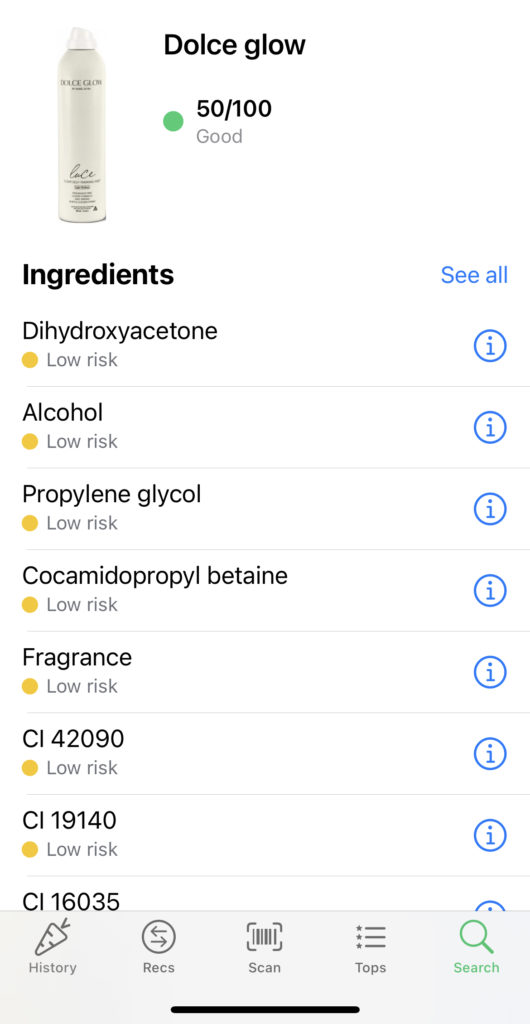 How to Apply:
Dolce Glow's suggested application technique is:
Exfoliate your skin and avoid applying any moisturizers, oils, or perfumes.
Apply Lusso with their Dolce Glow Application Mitt in circular motions.
Use sparingly on ankles, knees, and elbows.
Because Lusso is a gradual tanning mousse it will darken over time depending on how long you wear it.

If you want a Light Tan wear it for: 2-4 hours
Medium Tan: 4-6 hours
Dark Tan: 6+ hours

Avoid contact with water until first rinse. Once Lusso has been on the skin for the desired amount of time, rinse and gently pat the skin dry for a radiant glow.
My review of Dolce Glow self tanner:
I applied my typical lotion to my elbows and knees so my dry areas wouldn't absorb too much color and I used my own tanning mitt (not the Dolce Glow brand). I apply self tanner to my back with this!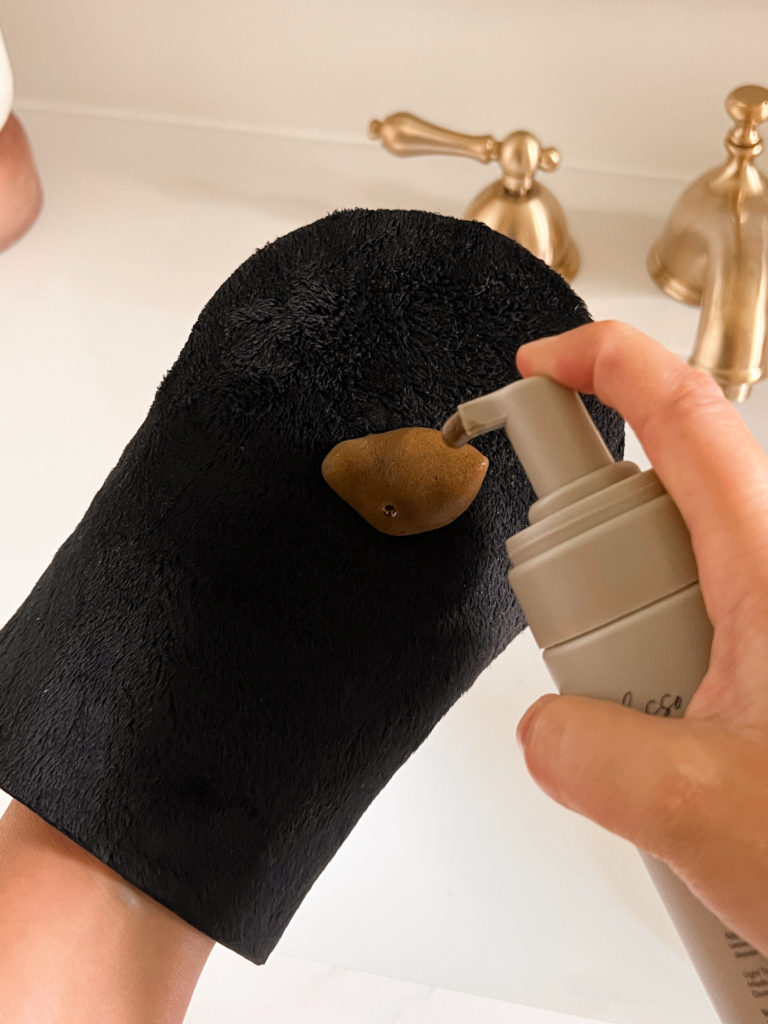 -The foam glides on easily and blends out well but you have to move fast because it dries quickly!
-I always apply setting powder in my creases to help the tan dry down and ensure it stays in place. But because this tanner dries so quickly I almost felt like I didn't need to! I still did because I wanted to get a consistent tan all over and make sure I'm getting a fair comparison to other products I've tried.
-I wore it for 6 hours then rinsed it off.
–It smells really light and refreshing when you apply it! When I wear tanner I get used to the smell so I asked my husband if he could smell it. He said he can smell the self tanner smell but It's definitely not as bad as some other products I've tried.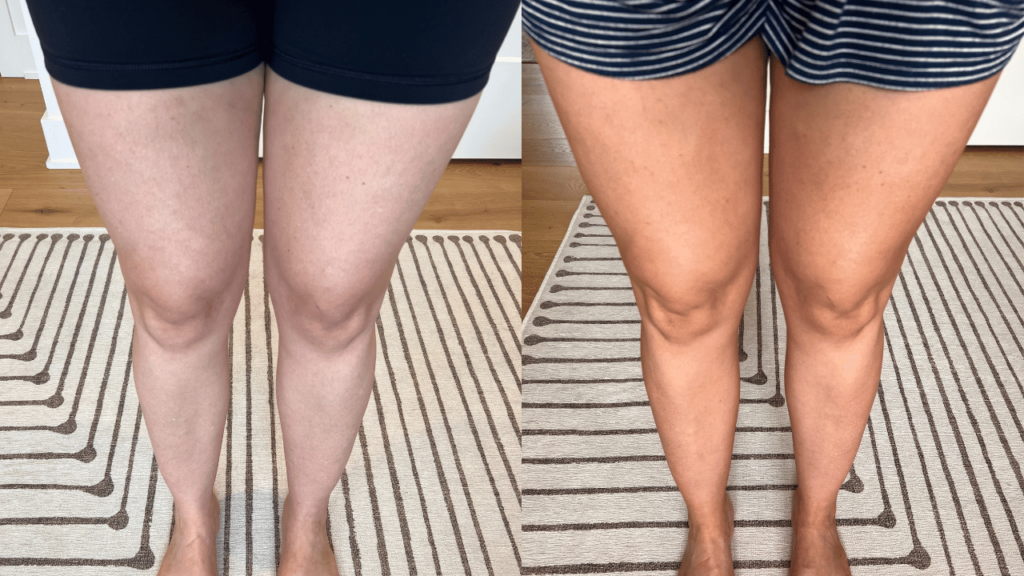 My tan the next day was SO GOOD. It was very dark and very even. I don't like to look too orange or red and the tone of this is PERFECT. This was honestly one of the best dark tans I've ever gotten at home after just one application!
How long does Dolce Glow Self Tanner last?
My tan lasted 5 days before it started looking lighter! What was really interesting is it didn't get all patchy and come off unevenly. It just faded evenly away. And by day 7- 8, it was basically gone. I've never seen anything like it!
I am very impressed and I definitely think this is one of the best self tanner I've ever used!
I hope you found this Dolce Glow self tanner review helpful! It's definitely the best self tanner I've ever tried.
CLICK HERE see my other self tan reviews. If you like tanning reviews, you'll probably enjoy my lash & nail reviews too!
If you like content like this subscribe to my emails to get round-ups of what's new!
Thanks for reading!
xx,
Lauren