Why the Nordstrom Anniversary Sale is Not Your Average Sale
I don't post about sales often because most of them just don't excite me. They're either stores getting rid of last seasons leftovers, or it's some standard 10-15% off holiday sale. Whoop-di-doo… Plus, I rarely purchase items at full price anymore because everything eventually goes on sale anyways (well except Biologique Recherche and Louis Vuitton… LOL). THE NORDSTROM SALE IS DIFFERENT! This is the best department store sale of the year. Why? Because they are putting mostly vBRAND NEW, never before seen items on sale. These are items that aren't even available at Nordstrom yet- the new Fall arrivals- think sweaters, coats, boots and of course some new exciting beauty launches. They also have many of your everyday staples for all year long. Here are my picks for the 2020 Nordstrom sale!

I'm not a fashion blogger so I don't need to be "ahead of" or even "on" what is currently trending. I like classic staples that will last for years, and get me through all of the seasons. Occasionally I'll purchase a super trendy or loud item, but for the most part, my closet isn't THAT exciting. And, when I do buy that trendy item it's usually from my other favorite store Forever 21 (yes I said it… I LOVE Forever 21).
I grew up shopping at Nordstrom. Remember when they used to have a pianist? I miss those days. Well, times have changed, but my love for Nordstrom hasn't. There are so many reasons they are my favorite department store…
Their return policy is UNREAL. You all know I return 80% of what I buy (mostly bc I shop online and it didn't fit/ looked different in person). Last year I had a horrible experience at Neiman Marcus. I tried to return a brand new dress I bought 33 days prior. Apparently, they changed their return policy to 30 days and refused to accept my item even though I saw it still hanging on their racks at full price! Nordstrom has never done that to me.
They are one of the few retailers that accept worn shoes. I have ridiculously sensitive feet and if a shoe is comfortable at first then you wear it around for a day or two starts rubbing or hurting I like having the option to return it. Nordstrom will take them back AND not make you feel bad about it. Don't be nasty and return shoes you wore for 3 months. I'm talking shoes I tried once or twice. *Anthropologie also has a great return policy and accepts worn shoes.
They aren't THAT expensive. I know they have a big reputation but honestly, they have many great high-quality items at reasonable rates! 
Their online store is so easy to use. Unlike Macy's, Nordstrom has the best online user experience.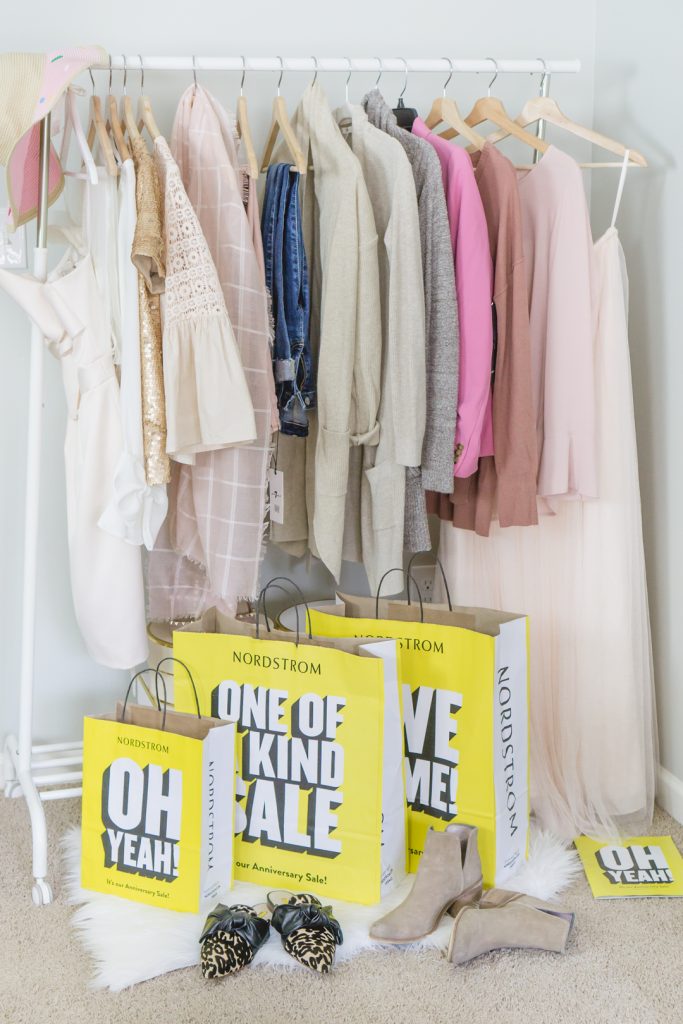 My tips for shopping the Nordstrom sale

Shop online and shop fast: If you're looking for something specific- like booties- search booties and go from there. Items sell out FAST. You can do curbside pick up when you shop online so if your local store has some of the items you can pick them up the same or next day and skip the crowds!
Stock up on your regular items: Think about items you use regularly and take advantage of the discounted price.
Don't give up: Items do sell out fast but they also come back in stock fast- if the item you wanted is gone keep checking! It may come back in stock when everyone returns their online orders that didn't work out. 

Buy now, wear later: It may seem weird to buy a coat when it's August and 105 degrees but you won't regret it when that coat goes back up to full price in a few weeks and you wear it all fall/ winter long!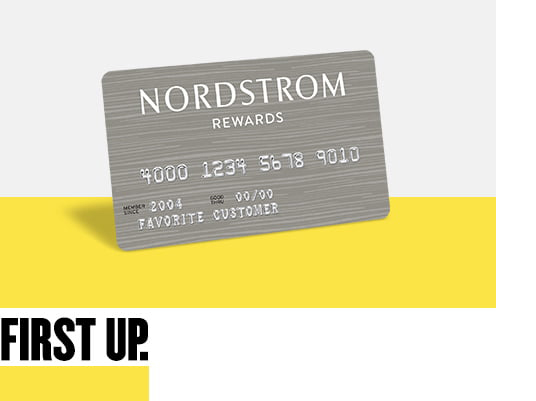 When is the Nordstrom Anniversary Sale?
Now that I've hyped it up you're probably wondering when it is? I'm not going to lie, the 2020 Nordstrom Sale dates are all over the place. Why? Because they want you to get a Nordstrom card. This card is the only brand card I have and trust me when I tell you it is worth it! But even if you don't get one you can still shop the sale- just a little later.
Benefits of the Nordstrom card? You get $60 of Nordstrom Notes aka FREE MONEY when you sign up. You also get some other perks like free alternations and such but honestly, I don't keep track of all of them. I just like the Nordstrom notes and early access. The card also works at Nordstrom Rack and there is no annual fee.

Dates:
When you can shop the sale depends on your card status with Nordstrom. If you aren't sure of your status log into your account and it will tell you. If you do not have a Nordstrom card you can sign up for one here.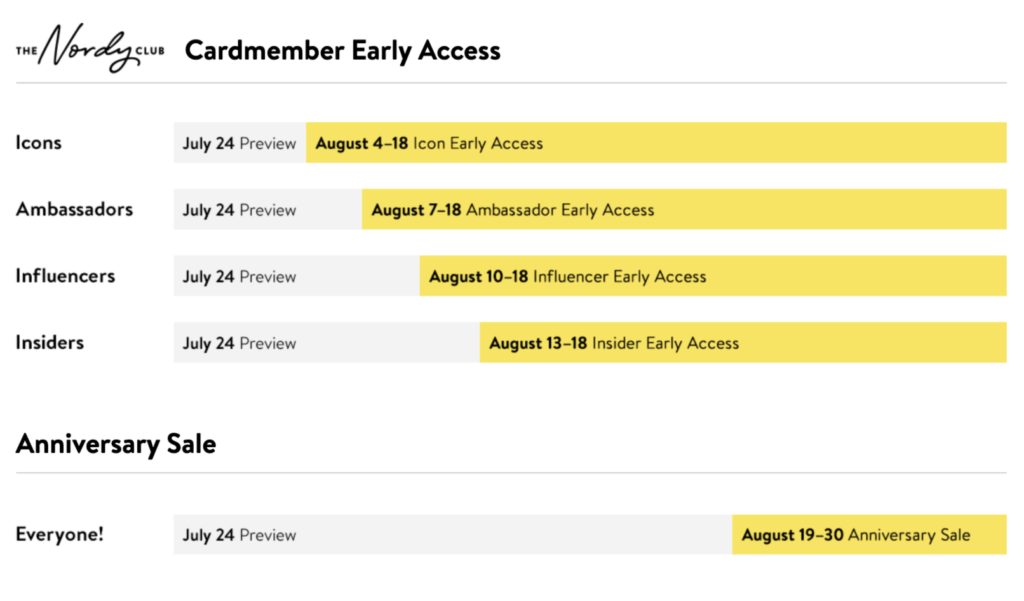 Do you have a Nordstrom card? What are you planning to purchase this year?