The Best Drugstore Self Tanner to Get That At-Home Glow
Anyone else dread getting a spray tan at the tanning salon? I feel like to get the most out of your expensive spray tan, it takes sooo much prep work. First, you have to shower. Next, exfoliate and shave. Don't wear deodorant. Don't moisturize. Lastly, you shouldn't have just washed your hair… Basically, plan your entire day around tanning. After, you still can't wear makeup and you shouldn't wear a bra. Maybe I make it harder than it should be, but if I'm going to pay that much money I want it to last! This is why it is important to find the best drug store self tanner.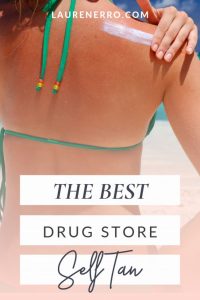 This is why I usually tan myself at home. I've tried SO many self-tanning products, all price ranges and all consistencies- wipes, lotions, foams & sprays. If you can find the best drugstore self tanning lotion, then you can save a lot of money!
The Best Drug Store Self Tan Lotions
I keep coming back to Jergens Natural Glow Instant Tan.

I love the consistency- it's a mousse so it dries quickly and is the least sticky of all the self-tanners I've tried. It smells tropical and has a bronzer so I can see where I applied it. I use the deep bronze color and strongly suggest you do too. Even if you're extremely white it will give you a natural glow. Otherwise, it's just not worth your money. It would not consider this the best drug store self tan.
It does make your hands brown so use a tanning mitt. I've had the same one for 3 years- as long as you rinse them off after each use it will last you a while.
How to Achieve the Best At-Home Tan
Exfoliate & shave
Let your skin dry before you begin
Don't put on any products where you plan to apply the self-tanner
Spray it on your mitt and rub it all over! Make your husband/ boyfriend/ roommate/ mom/ dog rub it on your back.
Let it dry for a few minutes then go on with your day 🙂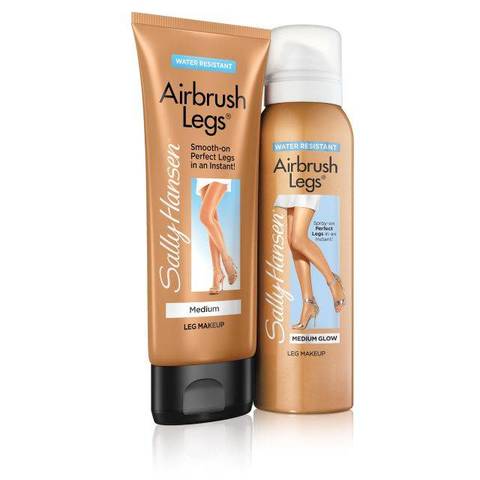 If you need some instant color I have another must-have product for you. This may succeed as a best drug store self tanner. Sally Hansen Airbrush Leg Makeup. Buy this in the lighter color unless you're already really dark and just want to look flawless. This product is great if you're going to the pool/ beach (it's waterproof!) or if you're wearing anything that shows off your skin. It seriously makes you look AMAZING and it has a little bit of a shimmer so it lightly reflects all of your imperfections. It also covers stretch marks and veins! It comes in a lotion or spray- I prefer the lotion since I have to use my hands anyway. I always mix it with a moisturizer before I apply because it can look a bit heavy.
Alright, anyone else have any self- tanning secrets? Spill.
I'm off to try a new at home face peel and have some wine… The usual ????
Good night! xo

Here are the links to all of the items I recommended: