How to Achieve That Easy, Breezy, Summer Look ONLY with Beauty Products Found at Walmart
Summer is the best time to master the "no makeup" makeup look and this is easily achieved with fresh, glowy skin—and not much else. In terms of beauty, a little goes a long way this time of year, so keep a light touch with your makeup and follow these tips and product suggestions for your best summer yet. The best part? You don't need a professional or super expensive products to achieve this look if you're willing to do a few easy steps at home.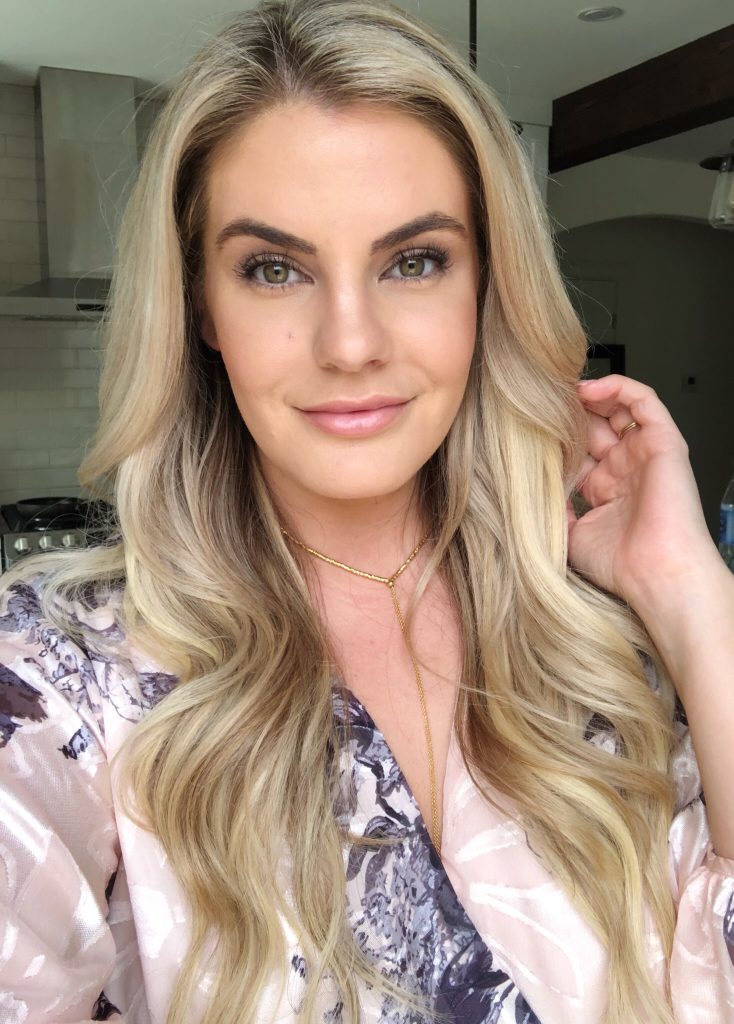 Get Some Color
First, self-tanner is a must! The easiest way to hide imperfections is a good ol' fake tan. Have a giant zit? Put on self-tanner. Didn't lose those lbs like you'd planned to? Slap that tanner on your juicy self. I have no problem admitting that I look better with a tan and if you're new here you should know I NEVER have a natural tan. I avoid the sun like the plague because it leads to premature aging, dark spots, melasma, acne scarring… etc. So you can probably imagine the crazy number of at home self-tanning methods I've tried. When I tell you that this Jergens Natural Glow Instant Sun is my favorite that is no small feat. I've tried them all and Jergens just does it for me. It smells amazing, has a light bronze tint so you know where you applied it (but it doesn't get everywhere), is very forgiving with the application, and lasts the longest! I like to apply this at night- after a shower but before bed- so I wake up with a nice golden glow. Major tip* Don't forget your tanning mitt!

Easy Daily Skincare
Next, your skincare routine always matters but it's especially crucial when you are wearing minimal makeup. I love vitamin C for every skin type.  This Derma E Vitamin C Concentrated Serum helps to brighten skin and boost collagen health, minimizing the look of fine lines and wrinkles while improving the appearance of uneven skin tone. It has Hyaluronic Acid, Aloe, and Vitamin E to keep your skin hydrated, despite the heat.
Moisturizing is an essential part of a good skincare routine, especially if you want flawless skin. As you know, with summer comes dry weather, and dry weather = dry skin. The easiest way to look glowy and natural is a great moisturizer. But I need lightweight moisture otherwise I'll be an oil slick by noon. I recently discovered the Neutrogena Hydro Boost Gel Moisturizing Sunscreen Lotion and I LOVE it. Even Steve likes it! It's super lightweight, dries quickly, acts as your moisturizer and has SPF 50. I love how this is a gel consistency so it's moisturizing without feeling heavy or sticky.

Wear Minimal Makeup
When I have a tan I don't need as much (or any) makeup, but I still get shiny/ oily throughout the day so I will always use a setting powder to help prevent this. The Coty Airspun Loose Face Powder is my favorite affordable powder- it's only $5! It has been called a dupe for Laura Mercier AND has a 4.5-star rating online with over 4,700 reviews!
In my opinion, mascara is always a must have. My favorite drugstore mascara is L'Oreal Paris Voluminous Lash Paradise Mascara. I did a comparison between this one and the Too Faced Better Than Sex Mascara here! If you're blessed with dark lashes but still want a little oomph I suggest using an eyelash curler– or even better, get a Lash Lift- it will last all summer!

Summer Hair Care
Don't forget your hair! Hot, dry weather, chlorine, bleach, and ocean water can wreak havoc on your hair. I don't know about you but I spend a small fortune on my hair and I will do anything to protect it, so I always apply Unite 7Seconds Condition Leave In Detangler when I get out of the shower. It's perfect for all hair types too! It's a weightless leave-in detangler/ conditioner that seals and protects hair from all of the elements.

So there you have it- your easy natural daytime look with only affordable products!
Your Nighttime Routine
Now, would I be a true skincare blogger if I didn't mention a nighttime skincare routine to make your "no-makeup makeup" days easier? I know wearing minimal to no foundation can be scary but you can do it! If you struggle with breakouts or clogged pores try Differen Gel. It contains adapalene, a dermatologist tested retinoid, and is available without a prescription! It helps to clear breakouts deep in the pores, prevent acne before it begins, and restore the skin's texture and tone. I'm excited about Differen because it was designed with tolerability in mind, meaning- less redness and skin irritation.
Differin Gel starts working immediately, and results may be seen in as little as two weeks. It may take some time to see significant results, but with continued use, it's been proven to work, so hang in there! *Be sure to use on clean, DRY skin.
My last tip to make those "no makeup- makeup" days easier is a good nighttime moisturizer. In the summer I don't need my heavy duty moisturizer but it's still important to use something to keep your skin hydrated. I love how this Neutrogena Hydro Boost Hyaluronic Acid Gel Face Moisturizer is lightweight but super hydrating.

I'm loving that all of these items can be found at Walmart.com. Theres a big misconception that you can't get high quality products at drugstore pricing and every one of these items proves that wrong! I also just learned that if you spend over $35 at walmart.com you get free shipping and theres no annual membership fee! This website has everything from drugstore to high-end beauty, clothes, groceries, and more!
Hopefully you find some new favorite products here! Now go get your summer glow on!
xx,

Thanks to Walmart.com for sponsoring today's post!