CeraVe Skincare Roundup: What to Buy
Let's talk about one of my all-time favorite product lines, CeraVe. Aside from being super affordable (ranging from $5-$25),  I love how they have products for various skin types. Not only are their products accessible and gentle on the skin, but they are also made with great skincare ingredients. They have everything from lotions and moisturizers to serums and SPF.
The great thing about CeraVe is that all of their products are developed with dermatologists, so you can feel confident using them even if you have the most sensitive skin. All of their products are free of dyes and fragrances in addition to being non-irritating and non-comedogenic (meaning they won't clog your pores). They're even allergy tested. I mean, they are just one of the most gentle, well-rounded product lines out there. 
Before I completely dive in… because let's be honest– I'm about to cover A LOT of products… if you prefer video-style reviews to get an idea of what the products look like, feel free to check out my video below. 
Let's talk ingredients. 
CeraVe uses a lot of the same ingredients across a variety of their products. The best part is that these ingredients are beneficial for all skin types, even the most sensitive. All of their products contain ceramides, which are naturally part of our skin's moisture barrier. If you have eczema, rosacea, or acne you run the risk of being deficient in these naturally occurring ceramides. Our moisture barrier is also affected by age and can be easily damaged by environmental pollutants and UV rays. Having ceramides in skincare products allows our skin to function at its best by holding on to hydration. 
Their products also contain super-hydrating hyaluronic acid. This is another ingredient that is in our skin already. While it is commonly thought that hyaluronic acid hydrates by adding outside hydrating to your skin, it actually draws pre-existing hydration from deep within to your skin, bringing it up to the surface level. Hyaluronic acid provides temporary hydration if used on its own but if a humectant isn't paired with an occlusive ingredient it will actually dehydrate your skin! Fortunately, all of CeraVe products pair the hyaluronic acid with occlusive that helps to lock in the moisture for longer-lasting benefits. 
The result? Radiant skin that is plump and hydrated. 
Niacinamide is another great ingredient that CeraVe uses in their products. Niacinamide is great for a variety of skin issues like acne, rosacea, oily skin, large pores, redness, and melasma. Since niacinamide is an anti-inflammatory, it can target these issues without further irritating the skin. 
CeraVe products also have MultiVesicular Emulsion Technology. MVE Technology is their patented technology that allows moisturizing ingredients to be released to each layer of the skin over the course of 24 hours. The result? Soft and hydrated skin all day long. If you have dry skin, this is a great ingredient to look for when choosing your CeraVe products. 
Most of the products contain vitamin B5, a great ingredient that keeps your skin feeling soft while looking smooth and healthy. It also has anti-inflammatory qualities that are helpful when you need to activate your skin's healing process when dealing with irritations or damages. It's an added bonus that this vitamin is deeply hydrating.
Let's dive into the products. 
I'll start with cleansers, creams, and serums:
Foaming Facial Cleanser (normal to oily skin)
This just might be my all-time favorite CeraVe product. I literally recommend it to anyone and everyone. Even though this is labeled for normal to oily skin, it's honestly great for all skin types. It has all of those hydrating ingredients; it has ceramides, niacinamide, and hyaluronic acid, so you won't walk away feeling like your skin is tight and dry after washing.  
Despite being labeled a 'foaming' cleanser, it comes out of the pump as a gel and doesn't really foam at all, but it does lather nicely. Regardless, it is great for easy make-up removal. It pairs well with my sonic cleanser, but I usually just use it with my hands and still get great results. I'm telling you, if you are only going to try one CeraVe product, this is the one. 
Tip: Here's the thing, facewash is on your skin for maybe 30 seconds. So when it comes to investing in your skincare products, there is no need to spend a ton of money on your facewash. This is a great product for a great price. 
Hydrating Facial Cleanser (normal to dry skin)
Like the foaming cleanser, this cleanser contains hydrating ceramides and hyaluronic acid. It also uses CeraVe's MVE technology and has been accepted by the National Eczema Association. This one is a little more creamy and leaves your face feeling almost like you just applied a moisturizer. 
To be completely honest, when I tried this cleanser in the past, I didn't love it. For me, it just doesn't leave my skin feeling as clean as I'd like. I just feel like it doesn't 'take the day off'. With that said, this might be a great option for you if you have extremely dry skin. I recommend using this in the morning for a nice hydrated, clean start to your day or use it as a second cleanser in the evening (after using a make-remover) so you can feel nice and clean while still benefiting from the hydration this cleanser provides. 
Cerave just launched their new Hydrating Cream to Foam Cleanser and I really like it! This is a happy medium between the previous two. I have a video explaining the comparison of the 3 cleansers below:
Skin Renewing Vitamin C Serum (all skin types)
I am so excited about this product! I love including vitamin C in my skincare routine and I use it every morning. It just has so many benefits. If you struggle with melasma, dark spots, or fine lines like I do, this serum will do wonders for you. It works to brighten your skin and fights signs of aging. It also works to neutralize the unavoidable environmental stressors that we face every day. An antioxidant serum like this is going to help keep your skin cells healthy, improve your skin texture, and just make you glow. 
CeraVe's Skin Renewing Vitamin C Serum contains 10% pure vitamin C as well as hyaluronic acid and MVE Technology for hydration.  In general, this is suitable for all skin types but, if you're new to vitamin C serums, be wary that some people are very sensitive to vitamin C in skincare. The addition of ingredients like Vitamin B5 and ceramides help to keep inflammation at bay as you work to incorporate this into your routine. 
While a lot of these types of serums come in bottles with droppers, I love CeraVe's tube-like packaging because it helps prevent oxidation to better maintain the serum's shelf life. I'm really picky with my vitamin C serums, but this one is amazing. It absorbs nicely (not too heavy or too light) and it doesn't have that weird smell that vitamin C products can have. 
Hydrating Hyaluronic Acid 
This product is marketed as a serum but honestly, it's more like a super lightweight moisturizing lotion– and technically speaking, this is true. Most hyaluronic acid serums don't include occlusive ingredients used to lock moisture into the skin, leaving them to pull moisture out of your skin resulting in dryness. This serum does have occlusive ingredients, which really just makes it a moisturizer. It looks and feels like one too. 
Considering this product contains a lot of hydrating ingredients including ceramides, vitamin B5, and hyaluronic acid and uses the MVE  Technology, it might be a great lightweight moisturizer (especially if you have oily or acne-prone skin). To be honest, the price is a bit much ($16-$18) for the 1 oz bottle. Generally, hyaluronic acid serums are used as a temporary hydration fix. With the occlusive ingredients CeraVe included in this one, it provides longer-lasting hydration. Either way, I'm not a huge fan and it is my least favorite CeraVe product that I've tried. 
My advice? If you're looking for a stand alone hyaluronic acid product, keep looking.
Resurfacing Retinol 
Okay, I'm obsessed with this one. Retinol is a type of vitamin A that occurs naturally in the skin and applying it topically just has so many benefits. Not only does it work to thicken the skin by stimulating collagen and elastin, but it also aids in the production of healthy new skin cells. I did a deep dive all about retinol here.
Unfortunately, if you are new to retinol, you may experience what is called a purge (lasting a few weeks to a few months). Basically, this is your skin's way of getting rid of all the bad stuff as the new, healthy cells emerge. It can be a pain, but the level of retinol in this particular product is less intense, making it easier to incorporate into your skincare routine as a new user. 
On the bright side, retinol is great for helping with pigmentation (acne scars, sun spots, melasma, etc.) by getting rid of the dead skin cells to make room for the increased cell turnover. It also works to fix your DNA on a cellular level to help reduce pigment from appearing.
CeraVe's retinol is encapsulated, improving its stability and allowing it to more effectively move into your oily pores– not all products can do this, so the encapsulation is useful. 
Other great ingredients include niacinamide (anti-inflammatory properties and improves oily skin) and licorice root extract (soothing and anti-inflammatory properties, helps with oiliness, and brightens skin). The licorice root is another reason this product is great for people new to retinol because it is shown to improve the tolerability to retinol. 
Tip: When you are incorporating a new retinol product into your routine, I recommend starting small and working your way up. Begin by using the product just one night the first week and see how it goes. Wait a week, and if you can tolerate it, try two nights. Build it up from there. You can build up to every day if your skin can tolerate it, just give it time.
Skin Renewing Retinol 
Honestly, I would recommend the resurfacing retinol over this one. This product is marketed to highlight its antiaging properties, but the resurfacing retinol has anti-aging properties in addition to everything else. Any retinol is good for improving the skin's radiance and texture by reducing the appearance of fine lines and wrinkles. 
Whether you use this product or another retinol product, retinol can be used very close to under your eyes. This is great news for anyone who notices fine lines and wrinkles around the eyes or experiences dark circles under the eyes. Retinol will help thicken the skin under and around the eye to offset these problems. 
Eye Repair Cream
Not only is this eye cream dermatologist tested (like all CeraVe products), but it is also ophthalmologist tested, so you know it is safe for use around the eyes. This product uses a marine and botanical complex to help reduce the appearance of common problems like dark circles and puffiness. Other great ingredients include ceramides, hyaluronic acid, and niacinamide. It's a lightweight formula that is suitable for all skin types and has even been accepted by the National Eczema Association. 
Overall, this is a simple, gentle, and easy-to-apply option for an eye cream. It's not greasy at all and it absorbs rather quickly, making it great cream to wear under make-up. I also appreciated that it left my eyes feeling nice and hydrated, which is perfect for days when you just feel a little tired or need a little extra care after using retinol under your eyes. 
Moving on to moisturizers (all of CeraVe's moisturizers can be used on your face and body):
Daily Moisturizing Lotion 
This is advertised for normal to dry skin, but honestly, this lightweight and oil-free formula would work for anyone. Even if your skin is oily, this is non-greasy and absorbs quickly so it would work just fine for you. This is your classic basic daily moisturizer. It's made with the 3 essential ceramides and hyaluronic acid, as well as uses the MVE Technology. If you have sensitive or dry skin, it's nice to know this product has been accepted by the National Eczema Association as well. 
If you are looking for something basic to provide some extra hydration and want to lock in your serums, this product would be great for you. 
Moisturizing Cream
This moisturizer is much heavier and thicker than the daily lotion mentioned above. If you have dry or very dry skin, this will get you that hydration you need. If you have oily skin, you probably want to avoid using this on your face. No matter your skin type, if you are looking to level up your hydration on your body, this cream is a great option. It uses the MVE Technology and is made with ceramides and hyaluronic acid to give you rich hydration and help to restore your skin barrier while locking in moisture. 
Even though this is a thicker cream, it does rub in nicely. I prefer to use these types of heavier creams at night but again, if you have really dry skin, this would be great for daytime use. If you suffer from skin conditions like eczema or psoriasis or experience severe dryness and itching, a moisturizing cream like this one will help you reinforce your skin barrier. Since this cream is both oil and fragrance-free, you don't have to worry about sensitivity. Day or night, face or body, this is a versatile cream that can meet everyone's needs. 
Skin Renewing Night Cream
This thick skin-renewing balm is ideal for all skin types. It's non-greasy and provides intense hydration. It's also going to help reduce the appearance of fine lines and wrinkles. Because it is so thick (and honestly a little sticky when applied) it makes for a great night mask. If your skin is really dry, you can enjoy this every night. Otherwise, consider using this a couple of nights a week for some extra hydration. 
Unlike the other CeraVe products I've mentioned, this one contains biomimetic peptides that are great when it comes to refreshing tired-looking skin. This balm also contains CeraVe's popular ingredients like ceramides, hyaluronic acid, and niacinamide. It uses the MVE Technology to help deliver continued hydration over 24-hours. This is definitely an enjoyable night mask for all skin types. 
Lightweight PM Moisturizer 
This product is marketed as an ultra-lightweight night cream ideal for normal to oily skin (it's oil-free). If you have oily skin, using a light-weight moisturizer in the evening is going to give you the benefits without leaving you feeling greasy. 
In my opinion, this moisturizer is very similar to the Daily Moisturizing Lotion and they have a lot of the same active ingredients as well, including ceramides and hyaluronic acid. Honestly, I would recommend just keeping it simple and saving your money– just buy the bigger bottle of the Daily Moisturizing Lotion. 
Last, but not least, sunscreen! 
Hydrating Sunscreen (SPF 30)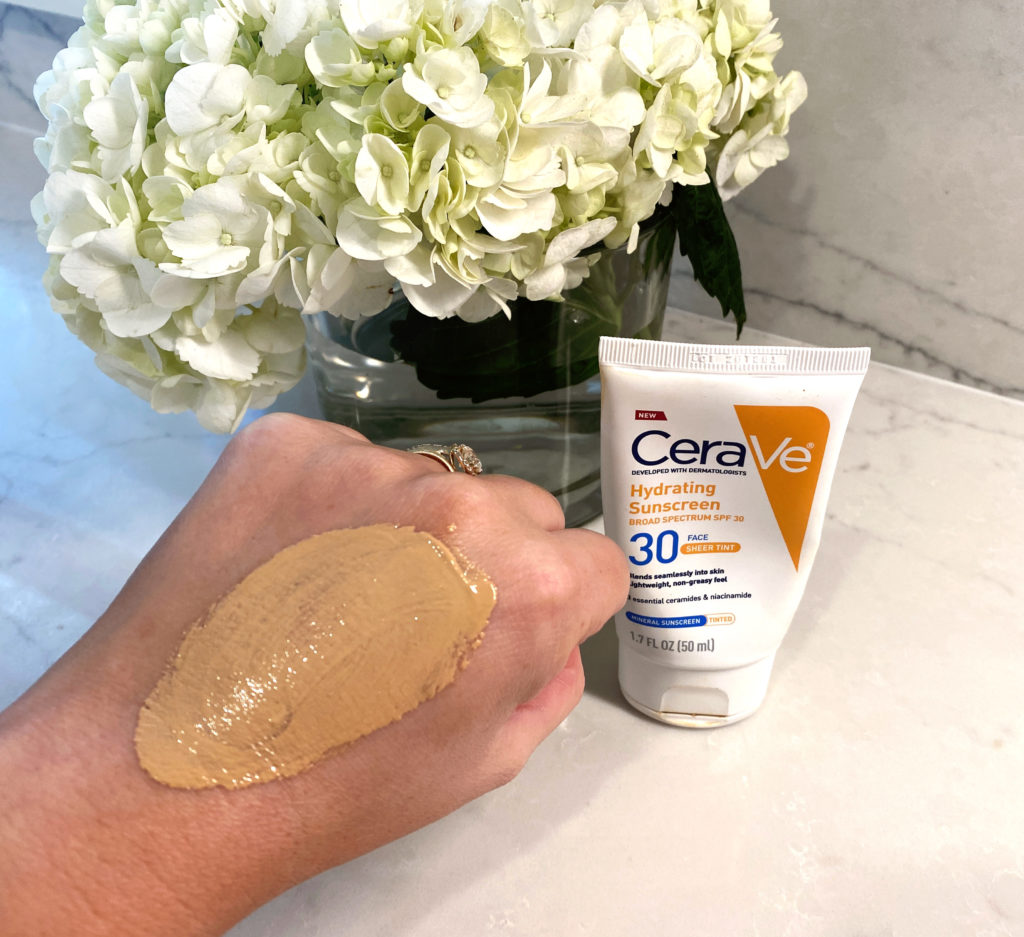 This 100% mineral product is an amazing physical sunscreen. It contains 10% zinc oxide and 5.5% titanium dioxide to help protect you from damaging UVA and UVB rays. Since this sunscreen is water-resistant for up to 80 minutes, it's perfect for a day on the beach or by the pool. It's also my go-to for those dry winter days that you want good coverage. 
Although the packaging reads "sheer tint," this definitely feels more like a foundation when you apply it. This is much darker than "sheer tint" and is pretty thick. So while it definitely provides more coverage, you might not be crazy about it if your skin is on the paler side. It does take a little bit of effort to apply and rub. 
Still, this might be one of my favorite sunscreens, even though my skin is fairly pale. I just love the glowy finish it has (without making you feel super oily) and it's really hydrating. Honestly, with the inclusion of ceramides, niacinamide, and hyaluronic acid, you could skip your moisturizer and just use this if you wanted to.  Doesn't sound like the right fit for you? Don't worry, I have plenty of other sunscreen recommendations too! 😉
CeraVe just has so many great products that it can be overwhelming. I hope I was able to break it down and simplify some of my top picks. 
If you love CeraVe products as much as I do, I'd love to hear some of your favorites in the comments below!