My Review of Jan Marini's Hyperpigmentation Treatment
Hyperpigmentation is the worst. I was blessed with sunspots, acne scars, AND melasma… lucky me. I had my dark spots under control until I went to Puerto Vallarta in June and reactivated them. I hid under the palapa most of the time (except one day when another couple got it- and they left their stuff on there for HOURS without using the palapa. Clearly I'm still bitter haha). I wore hats and reapplied my sunscreen religiously but I didn't know the heat and humidity could bring melasma back. My spots were so dark when I got home. I was feeling discouraged and like a failure as a beauty blogger so I called my gal Jan Marini! and asked for help. She gave me the scoop on her pigmentation busting product, Marini Luminate Face Cream. She helped me understand why pigmentation happens and how her products are unique compared to others in the market.
The Scary Truth About Hyperpigmentation
First, she explained that every human will have abnormal pigment by the age of 35. There's a camera called a Woods Lamp that can photograph pigment beneath the skin's surface that shows you what will be coming. She also said that most pigment is programmed into your skin by the age of 10 and takes 20 years to show up. This is SO ACCURATE with my skin. I feel like when I hit 27 I started battling with pigmentation.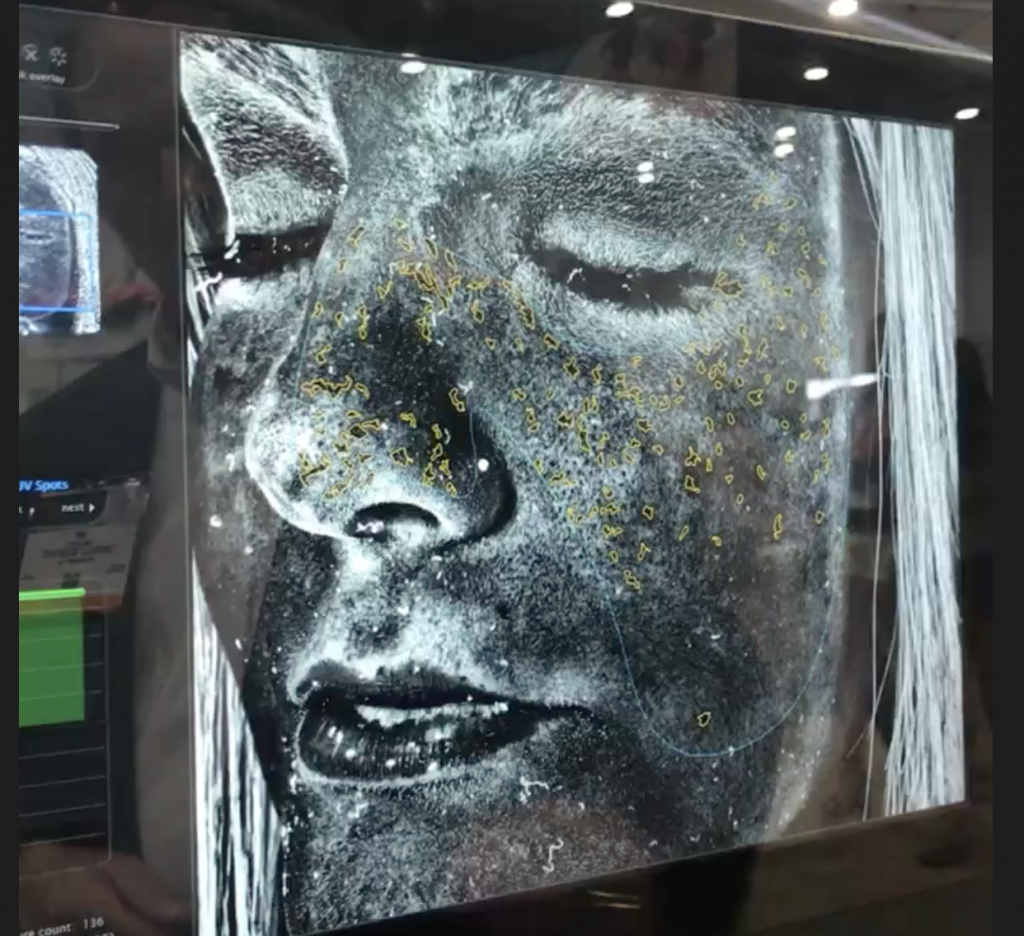 Why You Get Hyperpigmentation
The most common cause of hyperpigmentation is an excess production of melanin, a pigment that gives skin its color. There are many factors that can alter the production of melanin in your body. Simple things like sun exposure, an injury (for example, a burn) or inflammation to the skin (acne). There is also a more complicated factor called melasma. Melasma is triggered by many things but one of the most common is hormonal changes from pregnancy or birth control. There are other factors that can cause hyperpigmentation too but I'll save that post for another day.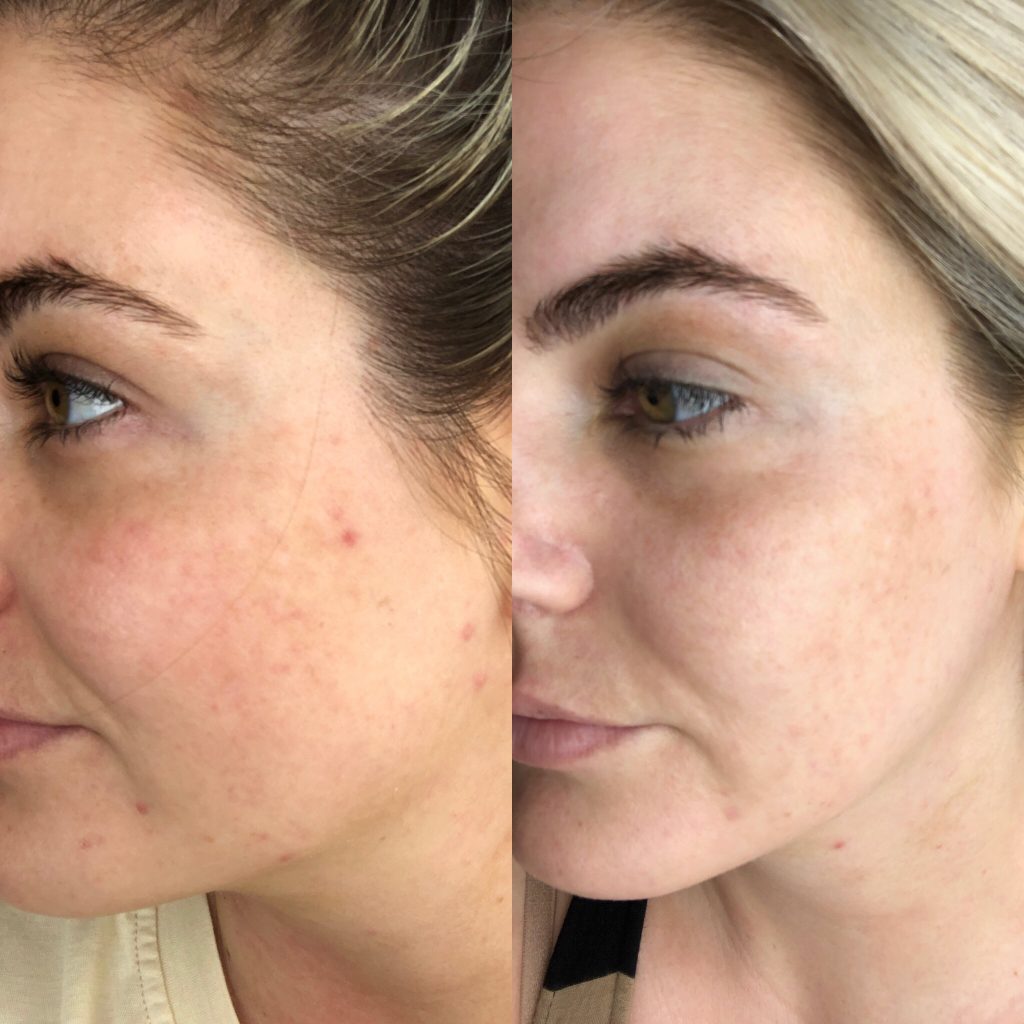 How To Treat Dark Spots on Your Skin
The most well-known ingredient for lightening pigmentation is Hydroquinone but it should only be used for approximately three month periods at a time in order to avoid side effects. That's a major flaw because my hyperpigmentation is relentless and I need something I can use continually. With that said, I have used hydroquinone and have had temporary results with it but, when I discontinue using it the spots always come back.
There has also been some debate about its safety. Hydroquinone's bad rep stems from when it was banned in South Africa many years ago because it was causing a blue darkening of the skin. It turns out, the products in question were found to contain mercury and glucocorticoids, among other caustic and illegal contaminants—a highly probable cause of the side effects seen.
Regardless, of the abundant research showing hydroquinone to be safe and effective, some countries in the European Union have also banned it.
Because of the negative side effects, many doctors requested that Jan create a product that can lighten pigmentation WITHOUT hydroquinone.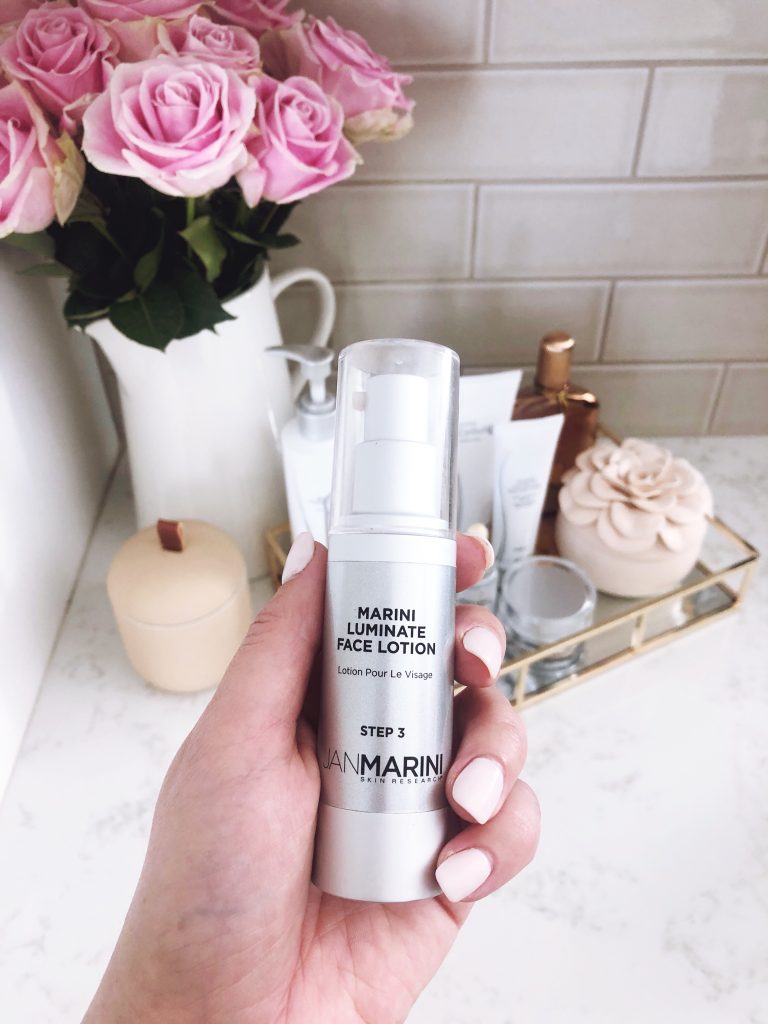 Why is Luminate Face Lotion So Unique?
Marini Luminate Face Lotion uses tumeric, retinol, and peptides to brighten skin, lighten hyperpigmentation, and combat fine lines.
The main lightening ingredient is turmeric. Turmeric has been used in India to lighten skin for years but it would leave a yellow cast behind. Jan was able to take the active colorless chemical from turmeric and put it in Luminate Face Lotion to be extremely effective in lightening the skin without turning it yellow. Turmeric is also an anti-inflammatory and helps with anti-aging! Luminate also has a very high percentage of retinol which can be intimidating but because Luminate is combined with the peptides and turmeric it doesn't aggravate your skin as many other retinols do.
Jan's products are special because they go through rigorous testing and many have been featured in peer-reviewed medical journals (she's the only skincare brand to EVER do this)! So her products have statistical data that prove their effectiveness. The study that was done on Marini Luminate Face Lotion was very interesting because the subjects used Luminate on one side of their face and a 4% prescription hydroquinone on the other side. The results were tracked at 4, 8 and 12 weeks and each time the side with Luminate won for brightening and lightening! This specific study was done by Dr. Joe Fletchinger and has been published in the peer-reviewed journal of Drugs and Dermatology.
I love Marini Luminate Face Lotion for so many reasons. I was able to start using it nightly without irritation. That is basically unheard of with any sort of retinol on my skin. Plus I can use it continuously, unlike hydroquinone which I can only use for 12 weeks at a time. Luminate can benefit anyone! Even if you don't have pigment, Luminate can brighten your skin and makes your skin clear and youthful. I could go on but I want to get to how you can use it in your own routine.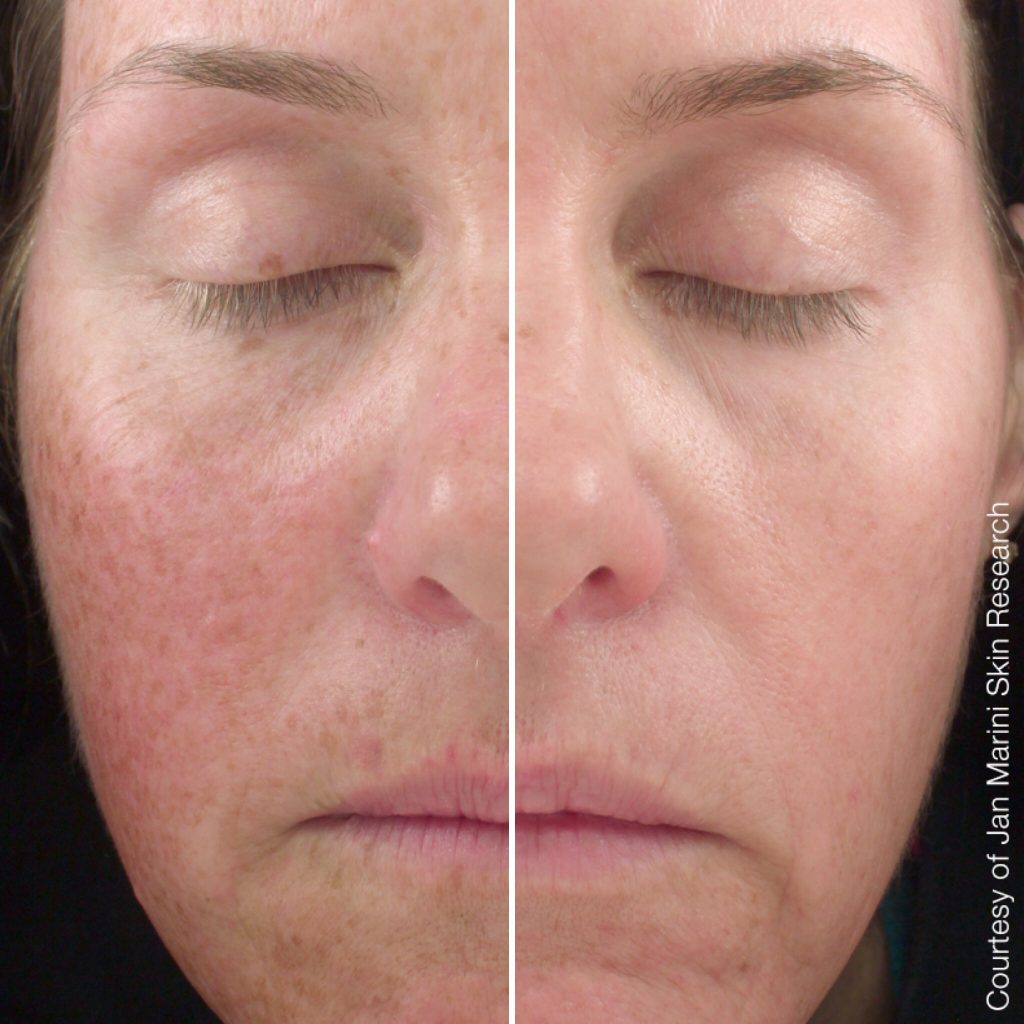 How to incorporate Luminate into your routine:
Below are the steps that you should take when using Luminate to get the most out of the product:
Wash your face with your usual face wash.
Apply toner- I like toner to ensure I removed all of my makeup.
Apply your favorite serum(s).
Now you apply Marini Luminate Face Lotion– It's a nice lightweight lotion consistency.
Apply your moisturizer.
Apply your eye cream.
Don't forget to use SPF (during the day, of course)!
Since Marini Luminate Face Lotion has anti-inflammatory ingredients you can start using this every night. If your skin starts to feel sensitive then cut back to every other night and let your skin acclimate. But, with the anti-inflammatory qualities of peptides and turmeric, you can use it day and night once your skin gets comfortable with the product.
If you already are using Jan's Skincare Management System then you can begin using Luminate immediately. If you want to try her other products you go in this order: Bioglycolic Cleanser (apply to dry skin), C-Esta Serum, BioClear Serum, Luminate, then Moisturizer. (I use Jan's whole system and have noticed a big improvement in my pore clarity and brightness).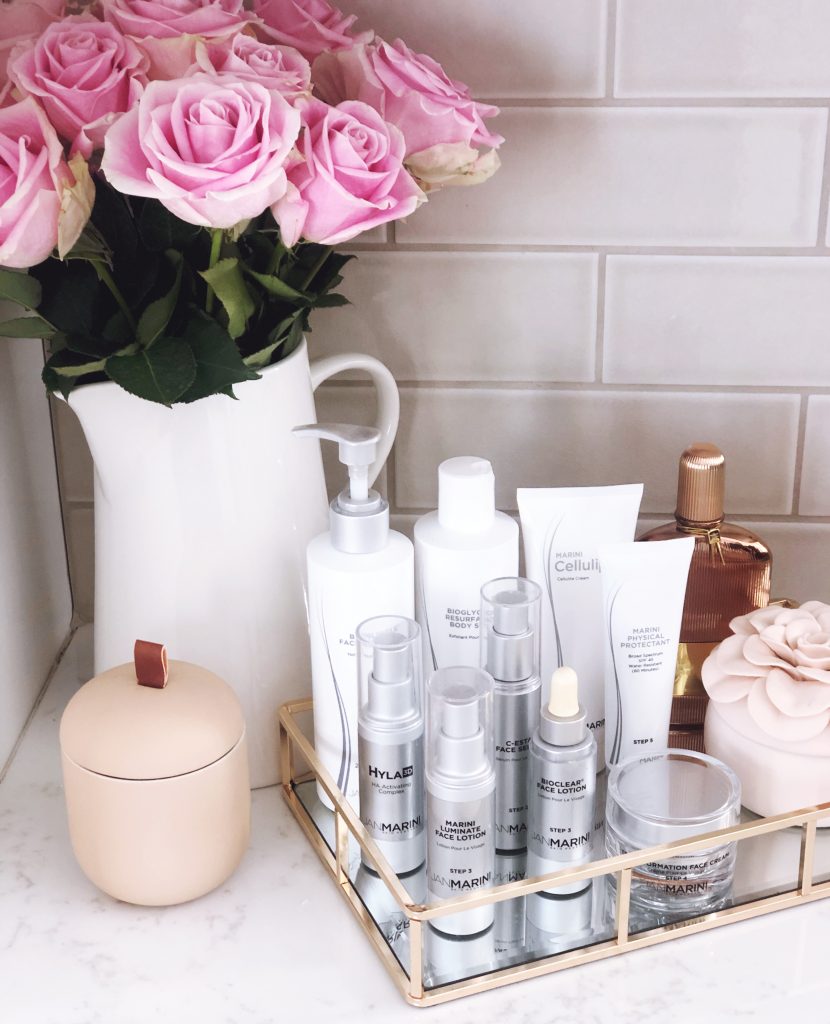 *If you are interested in learning more about Jan Marini and her amazing products check out this post!
What are your skin concerns? Have you ever tried any skin lightening products? How did they work? Let me know in the comments!
xx,