Moitie Cosmetics 10 Day DIY Lash Extension Review
I'm always looking for good at-home beauty hacks and when Moitie Cosmetics contacted me about trying their DIY lash extensions that last for 10+ days I was so excited! With the mandatory quarantine happening, this seemed like the perfect solution for my gals that normally get lash extensions.
What I tried
I received the Moitie Cosmetics starter kit that came with a set of lashes, glue, and the lash applicator tool ($29- marked down from $108). I also received the removal gel ($29), foaming wash ($19), eyelash curler ($24), and nano-mister ($89).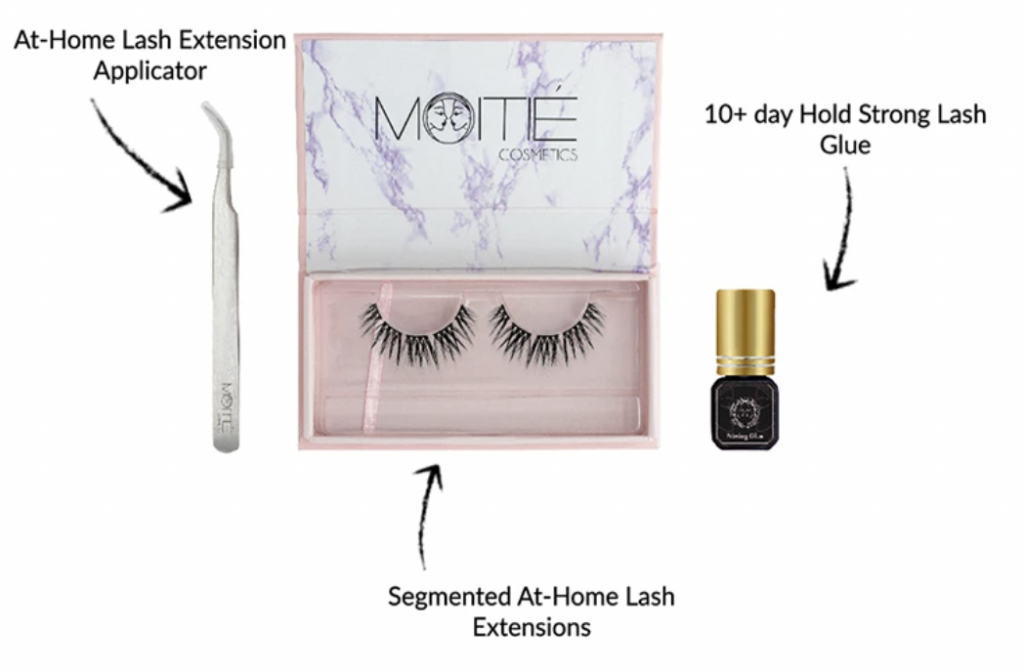 Each lash set consists of 5-fan segments that applied on top of your lashes, similar to lash strips or individuals. They caution you to not apply the lashes on your eyelids, but instead, make sure they attached to the eyelash hair.
Moitie claims their lashes won't damage your lashes because unlike salon applied extensions that can apply multiple hairs to one individual lash. The Moitie lashes distribute the weight evenly across a cluster of your lashes. This seemed odd- from what I understood of Moitie Cosmetics you are gluing a bunch of your lashes together so I'm not sure this could even be compared to professional extensions, besides the longevity of wear.
They also say that their glue formulated for even the most sensitive eyes and in comparison to salon glue, it's 10x more gentle than salon formulas. Their glue contains Ethyl cyanoacrylate, which is the main ingredient in the majority of professional eyelash glue on the market. There aren't any more details on their website about how it's "10x more gentle".


My experience applying & wearing Moitie Lashes
I had high hopes for these lashes. The marketing was very enticing and made them seem so easy! They were beautiful once I got them on but the application took MUCH longer than their claim that it only takes 5-10 minutes (took me an hour). They were horrible to apply and were so frustrating because the glue wouldn't stick to my lash. I had to try multiple times and waste multiple lashes trying to get them to stick. They kept sticking to the application tool so when I'd lift it away they would come off with it. I don't think the eyelash curler anything special, I ended up using my own that fits my eye shape better and only $18. Also, the nano-mister is soothing but VERY overpriced- here is one for $12.
Watch my application video here:
My first night sleeping with them was very uncomfortable. I lost one clump and another one glued to my eyelid skin so it pinched and kept me up all night. The next day I tried to remove the one from my skin and reapply the two sets properly and I was unable to get them back on. I ended up trying to remove all of the lashes and ended up ripping out A LOT of my own in the process. The removal gel and foaming wash burn your eyes horribly and it was extremely painful.
Here is my removal video:
Another thing that terrifying- I applied the glue to the container with the lashes (like I always do when applying falsies) and I went to take pictures of the lashes a week later and they were bleached out from the chemicals in the glue!
I would not recommend these lashes to anyone. I'm still traumatized and mourning the loss of my lashes. This was by far the worst beauty experiment I've ever done. I will be loading up on my lash growth serum to try to fix all of the damage that the Moitie lashes caused (if you want to try this serum use the code LAURENERRO20 for 20% off).
If you're looking for good, longer wearing, at home lashes try Lilac St. I have a full review + discount code HERE.
What are your favorite lashes to wear? Have you tried Moitie Lashes? Let me know in the comments!
xx,

Have you read about my favorite eyelid primers to prevent grease and creases? Check that out here!